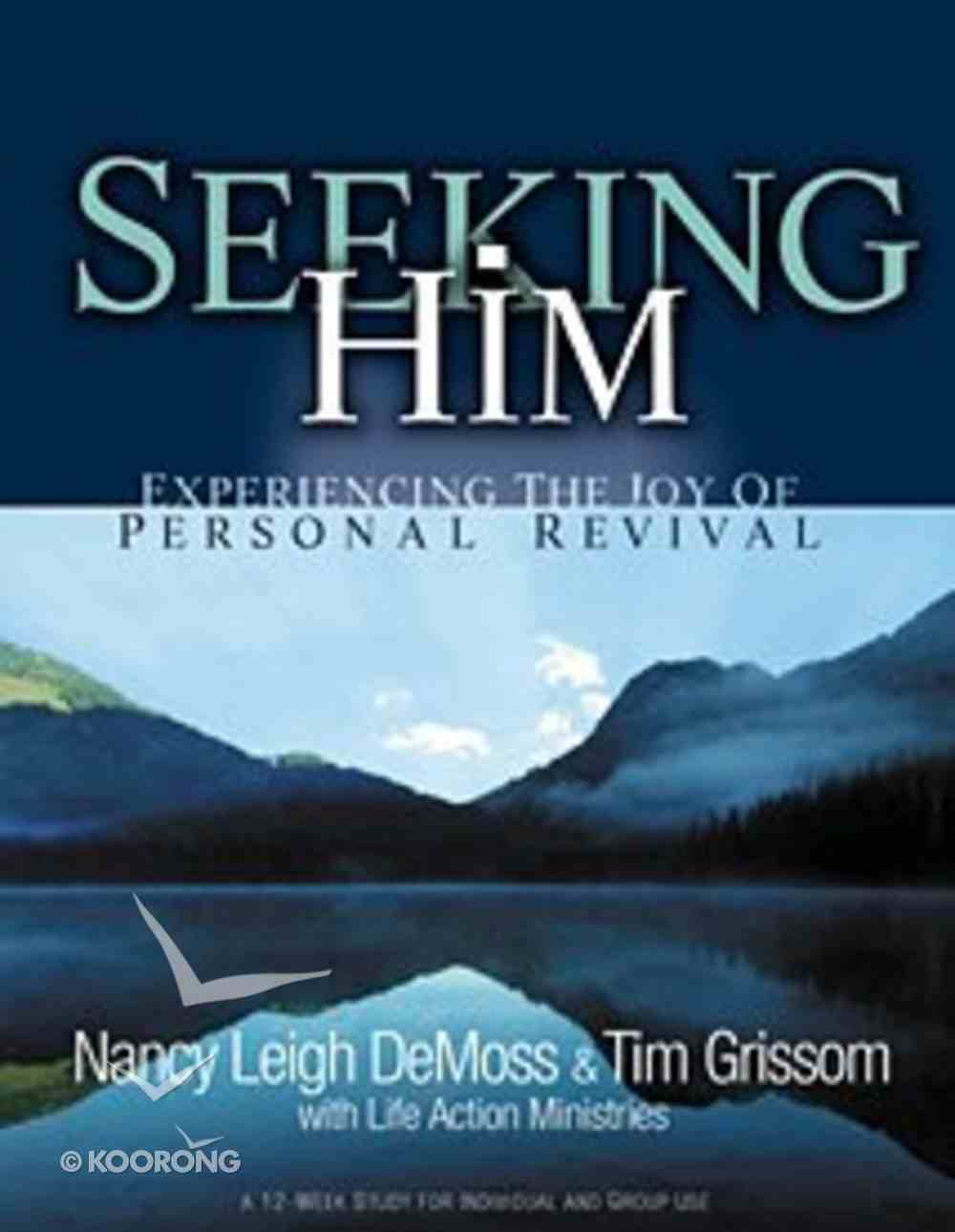 "Seeking Him" is a 12-week interactive study designed to lead readers into a personal revival and a revived relationship with God.
---
Free Shipping
for orders over $99.
"Seeking Him" is a 12-week interactive study designed to lead readers into a personal revival and a revived relationship with God.
-Publisher

Revival is not just an emotional touch ... but a complete transformation! It can happen ... in your heart ... in your home ... in your church ... in your world. Seeking Him is a 12-week interactive study on personal revival. Get ready to experience the freedom and joy of an honest and humble heart, true repentance, God's amazing grace, genuine holiness, a clear conscience, radical forgiveness, sexual purity, and walking in the Spirit. Each week includes five days of individual study, questions for group discussion and interaction, testimonies of changed lives, and 'Making it Personal' questions and exercises. God says that if you seek Him you will find Him. What are you waiting for'

-Publisher
NANCY LEIGH DEMOSS is the author of fifteen books, including the bestselling Lies Women Believe and Choosing Forgiveness. She is the host and teacher for Revive Our Hearts and Seeking Him, two nationally-syndicated programs heard each weekday on over 1,000 radio stations. Through her teaching ministry and books (which have sold more than two million copies), God is using her as a mentor and spiritual mother to thousands of women, and as a leader of the True Woman Movement. Nancy's burden is to call women to freedom, fullness, and fruitfulness in Christ and to see God ignite true revival in the hearts of His people. For more information on her radio programs, conference ministry, and books, visit www.ReviveOurHearts.com .
Tim Grissom is a freelance writer living in Little Rock, Arkansas, where he also serves as an issue writer for Family Life. He served on the staff of Life Action Ministries for fourteen years. Tim is on the elder team of The Summit Church, which he helped start in 1998. He and his wife, Janiece (who is now with the Lord) have four children.
<div>contentsacknowledgments / Xiintroduction / Xiihow To Get The Most From This Study / Xvilesson 1- Revival--who Needs It' / 1lesson 2 Humility: Coming To God On His Terms / 21lesson 3 Honesty: Silence Is Not Always Golden / 41lesson 4 Repentance: The Big -turn-around / 61lesson 5 Grace: God's Provision For Every Need / 81lesson 6 Holiness: A Heart Like His / 103lesson 7 Obedience: The Acid Test Of Love / 135lesson 8 Clear Conscience: Dealing With Offenses Toward Others / 145lesson 9 Forgiveness: Setting Your Captives Free / 169lesson 10 Sexual Purity: The Joy Of Moral Freedom / 191lesson 11 The Spirit-filled Life: God's Power In You / 215lesson 12 The Personal Devotional Life: "seeking Him" Daily / 237suggestions For Group Leaders / 257revival Resources / 260about The Authors / 265</div>

Why does God want to revive our hearts and restore us to a closer relationship with Him' One major reason is that He loves us! We need to beware of misunderstanding the heart and ways of God when we study His dealings with His people, especially in the Old Testament. Due to the numerous accounts of God's judgment recorded there, we might get the impression that God was eager to punish or that He is harsh, demanding and impatient. But really the opposite is true. Times of judgment usually came after years of pleading with His people to come back to Him.

Bestsellers in Spiritual Growth