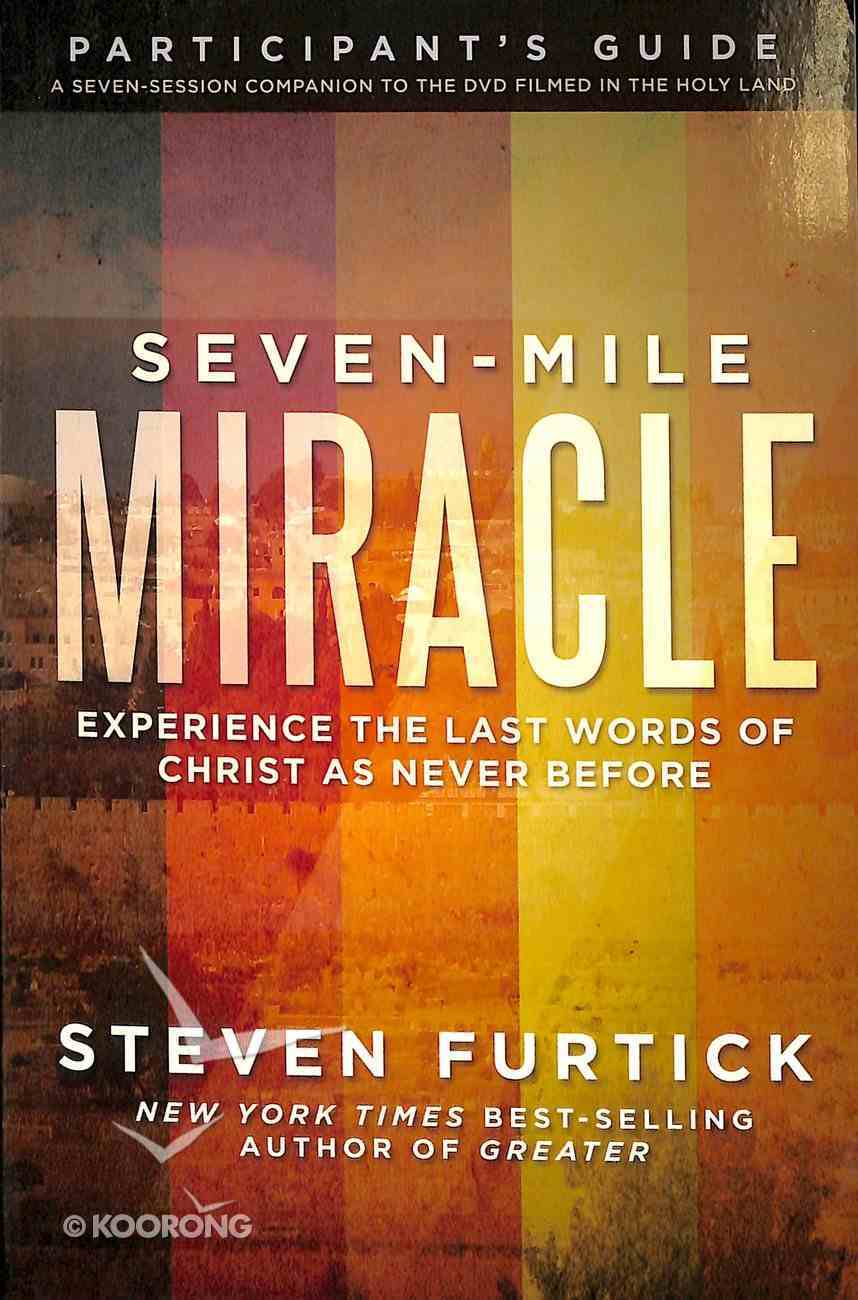 Seven-Mile Miracle (Participant's Guide) (Seven-mile Miracle Series)
Designed for use with the Seven-Mile Miracle DVD Study on the seven last sayings of Christ, the participant guide brings group members deeper into the study. Each chapter represent a mile marker. Each chapter's commentary has ample space for note...
---
Expected to ship within 9 hours from Australia.
---
Free Shipping
for orders over $99.
Designed for use with the Seven-Mile Miracle DVD Study on the seven last sayings of Christ, the participant guide brings group members deeper into the study. Each chapter represent a mile marker. Each chapter's commentary has ample space for note taking and for additional study Scripture passages are suggested for further reading. At the end of each chapter are group discussion questions.
Experience the power and meaning of the last words of Christ with your family, your small group, or in your personal devotions
&
Filmed in the Holy Land!

In this seven-session, video-based study, pastor Steven Furtick explores the last words of Christ from the very Holy Land locations at which they were spoken. Standing on the Mount of Olives, in the Garden of Gethsemane, at Golgotha, Furtick unpacks the drama, power, and deeper meaning of& Jesus&' final hours before his Crucifixion.
&
Not only a Bible study, Seven-Mile Miracle provides an experience of worship at the end of every session, designed to make for an extraordinary experience. Perfect for families, small groups, churches, and individuals.
&
The participant&'s guide includes discussion questions, quote highlights from the video, note sections, a bonus personal reflection section and a time for worship in every session.
&
Session Titles Include:
Mile 1: Forgiveness
Mile 2: Salvation
Mile 3: Relationship
Mile 4: Abandonment
Mile 5: Distress
Mile 6: Triumph
Mile
-Publisher
PRODUCT DETAIL
Catalogue Code 

373160

Product Code 

9781601425133

ISBN 

1601425139

EAN 

9781601425133

Pages 

112

Department Ministry
Category Ministry Resources
Sub-Category Courses
Publisher Multnomah Publishers
Publication Date 

Feb 2013

Sales Rank 

82298

Dimensions 

202 x 132 x 7

mm

Weight 

0.113

kg
Pastor Steven grew up in Moncks Corner, South Carolina, where at age 16 he realized God's plan for him to start a life-changing church in a metropolitan city.

This vision became a tangible reality when Elevation was founded on the faith of eight families who risked everything. Selling their houses and quitting their jobs, they moved to Charlotte believing that God would turn this city upside down for His glory through the local church.

After nearly five years, Elevation Church has grown to more than 8,000 in attendance each week at four locations. Since our launch, we've seen more than 10,900 people receive Christ. In 2007, 2008 and 2009, Elevation Church was named one of the "10 fastest growing churches in America" by Outreach Magazine.

The heart of Pastor Steven's message is audacious faith and how to approach every experience from a visionary perspective. As a young voice in the Church with wisdom beyond his years, his passion for seeing God's purposes fulfilled is igniting a fire here in our city and beyond.

Pastor Steven attended North Greenville University, received a B.A. in communications and went on to complete a Master of Divinity from Southern Baptist Theological Seminary.

He resides in the Charlotte area with his wife, Holly, and two sons, Elijah and Graham.

www.elevationchurch.org/pastor
Welcome to Seven-Mile Miracle

If you've done video studies before, either individually or in a group, you'll probably find this to be unique. For one thing, Seven-Mile Miracle is meant to be more than a study. I hope that for you it's a spiritual experience.

Through these seven videos and the pages of this guide, we will walk together on a journey with Jesus Christ. I recorded each of the seven videos on location in Israel. They're based on the seven miles Jesus walked with His disciples on the road to Emmaus in Luke 24.

What we'll experience together are the seven last sayings of Jesus on the cross. I think they will reveal to you the resurrected Son of God like never before—especially in the context of the actual locations where Jesus paid the ultimate price for our sins.

At the end of each video there will be a time of reflection and worship—a song performed on video to provide you with time in the presence of God.

Of course, this video experience is ideal for the weeks leading up to Easter, but it can be used—and should be used— throughout the year. Our life in Jesus Christ is founded upon His work on the Cross, and that indeed is important to us year round.

I encourage you to use this study with your church or ministry, your small group, and also in your own personal time with God. I pray that like the disciples on the road to Emmaus, you will have your eyes opened in a moment, and you will see how God has been with you all along.

Let this be your Seven-Mile Miracle.
Steven Furtick


Intro

Seven-Mile Miracle

This study finds us on the Emmaus Road, the very road Jesus walked on the third day after His death on the cross.

In Luke 24, two of Jesus' disciples walked the seven-mile road to Emmaus, discussing what had just transpired on the cross. But it was only after Jesus appeared in the middle of their conversation and after He broke bread with them at the end of their seven-mile journey that they realized who He really was.

The seven-mile journey that the disciples took with Jesus was one of completion and perfection. The disciples had followed Jesus for years, but it was this moment that opened their eyes to see their risen Savior like never before.

As you begin your own journey through the seven last sayings of Jesus, pray that God will open your heart to the work that He wants to do in your life over the next seven weeks or at whatever pace you choose to complete this study.

After you watch the introduction video, go directly into the first session. As you navigate each mile of our journey together, focus your mind and your heart on the teachings you will hear. Take notes throughout, and use the worship time to reflect on the hymns you will hear.

Our prayer is that at the end of this seven-mile journey you, too, will open your eyes to see the risen Jesus like never before.


Mile one

Forgiveness

Father, forgive them, for they do not know what they are doing. Luke 23:34

Mile one

Golgotha: the Place of the Skull

"Open our eyes to the full extent of His forgiveness."

Teaching

Our journey through the seven last sayings of Jesus Christ begins at Golgotha, or "the Skull," widely recognized as the ground where Jesus hung from the cross. It is here that Jesus Christ paid the debt we could never pay, offering His life as an atoning sacrifice for our sins.

Play the video for Mile One. As you watch and listen to Pastor Furtick, follow the selected quotes listed below. Take brief notes in the space provided—whatever comes to your mind: thoughts, Bible verses, personal experiences, breakthrough moments.

"Father, forgive them even though they know exactly what they are doing."

The first thing Jesus did was issue forgiveness in the face of His betrayers. Some of them were truly ignorant of the fact that they were crucifying the true Messiah that Israel had been waiting for. However, many of us today know exactly what we ought not to do, but we do it anyway. The miracle of Jesus' forgiveness begins with an inclusive offer of His grace to everyone who has ever sinned against His Father.


"So many times when we sin, it's not a lack of knowledge—it's a lack of passion in our hearts."

Think of those times you have known exactly what God wanted you to do but you didn't do it. Ref lect on times you were actively engaged in something you knew was wrong but you did it anyway.
Bestsellers in Ministry Resources