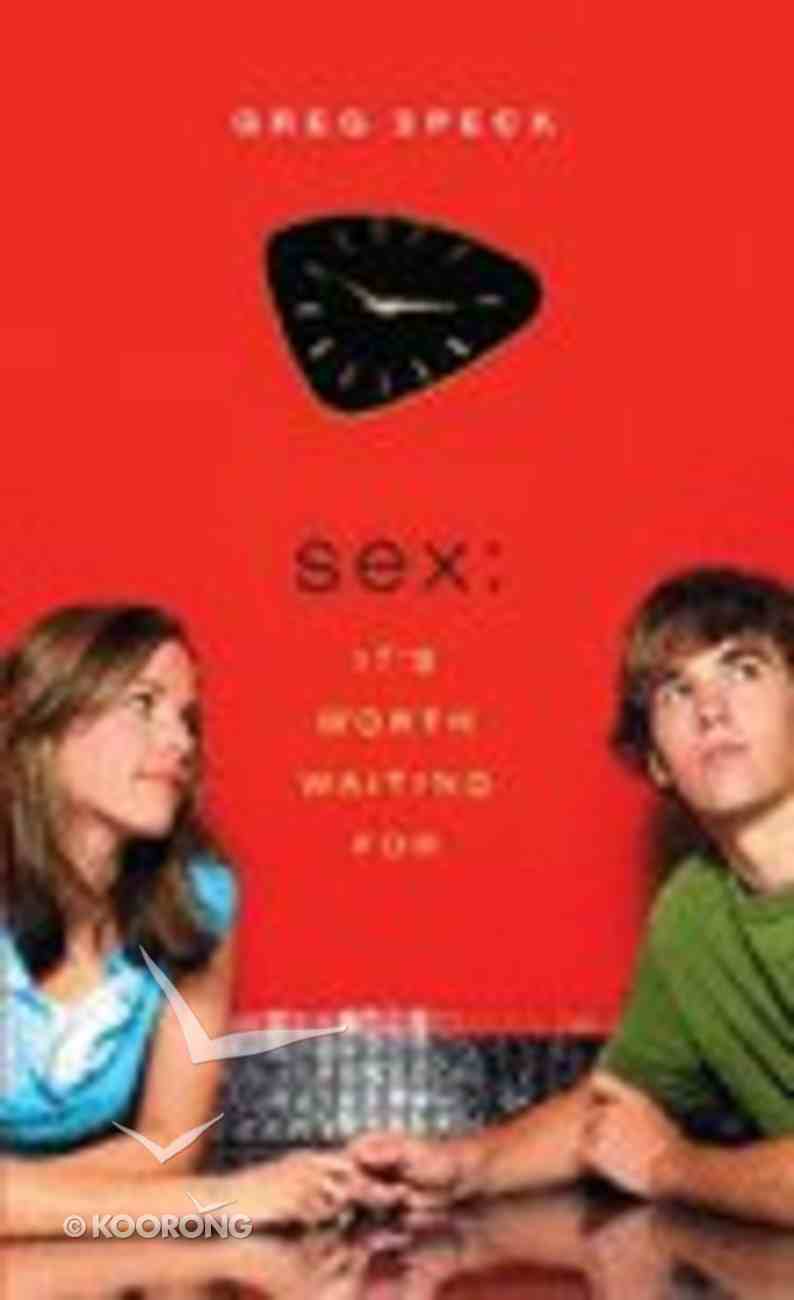 Sex: It's Worth Waiting For
God has a perfect design for great sex--with one person in a committed marriage. But get outside of that design and you are headed for destruction. Good sex is a gift that God wants to give you, but exposed...
---
Free Shipping
for orders over $99.


God has a perfect design for great sex--with one person in a committed marriage. But get outside of that design and you are headed for destruction. Good sex is a gift that God wants to give you, but exposed to air outside of marriage, this gift turns sour. Lust overcomes love, and risks of disease, abuse, and pregnancy are real. Sex: It's Worth Waiting For will answer some of your honest questions like, "How far can we go before we've gone too far?" and "If we love each other, why should we wait?"


Making right choices today will give you the good sex you desire later. Whether you're tempted by the thrill or longing for love, don't be fooled--God desires so much more for you.



-Publisher
GREG SPECK is a Youth Specialist with Reign Ministries, a missions organization for teenagers, and he speaks at national conferences, camps, churches, and spiritual emphasis weeks across the world, including retreats for couples with FamilyLife.  He has traveled throughout the United States, Canada, Western and Eastern Europe, the British Isles, South America, Africa, Japan, Taiwan, Singapore and the Philippines.  His humorous sketches and 'true to life' illustrations captivate audiences of all ages.  He has a deep understanding of the problems facing today's teen and identifies
<div>1. I Know That! (sex Is More Than A Single Act)<br><br>2. How Far Can I Go? (intercourse, Petting, Kissing)<br><br>3. What Does God Have To Do With Sex? (the Positives Of Sexuality)<br><br>4. Reasons For Waiting (besides What The Bible Says)<br><br>5. What Other Teens Say (a Word From Your Peers)<br><br>6. What God Can Do (should I Tell My Parents?)<br><br>7. It Can't Be Happening To Me (pregnancy-and What To Do Now)<br><br>8. Incest (an Open Letter)<br><br>9. Rape (why It Happens And What To Do)<br><br>10. Masturbation (why Doesn't Anybody Talk About It?)<br><br>11. Homosexuality (is There Hope?)<br><br>12. But I've Already Gone Too Far (your Options)<br><br>13. Purity (how To Regain It/how To Maintain It)<br><br>14. Life That's Worth Living (how To Belong To Jesus Christ)</div>