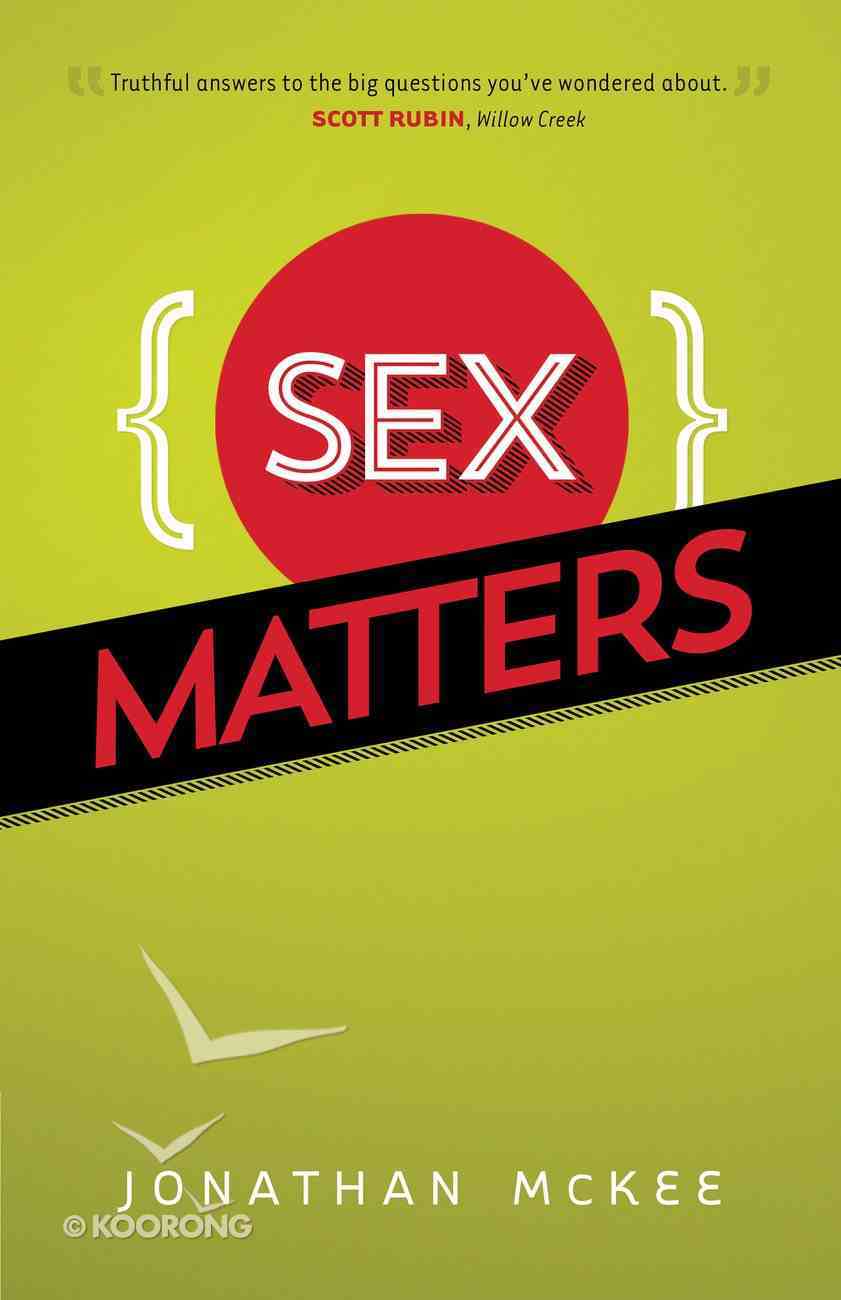 :The Unedited Truth About Sex · Is hooking up really wrong? · What about living together if you fall in love? · If the Bible bans sex before marriage ... is everything else fair game? · What about...
---
Expected to ship within 4 hours from Australia.
---
Free Shipping
for orders over $99.
:The Unedited Truth About Sex

· Is hooking up really wrong?
· What about living together if you fall in love?
· If the Bible bans sex before marriage ... is everything else fair game?
· What about same-sex relationships? Since when does God deny any kind of true love?

Great questions ... but who has the answers?

Our culture creates a lot of confusion about sex. Honestly, sometimes it's difficult to know who's telling the truth. On one hand, when we read our Bibles or go to church, we hear how God's design is to wait for sex and save that kind of intimacy for marriage. But on the other hand, when we go to school, turn on the TV, or listen to many of the songs on our favorite playlists ... they say quite the opposite. Naturally, this makes many of us wonder.
Who's right? Sex seems fun. How can something so natural be off-limits?

In Sex Matters, Jonathan McKee tackles all of these questions, giving you the frank, unvarnished truth about sex--regardless how awkward or embarrassing.

"'Just don't do it' isn't enough. Let's face it. Today's young people chronically encounter sexually charged images and messages, but rarely hear the whole story. They are looking for real answers to tough questions, and Sex Matters isn't afraid to tell them the unedited truth. Every teenager with an Internet connection or a phone in their pocket needs to read this book!"--Doug Fields, co-founder of DownloadYouthMinistry.com, youth pastor for thirty years at Saddleback & Mariners Church, speaker, and author of 50+ books including 7 Ways to Be Her Hero

"This isn't a sanitized, Christianized, moralized 'just say no' tactic, but a practical approach to what's really pressuring kids today, with biblical wisdom for how to succeed."--Pete Sutton, director of student ministry and middle school pastor, Christ Community Church, St. Charles, Illinois

"This could be the most honest and relevant book available for teenagers in your ministry. I wish I had something this honest and helpful in my hands when I was a teenager."--Brooklyn Lindsey, youth minister, Nazarene Youth International and ReThink Group; author, 99 Thoughts for Junior High and Confessions of a Not-So-Supermodel

"There are a lot of potentially embarrassing questions that rattle around the minds of many Christian teenagers when it comes to sex (How far is too far? Is masturbation a sin? stuff like that). Using powerful stories, eye-opening facts, and surprisingly blunt biblical truth, Jonathan McKee answers these kinds of tough questions with the right mix of truth and grace. He gives teenagers a clear path to living a pure life in a sex-saturated world. Get it, read it, and learn how to let your life and light shine in the darkness."--Greg Stier, president, Dare 2 Share (www.dare2share.org)

"Sex Matters provides super-helpful, truthful answers to the big questions you've wondered about, but never asked. Way better than anything you'll find through a web search."--Scott Rubin, junior high pastor, Willow Creek Community Church

"Every great adventure starts with preparation. Sex is a great adventure! But it requires thoughtful preparation. Jonathan McKee's Sex Matters is the perfect tool to prepare you for that journey. Do yourself a favor and spend some time thinking, processing, and preparing for the great adventure of sex."--Josh Griffin, Founder of DownloadYouthMinistry.com and high school pastor at Saddleback Church
-Publisher
andnbsp;Jonathan McKee, president of The Source for Youth Ministry, is the author of numerous books including Ministry By Teenagers, Connect, andandnbsp;the award winning book Do They Run When They See You Coming? Jonathan speaks and trains at conferences, churches and school assemblies, all while providing free resources for youth workers on his website, www.TheSource4YM.com. SPANISH BIO: Jonathan McKee es president y fundador de www.thesource4ym.comuno orgaizacion sin fines de lucro dedicado a proveer herramienas gratis para lideres jueveniles alrededor del muno. Jonathan comenzo su correro