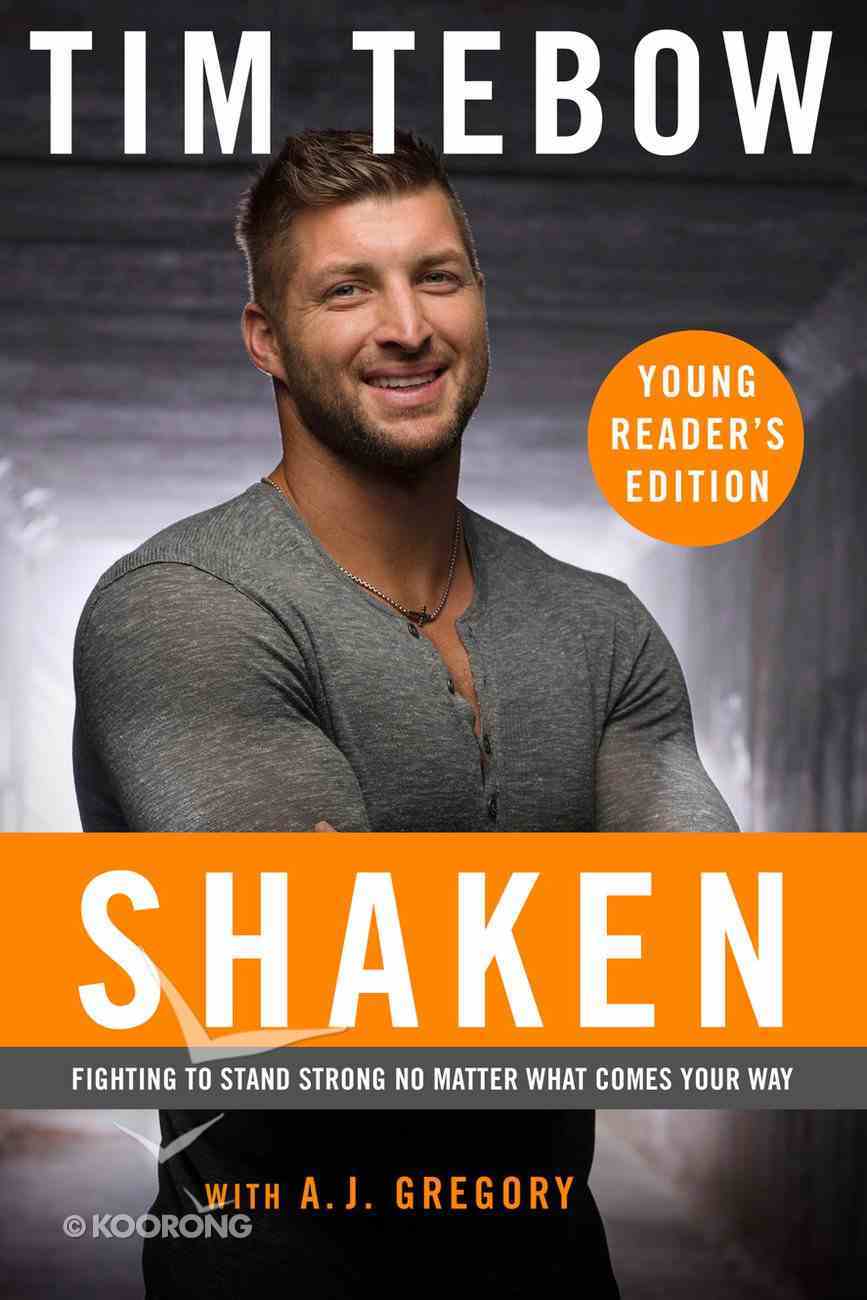 Shaken - Fighting to Stand Strong No Matter What Comes Your Way (Young Readers Edition Series)
:The Heisman Trophy winner and New York Times best-selling author of Shaken shares a vision for young Christians still forming their identity and finding their God-given purpose--even when life doesn't go as planned. Tebow is the beloved college football champion...
---
Available in other Formats
---
Free Shipping
for orders over $99.
:The Heisman Trophy winner and New York Times best-selling author of Shaken shares a vision for young Christians still forming their identity and finding their God-given purpose--even when life doesn't go as planned. Tebow is the beloved college football champion who was drafted in the first round of the 2010 NFL Draft, but after a miracle season and playoff appearance with the Denver Broncos, he experienced a disappointing end to his pro career with three other teams. In his life Tebow's won big victories and felt the depths of failure. In Shaken: The Young Reader's Edition, Tebow writes about how neither the highs nor the lows of his life define him. Ultimately, only God can do that. Tebow's goal in this writing is to inspire young people to find their identity and purpose in God too.
-Publisher
PRODUCT DETAIL
Catalogue Code 

477846

Product Code 

9780735289963

ISBN 

0735289964

EAN 

9780735289963

Pages 

208

Department Children / Young Adults
Category Youth
Sub-Category Biography
Publisher Waterbrook Press
Publication Date 

Sep 2017

Sales Rank 

54290

Dimensions 

218 x 144 x 17

mm

Weight 

0.331

kg
Tim Tebow is one of the most accomplished players in college football history. A two-time winner of the NCAA National Football Championship with the University of Florida, Tebow is also the first-ever sophomore to win the Heisman Trophy. He is the founder of the Tim Tebow Foundation, which was started to bring faith, hope, and love to those needing a brighter day in their darkest hour. In April, 2010, Tim was selected in the first round of the NFL draft b the Denver Broncos. He lives in Colorado. You can learn more about him online at www.tim tebow.com
:
1


Cut


We must accept finite disappointment, but we must never lose infinite hope.


—Martin Luther King Jr.


The locker room felt grim. You could just feel the tension. Guys stood in front of giant wooden lockers. On hooks and shoved in corners were more than just sweaty shorts and worn helmets. More than stuff. My New England Patriots teammates were staring at signs of shattered plans. Failure. Disappointment.


It was late August, time for roster cuts. NFL teams start out with ninety guys. By the end of the last week of the preseason, the number drops down to fifty-three. During those seven days, you can't help but feel on edge. Especially as you walk into the locker room after a workout and from the corner of your eye see a buddy that you trained and worked so hard with. Now he's glum, black trash bags in hand. It was like that all day.


One by one, a handful of my teammates started cleaning out their lockers. Told to go home. That it was over. Some masked the disappointment they felt. With others, it was written all over their faces.


On one hand, I was relieved. It wasn't me getting called into a conference room and then having to dump protein shakes, deodorant, and cleats into a noisy trash bag. On the other hand, I felt for these guys. They were my friends. And now, they weren't on the team anymore.


I remember clapping one guy on the shoulder and saying, "Hey, man. God's got a plan. He's got this." To another, I gave a bear hug, saying nothing.


As the day went on, I thought about my standing on the team. I felt like I had gotten more comfortable with my performance. We had just beaten the New York Giants 28–20 the night before, August 29, 2013. In this preseason finale, I had finished 6 of 11 in passing for 91 yards with two touchdowns. Yeah, maybe I didn't do my best, but I was just starting to click with the team.


And then, sucker punch.


It was my turn.


***


I didn't see it coming. Maybe because I was one of the last players to get cut.


I spent that Friday training in the Patriots facilities at Gillette Stadium. As I worked out, I felt a bit off. In the back of my mind, I was waiting for someone to pop his head into that room and call me into a meeting. But no one came. That helped to take some of the pressure off.


After my workout, I walked into the locker room. Seeing teammate after teammate getting released made me tense up again. I said goodbye to the guys while anxiously glancing over my shoulder. Waiting for something to happen. Maybe someone to call me into an office. Maybe a text. But nothing. A part of me began to think I was safe. I remember earlier that day talking to Robert Kraft, the owner of the Patriots. I liked and respected this man. He told me he was looking forward to seeing me at a barbeque he was hosting for the team the next day. I took his words as a good sign.


By the time I left the building, I felt okay. And I couldn't wait to hang out with my brother, Robby, and my longtime friends Bryan and Erik. I love these guys. We always have a ton of fun together.


To help distract me, the four of us hit a movie theater nearby. And after wasting an hour and a half of our lives watching a terribly boring flick, we parted ways. Erik and Bryan headed to the airport to fly home to Jacksonville as Robby and I headed back to the hotel room. By the time I went to bed, I still hadn't heard from Coach Bill Belichick or his staff.


I woke up the next morning thinking, Phew! I made it! Then, my phone beeped. A text message from Coach.


"Timmy, will you please come in?"


I stared at those six words for a minute. The feeling of security began to shatter.


I drove to the stadium, trying to not think so much. Whatever was going to happen was going to happen. It was that simple. But that didn't make it easy to accept.


I tried to focus as I pushed open the glass front doors. The place was practically empty. Most of the team was headed to or already at Mr. Kraft's barbeque, which I still had planned to attend. I kept calm as I walked down the gray hallway. My flip-flops flapped noisily on the tiled floor. When Coach Belichick's serious-faced assistant led me to the conference room, I knew. In an instant.


Enter the sucker punch.


The room was bare. Just a dark wooden rectangular table and a few chairs. There may have been a window or even a tap-dancing flamingo in the corner, but I wouldn't have noticed. My eyes were laser focused on the two men I was certain were going to change my future.


Coach Belichick sat in a chair on the opposite side of the table. Coach Josh McDaniels, who had drafted me to the Denver Broncos three and a half years earlier, stood in a nearby corner to his left. Someone waved his hand for me to sit. Their faces were matter-of-fact. No emotion.


Their faces were matter-of-fact. No emotion.


While I can't remember who spoke first or what he said, I think Coach Belichick broke the silence by saying, "Good job on the last game, Timmy."


I nodded, staying quiet. My relationship with Coach Belichick had been good since my Gator days. He would watch me train, encourage me. I liked the guy. And I wanted to play for him. I wanted to work hard and prove I was the right choice.


"It's not the right fit," Coach Belichick said.


My stomach churned. I felt disappointed. I felt I had let myself down. I didn't believe I performed as well in practice or the preseason as I could have, but I was getting better. I had been stoked about getting to learn and train under Tom Brady, one of the best quarterbacks of all time. I planned on using that experience to become one of the best quarterbacks of all time, too. At the beginning of training camp, I put a lot of pressure on myself to be like Tom and train like Tom, but then I realized it wasn't about being Tom. It was about being me and doing my best. But all this didn't matter. My effort wasn't enough.


Honestly, it hurt. I had hoped Coaches Belichick and McDaniels would give me a chance. They were some of my biggest supporters. If they didn't believe in me, who would?


The meeting lasted ten, maybe fifteen minutes. I listened, not for a second taking my eyes off these two men. Though I felt they were sincere and truly sorry about letting me go, I didn't get any clear answers. They kept talking in circles.


As Coach Belichick said a few more things, I couldn't help but wonder, Why wasn't I enough? Should I have trained differently? Should I have spent more time studying? Or more time throwing? Am I done for good?


This wasn't the first time I was let go from an NFL team. In the spring of 2012, I was traded from the Broncos to the New York Jets. That move felt like a kind of betrayal. A year later, the Jets let me go. I didn't like this pattern.


As I nodded, still looking at these two men square in the eyes, I shifted my thoughts toward God. The One I believed had led me to New England. I thought this was going somewhere special! I thought this was a plan You designed for me. If that was true, then why, God, why is this thing crashing and burning?


Then the meeting was over.


I gave Coach Belichick and Coach McDaniels hugs. I wished them and their families well. I genuinely meant what I said. I deeply respected these two men. They are great at what they do. And I didn't blame them in the least.


I blamed myself.


As I stepped out into the empty hallway that would lead me for the last time to the Patriots locker room and my very own black garbage bags, my heart sank. You could have, you should have done more, Timmy. Why didn't you push harder? Train better? Work out longer?


I pictured the thousands of letters, cards, and e-mails I had received from kids who looked up to me and had rooted for me. I had failed them. Again. I felt so embarrassed.


Thankfully the locker room was nearly empty, quiet. I grabbed a few garbage bags and stood in front of my locker, feeling like I was going to throw up. Is this it? Will I ever wear an NFL uniform again?


I stared at the bottles and jars of nutritional supplements that cluttered a shelf. Green fuel, protein shakes, vitamins, antioxidants—all the things that were supposed to help me get stronger, faster, better. Dang, I thought, they were no help at all.


I stared straight at the Patriots gear. A uniform I was proud to wear, that I'd never put on again. In a blur, I grabbed some of my personal stuff and chucked the items one by one into a trash bag. As I tossed in a pair of running shoes, I knew it wouldn't be long before millions of Americans would hear the news. I'd have to make a statement soon and wanted to do it right. I wanted to say—and mean it with all my heart—that I was grateful to God and to the Patriots for the opportunity.


In that moment, it wasn't easy. I knew God hadn't left me. I knew He still had a plan for my life. I knew He still had a purpose. And though my foundation in Him was solid, much of what rested on top of that was shaken. I love what boxer Mike Tyson said, something like "Everyone's got a plan until they get punched in the face." That's just what it felt like for me.


In that moment, it wasn't easy. I knew God hadn't left me.


A few teammates and coaches were there to say goodbye. They were nice and supportive, wishing me the best of luck. I can't tell you how much time had passed, but by the time I started filling my second garbage bag, I was over it. I took what I could and left the Patriots equipment in the locker. Then I walked out of the building, giving more hugs and saying thank you to the few people I passed on the way.


The summer sun felt warm on my face. The air was calm and still. Walking toward my rental SUV, which was parked in the middle of a lifeless parking lot, I remembered the last game I had played for the Broncos. On January 14, 2012, the Patriots killed us 45–10 in the second round of the AFC Championship playoffs. I didn't know it at the time, but during the game, I had broken my collarbone and second rib. As I climbed into the SUV, now a year and a half later, I slammed the door shut and thought, This is the second time I'm leaving Gillette Stadium—broken.


I sat for a minute, staring out the windshield. Did that really just happen? God, I thought we were in this together! I thought we had a plan, a purpose! We were supposed to do some great things here!


On and on these split-second thoughts blasted their way through my brain. Finally, I unfroze.


I picked up my phone and called my brother Robby, or my friend Erik, maybe both. I can't remember. But they kindly organized an immediate group call with my "circle of trust." My family (Mom and Dad, sisters Christy and Katie, brothers Robby and Peter) and a few close friends rounded out this amazing bunch. I needed their support, but I also wanted to tell those closest to me the news in one shot. I'm not a big fan of repeating myself, especially when it's bad news.


As I made the fifteen-minute drive through the back roads to the hotel, I told the people I love most that the Patriots let me go. They immediately began to encourage and pray for me.


"I'm so sorry, Timmy."


"This is not over."


"God's got a plan."


And then together, we worked our way through what I would post on social media. How do you respond publicly to such a personal loss? After much thought, I tweeted on August 31, 2013, 12:16 p.m.:


I would like to thank Mr. Kraft, Coach Belichick, Coach McDaniels and the entire Patriots organization for giving me the opportunity to be a part of such a classy organization. I pray for nothing but the best for you all. I will remain in relentless pursuit of continuing my lifelong dream of being an NFL quarterback. 2 Corinthians 12:9: "And He has said to me, 'My grace is sufficient for you, for power is perfected in weakness.' Most gladly, therefore, I will rather boast about my weaknesses, so that the power of Christ may dwell in me."


I was trying to mean every word. I really was. I knew in my heart it was true, but my emotions were working hard to get in the way of the truth.