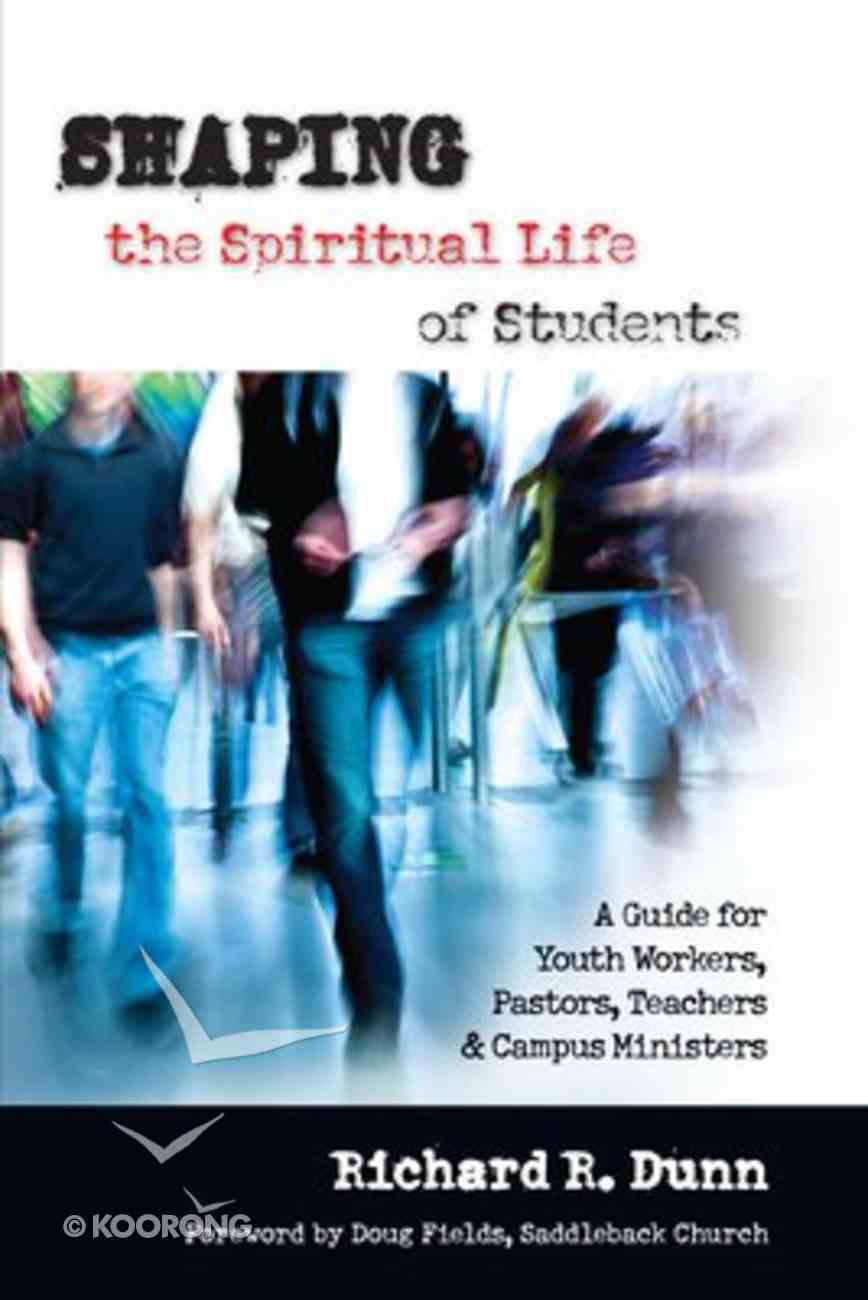 Shaping the Spiritual Life of Students
Richard Dunn shows how to mentor today's teens by setting the pace--physically, intellectually, emotionally, socially and spiritually--with sensitivity to the unique issues of adolescent development.
Out of Stock
Available to Order
---
Expected to ship in 4 to 5 weeks from Australia.
---
Free Shipping
for orders over $99.
Richard Dunn shows how to mentor today's teens by setting the pace--physically, intellectually, emotionally, socially and spiritually--with sensitivity to the unique issues of adolescent development.
-Publisher
Alberto is an energetic, people-pleasing eighth grader. He seems to have it all--from the junior high varsity team to his family's beautiful new home to leadership in his youth group. But he feels pressured by team members who mock his Christianity and rejected by his dad whose work requires more and more travel. His young spiritual life is in a precarious place.Last year, as a high school sophomore, Jonathan began spending time with some recreational drug users. He was confident in his ability to hang out with these guys without getting involved with drugs. But he crossed the line. Jonathan is broken and cannot find his way back to the comfort of his previous trust in Jesus.Rachel is estranged from her parents. In her freshman year at college, she is sharing an apartment with her boyfriend. She is torn between her emotional dependence on his attention and the fear that he will once again hurt her in a drunken rage. She has tried church but deemed it to be unsafe for a person like herself.This generation is the first to travel a truly postmodern pilgrimage where religious pluralism and faddish spiritual experiences are in vogue while Christianity is considered out of style. You want to reach them. But how?Richard Dunn suggests that the key is to set the pace in their lives--physically, intellectually, socially, and spiritually. Pacing takes time. It requires listening to youth and digging beneath the surface. But it pays off, because pacing allows you to enter the world of an adolescent and communicate caring.In this book, Dunn shows you how to set the pace with sensitivity to the unique spiritual issues that occur during each stage of adolescent development: junior high, senior high and college.
-Publisher
Richard R. Dunn (Ph.D., Trinity Evangelical Divinity School)Richard R. Dunn (Ph.D., Trinity Evangelical Divinity School) is lead pastor at Fellowship Evangelical Free Church in Kno is lead pastor at Fellowship Evangelical Free Church in Knoxville, Tennessee, a congregation consisting primarily of emxville, Tennessee, a congregation consisting primarily of emerging adults. He was formerly chair of educational ministrierging adults. He was formerly chair of educational ministries at Trinity Evangelical Divinity School in Deerfield, Illies at Trinity Evangelical Divinity School in Deerfield, IlliC
Foreword By Doug Fields
Acknowledgments
<em>section 1: A Vision For Twenty-first Century Ministry</em>
1. The Walk Of Life
2. Postmodern Pilgrims In Progress
3. A Theology For Pacing, Then Leading
<em>section 2: Sacred Practices Of Loving Well</em>
4. How To Listen Before You Lead
5. How To Speak The Truth In Love
6. How To Confront &amp; Resolve Conflict
7. How To Nurture The Adolescent Moral Self
8. How To Create Space For Postmodern Spiritual Journeys
<em> Section 3: Exploring The Terrain Of Adolescent Journeys</em>
9. Early Adolescence: "we're Not In Kansas Anymore"
10. Middle Adolescence: Whose Am I?
11. Late Adolescence: The Final Frontier
<em>section 4: Spiritual Care For Spiritual Caregivers</em>
12. Self-care For Wick Burners
Notes
Bibliography
Bestsellers in Youth Ministry