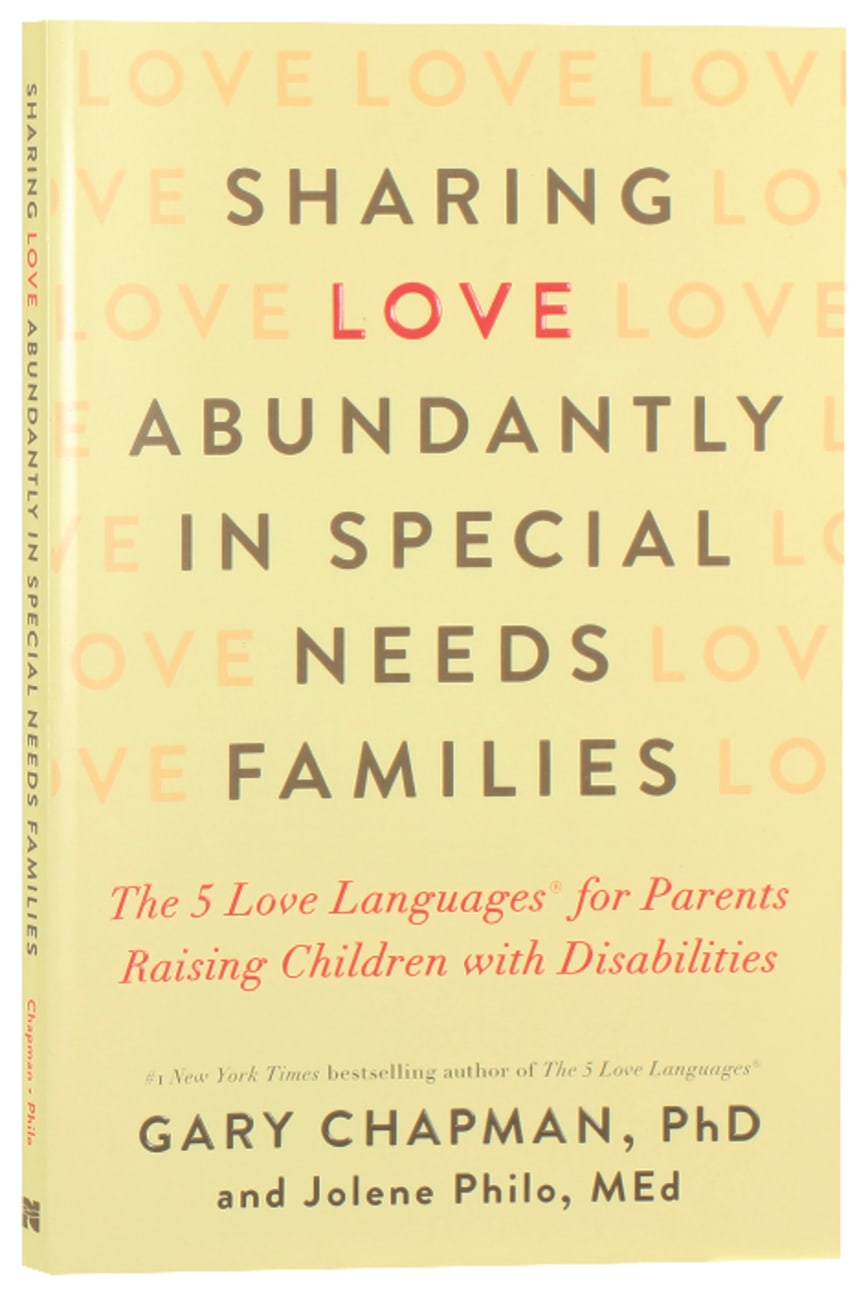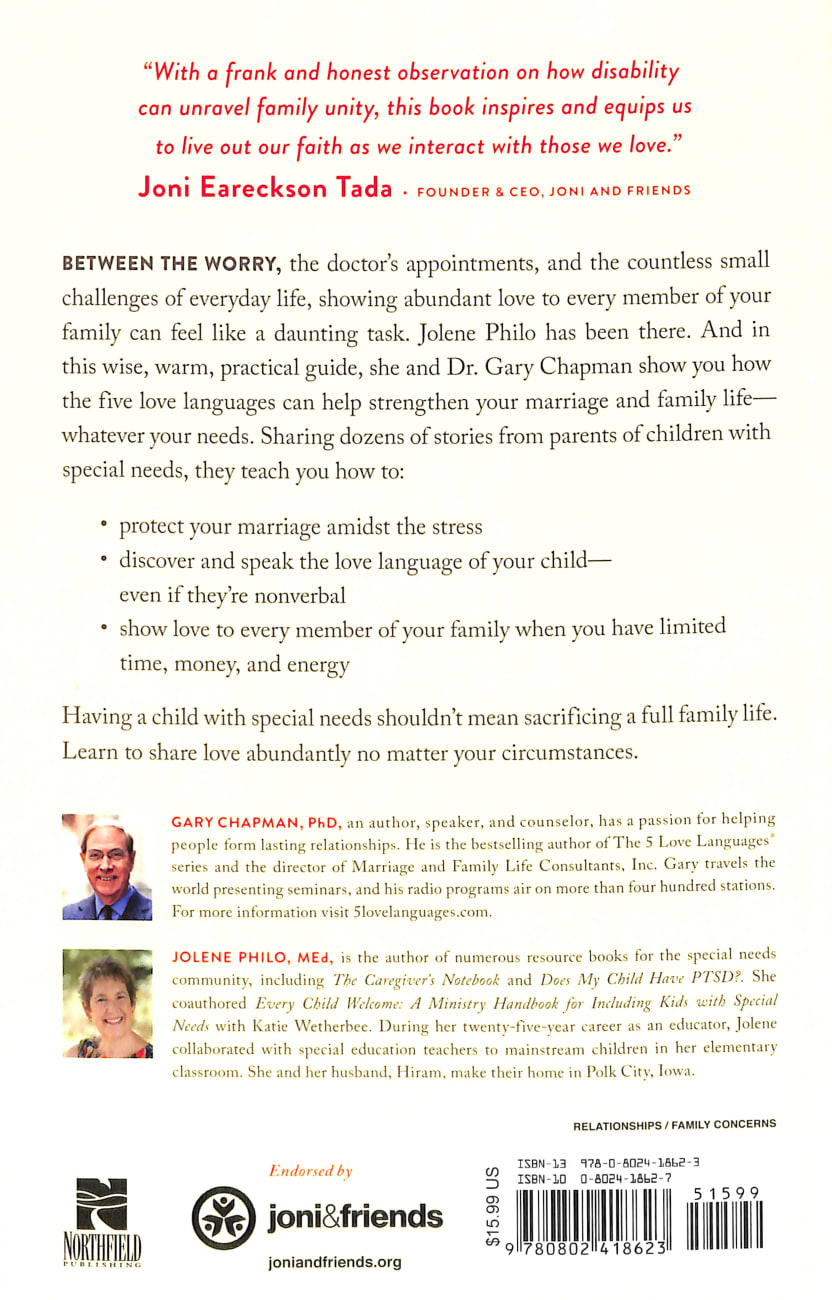 Sharing Love Abundantly in Special Needs Families: The 5 Love Languages For Parents Raising Children With Disabilities
"With a frank and honest observation on how disability can unravel family unity, this book inspires and equips us to live out our faith as we interact with those we love." - Joni Eareckson Tada, founder & CEO, Joni and...
---
Expected to ship on Monday from Australia.
---
Free Shipping
for orders over $99.
"With a frank and honest observation on how disability can unravel family unity, this book inspires and equips us to live out our faith as we interact with those we love." - Joni Eareckson Tada, founder & CEO, Joni and Friends

Between the worry, the doctor's appointments, and the thousand small challenges of everyday life, it's easy to feel overwhelmed and exhausted. The idea of showing abundant love to every member of your family can feel like a daunting task. Jolene Philo has been there. And in this wise, warm, practical guide, she and Dr. Gary Chapman show you how the 5 love languages can help strengthen your marriage and family life-whatever your needs. Sharing dozens of stories from parents of children with special needs children, they teach you how to:

protect your marriage amidst the stress.

discover and speak the love language of your child-even if they're nonverbal.

accommodate the love languages for children with special needs and disabilities.

show love to every member of your family when you have limited time, money, and energy.

Having a special needs child shouldn't me.

-Publisher.

Publisher Description

: Dr. Gary Chapman and respected author, Jolene Philo, join forces to talk to parents of kids with disabilities about how the 5 Love Languages® can help their marriage and family life. If you have children with special needs, your challenges are very different than most families. Here's help for your specific needs. Look for its release in August 2019 or pre-order now.
Jolene Philo's (BA, Elementary Education, Westmar College; MS, Effective Teaching, Drake University) first child was born with a life-threatening birth defect. Their son survived and is an adult now, but their experiences created a deep desire to reach out to parents of critically or chronically ill children. Jolene has been a public school teacher with an inclusive classroom and is author of A Different Dream for My Child, Different Dream Parenting, and Caregiver's Notebook. A
New York Times best-selling author, Dr. Gary Chapman seeks to fulfil his call to the ministry as a pastor, speaker, and author. He speaks extensively throughout the U.S. and internationally on marriage, family, and relationships. The government of Singapore invited him to present his marriage seminar there and the Chaplainfds Office of NATO issued a special invitation for Dr. Chapman to speak to the NATO forces in Germany. Other engagements have taken him to England, Africa, Saudi Arabia, Turkey, Mexico and Hong Kong.

Sales exceeding 5 million copies earned him the Platinum Book Award from the Evangelical Publishers Association for The Five Love Languages, which has been translated into over 36 languages. Almost 30 other books including: The whole Love Languages series; The Five Languages of Apology; Desperate Marriages: Moving Toward Hope and Healing in Your Relationship; Now What? Marriage After Children; Profit Sharing: Making Money An Asset in Your Marriage and Anger: Handling a Powerful Emotion in a Healthy Way, Love is a Verb; God Speaks Your Love Language; The Family You've Always Wanted, plus five DVD series are also among his publications. He also hosts a weekly radio program Building Relationships with Dr. Gary Chapman, which airs on more than 170 stations.

On the home front, Dr. Chapman is Senior Associate Pastor of Calvary Baptist Church in Winston-Salem, North Carolina with over 35 years of pastoring and marriage counselling experience. He and his wife, Karolyn, have two adult children and two grandchildren.

Dr Gary Chapman holds the following educational qualifications:

Southwestern Baptist Theological Seminary
Ph.D., Adult Education
M.R.E., Education Administration

Wake Forest University
M.A., Anthropology

Wheaton College
B.A., Anthropology; Minor: Bible

Moody Bible Institute
Diploma, Pastor's Course

Duke University
Graduate work: History of Education; Educational Psychology

University of North Carolina
Graduate work: Philosophy of Education; Comparative Education
- Publisher.