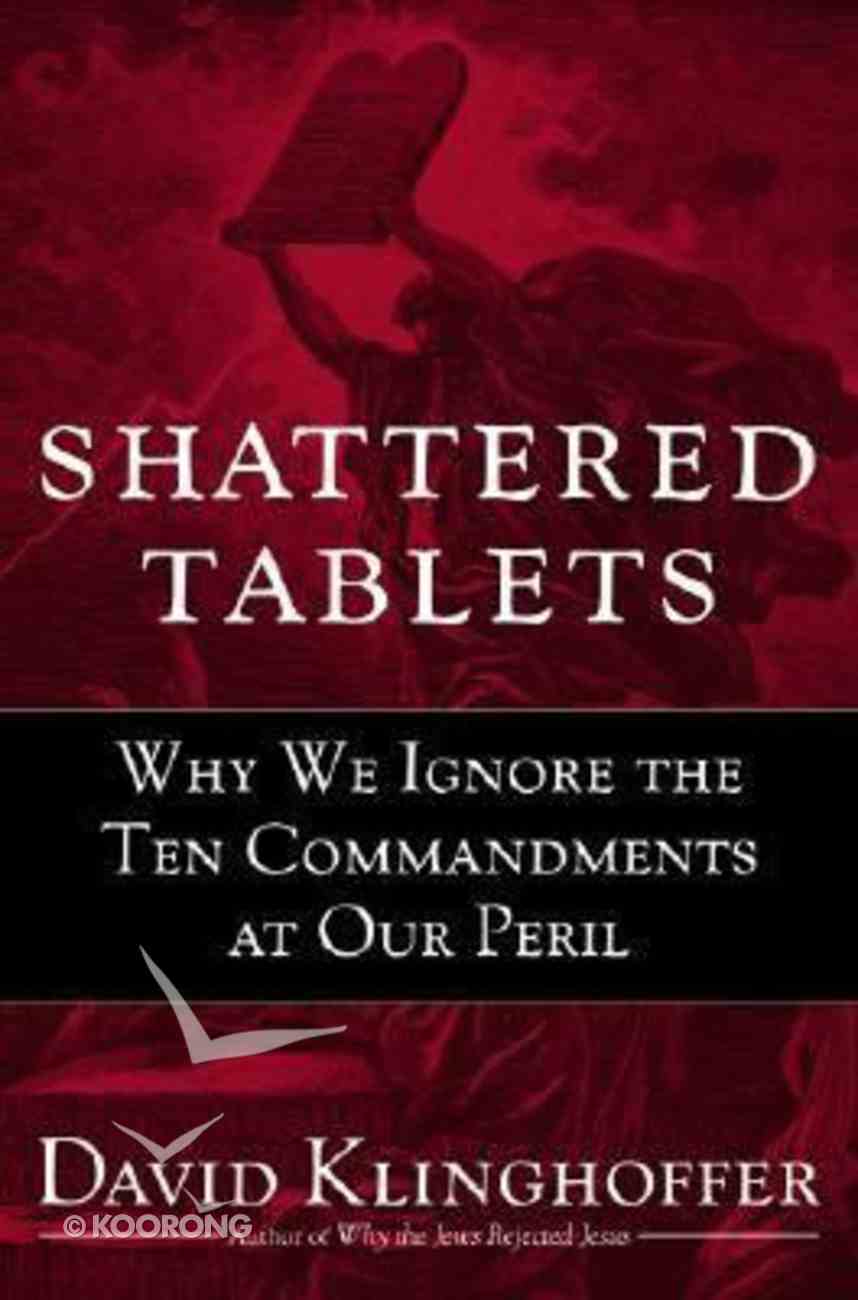 Is morality based on some essential truth or is it defined by society? In this highly original critique of American social mores and popular culture, David Klinghoffer argues that the Ten Commandments are essential to maintaining a morally healthy society....
Out of Stock
Available to Order
---
Expected to ship in 4 to 5 weeks from Australia.
---
Free Shipping
for orders over $99.
Is morality based on some essential truth or is it defined by society? In this highly original critique of American social mores and popular culture, David Klinghoffer argues that the Ten Commandments are essential to maintaining a morally healthy society. With the meticulousness of a scholar, he begins by excavating the meaning of the Commandments. Drawing on the millennia-old rabbinical work "Mechilta," he explains that the Decalogue was written on two tablets to show that when a country neglects the Commandments written on the first tablet--those having to do with the relationship between God and peoplethe interpersonal relationships described on the second tablet suffer irreparable damage as well. By shrugging off the Bible as a guide and turning toward secularism, America has created a crude, cruel, and dishonest national life. ^Addressing such timely topics as the controversy over public displays of the Commandments and the battles over Intelligent Design, Klinghoffer demonst
-Publisher
FIRST COMMANDMENT GodConsciousness I am the Lord your God, who has taken you out of the land of Egypt, from the house of slavery. (Exodus 20:2) On a damp winter night in Seattle, I attended a protest rally against the first commandment. The Oxford biologist and bestselling author Richard Dawkins had come to address a crowd at Town Hall, a cavernous defunct church now used for cultural events. The suave Brit, a type for which Americans swoon, roused and delighted his listeners. Ostensibly, Dawkins's subject was Darwinian evolution, of which he is the Englishspeaking world's boldest and most charming advocate. But the mostly middleaged, flannelbundled Seattlites, packed tightly in the curving wooden pews of the old vaulted sanctuary, seemed less fired up by scientific details than by what the author had to say about modern life and values. Dawkins set the evening's tone by declaring himself "hostile to all forms of religion." Over and over, he stuck his thumb in the eye of religionists by referring to the Darwinist belief that, far from being God's children, humans are no more than animals. "We are all glorified lungfish," he said with relish, exhaling contempt for any contrary opinion, "cousins of kangaroos and bacteria," "fellow apes." He warned that with an evangelical Christian like George W. Bush in the White House, "People need to understand what they are up against in a society which is ruled by religious bigotry." The audience clapped and guffawed. When Dawkins reflected on the fact that "My publishers are no fools and planned the best places to go" to promote his book, wild applause interrupted him. He continued: "Of eight states we're visiting, all eight are blue states. Presumably these are states where they read books." More wild clapping and giddy laughter ensued as Dawkins's listeners applauded themselves for not being religious bigots, for living in a blue state, and for reading books. At one point, a member of the audience, standing up to ask a question, put her finger on the very central point, speaking passionately of how she "finds the naturalistic worldview immensely liberating compared to the alternative." I have set before you the fans of Richard Dawkins only as an initial illustration of a much widerspread attachment to naturalism, also known as materialism, the viewpoint in which everything that ever happened in cosmic history, from the big bang to today, did so for purely natural, material reasons, never due to supernatural causes. It's not atheism exactly, but it makes God beside the point. Darwinism is a prime example. Secularism, whose effects on our country's national life I intend to measure in this book, is the ideological view that would enshrine materialism as the official quasireligion of American culture and government. A goodly number of us assume that anyone who's not an idiot will of course take the purely naturalistic view. This question, which may sound abstract, is tearing America apart. The Town Hall event occurred as America was heading for a crisis in the war over "ntelligent design," the minority scientific viewpoint that finds evidence of a designer's hand at work in life's history over hundreds of millions of years. Darwinism and religious faith begin from mutually exclusive assumptions about reality. InThe Origin of Species, Darwin's working premise is that God has no role in the unfolding of the story of life. In view of this belief, which he never states or defends, but simply assumes, he goes on to detail his theory about natu
-Publisher
PRODUCT DETAIL
Catalogue Code 

267239

Product Code 

9780385515672

ISBN 

0385515677

EAN 

9780385515672

Pages 

272

Department Academic
Category Christian Worldview
Sub-Category Social Issues
Publisher Doubleday
Publication Date 

Aug 2007

Dimensions 

229 x 163 x 24

mm

Weight 

0.445

kg
David Klinghoffer is?a senior fellow at the Discovery Institute in Seattle. He is the author of five books including "Why the Jews Rejected Jesus: The Turning Point in Western History" (Doubleday, 2005), "Shattered Tablets: Why We Ignore the Ten Commandments at Our Peril" (Doubleday, 2007), and the spiritual memoir "The Lord Will Gather Me In: My Journey to Jewish Orthodoxy" (Free Press, 1999), a National Jewish Book Award finalist. A former senior editor of "National Review" magazine, he has written for the "New York Times", "Wall Street Journal", "Los Angeles Times", "Commentary", "The Weekl
Bestsellers in Christian Worldview