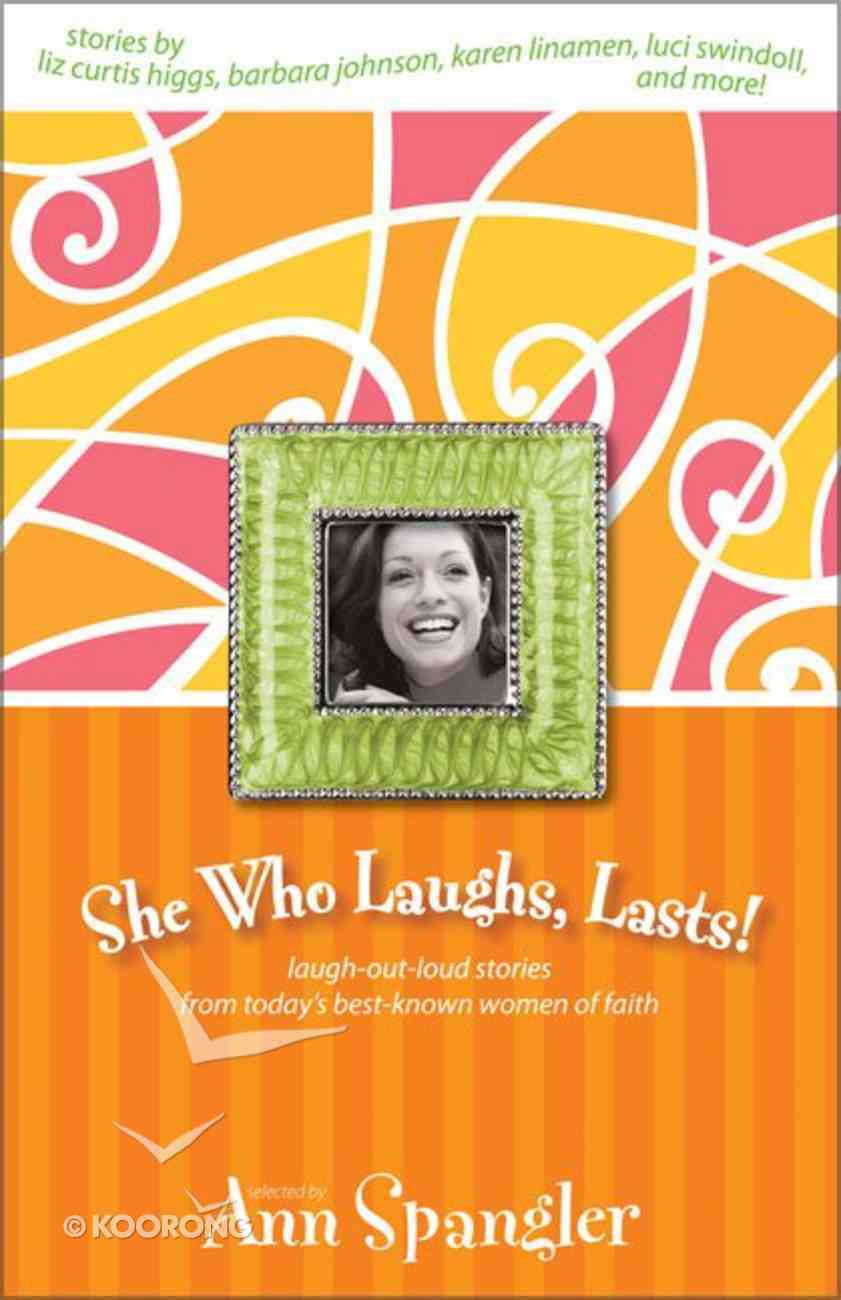 SHE WHO LAUGHS, LASTS! Compiled by Ann Spangler These laugh-out-loud stories, from today's best-known women of faith, will encourage you to lighten up and enjoy your life. Liz Curtis Higgs, Patsy Clairmont, Barbara Johnson and many others candidly recount their...
---
Free Shipping
for orders over $99.
SHE WHO LAUGHS, LASTS! Compiled by Ann Spangler These laugh-out-loud stories, from today's best-known women of faith, will encourage you to lighten up and enjoy your life. Liz Curtis Higgs, Patsy Clairmont, Barbara Johnson and many others candidly recount their own follies as they remind us that laughter can be faith's best friend. 231 pages, from Zondervan.
The best of the best--stories, one-liners, and jokes from some of today's funniest Christian speakers and best-selling writers This new book, like its best-selling predecessors, is packed with the kind of smiles and smirks, chuckles and giggles that thousands of readers have come to love and expect. It includes some of the funniest stories from today's Christian writers like Barbara Johnson, John Ortberg, Mark Buchanan, Patsy Clairmont, Becky Freeman, Chonda Pierce, and more. Whether the topic is kids, marriage, pets, church, parenting, aging, or life's most embarrassing moments, the writers will help you keep life in perspective by revealing their own foibles, follies, and failings. Realizing that laughter and faith can go hand in hand, they offer real-life anecdotes that will keep your world in balance even--and especially--when life gets tough.
-Publisher
10 Chapters
-Publisher
PRODUCT DETAIL
Catalogue Code 

143617

Product Code 

0310228980

EAN 

9780310228981

UPC 

025986228989

Pages 

240

Department General Books
Category Inspirational
Sub-Category General
Publisher Zondervan
Publication Date 

Jan 2000

Dimensions 

214 x 139 x 17

mm

Weight 

0.303

kg
Contents
Acknowledgments
Preface
Chapter One: 'tis More Blessed To Laugh Than To Frown
A Laugh A Day Puts Wrinkles In The Right Places By Liz Curtis Higgs
A Mouthful Of Laughter By Barbara Johnson
Chapter Two: Welcome To Womanhood
Cross My Heart By Liz Curtis Higgs
Techno-wonders Of The Modern Age By Sue Buchanan
The Mammogram By Barbara Johnson
The Infamous Bra By Thelma Wells
I Was A Victim Of Tsk-tsk-ers By Sue Buchanan
Chapter Three: Did I Do That?
Lookin' Good By Patsy Clairmont
In The Pink By Liz Curtis Higgs
Overcoming With Worms By Becky Freeman
Keep On Ticking By Bodie Thoene
Night Life By Patsy Clairmont
Chapter Four: Men And Marriage --- What Could Be Funnier?
Hanky Panky By Charlene Ann Baumbich
Aphrodisiacs By Betty Smartt Carter
Part Man, Part Barca-lounger By Sue Buchanan
Finished Yet? By Sheila Walsh
'twas The Night Before New Year's By Nancy Kennedy
Sweet Spirit By Karen M. Feaver
Someone To Watch Over Me By Janell Wheeler
Romantically Impaired By Nancy Kennedy
Miracle On Second Street By Charlene Ann Baumbich
What A Guy! By Marilyn Meberg
In Silliness And In Health By Liz Curtis Higgs
Stop The Treadmill, I Gotta Get Off By Charlene Ann Baumbich
The Bathroom That Ate Our Budget By Nancy Kennedy
Chapter Five: Just For Grins
Just Call Me Luci By Luci Swindoll
Was That A Sneeze? By Hope Mihalap
A Hearty Ha, Ha, Ha! By Barbara Johnson
Telemarketers And Other Suppertime Annoyances By Chonda Pierce
Off In La-la Land By Barbara Johnson
Perfect Pitch? By Hope Mihalap
I Know God Is Not A Grump Like Me By Cynthia Yates
Chapter Six: I Am Mommy, Hear Me Roar!
Teetering On The Verge Of Wild Womandom By Becky Freeman
'snap Out Of It!' By Sue Buchanan
Bad Mommy By Marti Attoun
How To Obtain A Loan Using Your Children As Collateral By Kathy Peel
Gung Ho! By Marti Attoun
Private Parts By Karen Scalf Linamen
Flex Time By Marti Attoun
Suit Yourself By Candace Walters
Chapter Seven: Every Kid Has A Funny Bone
From The Mouths Of Babes By Various Authors
Worms In My Tea By Becky Freeman
Perfect Little Ladies? By Ann Spangler
How Will I Find You When I Get To Heaven? By Ellie Lofaro
Pacified By Marilyn Meberg
Scorched By Nancy Coey
Who's The Boss? By Carol Kent
The Art Of Potty Training By Kathy Peel
Body Snatchers By Karen M. Leet
Chapter Eight: Laughter: The Glue That Holds Friendships Together
Friendship Bread By Liz Curtis Higgs
Stormy Weather By Thelma Wells
Shades Of Lucy And Ethel By Luci Swindoll
Wax Buildup, Anthropology, And Starched Pillowcases By Sue Buchanan
Chapter Nine: Chortles From Church
'ssshhh! You're In Church!' By Various Authors
Praise Ye The Lord! By Patsy Clairmont
Your Chickens Will Come Home To Roost By Susan Duke
Antics By Marilyn Meberg
Chapter Ten: My Mother, My Self --- Eeek!
What Time Is It When The Chickadee Chicks? By Chonda Pierce
Mrs. Malaprop By Ann Spangler
Hair Today . . . Gone Tomorrow By Sheila Walsh
Find It At Your Local Bookstore By Chonda Pierce
Tolerance By Cathy Lechner
Chapter Eleven: What's Life Without A Few Wrinkles? Mighty Short!
Midlife Bliss By Becky Freeman
Keep Your Tweezers To Yourself! By Gracie Malone
Love Those Wrinkles! By Liz Curtis Higgs
Prayer In Old Age By A Seventeenth-century Nun
Chapter Twelve: We Need A Little Christmas Cheer
Ho, Ho, No! By Nancy Kennedy
Picture Perfect By Marti Attoun
This Little Piggy Went To Day Care By Connie Breedlove
I Love Cats! By Elisa Morgan
All I Want For Christmas By Charlene Ann Baumbich
Notes
In the Pink Liz Curtis Higgs It's not that I don't adore home decorating. That love affair began at the dawn of puberty when I turned twelve and my two older sisters had vacated our big bedroom. Mother decided I was old enough to choose a new decorating scheme myself. Did I do a safe pale blue, a feminine pink, a slightly daring lavender? No, I went for a Mother Nature look: navy blue walls (think sky) with bright yellow floral wallpaper on the ceiling (sun), brown painted floors (dirt) with green throw rugs (grass, of course). And to think Earth Day hadn't even happened yet. I was ahead of my time. Way ahead of my time. Mother, being a gardener, thought it was dandy. She even helped me antique the desk and bookshelf --- remember that look? We used yellow paint for the base color then brushed on dark blue stain and wiped half of it off. It looked as bad as it sounds: green and yellow striped furniture. My friends made gagging sounds when they walked in the room. I've traveled the interior design highway many times since then. My first apartment furniture consisted of one metal pole shelf earned with SandH Green Stamps and a dreadful plaid sofa bed bought with a credit card. Next came the early seventies hippie look with oversized floor pillows in earthtone colors: tans, browns, and rust. (Did we really decorate with olive and orange?) When it came to decorating, I found my best bet was paint. It was inexpensive, came in a zillion colors, and required no sewing, stuffing, or hauling. There wasn't any shade I wasn't willing to try: dark green, paper bag brown, turquoise, even feldspar. Feldspar? The dictionary will tell you it's something found in igneous rocks, but I'm telling you this is not a color found in nature. Picture the deepest, brightest coral imaginable, then multiply it by ten. That's feldspar: a color one should use in very small doses, which is why it seemed the perfect choice for my tiny six-by-seven-foot laundry room. Never one to rush such projects, I waited until the night before the delivery men would arrive with my new washer and dryer to start painting. How long could one little room take? Anyway, the hardware store insisted it would cover in one coat. I popped open the can and gasped. Feldspar my foot, this was flamingo pink! With trepidation, I poured it into the paint tray and was soon rolling it onto the walls. Flat and vertical, the color was more coral than pink, and I sighed with relief as I rolled and trimmed, rolled and trimmed. By 1:30 a.m., I had finished three walls and was pleased with the progress, except for one minor point: it was going to take two full coats to cover the old paint. Filling up the paint tray for the last wall, my tired arms stretched the tray up onto the shelf that perched on the side of the ladder. Maybe it was the late hour, the lack of sleep, or too many paint fumes, but my next move was a terrible one: I moved the ladder. The forgotten paint tray, filled with a quarter of a gallon of bright pink latex, came raining down on my horrified head. If my mouth had been hanging open as usual, I might have drowned. Instead, the metal paint tray landed right on my chest, cascaded paint down the front of my T-shirt and jeans, and landed with a clang at my feet. Now, the good news: for the first time in my natural life, I had used a drop cloth. On previous painting expeditions, I'd taken one page of newspaper and scooted it around the room with my foot, painting as I went. But because this laundry had a nice hardwood floor, I had wisely covered it with a vinyl drop cloth, a fact that at that moment gave me great solace. It could have been worse. Had I been a married woman then, I would've called out, 'Honey!' and some kind man would've come to my rescue. But I was a single woman when I bought that house, and the only other creature under my roof was my large cat, now perched on the laundry doorstep, looking mighty curious. I know what most of us would've done: we would've stopped right then and there and gotten ourselves all cleaned up before continuing. But I was not about to waste all that paint, and anyway I had a job to finish. So, I stepped up to the fourth wall and smeared myself all over it, trying to make use of every drop of feldspar on my body. By this point, the clothes were a write-off, so I wiggled out of them, turned them inside out and dropped them in the trash can. (I know what you're thinking: does she always do her decorating projects in the buff? No, but when you live alone, you can get away with a lot!) It was now 2:00 a.m., the first coat was complete and would have to dry for two hours before the second coat could be applied. Certainly at this point a sane woman would have taken a moment to jump in the shower and wash off all that pink paint, but it seemed so pointless. In two hours, I'd be back into the mess all over again, I reasoned, so I simply pulled back the comforter on my bed, pulled back the sheets, pulled back the mattress pad, and positioned myself on top of the mattress. The paint had only landed on my front half, remember, and it was completely dry by now, to boot. I set the alarm for 4:00 a.m. and immediately fell into a deep sleep. Two hours later, I woke up on the first ring, rolled and trimmed with feldspar abandon, then showered and dressed for the day and was drinking coffee at 8:00 a.m. when the delivery men showed up at my door, appliances in tow. Despite my late-night latex disaster, I was going to have a lovely laundry after all. But later that morning, driving to work, a terrible thought came to mind: what if I had died in my sleep? After all when you're single, weeks can go by before anyone notices you're not around. I could imagine my coworkers finally beginning to ask, 'Has anyone seen Liz this month?' until at last the police would break into my house and find a stiff, half-naked pink woman with a starving cat perched at the foot of her bed. Gives me the willies to think about it. Ever since then, my color choices have been more subdued, a favorite being Heirloom Beige, which matches my aging skin perfectly.
Bestsellers in Inspirational