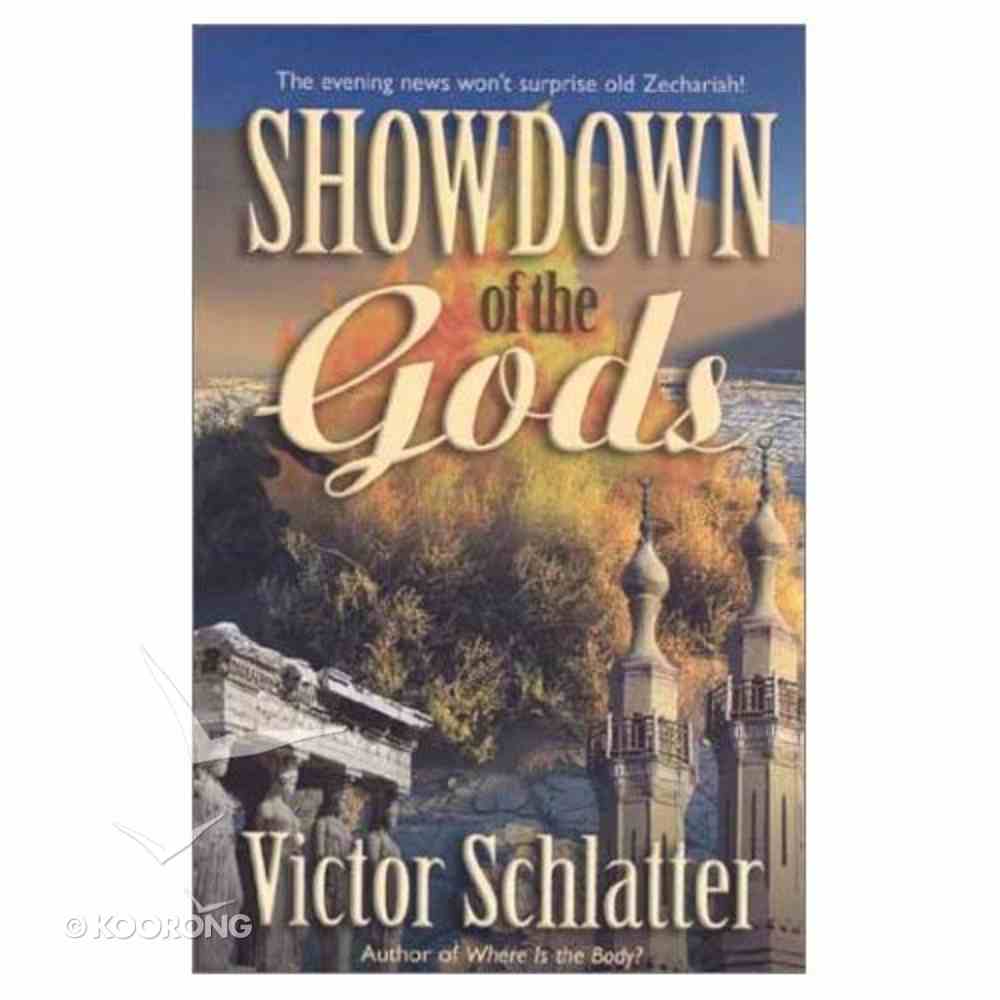 Description: Showdown of the Gods astoundingly went to press exactly on that infamous morning of 9-11 as the Twin Towers went up in flames. It was ironic that the author's prepared manuscript unwittingly contained two near-prophetic quips on...
Out of Stock
Available to Order
---
Expected to ship November 2021 from Australia.
---
Free Shipping
for orders over $99.
Description:

Showdown of the Gods astoundingly went to press exactly on that infamous morning of 9-11 as the Twin Towers went up in flames. It was ironic that the author's prepared manuscript unwittingly contained two near-prophetic quips on the World Trade Center prior to that ill-fated day. Victor Schlatter, in focusing on the three major challengers for global supremacy in our day, exposes the deterioration of world leadership and looks behind the "democratic process" long corrupted by wealth and power. With its related biblical prophetic content, he proposes a course of action for God's people. It is a must-read for all who would stand back for an overview of our current global deterioration.

- Author


Reviews:

"In Showdown of the Gods, Victor Schlatter has again used his prophetic insight and voice to take on the priorities of the global community of nations. He calls attention to the evil manipulations of global states in furthering their own interests. In his own unique style, he adds a bit of humor to a very serious discussion of international priorities. Schlatter further illustrates his thesis of national greed and interests by the position that nations take in relationship to modern Israel. His insights on the positions of Islamic nations towards Israel are especially notable, particularly as he relates these positions to the statements of the ancient biblical prophets."
- George Giacumakis, PhD, Professor of History, California State University Fullerton

"At a time when most of the world has more questions than answers, Victor Schlatter strips away a carefully contrived media facade, revealing the dire forces behind international power plays. Urging a strong allegiance to the Living God whose prophets have shown us the final scenario, he exposes the false gods and their misguided agents on earth, warning us of the mischief they perpetrate among the nations."
- Dr. G.J. Greef PhD, University of Stellenbosch, South Africa.

"I have read untold books based on Revelation only to be left with something just not quite right. In his book Schlatter offers 'old' material in the refreshingly insightful manner of the Prophet. As Elisha with his servant Gehazi, he opens our eyes to see what is going on in the realm of the invisible... book to all who live 'outside the box'!"
- Micki Milam, Executive Publishing Administrator, Destiny Image Publishers.

"Once again the brilliant mind of Victor Schlatter has presented us with a challenging book on Israel. His scientific approach combined with his superb sense of humour and extraordinary knowledge of the Bible has produced a work even more stunning and provocative than his previous masterpieces. I thoroughly recommend this landmark work to anyone with a real desire to come to terms with the complexities of the ongoing problems in the Middle East."
- Geoff Higham, Educational Administrator and School Principal-Queensland.

- Author.

- Author


Author information:
Victor Schlatter spent years as a nuclear scientist before choosing to study linguistics and translate the Bible. He has planted more than 100 churches in the South Pacific Islands serving 10,000 believers. Pastor Schlatter travels annually to Jerusalem, lectures worldwide, and has authored several book including Showdown of the Gods and Where Is the Body?.
Focuses on the three major challenges for global supremacy in our less than stable world. Awakens God's people to the true situation and proposes a plan of godly action.
-Publisher
Victor Schlatter spent 7 years as a nuclear scientist before hearing to a Higher call to upgrade his career to Linguistic Analysis and Bible translation. In a South Pacific Stone Age scenario, he translated the Waola Scriptures now in their 6th printing. He found that there is no such thing as a 'primitive' language, since Stone Age Waola has over 100 endings on every verb! His translation has since generated over 130 tribal congregations with some 15,000 believers across Papua New Guinea.

The Schlatters then reached out in a Pacific-wide ministry tying Isaiah's oft repeated 'Islands of the Sea' to a long-prophesied Israel reborn. Having made annual trips to Jerusalem since 1988, he has maintained in-depth research on the ever-escalating, never-ending Middle East countdown, especially as it reflects biblical prophecy. He is founder and Director of South Pacific Island Ministries, represents the International Christian Embassy Jerusalem to the South Pacific Islands and lectures globally.

He was awarded the Queen's Papua New Guinea Independence Medal in 1975 for recognised service to the Southern Highlands, and was selected for Who's Who in Queensland, Australia in 2007. He is author of Where Is the Body? (translated into Russian, Finnish and Dutch); Showdown of the Gods; Who Told You that You Were Naked?; Nineveh: A Parody of the Present - Biblical Clues to the Rise and Fall of America; and Genetically Modified Prophecies; Whatever Happened to all the Sand and Stars God promised to Abraham?

He and his wife, Elsie, reside in Australia.
Bestsellers in Spirit-filled Living