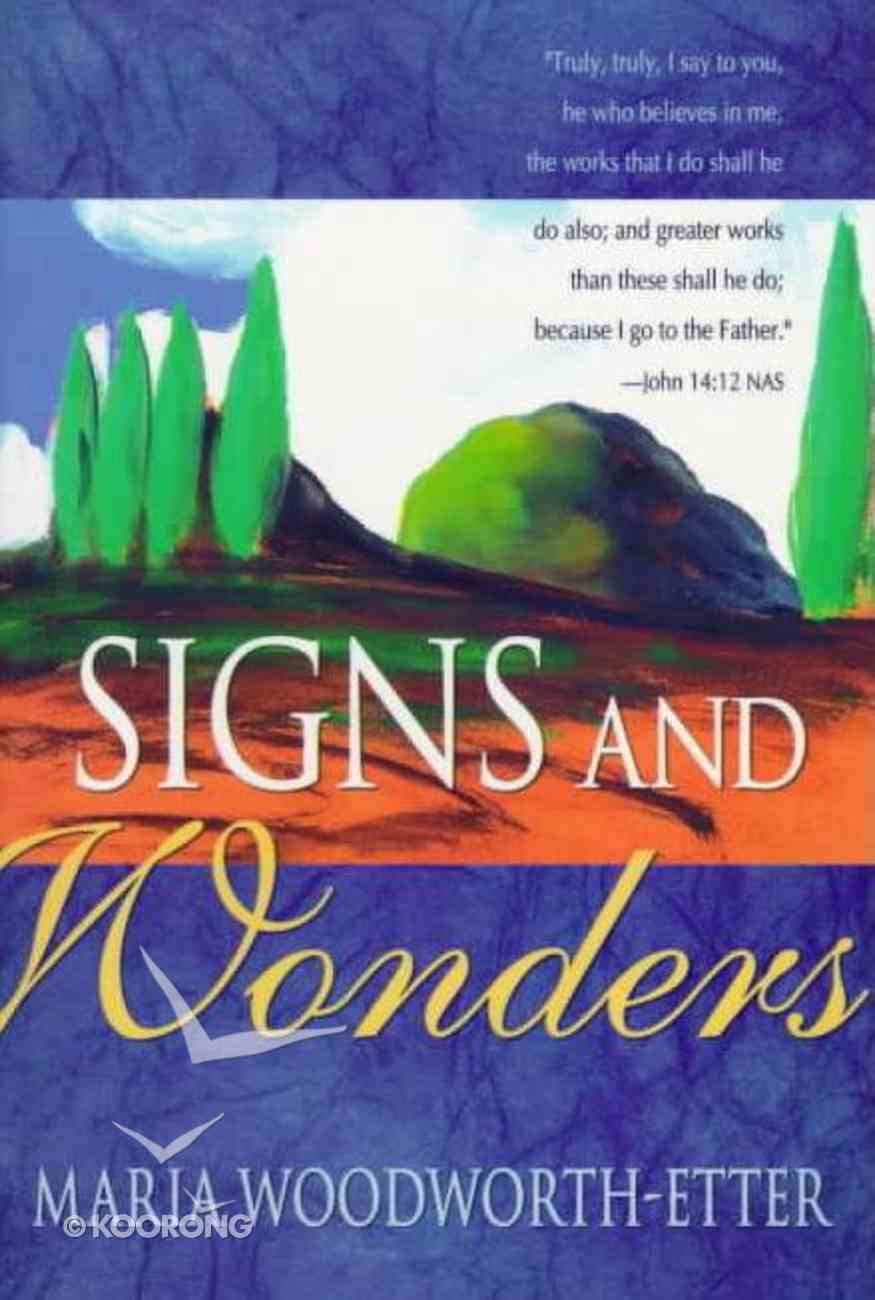 With a healing ministry that has been called the most powerful of the modern era, the author helps the reader discover how God is willing and able to reveal Himself today. 569 pages, from Whitaker.
Out of Stock
Available to Order
---
Expected to ship in 4 to 5 weeks from Australia.
---
Free Shipping
for orders over $99.
With a healing ministry that has been called the most powerful of the modern era, the author helps the reader discover how God is willing and able to reveal Himself today. 569 pages, from Whitaker.
-Publisher
Maria Woodworth-Etter's ministry is often called the most powerful of the modern era. As God used this yielded vessel, many dramatic healings of the most incurable sick occurred. Broken bones were instantly mended to life. Included with the dozens of testimonies, she discusses... The fullness of the Holy Spirit/ Current displays of God's power/ The power of faith/ How to be healed/ How to receive a miracle. Both she and her audiences reported many visions they had of heaven, angels, the New Jerusalem, and of forthcoming events including earthquakes and wars that subsequently occurred. Hundreds of thousands were saved through her ministry. On many occasions she received supernatural protection against murderous enemies. Discover how God is willing and able to reveal himself through Signs and Wonders in the lives of believers today
-Publisher
Woodworth?Etter's ministry is often called the most powerful of the modern era. As God used this yielded vessel, many dramatic healings of the incurably sick occurred. Discover how God is willing and able to reveal Himself in the lives of believers today.
-Publisher
Maria Woodworth-Etter (1844 1924), an outstanding evangelist of the<P> late nineteenth and early twentieth centuries, operated in such power of<P> the Holy Spirit that thousands came to her meetings. Born in 1844 near<P> Lisbon, Ohio, she began to hold revival meetings at the age of thirty-six, first<P> in Ohio and then across North America. Maria's meetings were marked by<P> the miraculous healings, prophecies, and visions were regular occurrences.<P> Moved by these powerful signs and wonders of the Holy Spirit, thousands<P> came to know Jesus as their personal Savior. By 1889, Maria owned a
1. Early Life2. Preparation Fro Service3. Progress In Preparation4. In The Word5. Surprises6. Deep Conviction7. Visions8. God's Power9. "by My Spirit, Saith The Lord"10. Wonderful Displays Of Power11. Many Conversions And Trances12. "i Will Work And Who Shall Hinder?"13. Thousands Attend Camp Meetings14. The Harvest Is Great15. An Earthquake At Anderson16. Victory In A Hard Place17. An Affirming Vision18. Healings Abound19. A Great Fight20. "my Counsel Shall Stand"21. "multitudes, Multitudes In The Valley Of Decision"22. A Mighty Work23. Permanent Results24. The Gospel, The Power Of God25. Many Made Spiritually Alive26. True Liberty27. Midwest Healings And Salvations28. World's Fait Rime29. Manifestations Of The Spirit30. Signs And Wonders In Dallas, Texas31. A Vision Of The Coming Of The Lord32. Questions And Answers On Divine Healing33. Gifts For Men34. Women's Rights In The Gospel35. Visions And Trances36. The Second Coming Of Christ37. Prepare For War: Marshaling Of The Nations38. The Power Of Pentecost39. Worldwide Camp Meeting As Los Angeles40. Glorious Worship And Praise41. Unity Of The Saints42. Vindication From False Charges43. Diseased Made Whole44. Wonderful Healing45. Testimony Of A Medical Doctor46. "enlarge The Place Of Thy Tent"47. Conquering The Demon Of Death48. Angelic Music49. "o Death, Where Is Thy Sting"50. Overcoming Obstacles51. Personal Healing For Sister Etter52. Lasting Healings53. Miraculous Touches Of God54. "thing Of Good Report"55. The Fire Falls At Topeka, Kansas56. Cries For Help57. Angelic Visitations58. Trying But Blessed Times59. Fighting The Good Fight60. Confirmation Of God's Word 61. "try The Spirits"62. Work Of The Holy Spirit63. James' Commission To The Church To Pray For The Sick64. "eye Hath Not Seen No Ear Heard"65. The Fire And Glory Of God Filling The Temple66. Dancing In The Spirit67. The Outpouring Of The Holy Spirit In The Last Days68. The Great Revival In Jerusalem69. Blasphemy Against The Holy Spirit70. The Blood Of The Lamb And The Word Of Their Testimony71. Put A Mark On Every Man And Woman
Bestsellers in Spirit-filled Living