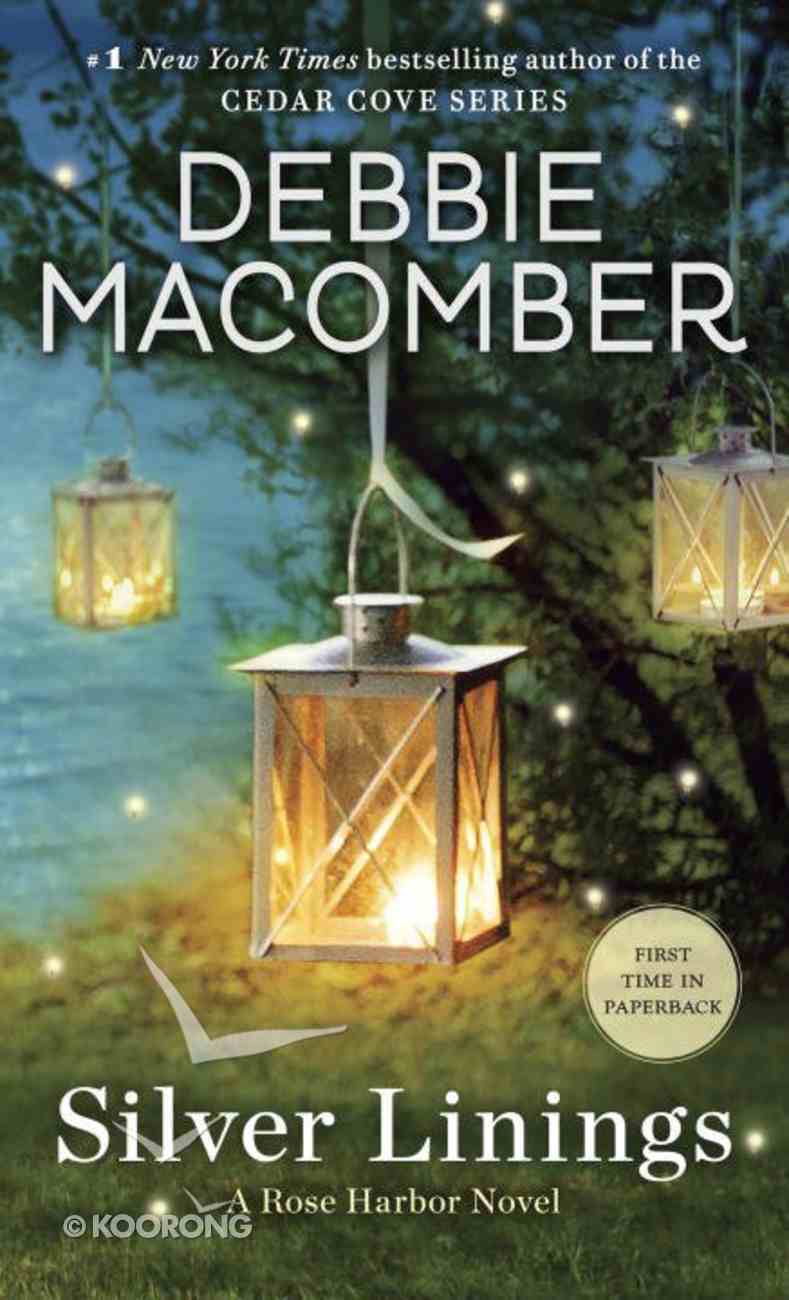 :NEW YORK TIMES BESTSELLER Set in Cedar Cove's charming Rose Harbor Inn, Debbie Macomber's captivating new novel follows innkeeper Jo Marie and two new guests as they seek healing and comfort, revealing that every cloud has a silver...
Available Now.
1 Available
---
Expected to ship within 4 hours from Australia.
---
Free Shipping
for orders over $99.
:NEW YORK TIMES BESTSELLER

Set in Cedar Cove's charming Rose Harbor Inn, Debbie Macomber's captivating new novel follows innkeeper Jo Marie and two new guests as they seek healing and comfort, revealing that every cloud has a silver lining, even when it seems difficult to find.

Since opening the Rose Harbor Inn, Jo Marie Rose has grown close to her handyman, Mark Taylor. Jo Marie and Mark are good friends-and are becoming something more-yet he still won't reveal anything about his past. When Mark tells her that he's moving out of town, Jo Marie is baffled. Just when she is starting to open herself up again to love, she feels once more that she is losing the man she cares about. And as she discovers the secret behind Mark's decision to leave, she welcomes two visitors also seeking their own answers.

Best friends Kellie Crenshaw and Katie Gilroy have returned to Cedar Cove for their ten-year high school reunion, looking to face down old hurts and find a sense of closure. Kellie, known as Coco, wants to finally confront the boy who callously broke her heart. Katie, however, wishes to reconnect with her old boyfriend, James-the man she still loves and the one who got away. As Katie hopes for a second chance, Coco discovers that people can change-and both look to the exciting possibilities ahead.

Heartwarming and uplifting, Silver Linings is a beautiful novel of letting go of the past and embracing the unexpected.

Praise for Silver Linings

"A heartwarming, feel-good story from beginning to end ... No one writes stories of love and forgiveness like Macomber."-RT Book Reviews

"Macomber's homespun storytelling style makes reading an easy venture... . She also tosses in some hidden twists and turns that will delight her many longtime fans."-Bookreporter

"Reading Macomber's novels is like being with good friends, talking and sharing joys and sorrows."-New York Journal of Books
-Publisher
PRODUCT DETAIL
Catalogue Code 

461158

Product Code 

9780553391824

ISBN 

0553391828

EAN 

9780553391824

Pages 

400

Department General Books
Category Fiction
Sub-Category Romance
Publisher Penguin Random House
Publication Date 

Jul 2016

Sales Rank 

52196

Dimensions 

174 x 105 x 26

mm

Weight 

0.195

kg
Debbie Macomber has more than 100 million copies of her books in print, and her stories about home and family have a worldwide audience and have been translated into twenty-three languages. In addition to being a #1 "New York Times" bestseller in fiction many times over, she also has an enormous following among knitters as the author of dozens of pattern and craft books. In 2008, she launched a branded line of knitting products through Leisure Arts, the company that publishes her knitting guides. Debbie and her husband, Wayne, have four children and nine grandchildren, and split their time beC
:Chapter 1

a

The first year of being a widow was by far the most difficult. When I got the news that my husband had been killed in a helicopter crash in Afghanistan, it felt like an atomic bomb had gone off inside my head. My entire life, my body, my heart felt as if I'd gone into a free fall. For weeks I was reeling with pain and loss, stumbling from one day to the next. It felt wrong that the world would continue when it had come to a complete halt for me.

With no other choice, I struggled to make sense of this new reality that was mine. Only a few months after I received word of Paul's death, against everyone's advice, I left the corporate world and purchased a bed-­and-­breakfast. I moved from Seattle to a quaint community called Cedar Cove on the Kitsap Peninsula.

The first night I spent as the inn's new proprietor I felt Paul's presence as keenly and profoundly as if he were sitting by my side and speaking to me. He told me I would heal at this inn and all who came to stay would find a harbor of healing as well. It was for that reason that I named my bed-­and-­breakfast the Inn at Rose Harbor. Rose for my husband, Paul Rose, and Harbor for the promise he had given me.

Over the last eighteen months, I have seen that promise come to fruition and witnessed it with many of my guests as well. Slowly, one day at a time, I forged a new life for myself, a life without Paul. Recently I read the last letter my husband had written to me—­a love letter he'd penned in case he didn't return. It took a long time to find the courage to absorb what he had to say, mainly because I didn't want to accept the fact he was really gone. As I knew he would, Paul wrote that he loved me and that he would always be with me. He asked that I live a good life for the both of us.

I'd taken Paul's words to heart and built a new life without him as best I could. As he'd foretold, the inn became the focus of the new me. Every day was a learning opportunity, a season of personal and professional growth. For one, I became far more proficient in the kitchen, creating tasty breakfasts for my guests. I also made friends in the community—­good friends. I adopted a dog from the local animal shelter, Rover, who'd been named that because when he was found, it looked as if he'd been roaming on his own for quite some time. Rover had become my constant companion, my comforter, and my guard. I found it uncanny how well he sensed and reacted to my moods. It was almost as if Paul had directed Rover into my life.

One of the strongest friendships I forged was with my handyman, Mark Taylor. Mark can be prickly and mysterious, and while I considered him a friend, he could irritate me faster than anyone I'd ever known. I like to think of myself as even-­tempered and not easily riled. Not so with Mark. Only a few words from him could drive me up the wall. At times he can be so unreasonable and demanding.

A good example of that happened last spring. I was washing the outside windows, balancing on a ladder. Out of the blue Mark insisted in the most unpleasant way that I climb off the ladder. I refused and he became so infuriated that he'd walked off the job. Really, he had no right to dictate what I do or don't do. It took a while for us both to cool down and be reasonable.

Ever since I read Paul's last letter my emotions have been on a roller coaster. I felt as if I was losing Paul. I'd stopped dreaming about him, and when I held his favorite sweatshirt, I could no longer smell the essence, the aroma, that had been my husband's.

As I slowly let go of Paul, I distracted myself by trying to crack the mystery that was Mark. He'd always been secretive, and never talked about his past. He was hiding something and I knew it. I plied him with questions, which he either refused to answer or completely ignored. I quizzed people who knew him before I moved to Cedar Cove, all to no avail. I went so far as to invite him to join my parents and me for dinner one night about three weeks ago. My mother has a gift for getting people to talk about themselves, and if anyone could weasel information from Mark it would be my mother. He thwarted me once again by refusing the invitation.

When I realized I'd used my curiosity about him as a diversion from my fear that Paul was slipping away from me, I apologized to Mark. It was then that Mark had shocked me with a confession. He claimed he'd fallen in love with me.

Mark loved me? I still had trouble wrapping my mind around that fact. If that wasn't shocking enough, what followed was even more eye-­opening. Mark mentioned that he'd used every excuse imaginable in order to spend time with me. Until that very minute I'd been completely oblivious, but then everything came together like one giant thunderclap in my head. Although he declared his heartfelt feelings, he added that he couldn't, he wouldn't, allow the way he felt to develop into a long-­lasting relationship. He intended to nip it in the bud.

As you can imagine, my thoughts started spinning like a windmill in a storm. It was then that Mark announced he was leaving Cedar Cove. Of course I objected; he was being ridiculous. I'll never forget what he said—­it's burned into my memory.

A faraway look came over him and he refused to meet my eyes as he told me, "You were married to Paul Rose, and he was a hero. He gave his life in defense of our country. He's everything I'm not. I'm the antithesis of a hero, make no mistake in that." He went on to say that he was digging himself out of a black hole and that he should have been the one who died, not Paul.

Mark made it seem as if he felt guilty that he was alive and Paul was dead. I couldn't believe he was serious about moving away from Cedar Cove. It was such a rash and unreasonable decision I could only assume he wasn't serious, but I was wrong.

I suspected he would have packed up his bags that very night if I hadn't convinced him to stay long enough to finish the gazebo I'd hired him to build. I was forced into reminding him that we had a contract, not one written in ink and legally binding, but a verbal one. If I knew anything about Mark—­and really, when it came right down to it, I knew more than I realized—­he was a man of his word. He'd already started the construction. I could tell he wasn't happy to remain in town any longer than necessary, but he reluctantly agreed.

I'd hoped that given time I'd be able to convince him to stay. After his declaration of love, I needed to delve into my own feelings, and I couldn't do that if he pulled a disappearing act.

The three weeks that followed proved to me exactly how serious Mark was about leaving Cedar Cove. About leaving me. Whereas before, any job I hired him to do took weeks—­often months—­he couldn't seem to finish this latest project fast enough. He started work in the early mornings and then he worked well past dusk, pushing himself to the point of exhaustion, until it became impossible to see in the dark any longer.

When I'd originally hired Mark to build the gazebo, I guesstimated that it would take him three to four months to finish the project, thinking I'd be lucky if he finished before Christmas. Yet in just a matter of weeks he had it nearly completed. For Mark to finish anything in three weeks was unheard of.

In fact, I could hear him outside this morning. It was barely light and he was already at work. I'd been up for about a half hour and had breakfast in the oven for my guests. It was one of my favorite recipes, stuffed French toast, which I'd assembled the night before and placed in the refrigerator. The coffee was brewed and the table set.

Rover wanted out and so I carried my coffee outside and stood on the porch watching Mark work away. He knew I was there but didn't acknowledge me. I wasn't surprised. Ever since our talk he'd basically ignored me as much as possible. I grappled with him, unable to understand how it was that he could claim to love me in one breath and then pretend as if I were invisible. I'd always found Mark difficult, but this was crazy.

"Morning," I called out cheerfully.

He nodded, without looking in my direction.

"Good morning," I repeated, louder this time.

"Morning." The greeting came grudgingly.

"You're in a grand mood this fine day. What's your problem?" He was often like this, taciturn and grumpy, but I was determined not to let it bother me.

As I knew he would, Mark ignored the question. I tried a different tactic. "Would you like a cup of coffee?"

"No thanks."

"Can I get you anything? Cookies?" I swear the man was addicted to my baking, especially my cookies.

"Nothing."

The thanks was missing this time. He had a five-­gallon container of white paint sitting on the lawn, which meant that he was about to start the last stages of the project. My stomach tightened.

"It's going to be a busy weekend," I said, sitting down on the top step and cupping my mug between my hands. The morning had a chill to it and the warmth from the coffee inched its way up my arm. Autumn was approaching and I could feel it in the air, with a light scent of pine and sunshine on the turning leaves. Rover sat down at my side, nestling close to me, almost as if he felt my anxiety.

Mark didn't comment.

"Two women are due to arrive later this afternoon. They both live in Seattle, but it's their ten-­year class reunion. They said they didn't want to worry about getting back to the city in case the parties went late and so they booked for both Friday and Saturday night."