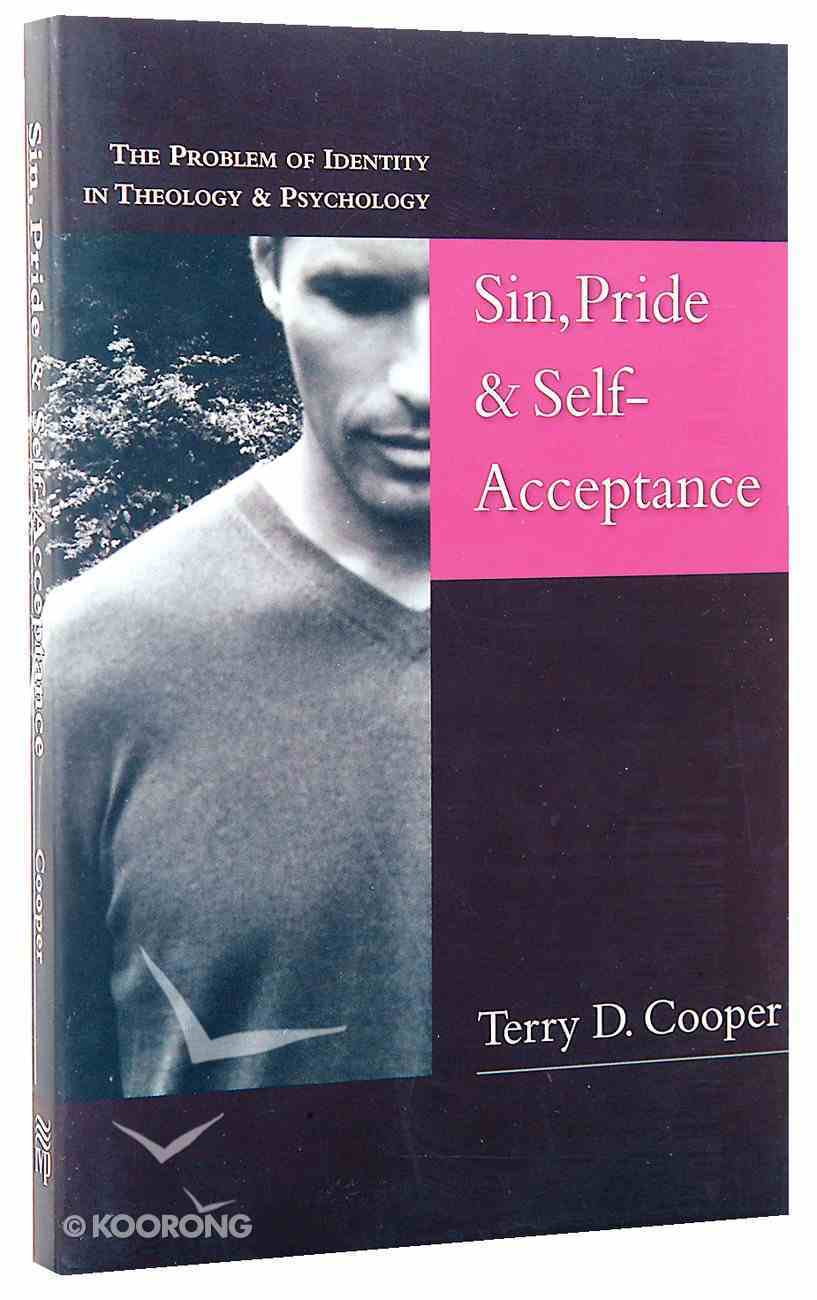 Sin, Pride & Self Acceptance
What is at the root of the problem of humanity? Is it pride or lack of self-esteem? Do we love ourselves too much or too little? The debate about the human condition has often been framed this way in both...
Out of Stock
Available to Order
---
Expected to ship in 4 to 5 weeks from Australia.
---
Free Shipping
for orders over $99.
What is at the root of the problem of humanity?
Is it pride or lack of self-esteem?
Do we love ourselves too much or too little?
The debate about the human condition has often been framed this way in both theological and psychological circles. Convictions about preaching, teaching, marriage and child rearing, as well as politics, social welfare, business management and the helping professions, more often than not, fall on one side or the other of this divide. With theological and psychological insight Terry D. Cooper provides trenchant analysis of this centuries-long debate and leads us beyond the usual impasse.

Humanistic psychology has often regarded traditional Christianity as its archrival in assessing the human condition. Cooper demonstrates how the Christian doctrine of a sinful and fallen humanity sheds light on the human condition which exhibits both pride and self-denigration. Bringing theological insights ranging from Augustine and John Calvin to Reinhold Niebuhr together with the psychological theories of Freud, Jung, Carl Rogers, Gerald May and Karen Horney, Cooper guides readers through the maze of competing claims to a resolution which affirms Christian conviction while critically engaging modern psychological theory.

A model of the proper integration of Christian theology and the discipline of psychology, SIN, PRIDE %26 SELF-ACCEPTANCE will be of special help to students and practitioners of psychology, pastoral counselling and clinical psychology.

-Publisher
IntroductionThe Direction of This Book1. Pride and Self-ContemptPsychological Critics of the "Low Self-Esteem" ArgumentSocial Critiques of Self-CenterednessRogers and Niebuhr as Representatives of the DebateReenactment of the Pelagian ControversyThe Larger Issue: Sin and Self-Acceptance2. Pride As the Primary ProblemAnxiety and Pride: Niebuhrian Theological PsychologyDifferences with AugustineNiebuhr and Freud: The Deceptive Nature of SinThe Primacy of PrideWarning About Equating Narcissism with Niebuhrian PrideSummary3. Pride, Sensuality and AddictionSensuality, Concupiscence and Addiction: From Augustine to Gerald MayBack to the Pride Versus Self-Contempt ConflictBut Is Pride the Problem for Everyone?4. Pride and Self-LossPride and Self-Loss: Socialized to Sin Differently?Social Versus Individual SinConclusion5. Self-Acceptance and Humanisstic PsychologyThe "Gospel" of Humanistic Psychology: The Actualizing Tendency"Natural Goodness": The Organismic Valuing ProcessIncongruence and the Emergence of the Undervalued SelfReclaiming the Despised Self"Theologizing" Carl Rogers?Pride and Low Self-Esteem Intertwined?6. Pride and Self-Hate: Two Sides of the Same Coin?Basic AnxietyThree Neurotic Trends to Alleviate AnxietyCommon Bonds in All Three MovementsThe Idealized SelfThree Responses to the Idealized SelfPride and Self-HateThe "Search for Glory"Neurotic Claims and EntitlementGenuine Self-Esteem and Neurotic PrideHorney's Contribution to the Pride Versus Self-Contempt Debate7. Anxiety, Sin and Self-UnderstandingIntegrating the Pride and Self-Contempt PerspectivesBack to Niebuhr and Feminist Understandings of SinPride and DistrustPride and Sensuality: A Confusion of Terms?"Manly" and "Womanly" SinEquality of Sin, Inequality of GuiltAnxiety and Its Relationship to SinSinning Out of Strength as Well as WeaknessConclusionSelect BibliographyAuthor IndexSubject Index
-Publisher
Terry D. Cooper (Ed.D, human development counseling, Vanderbilt University; Ph.D., theology and psychotherapy, St. Louis University) is professor of psychology at St. Louis Community College-Meramec and adjunct professor of religious studies at Webster University. He is the author of Sin, Pride & Self-Acceptance and Making Judgments Without Being Judgmental.
<strong>introduction</strong>
The Direction Of This Book
<strong>1. Pride And Self-contempt</strong>
Psychological Critics Of The "low Self-esteem" Argument
Social Critiques Of Self-centeredness
Rogers And Niebuhr As Representatives Of The Debate
Reenactment Of The Pelagian Controversy
The Larger Issue: Sin And Self-acceptance
<strong>2. Pride As The Primary Problem</strong>
Anxiety And Pride: Niebuhrian Theological Psychology
Differences With Augustine
Niebuhr And Freud: The Deceptive Nature Of Sin
The Primacy Of Pride
Warning About Equating Narcissism With Niebuhrian Pride
Summary
<strong>3. Pride, Sensuality And Addiction</strong>
Sensuality, Concupiscence And Addiction: From Augustine To Gerald May
Back To The Pride Versus Self-contempt Conflict
But Is Pride The Problem For Everyone?
<strong>4. Pride And Self-loss</strong>
Pride And Self-loss: Socialized To Sin Differently?
Social Versus Individual Sin
Conclusion
<strong>5. Self-acceptance And Humanisstic Psychology</strong>
The "gospel" Of Humanistic Psychology: The Actualizing Tendency
"natural Goodness": The Organismic Valuing Process
Incongruence And The Emergence Of The Undervalued Self
Reclaiming The Despised Self
"theologizing" Carl Rogers?
Pride And Low Self-esteem Intertwined?
<strong>6. Pride And Self-hate: Two Sides Of The Same Coin?</strong>
Basic Anxiety
Three Neurotic Trends To Alleviate Anxiety
Common Bonds In All Three Movements
The Idealized Self
Three Responses To The Idealized Self
Pride And Self-hate
The "search For Glory"
Neurotic Claims And Entitlement
Genuine Self-esteem And Neurotic Pride
Horney's Contribution To The Pride Versus Self-contempt Debate
<strong>7. Anxiety, Sin And Self-understanding</strong>
Integrating The Pride And Self-contempt Perspectives
Back To Niebuhr And Feminist Understandings Of Sin
Pride And Distrust
<em>pride</em> And <em>sensuality:</em> A Confusion Of Terms?
"manly" And "womanly" Sin
Equality Of Sin, Inequality Of Guilt
Anxiety And Its Relationship To Sin
Sinning Out Of Strength As Well As Weakness
Conclusion
Select Bibliography
Author Index
Subject Index