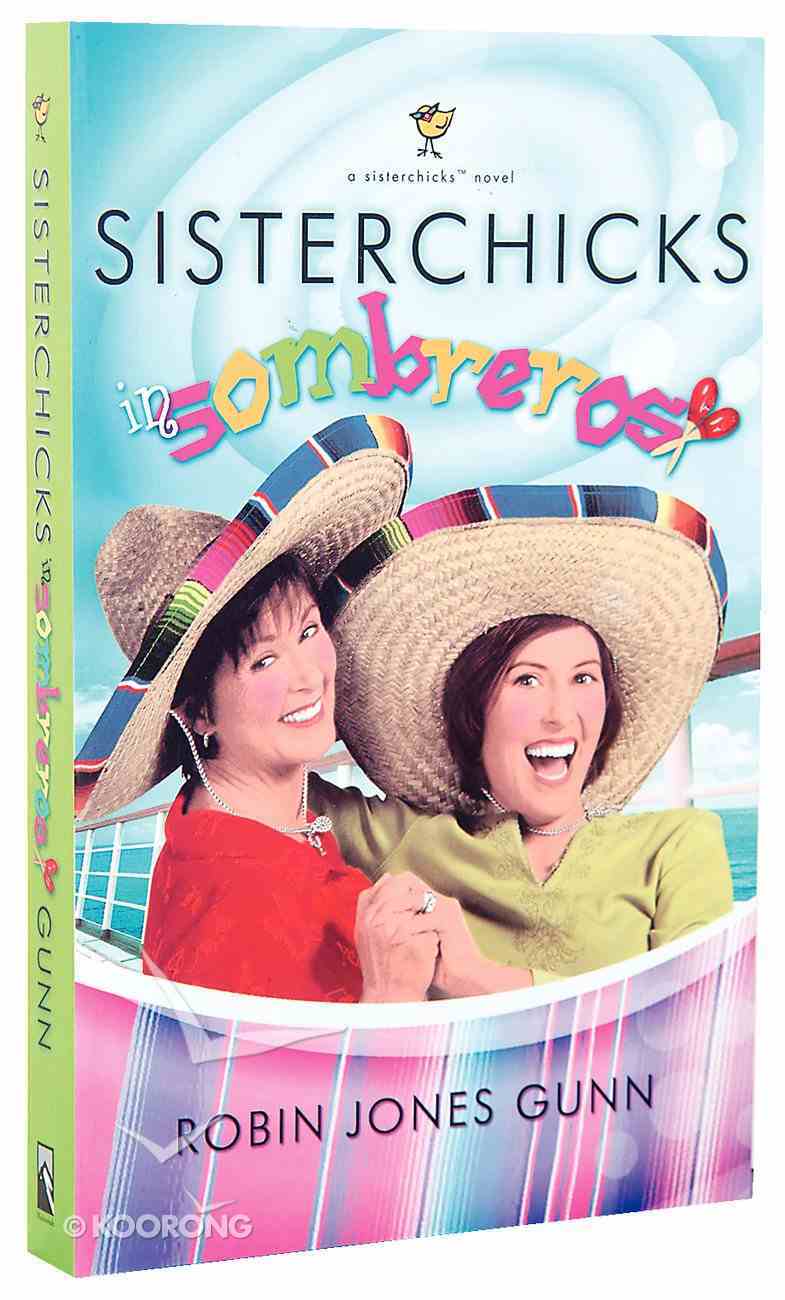 Sisterchicks in Sombreros (#03 in Sisterchicks Series)
Canadian sisters Melanie and Joanne are stunned to learn they've inherited their uncle's beachfront summerhouse in Mexico. They set out to claim it, but their smooth trip soon gets tricky, and at their destination God totally upturns all expectations!
Out of Stock
Available to Order
---
Expected to ship in 4 to 5 weeks from Australia.
---
Free Shipping
for orders over $99.
Canadian sisters Melanie and Joanne are stunned to learn they've inherited their uncle's beachfront summerhouse in Mexico. They set out to claim it, but their smooth trip soon gets tricky, and at their destination God totally upturns all expectations!
Two Canadian sisters inherit beachfront property in Mexico and take off on an adventure to claim their inheritance. They travel opulently by cruise ship to Ensenada and survive a rocky trip through Baja California, only to be shocked when they arrive in San Felipe. Their beachfront property is, indeed, on the beach, but the "structure" is a cement slab and the Airstream trailer their uncle parked on the property in the early 1960s! With the help of a few locals, the Canadian cuties figure out what to do with their less-than-desirable legacy. The true gift, they find, is that they are reconnected as sisters and discover that everything that happened along the way was part of God's plan.

Say Olé the Sisterchick Way !

SISTERCHICK TM n.: a friend who shares the deepest wonders of your heart, loves you like a sister, and provides a reality check when you're being a brat.

Canadian sisters Melanie and Joanne are stunned to hear they've inherited their uncle's beachfront summerhouse in Mexico. With a snap, a trip is planned: They'll travel opulently by cruise ship to Ensenada, zip over to San Felipe, sign a few papers at the bank, and the tropical hideaway will be theirs.

What they don't expect is a spa treatment gone loco, snails and cactus on their dinner plates, risky ocean dips, a cross-country desert drive, a dishy doctor, or a Federale who doesn't speak English! Fortunately, some problems really can be solved with coconut cake and, if necessary, a water fight. The beachfront property—and what it takes to get them there—becomes a gift beyond their wildest wishes as these Sisterchicks relinquish themselves to the dreams God has for them...all under the sombrero of His grace.

Story Behind the Book

A year ago in July, an associate from my publishing house walked up to my friend and I and said, "You need to go on a cruise." She grinned and told us that she had a cruise package she couldn't use and it would be her delight to see my editor and me go to Mexico on a Sisterchick adventure. After we got over the shock, we gratefully made arrangements to go cruisin' in December. What a time we had! Was it research or was it recharging of our creative efforts? Both! The result is the third Sisterchicks novel, Sisterchicks in Sombreros! I love it when God does His God things. His eye is on the sparrow, or in this case, Robin and her Sisterchick friend!
-Publisher
Robin Jones Gunn is the award-winning, bestselling author of over 60 books with more than 3.5 million copies sold, including the popular Glenbrooke series, the Christy Miller and Sierra Jensen series for teens. A frequent speaker at women's events, she lives with her husband, Ross, and their two teenage children near Portland, Oregon.- Publisher. .
:Prologue

Most of my life I secretly admired my sister, Joanne. But until high school, I didn't like her. And it wasn't until we were in our forties that I treasured her.

We're only sixteen months apart in age. Joanne is the older one. Blond and sweet, with a great laugh. I was known as the bossy baby sister, always ready to make a fuss so I would be noticed.

Our mom used to dress us in matching outfits and tell people, "They're almost twins, you know." Joanne and I hated that. How can you be "almost twins"? Aren't twins supposed to have a lot of similarities? Joanne and I have only two—the same creamy, fair skin and the same funny nose.

By the time I was eight, I had grown a full inch taller than Joanne. That was the year we moved from Saskatoon to British Columbia, and everyone who met us assumed I was the older of the two Clayton girls. I know Joanne shrunk a little every time someone called her Melanie, while I reveled in finally receiving top billing.

When Joanne got her driver's license, our quirky power balance was upset again because I was suddenly at her mercy if I wanted to go anywhere. We argued all the time.

That is, until my sixteenth birthday.

I asked Joanne to drive me across town to a friend's house, but a sassy look crossed Joanne's face, and she said, "I don't know, Melanie. What's it worth to you?"

I snapped back with, "I don't know, Joanne. What's it worth to you not to show up at school Monday with two black eyes?"

Instead of being intimidated, my sister laughed at me. She drove the whole way with a snicker just begging to burst out from her lips. I was so steamed that, when we pulled up in front of my friend's house, I turned to Joanne and said, "When I get my license, I'll never drive you anywhere, even if you have two broken legs and plead with me to take you to the hospital."

Joanne only laughed more.

I slammed the car door and marched up to the house, vowing never to speak to my sister again. Just then the front door swung open, and all my closest friends yelled, "Surprise!" Joanne was standing behind me, grinning like a goose. The surprise birthday party had been her idea down to the last detail.

Stunned, I turned to her, and with an apology that encompassed my entire malicious career as a sister, I whispered, "I'm sorry."

Joanne teared up and said in a sincere but playful voice, "Me, too, Melly Jelly Belly."

I hugged her in front of my waiting friends. "Thanks, Joanna Banana."

And that was it; we became friends.

We always had shared a bedroom, but after that we shared our clothes and makeup as well as our secret crushes and dreams for the future. Joanne wanted to be a nurse. I wanted to be something more glamorous like an interior decorator or a pastry chef and took a variety of classes at the community college, changing my major each semester.

I tried on a variety of careers and was as surprised as anyone when the one that stuck was running the front desk at a dental office, which is what I do even now. That's where I met my husband, Ethan. He came in for a root canal and left with my phone number. That was almost seventeen years ago.

In that same time span my saintly sister graduated with honors from nursing school in Toronto, dedicated herself to long hours healing the infirm, sent generous gifts to my two daughters on their birthdays, and spent five years in India. She worked at a safe house that rescued juvenile girls off the streets who had been sold into prostitution. Now you can see why I admire her.

After Joanne returned to Toronto, I often wondered if she regretted not marrying Russell what's-his-name while she had the chance. It's the sort of question one sister can ask another, but I'd never come right out and asked her.

We fell into a routine with our relationship after we both passed forty. She would call every few weeks and ask about Ethan and the girls and if I had seen Mom and Dad. I'd answer in short sentences, and then I'd ask about her job and her dog, Russell. Yes, she named her schnauzer Russell. After Russell what's-his-name, I presumed.

I kept thinking that during one of those predictable phone conversations I would say, "How's Russell?" And when she started to talk about her schnauzer, I'd say, "No, I mean the other Russell." Then I'd find out what really happened and why she took off for India for so long.

But I never quite managed to pull that one off.

That was, until last year, when Joanne and I unexpectedly crossed another bridge between friendship and sistership. Or maybe I should say we set sail on a ship that took us to a new place as sisters because that's literally what happened.

I would never have taken off on such a lark, if the choice truly had been mine. But it wasn't.

I look back now and realize that in the same way we don't choose our relatives, I think it's also true we don't choose the best moments of our lives. God chooses them for us, the same way He chose two sisters like Joanne and me, who are "almost twins," to turn us into the best friend neither of us ever thought we had.


One

Last November, on the last Saturday of the month, I stood in the garage untangling a string of twinkle lights and thought, Who came up with the term Father Christmas?

At our house, it's more like Mother Christmas. I'm the one who knows where all the decorations are stored. I organize the festivities, buy the gifts, address the cards, initiate the parties, and single-handedly festoon the house. Without the information stored in my brain and without the loving labor of my two hands, Christmas wouldn't come to our humble abode in Langley, which is a suburb of Vancouver.

I always start with a long list of what needs to be done and tell myself to start earlier than I did the previous year. Untangling the lights on November 29 was a pretty good running start.

That was, until Aunt Winnie called.