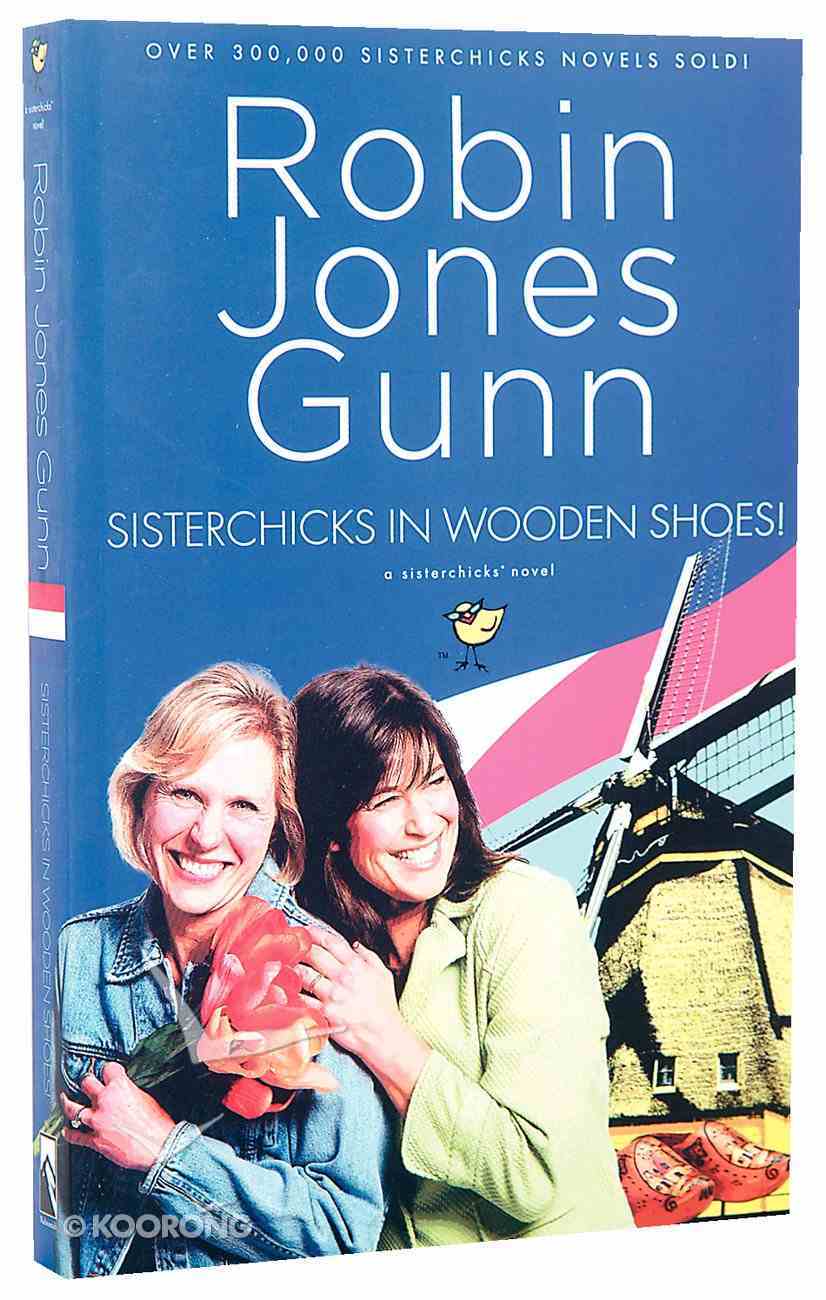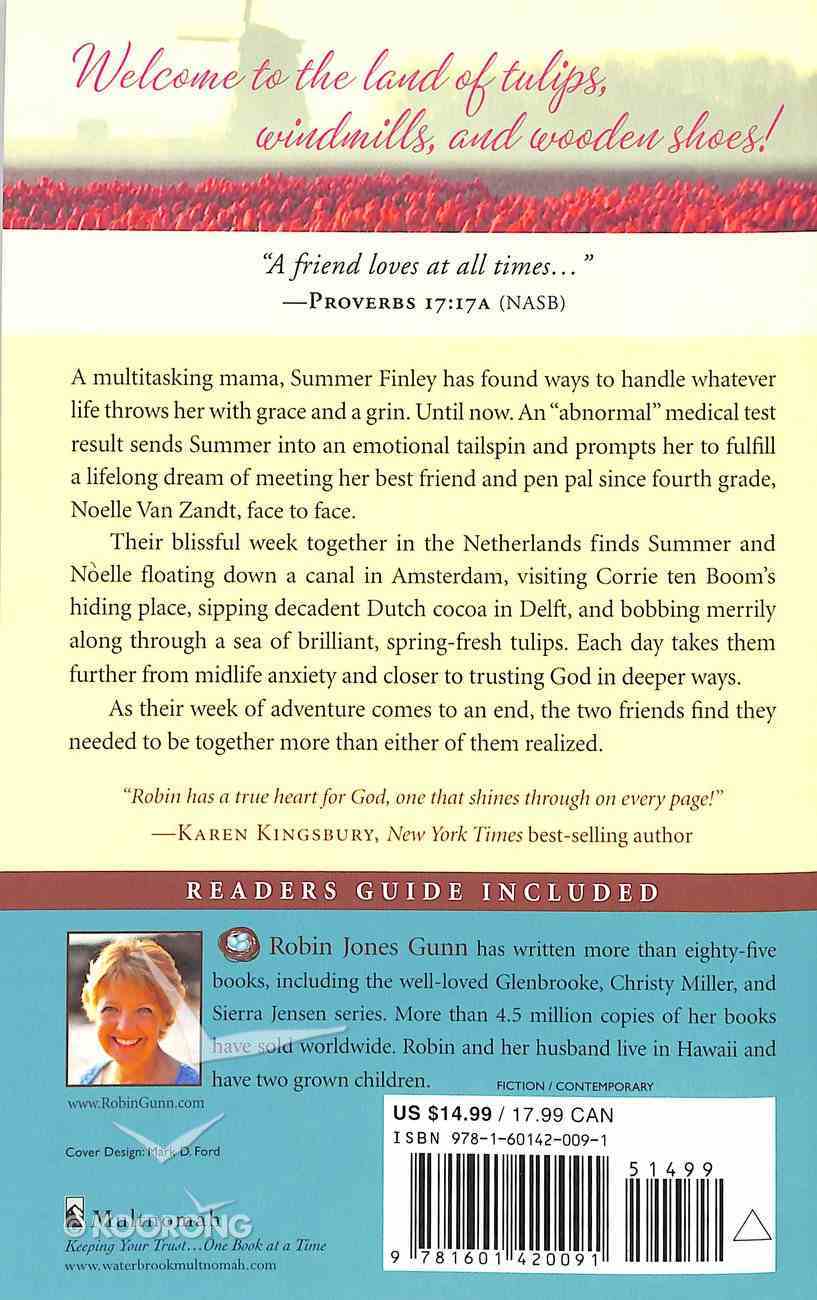 Sisterchicks in Wooden Shoes! (#08 in Sisterchicks Series)
A multi-tasking mama, Summer Finley has found ways to handle whatever life throws at her with grace and a grin. Until now, that is. An "abnormal" medical test result sends Summer into an emotional tailspin and prompts her to fulfil...
Out of Stock
Available to Order
---
Expected to ship in 4 to 5 weeks from Australia.
---
Free Shipping
for orders over $99.
A multi-tasking mama, Summer Finley has found ways to handle whatever life throws at her with grace and a grin. Until now, that is. An "abnormal" medical test result sends Summer into an emotional tailspin and prompts her to fulfil a life-long dream of "meeting" her best friend and pen pal since fourth grade, Noelle Van Zandt, face-to-face.

Their blissful week together in the Netherlands finds Summer and Noelle floating down a canal in Amsterdam, visiting Corrie Ten Boom's Hiding Place, sipping decadent Dutch cocoa in Delft, and bobbing merrily along through a sea of brilliant, spring-fresh tulips. Each day takes them further from midlife anxiety and closer to trusting God in deeper ways.

When Summer finally confides in Noelle about the abnormal test results, Summer's honesty prompts Noelle to share a long-held heartache. The two friends find they both needed to be together more than either of them realised. Could it be this adventure was tucked away in God's imagination long before Summer bought her ticket to fly to the land of merry tulips and kalomping wooden shoes?

-Publisher
"Robin makes every reader feel like a sister chick... sit back and enjoy the ride"! - Karen Kingsbury, America''s No. 1 Novelist and Bestselling Author of The Above The Line Series "Grab your passport and expect to be swept away on another adventure of heart and hope. Robin Gunn''s writing is picturesque, like Monetexcept she paints with words. It''s a story I can't wait to share with my own Sisterchicks!" Tricia Goyer, author of Blue Like Play Dough and Every Sunrise "Sisterchicks in Wooden Shoes will transport readers to the land of tulips, windmills, and Corrie Ten Boom. This delightful story tickles the funny bone while tugging on the heartstrings. Well done, Robin!" Janice Thompson, author of Fools Rush In "A sweet and familiar blend of emotions weave through this storydelight in friendships, courage to face the unknown, and the passion to savor each moment. A page-turner that sings of faith, forgiveness, God's comfort, and security to overcome today's fear and confidence to face our tomorrows." Janet Perez Eckles, international speaker and author of Trials of Today, Treasures for Tomorrow "Robin Jones Gunn once again wrapped life-changing truths in a delightful story of adventure and humor that confirmed that I, like Summer in the story, can do all things through Christ and through the love and support of Sisterchicks in my life." Karen O'Connor, author of two best-selling series Gettin'' Old Ain''t For Wimps and Help, Lord! I''m Having a Senior Moment " Sisterchicks in Wooden Shoes is much more than another entertaining installment in Robin Jones Gunn's wildly popular series. It's a reminder of what a blessed gift true and lasting friendship is." Sharon K. Souza, author of Lying on Sunday " Sisterchicks in Wooden Shoes is a heartwarming tale of two women whose lives are woven together with the golden thread of friendship. The special bond these Sisterchicks share resonates in our souls as they bestow God's blessings on one another in the midst of life's difficult circumstances. In the beauty of the tulip fields, the wonderful stinky cheese shop, the windmills and canals, Holland comes alive in the pages of this book." Virginia Smith, author of Age before Beauty and the Sister-to-Sister Series "Good nacht! Robin Jones Gunn does it again! Rundon't walkto get this latest hilarious installment of the Sisterchicks series!" Cyndy Salzmann, author of Crime & Clutter and Dying to Decorate "I want to be a Sisterchick! Robin Jones Gunn writes about every day women with truth, tenderness, heart and soul. Sisterchicks In Wooden Shoes reminded me of the value of friendship, honesty, history, and love while taking me on an adventure. Add this to your collection of Sisterchick books to keep." Rachel Hauck, award winning and best selling author of Love Starts with Elle Praise for The Sisterchicks Series "Robin has done it again! You and your Sisterchicks will love taking this new adventure together!" Karen Kingsbury, New York Times best-selling author of Between Sundays and Ever After "My only complaint about Robin's latest is that now I want to hop a plane to England! But combine a cup of Earl Grey tea and this charming story and you're halfway there. Another delightful tale about women helping women to live their lives to the fullest." Melody Carlson, author of These Boots Weren't Made for Walking and A Mile in My Flip-Flops "Funny, touching, and true to life, Sisterchicks Do the Hula! will have you doing the hula (and loving it!) by the last page. Grab your grass skirt, girlfriendthis is one trip you don't want to miss! Robin Jones Gunn is the perfect tour guide for this joy-filled Hawaiian adventure. You'll feel the sand between your toes, taste sweet pineapple juice, see amazing rainbowsall without having to put on a bathing suit! Your travel partners, two turning-forty chicks, will feel like old friends the minute you hit the beach." Liz Curtis Higgs, best-selling author of Bookends and Mixed Signals "Get ready for a wild ride through the back streets of Oxford and London's busy underground. Sisterchicks Go Brit! is a joy to read and a delightful reminder that it's never too late in life to take a risk. You'll be cheering as these women dare to follow their hearts and be inspired to revive the dreams lying dormant in your own heart. Thanks, Robin, for treating us to another Sisterchicks adventure full of friendship, faith, and fun." Melanie Dobson, author of Going for Broke and The Black Cloister " Sisterchicks in Gondolas is a true delight. The characters shine, and evocative language will make any reader want to visit Venice. Biblical truths are portrayed simply, yet will touch hearts and lives with their realistic application." Romantic Times magazine "If you have a keen sense of adventure, you will love exploring the world with Robin Jones Gunn's Sisterchicks series... The author makes sisterhood and friendship into an incredible treasure, and she uses Scripture in a way to challenge, uplift, and encourage the readers. This is an excellent read." Book Bargains and Previews for Sisterchicks in Gondolas "Robin Jones Gunn makes traversing midlife seem almost welcoming because she has that rare gift of communicating hope amid trial and inner chaos. Robin has found an effective mode of gently lending some instruction to women who sometimes feel overwrought and undone by life's unexpected curves. Women and older teens will relish Sisterchicks Down Under. Who says growing older can't be fun if you have a friend to share the journey?" FaithfulReader.com
-Publisher
PRODUCT DETAIL
Catalogue Code 

288891

Product Code 

9781601420091

ISBN 

1601420099

EAN 

9781601420091

Pages 

288

Department General Books
Category Fiction
Sub-Category General
Publisher Multnomah Publishers
Publication Date 

May 2009

Sales Rank 

82073

Dimensions 

209 x 132 x 16

mm

Weight 

0.303

kg
Robin Jones Gunn is the award-winning, bestselling author of over 60 books with more than 3.5 million copies sold, including the popular Glenbrooke series, the Christy Miller and Sierra Jensen series for teens. A frequent speaker at women's events, she lives with her husband, Ross, and their two teenage children near Portland, Oregon.- Publisher. .
After booking my ticket to the Netherlands, I sat quietly in front of the computer, contemplating what to do next.
Outside the rain carried out its spring fling with gusto. Telling my husband seemed wise. Not on the phone,though. I didn't want to say the words "abnormal mammogram," "biopsy," or "I'm leaving for a week" unless I could see his face.


So I decided to bake cookies. After padding my way to the kitchen, I pulled out a mixing bowl and turned the oven to 375 degrees.


I'm not the sort of woman who takes a long bath or a long walk to have time and space to think. For me, the best processing happens when I have my well-used mixing bowl balanced on my hip. No electric mixers for me. I beat the lumps out of my life challenges with a wooden spoon.


Then I line up all the solutions in my head while arranging the lumpy balls of dough on the cookie sheet. Soon the scent of all that lovely butter, brown sugar, and oatmeal wafts from the kitchen, and I start to feel better.



The fragrance fills the house with a standing invitation for my children to "come hither." As they gather around the kitchen counter, I remember what really matters, and my problem is somehow quietly resolved.


Only this time I knew that when the enticing fragrance raced down the hall into each bedroom, it would find no takers. All our children were launched and flitting about in their own worlds.


Abnormal. Biopsy.


I went after the cookie dough with renewed mixing vigor. Taking a few steps closer to the refrigerator, I looked over the collection of off-kilter photos until I found the one of Noelle standing in a field of tulips with a windmill in the background.


You're going there, Summer. It's going to happen. You're going to see Noelle. You really are. Believe it.


For many years a variety of photos and postcards have adorned our refrigerator. Every time I would stop mid–pot roast extraction or post–milk replenishment, the images I would look for were the ones of Noelle and her world.


How long had I dreamed of seeing those tilt-a-wheel windmills and picking those bursting-with-color tulips by the armful?


As I dropped the dough into agreeable rows and slid the cookie sheets into the oven, I made another decision. I would tell Wayne everything as soon as he came home. But I wouldn't tell anyone else about the biopsy until I had received the results. Not even Noelle.


If everything worked out for me to see Noelle, I wanted to spend my time with her as unencumbered as possible. I would take the trip in a self-induced state of denial. Yes, complete denial. It was the only way I would be able to enjoy the visit.


I foraged around in the garage for a suitcase and went hunting through Wayne's desk for my passport. The scent of warm cookies encircled me, and I thought about how one should never underestimate the power of comfort food when faced with monumental decisions. I'm convinced that the fragrance of cinnamon and sugar enlivens the heart and strengthens the senses when a woman is in want of a special measure of courage.


My courage lasted all afternoon and kept me company as I ran errands. Denial can be a wonderful thing.Why had I never called upon its fabulous powers before?


I was eager to reach home to see if Noelle had read my e-mail yet. In the rhythmof our online correspondence, I would write to her toward the close ofmy day, and she would read my post at the start of her new day.The time difference between our two lives was six hours. She was always six hours ahead of me. Maybe she had seen my e-mail before going to bed. Maybe she already had responded.


The rain stopped as I rounded the corner, returning home with a full tank of gas and a week's worth of groceries. Wayne's car was in the garage when I pulled in. I inched the old family minivan up to the hanging tennis ball to make sure the van was in far enough to close the garage door. As the tennis ball did its usual bounce-bounce against the windshield, anxiety surged in my stomach. Everything in me tightened. I sat in the car, waiting for the cinnamon-laced courage to come back.


I wasn't afraid of what Wayne would say. He is a great husband. I didn't always think that, but I do now. The longer we've been married, the better our relationship has become. The anxiety was connected to my logic in all this. How wise was it for me to leave the country right now?What would be the repercussions of staying in denial for another week or so?


Wayne stepped out into the garage.He peered at me through the windshield with a half-eaten cookie in his hand.

"You coming in?"


I nodded but didn't move.


"Summer?"


I couldn't quite get my body to open the door and exit the car.


"Honey, are you okay?" Wayne came over to the passenger side.He opened the door and climbed in.His current position at our church as one of the associate pastors includes most of the counseling load. Wayne is a careful listener. He is intuitive and empathetic in his approach, which was quite an adjustment from the "Wild Wayne" I had married when I was nineteen years old. Life, love, loss, and raising six children had had a marinating effect on his heart. He is a big softy now.


"Is it one of the kids?"Wayne reached over and wove his fingers through my nearly shoulder-length brown hair.With a steady hand hemassaged the back ofmy neck. "What is it?What's wrong?"


I let out a long sigh and then exhaled all the details, starting with the phone call and rolling right into how I had put a flight to Amsterdamon hold and had e-mailed Noelle, asking if I could come see her for a week.


Then I sat very still, my hands clutching the lower rim of the steering wheel, waiting for his response, which I knew could go either way. The neighbor's schnauzer barked. The car's engine pinged. Wayne untangled his fingers from my hair and said the last thing I expected. "Good for you."


I turned to take in his full expression. "Does that mean you think I should do this? I should go to the Netherlands?"


"Summer, for as long as I've known you, you've talked about meeting Noelle. Yes, I think you should do this, and, yes, I think now is the time to go. The biopsy can wait another week or so, can't it?"


"I think so."


Wayne took my hand in his. "Do you remember what you told the kids when they left the house?"


I nodded. My farewell line was the same for each of them, and after saying it six times, I was quite familiar with the utterance. I just hadn't realized that Wayne had heard me say it. Or had remembered it.


"You told the kids, 'Go make your own adventures, and come home often to tell us about them.'" He smiled. "I'd say it's time for you to do the same. Go make your own adventure, honey. When you come home, I'll want to hear all about it."