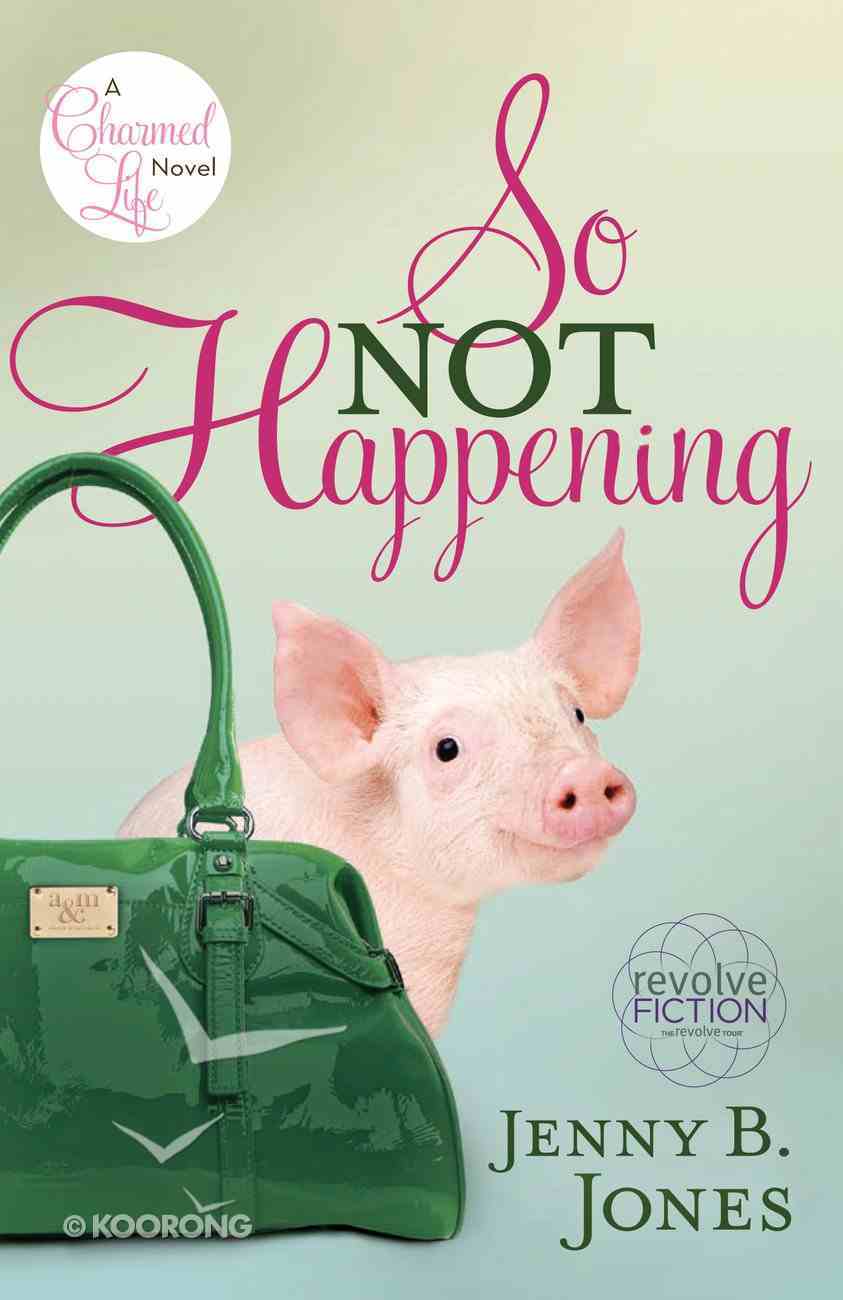 So Not Happening (#01 in The Charmed Life Series)
New York's social darling just woke up in a nightmare: Oklahoma. Problem is, it's right where God wants her. Bella Kirkwood had it all: A-list friends at her prestigious private school, Broadway in her backyard, and Daddy's MasterCard in...
Instant download
---
Expected to ship within 1 hour from Australia.
---
Read using our free app on your tablet or mobile!
---
Free Shipping
for orders over $99.

New York's social darling just woke up in a nightmare: Oklahoma. Problem is, it's right where God wants her.


Bella Kirkwood had it all: A-list friends at her prestigious private school, Broadway in her backyard, and Daddy's MasterCard in her wallet. Then her father, a plastic surgeon to the stars, decided to trade her mother in for a newer model.


When Bella's mom falls in love with a man she met on the Internet--a factory worker with two bratty sons--Bella has to pack up and move in with her new family in Truman, Oklahoma. On a farm no less!


Forced to trade her uber-trendy NYC lifestyle for down-home charm, Bella feels like a pair of Rock & Republic jeans in a sea of Wranglers.


At least some of the people in her new high school are pretty cool. Especially the hunky football player who invites her to lunch. And maybe even the annoying--but kinda hot--editor of the school newspaper.


But before long, Bella smells something rotten in the town of Truman, and it's not just the cow pasture. With her savvy reporter's instincts, she is determined to find the story behind all the secrets.


How can a girl go on when her charmed life is gone and God appears to be giving her the total smackdown?

^
Bella Kirkwood had it all: A-list friends at her prestigious private school, Broadway in her backyard, and Daddy's MasterCard in her wallet. Then her father, a plastic surgeon to the stars, decided to trade her mother in for a newer model.

^
When Bella's mom falls in love with a man she met on the Internet--a factory worker with two bratty sons--Bella has to pack up and move in with her new family in Truman, Oklahoma. On a farm no less!

^
Forced to trade her uber-trendy NYC lifestyle for?? down-home charm, Bella feels like a pair of Rock & Republic jeans in a sea of Wranglers.

^
At least some of the people in her new high school are pretty cool. Especially the hunky football player who invites her to lunch. And maybe even the annoying--but kinda hot--editor of the school newspaper.

^
But before long, Bella smells something rotten in the town of Truman, and it's not just the cow pasture. With her savvy reporter's instincts, she is determined to find the story behind all the secrets.

^
How can??a girl go on when her charmed life is gone and God appears to be giving her the total smackdown?


New York's social darling just woke up in a nightmare: Oklahoma. Problem is, it's right where God wants her.

^
Bella Kirkwood had it all: A-list friends at her prestigious private school, Broadway in her backyard, and Daddy's MasterCard in her wallet. Then her father, a plastic surgeon to the stars, decided to trade her mother in for a newer model.

^
When Bella's mom falls in love with a man she met on the Internet--a factory worker with two bratty sons--Bella has to pack up and move in with her new family in Truman, Oklahoma. On a farm no less!

^
Forced to trade her uber-trendy NYC lifestyle for?? down-home charm, Bella feels like a pair of Rock & Republic jeans in a sea of Wranglers.

^
At least some of the people in her new high school are pretty cool. Especially the hunky football player who invites her to lunch. And maybe even the annoying--but kinda hot--editor of the school newspaper.

^
But before long, Bella smells something rotten in the town of Truman, and it's not just the cow pasture. With her savvy reporter's instincts, she is determined to find the story behind all the secrets.

^
How can??a girl go on when her charmed life is gone and God appears to be giving her the total smackdown?


-Publisher

New York's social darling just woke up in a nightmare: Oklahoma. Problem is, it's right where God wants her.


Bella Kirkwood had it all: A-list friends at her prestigious private school, Broadway in her backyard, and Daddy's MasterCard in her wallet. Then her father, a plastic surgeon to the stars, decided to trade her mother in for a newer model.


When Bella's mom falls in love with a man she met on the Internet--a factory worker with two bratty sons--Bella has to pack up and move in with her new family in Truman, Oklahoma. On a farm no less!


Forced to trade her uber-trendy NYC lifestyle for down-home charm, Bella feels like a pair of Rock & Republic jeans in a sea of Wranglers.


At least some of the people in her new high school are pretty cool. Especially the hunky football player who invites her to lunch. And maybe even the annoying--but kinda hot--editor of the school newspaper.


But before long, Bella smells something rotten in the town of Truman, and it's not just the cow pasture. With her savvy reporter's instincts, she is determined to find the story behind all the secrets.


How can a girl go on when her charmed life is gone and God appears to be giving her the total smackdown?

^Isabella Kirkwood had it all: popularity at a prestigious private school in Manhattan, the latest fashions, and a life of privilege and luxury. Then her father, a plastic surgeon to the stars, decided to trade her mother in for a newer model. ^When her mother starts over with her new husband, Bella is forced to pack up and leave all she knows to live with her new family in Oklahoma. Before her mother can even say "I do," Bella's life becomes a major "don't." ^Can Bella survive her crazy new family? Will the school survive Bella? How can a girl go on when her charmed life is gone and God gives her the total smackdown?
-Publisher
<DIV><span style="">Jenny B. Jones is the author of A Katie Parker Production series. Though now an adult, she still relates to the trauma and drama of teen life. She is thrilled to see her writing dreams come true, as her previous claim to fame was singing the &ldquo;Star Spangled Banner&rdquo; at a mule-jumping championship. (The mules were greatly inspired.) The author resides in Arkansas, where, as a teacher, she hangs out with teens on a regular basis. You can visit her at www.jennybjones.com. </span></DIV>