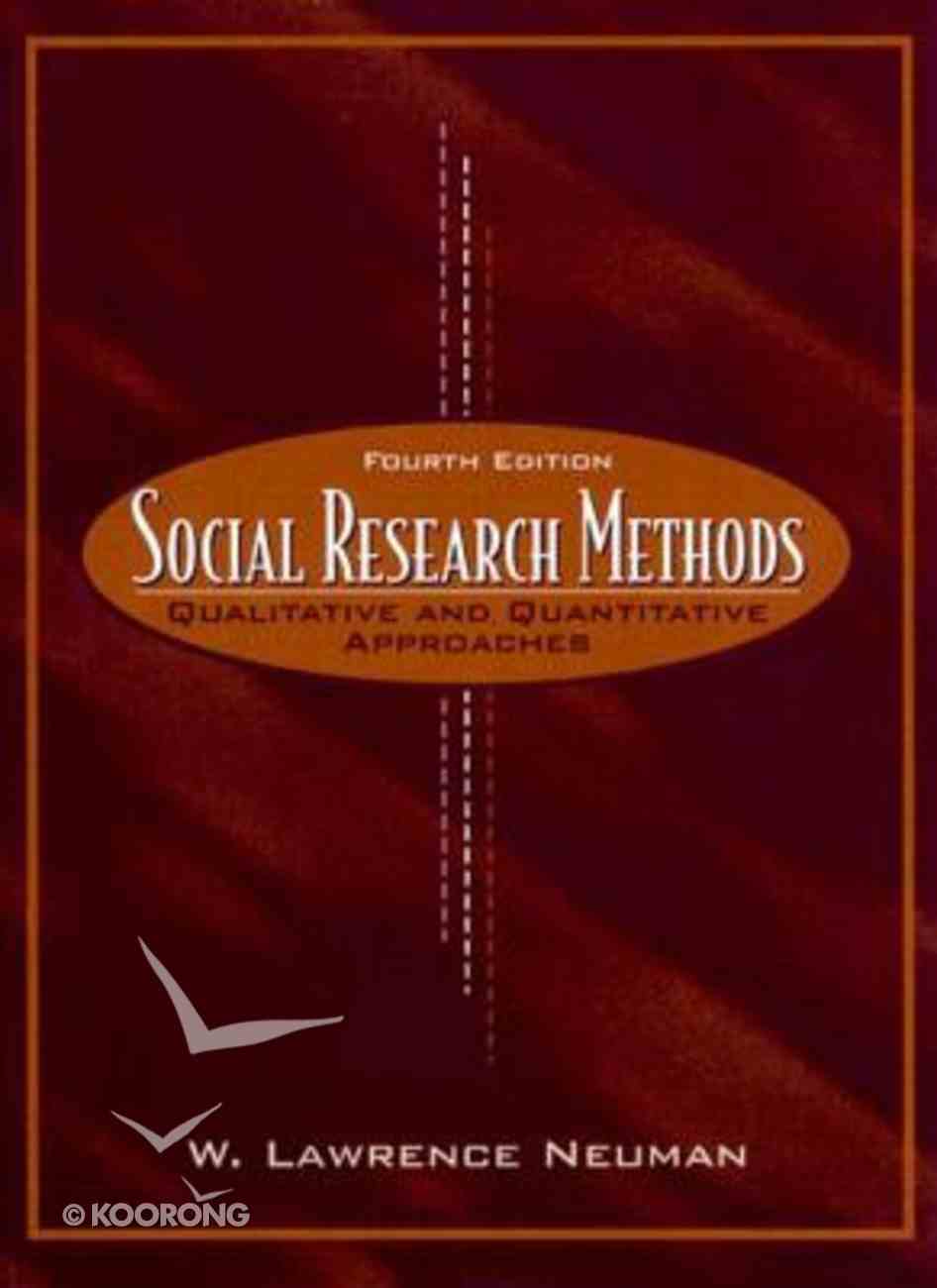 This comprehensive book offers readers balanced coverage of both the qualitative and quantitative approaches to social research.The fourth edition of Social Research Methods renews its commitment to help readers learn that social research does not take place in a vacuum,...
Special Order
Payment is by credit card only. Orders for this item cannot be cancelled or returned.
---
Free Shipping
for orders over $99.
This comprehensive book offers readers balanced coverage of both the qualitative and quantitative approaches to social research.The fourth edition of Social Research Methods renews its commitment to help readers learn that social research does not take place in a vacuum, but in a social and historical context that can affect their actions. It teaches to guard against ethnocentric perspectives and confining their research on the assumptions, values, and beliefs of their own particular society. Lastly, the author hopes to show readers not only that both quantitative and qualitative styles of social research are valuable, but that the greatest benefit to social research lies in combining the two.
-Publisher
Each chapter begins with Introduction and concludes with Conclusion, Key Terms, Review Questions, and Notes. I.FOUNDATIONS. 1.Science and Research. Alternatives to Social Research. How Science Works. Steps of the Research Process. Qualitative and Quantitative Social Research. Why Conduct Social Research? 2.Dimensions of Research. Dimensions of Research. Data Collection Techniques Used. 3.Theory and Research. What Is Theory? Social Theory versus Ideology. The Parts of Theory. Fact versus Theory. Theories. Theory and Research: The Dynamic Duo. 4.The Meanings of Methodology. The Three Approaches. Positivist Social Science. Interpretive Social Science. Critical Social Science. Feminist and Postmodern Research. 5.The Ethics and Politics of Social Research. Ethics and the Researcher. Ethical Issues Involving Research Subjects. Ethics and the Scientific Community. Ethics and the Sponsors of Research. The Politics of Research. Limits on What Social Researchers Study and How They Do Research. The Dissemination and Use of Research Findings. Objectivity and Value Freedom. II.PLANNING AND PREPARATION. 6.Qualitative and Quantitative Research Design. Qualitative and Quantitative Orientations toward Research. Quantitative Design Issues. Refining Research Topics: Quantitative Research. Qualitative Design Issues. Refining Research Topics: Qualitative Research. Example Studies: Quantitative Research. Example Studies: Qualitative Research. 7.Qualitative and Quantitative Measurement. Why Measure? Qualitative and Quantitative Measurement. Parts of the Measurement Process. Reliability and Validity. A Guide to Quantitative Measurement. Index Construction. Scales. 8.Qualitative and Quantitative Sampling. Nonprobability Sampling. Probability Sampling. III.QUANTITATIVE DATA COLLECTION AND ANALYSIS. 9.Experimental Research. Random Assignment. Experimental Design Logic. Internal and External Validity. Practical Considerations. Results of Experimental Research: Making Comparisons. A Word on Ethics. 10.Survey Research. The Logic of Survey Research. Constructing the Questionnaire. Types of Surveys: Advantages and Disadvantages. Interviewing. The Ethical Survey. 11.Nonreactive Research and Secondary Analysis. Nonreactive Measurement. Content Analysis. Existing Statistics/Documents and Secondary Analysis. Social Indicators. Issues of Inference and Theory Testing. 12.Analysis of Quantitative Data. Dealing with Data. Results with One Variable. Results with Two Variables. More Than Two Variables. Inferential Statistics. IV.QUALITATIVE DATA COLLECTION AND ANALYSIS. 13.Field Research. The Logic of Field Research. Choosing a Site and Gaining Access. Relations in the Field. Observing and Collecting Data. The Field Research Interview. Leaving the Field. Ethical Dilemmas of Field Research. 14.Historical-Comparative Research. The Logic of Historical-Compara
-Publisher
Bestsellers in Christian Worldview