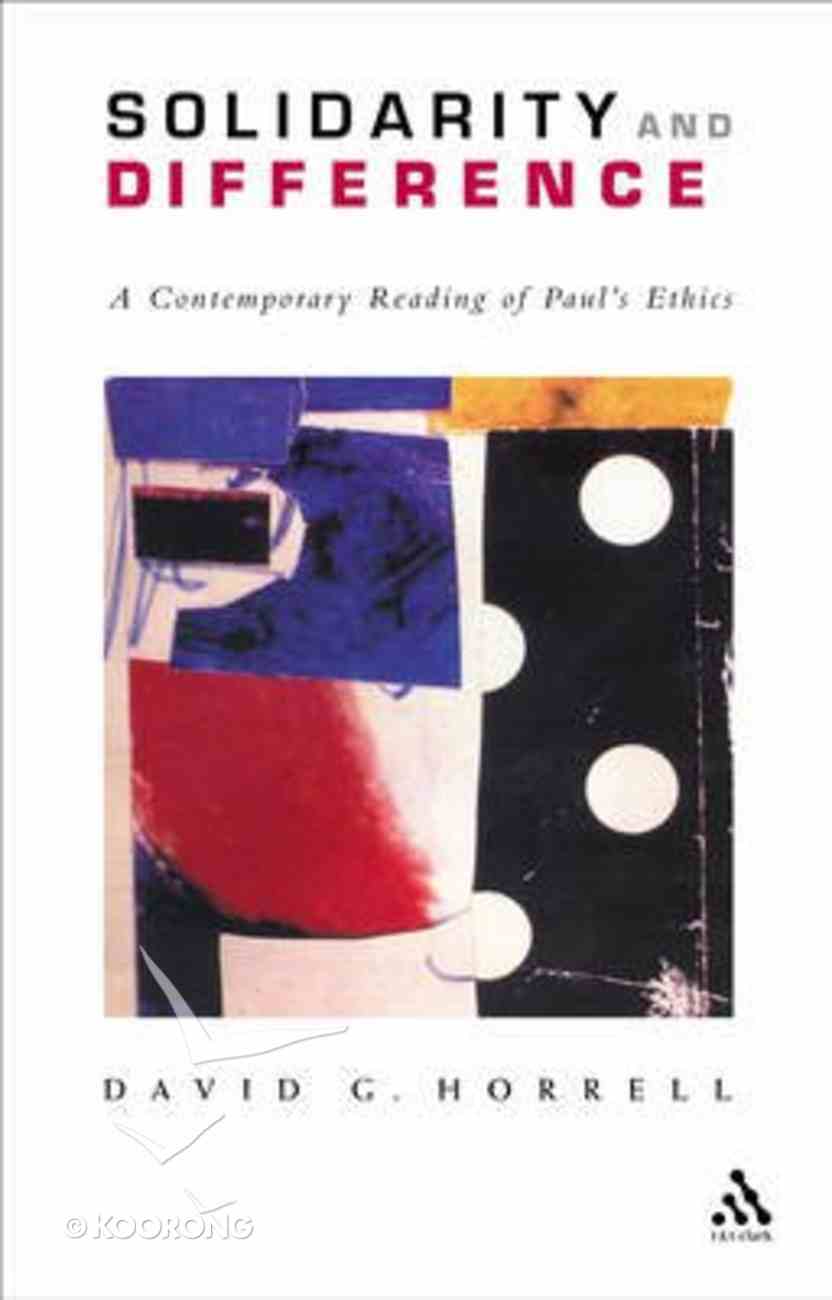 Solidarity and Difference
This book presents a wide-ranging study of Pauline ethics, examining how Paul's moral discourse envisages and constructs communities in which there is a strong sense of solidarity but also legitimate difference in various aspects of ethical practice. Unlike...
Out of Stock
Available to Order
---
Expected to ship in 7 to 8 weeks from Australia.
---
Free Shipping
for orders over $99.
This book presents a wide-ranging study of Pauline ethics, examining how Paul's moral discourse envisages and constructs communities in which there is a strong sense of solidarity but also legitimate difference in various aspects of ethical practice.


Unlike many books on New Testament ethics, this work reads New Testament texts with an explicit awareness of contemporary ethical theory, and attempts to assess Paul's contribution as a moral thinker in the context of modern debate. The contents include a survey of the variety of approaches to understanding Pauline ethics and of the contemporary liberal-communitarian debate. Using a framework indebted to the social sciences, as well as to contemporary ethical theory, various chapters go on to examine the construction of community in Paul's letters, the notions of purity, boundaries and identity, Paul's attempts to deal with diversity in his churches, the role of imitating Christ in Paul's ethics, and the ethic Paul develops for interaction with 'outsiders'.


Finally, the pattern of Paul's moral thinking is considered in relation to the liberal-communitarian debate, with explicit consideration given to the central moral norms of Pauline thought, and the prospects for, and problems with, appropriating these in the contemporary world. It is argued that, while Paul's ethics raise problems which prevent their easy application today, by thinking with, beyond, and sometimes against Paul, we can find in his letters valuable resources for the pressing moral tasks that confront us.


-Publisher
An assessment of Paul as a moral thinker in the context of modern concerns and practices.
-Publisher
This book is an attempt to engage in some detail with Paul's ethics, in a way which is both serious and historically informed, but also in a way shaped by debates in the contemporary field of ethics, specifically the debate between liberals and communitarians.
-Publisher
David G. Horrell (Ph.D., University of Cambridge) is Professor of New Testament Studies at the University of Exeter, UK. He is the author of several books, including An Introduction to the Study of Paul (T&T Clark, Second Edition 2006) and Solidarity and Difference (T&T Clark, 2005). He was the editor of the Journal for the Study of the New Testament from 2002-2007.
He is an active member of the British New Testament Society, having chaired the Social World of the New Testament Seminar from 2001-2006, and is also a member of the Society for Biblical Literature (SBL) and Society for New Testament Studies (SNTS). He completed his PhD at Cambridge on Pauls Corinthian letters and the letter known as 1 Clement


Preface; Abbreviations; Introduction; 1. Approaches To Pauline Ethics: From Bultmann To Boyarin; 1.1 Theology And Ethics: Indicative And Imperative; 1.2 Pauline Ethics As Halakah; 1.3 Pauline Ethics And Greco-roman Moral Philosophy; 1.4 Pauline Ethics And The Teaching Of Jesus; 1.5 Morals And Community: Pauline Ethics In Social Context; 1.6 Appropriating Pauline Ethics; 1.7 Paul Beyond The Church: Political Ethics And Cultural Criticism; 1.8 Conclusion; 2. Liberals And Communitarians: Contrasting Approaches In Contemporary Ethical Theory; 2.1 The Liberal-communitarian Debate; 2.2 Jurgen Habermas's Discourse Ethics; 2.3 Stanley Hauerwas's Ecclesial Ethics; 2.4 Critical Reactions; 2.5 Common Ground? 3. Reading Paul: Myth, Ritual, Identity, And Ethics; 3.1 Symbolic Universe, Story, And Myth; 3.2 Ritual And Practice; 3.3 Identity, World-view, And Ethos; 3.4 Ethics And Morality; 3.5 Conclusion; 4. The Construction Of Community: Corporate Solidarity In Christ; 4.1 Baptism And Lord's Supper; 4.2 A Community Of Adelphoi: Identity And Ethos; 4.3 Appeals For Unity In The Face Of Division; 4.4 The Body: Whole And Parts; 4.5 Solidarity In Practice: What Difference Does It Make? 4.6 Conclusion; 5. Purity, Boundaries And Identity: The Rhetoric Of Distinction; 5.1 The Language Of Distinction; 5.2 Distinction And Positive Group Identity; 5.3 Boundaries And The Body: Sexual Ethics And Idolatry; 5.4 Social Interaction With Outsiders; 5.5 Ethical Norms: Distinctive Or Shared? 5.6 Conclusion: Distinct Identity, Shared Ethics; 6. Solidarity, Difference, And Other-regard: The Strong And The Weak (1 Cor 8-10, Rom 14-15); 6.1 Idol Food At Corinth: 1 Cor 8.1-11.1; 6.2 The Strong And The Weak In Rome: Rom 14.1-15.13; 6.3 Significant Themes; 6.3.1 Conscience, Faith, And Stumbling; 6.3.2 Freedom; 6.3.3 Tolerance And Intolerance; 6.3.4 Identity And Difference; 6.4 Conclusion; 7. Other-regard And Christ As Moral Paradigm; 7.1 Philippians 2.5-11 And Christ As Examplar; 7.2 1 Corinthians 9.14-15 And Paul's Imitation Of Christ; 7.3 The Law Of Christ (gal 6.2; 1 Cor 9.21); 7.4 The Collection (2 Cor 8.9-15): Self-giving And Equality; 7.5 Conclusion; 8. Ethics And Outsiders; 8.1 Universal Knowledge (romans 1-2); 8.2 Universal Obligations (rom 13.1-7); 8.3 Concern For The Reaction Of Outsiders; 8.4 Doing Good To All; 8.5 Conclusion; 9. Solidarity And Difference: Paul Among Liberals And Communitarians; 9.1 The Character Of Pauline Ethics; 9.2 Paul Among Liberals And Communitarians; 9.3 Models For The Appropriation Of Pauline Ethics; Bibliography; Indexes; Index Of Ancient References; Index Of Modern Authors
Bestsellers in Christian Worldview