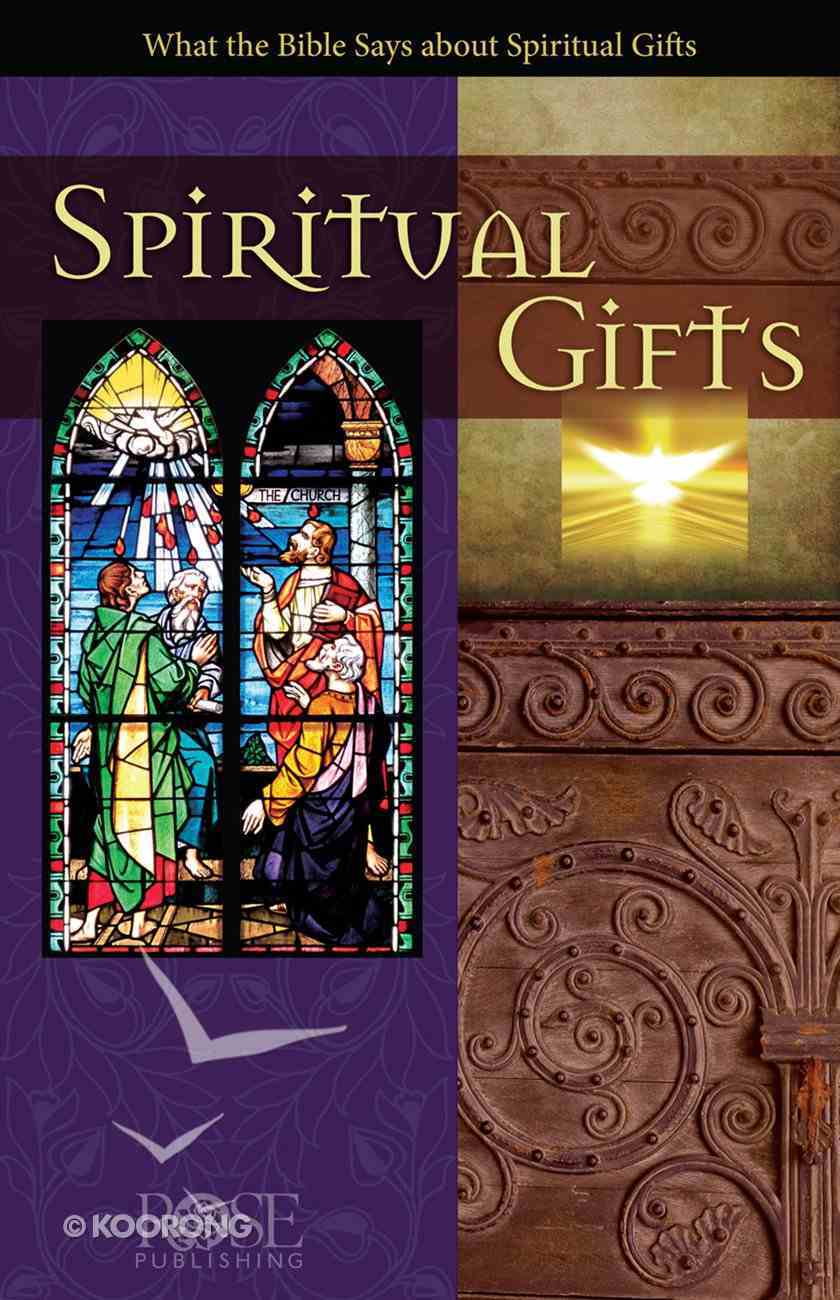 Spiritual Gifts (Rose Guide Series)
This best-selling Spiritual Gifts Pamphlet explains the spiritual gifts in the Bible and includes a Spiritual Gifts Quiz to help people know their gifts. This Spiritual Gifts booklet explains each of the gifts of the Holy Spirit and what they...
Available for immediate download.
---
Read using our free app on your tablet or mobile!
---
Free Shipping
for orders over $99.
This best-selling Spiritual Gifts Pamphlet explains the spiritual gifts in the Bible and includes a Spiritual Gifts Quiz to help people know their gifts.
This Spiritual Gifts booklet explains each of the gifts of the Holy Spirit and what they mean. When you became a Christian, the Holy Spirit gave you spiritual gifts to build up fellow believers, both in your own church and worldwide. This pamphlet defines spiritual gifts, and describes the differences between the biblical gifts. The Spiritual Gifts Test helps you identify your spiritual gifts, and explains how to use your gifts to benefit others.


Each gift of the Spirit is vital and none is more important than others. No matter what your giftedness is, you play an important role in strengthening the church.

Did You Know? 63% of Christians Don't Know Their Spiritual Gifts A recent Barna study showed that nearly two-thirds of Christians don't know their spiritual gift(s), don't think they have a gift at all, or claim to have a gift that is not actually biblical.
Most Christians know something about Spiritual Gifts, but many don't realize how important they are. Believers are given Spiritual Gifts to contribute to the growth of the church. Spiritual Gifts are important because Scripture says that the church needs all of the gifts working together to help build the Body of Christ. Every believer counts! This pamphlet includes a Spiritual Gifts Questionnaire to determine which gift(s) you might have.


The Holy Spirit gives spiritual gifts to Christians to help build the life and ministry of the Church. Yet, a large number of Christians do not use or even recognize their spiritual gift. Rose Publishing's Spiritual Gifts pamphlet will help you learn how important Spiritual Gifts are and how to develop the gift(s) the Holy Spirit has given you.


Topics in the Spiritual Gifts pamphlet include -

A self-test "Spiritual Gifts Questionnaire" to determine which gift or gifts you may have. Description of each gift and how to develop it more as you minister to other believers. Use for Individual study Discipleship Small Group or Sunday School class Christian School Homeschoolers New Believers' class Church library Study Questions for Personal Use or Small Groups: Read pages 2-4: Based on page 2, what are the purposes of the gifts? These days many churches have paid staff; so why would the God give each believer a gift for the church? Why are these gifts important to all believers?

See page 3: Some gifts are very dramatic and visible and others are quiet and don't attract much attention. What is the main purpose of these gifts? Why do people need to be involved with other Christians, rather than becoming isolated? Scripture says we must appreciate each person's gift even if it is not very showy. How might you recognize the gifts that other believers have?
See page 4 and the 8 biblical ways that Holy Spirit works in our lives: The Holy Spirit is actively at work in the church with the purpose of glorifying Christ and helping the body of Christ (believers in the church) become more mature. Look at the list: Pick two ways the Holy Spirit acts and why they are important to the church. What would happen if these did not happen? How might you help carry out these priorities in your church?
Read all of page 5 and then go back to the first paragraph. If the Holy Spirit provides the life to the body, how do the members "keep it moving"? Later in the Spiritual Gifts pamphlet, each gift will be described, but based on these four lists of spiritual gifts from Scripture, why do you think such a wide variety of gifts is given to the church? Pick any two gifts and tell how (in your opinion) they fit into the Holy Spirit's priorities on page 4.
Read page 6-7: Christians in every type of church agree on what the spiritual gifts are, but not all Christians agree on precisely how and when they are to be used. Look at Paul's warning at the bottom of page 6 (taken from 2 Corinthians 12:12-26) about not being arrogant but showing concern for each member of the body (each person) so that the church isn't divided. How can we show concern and respect and avoid hard feelings today?
Read pages 8-10 describing each gift. Pick two gifts and read the Bible verses that go with it. Questions: How does this gift build up other believers? Give two examples of ways it ministers to the church. Is there a way this gift might be misused? Answer the questions on the Spiritual Gifts Questionnaire on pages 11-13. Which gift(s) do you think you might have and why? How could you use this gift to minister to others in your church? Are there any ministries in your church you could help? Why Buy? Easy to read. Explains the Bible visually. Attractive. Full-color, packed with fascinating charts and illustrations. Easy to understand. Uses concise and simple language. Fast. This glossy attractive booklet can take less than 20 minutes to read. Durable. Spiritual Gifts glossy coating helps it last. Convenient. This pamphlet's small size makes it easy to carry inside of your Bible, folder, or binder. Engaging. Spiritual Gifts offers fascinating facts and handy study tips that revitalize individual and group Bible studies. Lightweight. Easier to mail than a book, enabling you to uplift and equip friends, family members, and missionaries anywhere in the world.


-Publisher
Bestsellers in Tracts/booklets