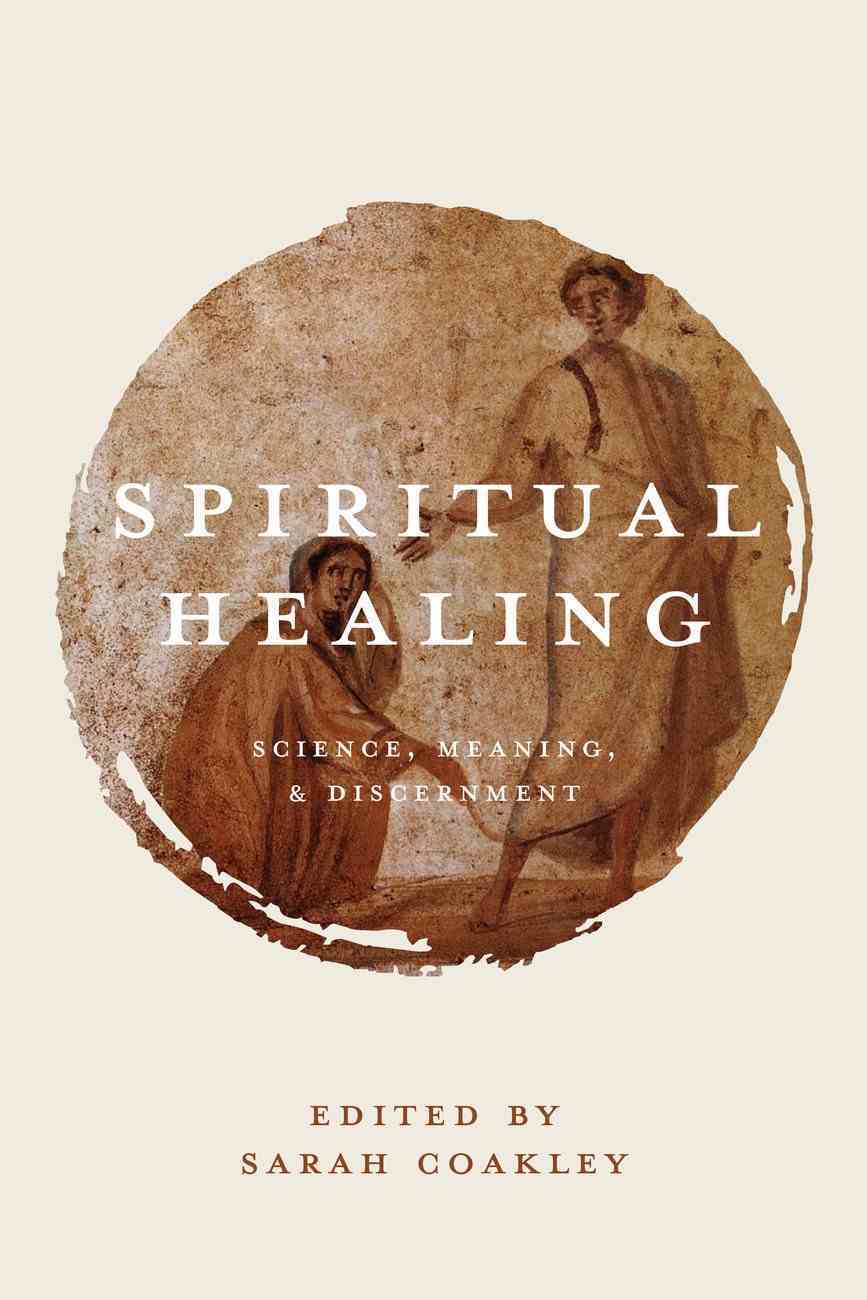 Spiritual Healing: Science, Meaning, and Discernment
: Spiritual healing has been a cornerstone of Christian belief from its beginnings, although there are various interpretations of what exactly it is and how it happens. To address these questions, the contributors to this volume come together to examine...
---
Expected to ship within 9 hours from Australia.
---
Free Shipping
for orders over $99.
:
Spiritual healing has been a cornerstone of Christian belief from its beginnings, although there are various interpretations of what exactly it is and how it happens. To address these questions, the contributors to this volume come together to examine spiritual healing from a number of disciplinary perspectives. How can such healing be explained through a scientific or medical lens? What do biblical and historical instantiations of it tell us today? And how are we to think of it as anthropologists, philosophers, or theologians? Finally, what does all this mean for those seeking spiritual healing for themselves, or pastors walking alongside the afflicted?


Under the guiding editorship of theologian Sarah Coakley, Spiritual Healing offers a composite narrative that investigates the many intermingled factors at work in this intriguing phenomenon. The result is a human story as much as it is a theological one, satisfying discerning believers and skeptics alike in its rigorous pursuit of truth and meaning.


-Publisher
Sarah Coakley is Norris Hulse Professor of Divinity at the University of Cambridge. Her previous publications include Powers and Submissions: Philosophy, Spirituality and Gender (2002) and she was the editor of Re-Thinking Gregory of Nyssa (2003) and co-editor (with Charles M. Stang) of Re-Thinking Dionysius the Areopagite (2009). C
:<p><b>table Of Contents</b></p><p>introduction: Spiritual Healing, Science, And Meaning</p><p><i>sarah Coakley</i><i>&amp;#160;</i></p><p><b>part I: Biblical And Historical Perspectives</b></p><p>&amp;#160;&amp;#160;&amp;#160;&amp;#160;&amp;#160;&amp;#160;&amp;#160;&amp;#160;&amp;#160;&amp;#160;&amp;#160; 1.&amp;#160;&amp;#160;&amp;#160;&amp;#160;&amp;#160;&amp;#160;&amp;#160;&amp;#160; Healing, Meaning, And Discernment In The Biblical Text&amp;#160;<i>beverly Roberts Gaventa</i></p><p>&amp;#160;&amp;#160;&amp;#160;&amp;#160;&amp;#160;&amp;#160;&amp;#160;&amp;#160;&amp;#160;&amp;#160;&amp;#160; 2.&amp;#160;&amp;#160;&amp;#160;&amp;#160;&amp;#160;&amp;#160;&amp;#160;&amp;#160; Healing And Ecclesial Response In Nineteenth-century Catholic France&amp;#160;<i>emma Anderson</i></p><p>&amp;#160;&amp;#160;&amp;#160;&amp;#160;&amp;#160;&amp;#160;&amp;#160;&amp;#160;&amp;#160;&amp;#160;&amp;#160; 3.&amp;#160;&amp;#160;&amp;#160;&amp;#160;&amp;#160;&amp;#160;&amp;#160;&amp;#160; Healing, Belief, And Interpretation In Nineteenth-century Protestant America&amp;#160;<i>heather D. Curtis</i></p><p><b>&amp;#160;</b><b>part Ii: What Science Has To Show Us</b></p><p>&amp;#160;&amp;#160;&amp;#160;&amp;#160;&amp;#160;&amp;#160;&amp;#160;&amp;#160;&amp;#160;&amp;#160;&amp;#160; 4.&amp;#160;&amp;#160;&amp;#160;&amp;#160;&amp;#160;&amp;#160;&amp;#160;&amp;#160; Meaning In The Neural Investigation Of Pain&amp;#160;<i>howard L. Fields</i></p><p>&amp;#160;&amp;#160;&amp;#160;&amp;#160;&amp;#160;&amp;#160;&amp;#160;&amp;#160;&amp;#160;&amp;#160;&amp;#160; 5.&amp;#160;&amp;#160;&amp;#160;&amp;#160;&amp;#160;&amp;#160;&amp;#160;&amp;#160; Brain And Cognitive Processes In Healing&amp;#160;<i>malcolm Jeeves</i></p><p>&amp;#160;&amp;#160;&amp;#160;&amp;#160;&amp;#160;&amp;#160;&amp;#160;&amp;#160;&amp;#160;&amp;#160;&amp;#160; 6.&amp;#160;&amp;#160;&amp;#160;&amp;#160;&amp;#160;&amp;#160;&amp;#160;&amp;#160; Prayer And Placebo In Scientific Research&amp;#160;<i>anne Harrington</i></p><p><b>&amp;#160;</b><b>part Iii: Philosophical Insights</b></p><p>&amp;#160;&amp;#160;&amp;#160;&amp;#160;&amp;#160;&amp;#160;&amp;#160;&amp;#160;&amp;#160;&amp;#160;&amp;#160; 7.&amp;#160;&amp;#160;&amp;#160;&amp;#160;&amp;#160;&amp;#160;&amp;#160;&amp;#160; Philosophy Of Mind And Emergentism In Thought About Healing&amp;#160;<i>philip Clayton</i></p><p>&amp;#160;&amp;#160;&amp;#160;&amp;#160;&amp;#160;&amp;#160;&amp;#160;&amp;#160;&amp;#160;&amp;#160;&amp;#160; 8.&amp;#160;&amp;#160;&amp;#160;&amp;#160;&amp;#160;&amp;#160;&amp;#160;&amp;#160; Healing And The Moral Problems Of Efficacy&amp;#160;<i>stephen R. L. Clark</i></p><p><b>&amp;#160;</b><b>part Iv: Anthropological And Pastoral Perspectives</b></p><p>&amp;#160;&amp;#160;&amp;#160;&amp;#160;&amp;#160;&amp;#160;&amp;#160;&amp;#160;&amp;#160;&amp;#160;&amp;#160; 9.&amp;#160;&amp;#160;&amp;#160;&amp;#160;&amp;#160;&amp;#160;&amp;#160;&amp;#160; Contemporary Healing In Anthropological Perspective&amp;#160;<i>thomas J. Csordas</i></p><p>&amp;#160;&amp;#160;&amp;#160;&amp;#160;&amp;#160;&amp;#160;&amp;#160;&amp;#160;&amp;#160;&amp;#160;&amp;#160; 10.&amp;#160;&amp;#160;&amp;#160;&amp;#160;&amp;#160;&amp;#160; Healing In Pastoral Care&amp;#160;<i>john Swinton</i></p><p>conclusion: Whither Spiritual Healing Now?&amp;#160;<i>sarah Coakley</i></p>