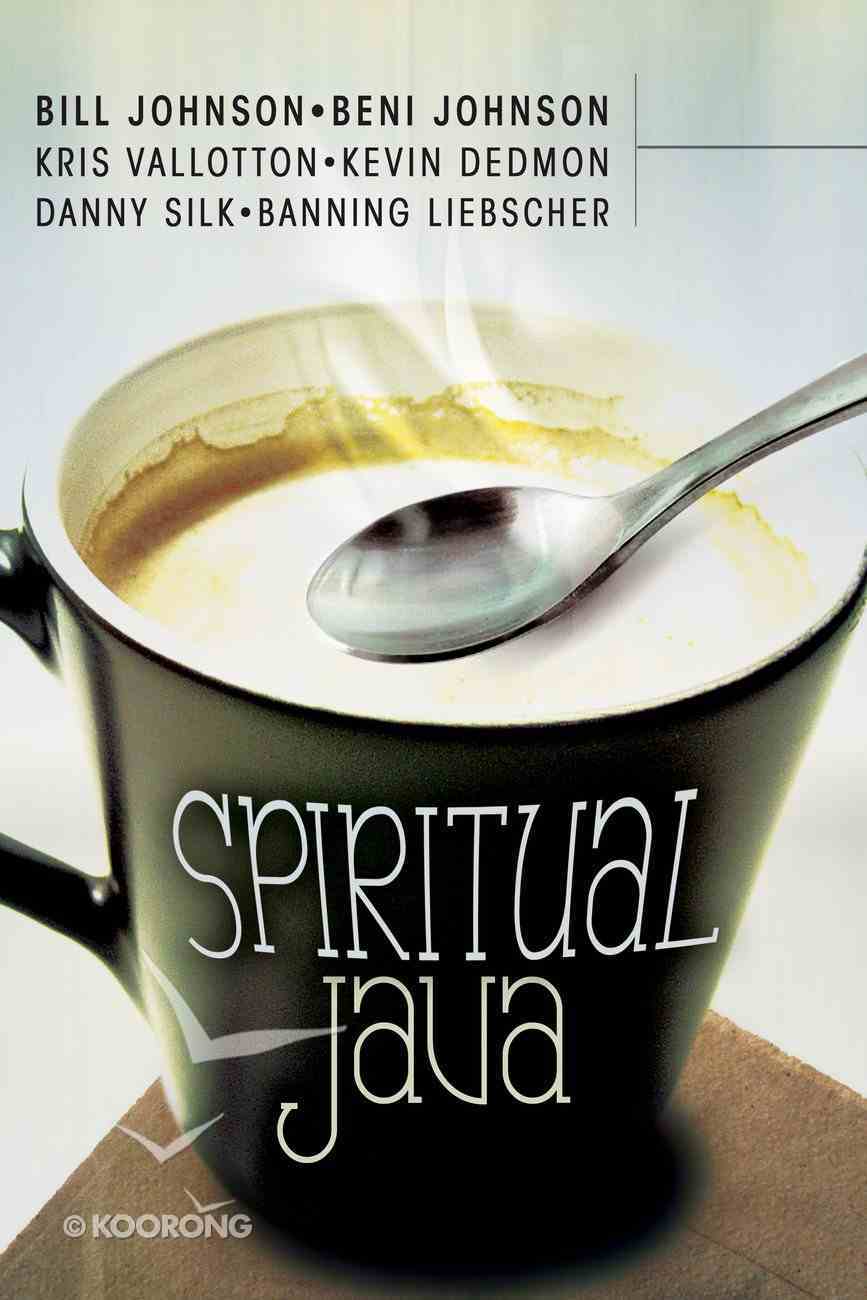 Selecting 40 invigorating excerpts from their exciting and popular books, Pastor Bill Johnson and his Bethel Church associates have created an excellent blend of rich, generous, fortifying spiritual inspiration.   Take a deep whiff of what Bill,...
---
Expected to ship within 5 hours from Australia.
---
Free Shipping
for orders over $99.


Selecting 40 invigorating excerpts from their exciting and popular books, Pastor Bill Johnson and his Bethel Church associates have created an excellent blend of rich, generous, fortifying spiritual inspiration.


 


Take a deep whiff of what Bill, his wife Beni, and their friends Kris Vallotton, Danny Silk, Kevin Dedmon, and Banning Liebscher have brewed specially for you.


 


Step 1: Select an espresso-size chapter.


Step 2: Sit back and relax in God's presence.


Step 3: Learn to listen to His voice.


Step 4: Follow His directions.


 


God will take you into supernatural new territory, and your explorations will not end until you are fully walking in His perfect plan for your life.


 

Each time you enjoy a few more sips, you will be warmed and energized to step out into your world with renewed Kingdom effectiveness. May each sip of every chapter be spiritual java for your soul.

-Publisher
PRODUCT DETAIL
Catalogue Code 

312663

Product Code 

9780768432855

ISBN 

0768432855

EAN 

9780768432855

Pages 

251

Department General Books
Category Christian Living
Sub-Category General
Publisher Destiny Image
Publication Date 

Oct 2010

Sales Rank 

25186

Dimensions 

228 x 152 x 12

mm

Weight 

0.356

kg
<div><p> <div><p Class="5a-chaptertitle">contents</p> <p Class="8-toc">introduction</p> <p Class="8-toc">chapter 1: Aggressive Faith (bill Johnson)</p> <p Class="8-toc">chapter 2: Getting Into The Flow Of Grace (banning Liebscher)</p> <p Class="8-toc">chapter 3: Creating A Safe Place (danny Silk)</p> <p Class="8-toc">chapter 4: Where Did Your Storm Come From? (bill Johnson)</p> <p Class="8-toc">chapter 5: Increasing In Favor (bill Johnson)</p> <p Class="8-toc">chapter 6: Forget, But Don&rsquo;t Forget (kris Vallotton)</p> <p Class="8-toc">chapter 7: Joy (beni Johnson)</p> <p Class="8-toc">chapter 8: Transformed By Promotion (bill Johnson)</p> <p Class="8-toc">chapter 9: Friends And Co-laborers (bill Johnson)</p> <p Class="8-toc">chapter 10: Just Do It! (kevin Dedmon)</p> <p Class="8-toc">chapter 11: Light Therapy (kevin Dedmon)</p> <p Class="8-toc">chapter 12: Living Under The Influence (bill Johnson)</p> <p Class="8-toc">chapter 13: Calling Forth His Desires (beni Johnson)</p> <p Class="8-toc">chapter 14: God Is Always Speaking (kris Vallotton)</p> <p Class="8-toc">chapter 15: Character&mdash;with Power (bill Johnson)</p> <p Class="8-toc">chapter 16: Kingdom Increase (banning Liebscher)</p> <p Class="8-toc">chapter 17: Praying In The Spirit (bill Johnson)</p> <p Class="8-toc">chapter 18: Becoming Children Of Light (danny Silk)</p> <p Class="8-toc">chapter 19: Pursuing Your Destiny (kris Vallotton)</p> <p Class="8-toc">chapter 20: When God Colors Outside The Lines (bill Johnson)</p> <p Class="8-toc">chapter 21: One Hundred Percent Success (kevin Dedmon)</p> <p Class="8-toc">chapter 22: Divine Encounters (bill Johnson)</p> <p Class="8-toc">chapter 23: Connection With God (beni Johnson)</p> <p Class="8-toc">chapter 24: Light In Unlikely Places (banning Liebscher)</p> <p Class="8-toc">chapter 25: Like Father, Like Son And Daughter (bill Johnson)</p> <p Class="8-toc">chapter 26. Thanksgiving&mdash;agreeing With Heaven (bill Johnson)</p> <p Class="8-toc">chapter 27: Combat Darkness With Joyful Worship (beni Johnson)</p> <p Class="8-toc">chapter 28: Drawing On The Grace Of God (danny Silk)</p> <p Class="8-toc">chapter 29: Smeared With God (bill Johnson)</p> <p Class="8-toc">chapter 30: Practicing The Gifts Of The Spirit (kris Vallotton)</p> <p Class="8-toc">chapter 31: Green Light District (bill Johnson)</p> <p Class="8-toc">chapter 32: True Humility (kris Vallotton)</p> <p Class="8-toc">chapter 33: It&rsquo;s Easy To Hear From God (kevin Dedmon)</p> <p Class="8-toc">chapter 34: God Hides Things For You, Not From You (bill Johnson)</p> <p Class="8-toc">chapter 35: If It Matters To You, It Matters To Him (bill Johnson)</p> <p Class="8-toc">chapter 36: The Name Of Jesus (kevin Dedmon)</p> <p Class="8-toc">chapter 37: Bringing Signs And Wonders To The Streets (bill Johnson)</p> <p Class="8-toc">chapter 38: Strength From Covenant People (bill Johnson)</p> <p Class="8-toc">chapter 39: First Love (banning Liebscher)</p> <p Class="8-toc">chapter 40: Welcoming His Visitation (bill Johnson)</p></div> </p></div>
Bestsellers in Christian Living