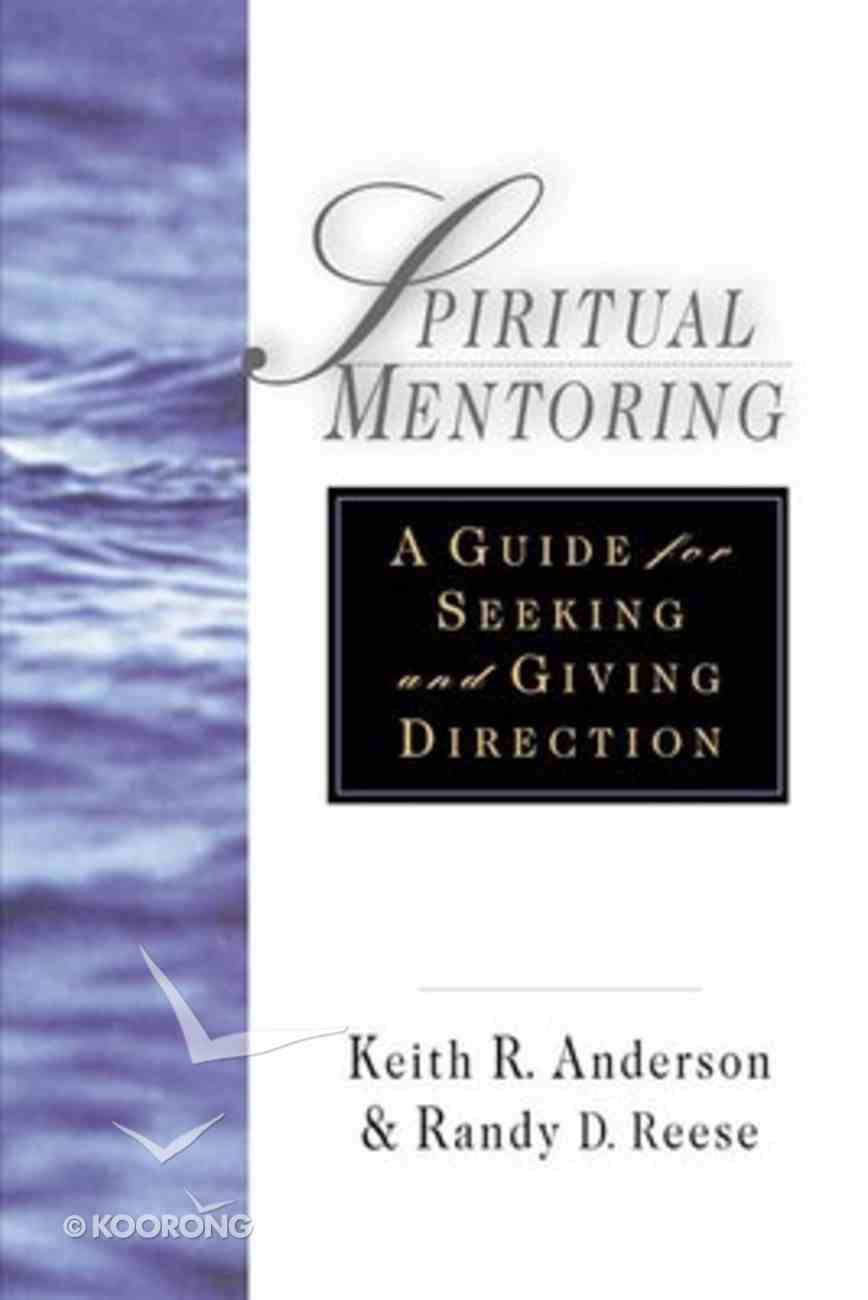 Drawing on the writings of Augustine, John of the Cross, Teresa of Avila and others, Keith R. Anderson and Randy D. Reese show that the age-old practice of Christian mentoring is meant to facilitate our growth throughout life. They provide...
Available Now.
1 Available
---
Expected to ship tomorrow from Australia.
---
Free Shipping
for orders over $99.
Drawing on the writings of Augustine, John of the Cross, Teresa of Avila and others, Keith R. Anderson and Randy D. Reese show that the age-old practice of Christian mentoring is meant to facilitate our growth throughout life. They provide motivation, principles and plans for starting and continuing mentoring relationships.
-Publisher
Iron sharpens iron, and one person sharpens . . . another.(Proverbs 27:17)As we seek God together we come to know him more deeply. That's the idea behindSpiritual Mentoring.Spiritual mentoring is an ages-old practice that Keith Anderson and Randy Reese introduce in a way that fits life as we know it today.Spiritual mentoring is not only for pastors or saints. Mentors are ordinary Christians who are willing to enter into a faith relationship with another person who wants to grow. Likewise, those who are mentored are not seminary candidates but simply followers of Jesus who long for guidance in their spiritual journey.In this book Anderson and Reese show you how to mentor and be mentored as they introduce, chapter by chapter, the work of a different classical spiritual writer, includingAugustineAelred of RievaulxJohn of the CrossJulian of NorwichIgnatius of LoyolaTeresa of AvilaMadame Jeanne GuyonThese writers offer timeless insights from centuries past, while Anderson and Reese help you put their teaching into practice today to grow closer to Jesus in the company of another believer. If you want to learn how to help younger Christians grow while stretching your own faith, or if you want to tap into the experience of a Christian friend who is farther along the road of faith, this is the book that will get you started.
-Publisher
Keith R. Anderson is the president of The Seattle School of Keith R. Anderson is the president of The Seattle School of Theology and Psychology in Seattle. He is the author of SpirTheology and Psychology in Seattle. He is the author of Spiritual Mentoring: A Guide for Those Giving and Receiving Direitual Mentoring: A Guide for Those Giving and Receiving Direction, Friendships That Run Deep, Does God Believe In You? Dction, Friendships That Run Deep, Does God Believe In You? Developing Spiritual Self-Confidence, Is This The One? and Wheveloping Spiritual Self-Confidence, Is This The One? and WhA
Randy Reese (Doctor of Missiology, Fuller Theological SeminaRandy Reese (Doctor of Missiology, Fuller Theological Seminary) is president of VantagePoint3, a ministry seeking to fosry) is president of VantagePoint3, a ministry seeking to foster renewal and maturity in local communities through the deter renewal and maturity in local communities through the development of lifelong approaches to Christian leadership forvelopment of lifelong approaches to Christian leadership formation. Reese is also adjunct faculty at Fuller Theological mation. Reese is also adjunct faculty at Fuller Theological A
Foreword By James M. Houston
Preface
1. An Imitative Faith
2. Reading Between The Lines: What Is Spiritual Mentoring?
3. The Art Of Beginning Well: Attraction
4. Developing Trust & Intimacy: Relationship
5. The Spirit Of Teachability: Responsiveness
6. Exercises Of Grace: Accountability
7. The Goal Of Spiritual Mentoring: Empowerment
Appendix 1: Clinton's Mentoring Types
Appendix 2: Contemporary Definitions Of Spiritual Mentoring
Appendix 3: Historical Time Line Of The Christian Classics
Appendix 4: Developing A Personal Time Line
Appendix 5: Recommended Bibliography For Spiritual Mentoring
Notes
Bestsellers in Spiritual Growth