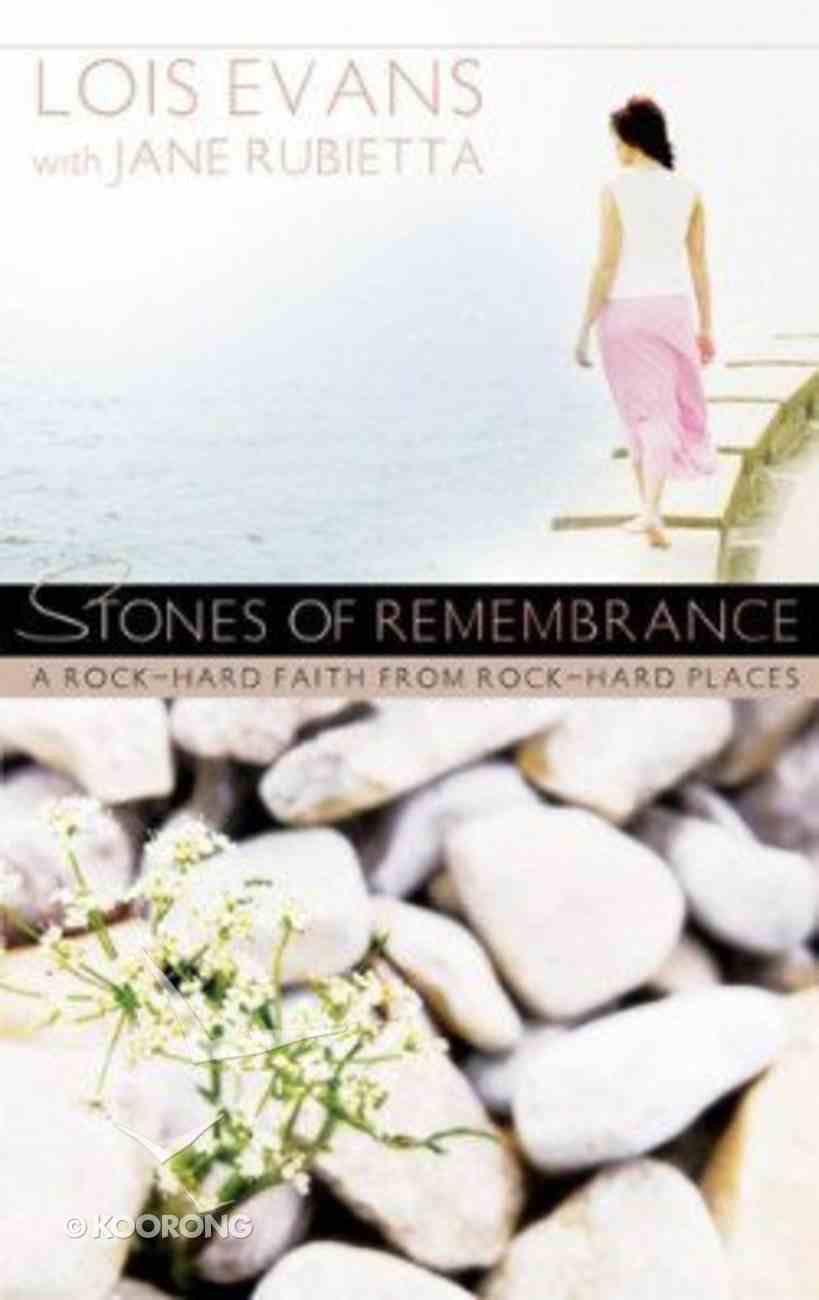 "The rock-hard truth is that God loves you. Loves you. Loves you. Let that into your thirsty heart. Even if life is hard right now, it doesnrs"t diminish Godrs"s love." -Dr. Lois Evans Fear of the future...sins of the past...a...
Out of Stock
Available to Order
---
Expected to ship in 4 to 5 weeks from Australia.
---
Free Shipping
for orders over $99.
"The rock-hard truth is that God loves you. Loves you. Loves you. Let that into your thirsty heart. Even if life is hard right now, it doesnrs"t diminish Godrs"s love." -Dr. Lois Evans Fear of the future...sins of the past...a relationship at rock-bottom... Whatever yours"re facing, you can be certain that it is nothing new to our God. In Stones of Remembrance, Dr. Lois Evans and Jane Rubietta take you back to the stories of challenge and faithfulness in the lives of our Old Testament sisters. As you reflect on their experiences, the authors will show you how to gather your own stones, place them in the river before you, and cross over into the warm embrace of the fullness of Godrs"s love.
-Publisher


When times get difficult--and they will--we all have a choice.  We can either dwell on the crashing waves or turn our focus to the solid rock on which we stand.  In this bedrock book of faith and assurance, Lois Evans draws the reader's attention to those points in life when God has shown His enduring faithfulness, creating "memory stones" that will serve as a lifelong anchor of hope amid the rushing floodwaters of life.



-Publisher
Tony Evans ýTony Evans, the first African American to graduate with a doctoral degree from Dallas Theological Seminary, is senior pastor of the 5,000 member Oak Cliff Bible Fellowship and president of The Urban Alternative, a national organization that seeks to bring about spiritual renewal in urban America. His radio broadcast, "The Alternative with Dr. Tony Evans, "can be heard on more than 500 stations daily throughout the US and worldwide. Lois Evans, his wife, best friend, and long time collaborator, is the coauthor of several books and has recorded two albums. Tony and Lois Evans have

Based in the northwestern suburbs of Chicago, Jane Rubietta Based in the northwestern suburbs of Chicago, Jane Rubietta is a popular retreat speaker and the author of Quiet Places,is a popular retreat speaker and the author of Quiet Places, Still Waters and Between Two Gardens (Bethany House), and H Still Waters and Between Two Gardens (Bethany House), and How to Keep the Pastor You Love, Grace Points and Resting Plaow to Keep the Pastor You Love, Grace Points and Resting Place (InterVarsity Press). ce (InterVarsity Press). C
<div><p>introduction&#160; / 9<br><br>1. Setting Stones In Place&#160; / 15<br><br>2. Puah And Shiphrah: Remembering The Faithfulness Of God&#160; / 29<br><br>3. Jochebed: Remembering The Compassion Of God&#160; / 45<br><br>4. Miriam: Remembering The Song Of God&#160; / 61<br><br>5. Pharoah's Daughter: Remembering The Intervention Of God&#160; / 77<br><br>6. Zipporah: Remembering The Intercession Of God&#160; / 91<br><br>7. Rahab: Remembering The Hospitality Of God&#160; / 105<br><br>8. Zelophehad's Daughters: Remembering The Promises Of God&#160; / 119<br><br>9. Achsah: Remembering The Blessing Of God&#160; / 137<br><br>10. Remembering And Stepping Out&#160; / 157<br><br>&#160;&#160;&#160;&#160;&#160; Notes&#160; / 173</p></div>
Bestsellers in Christian Living