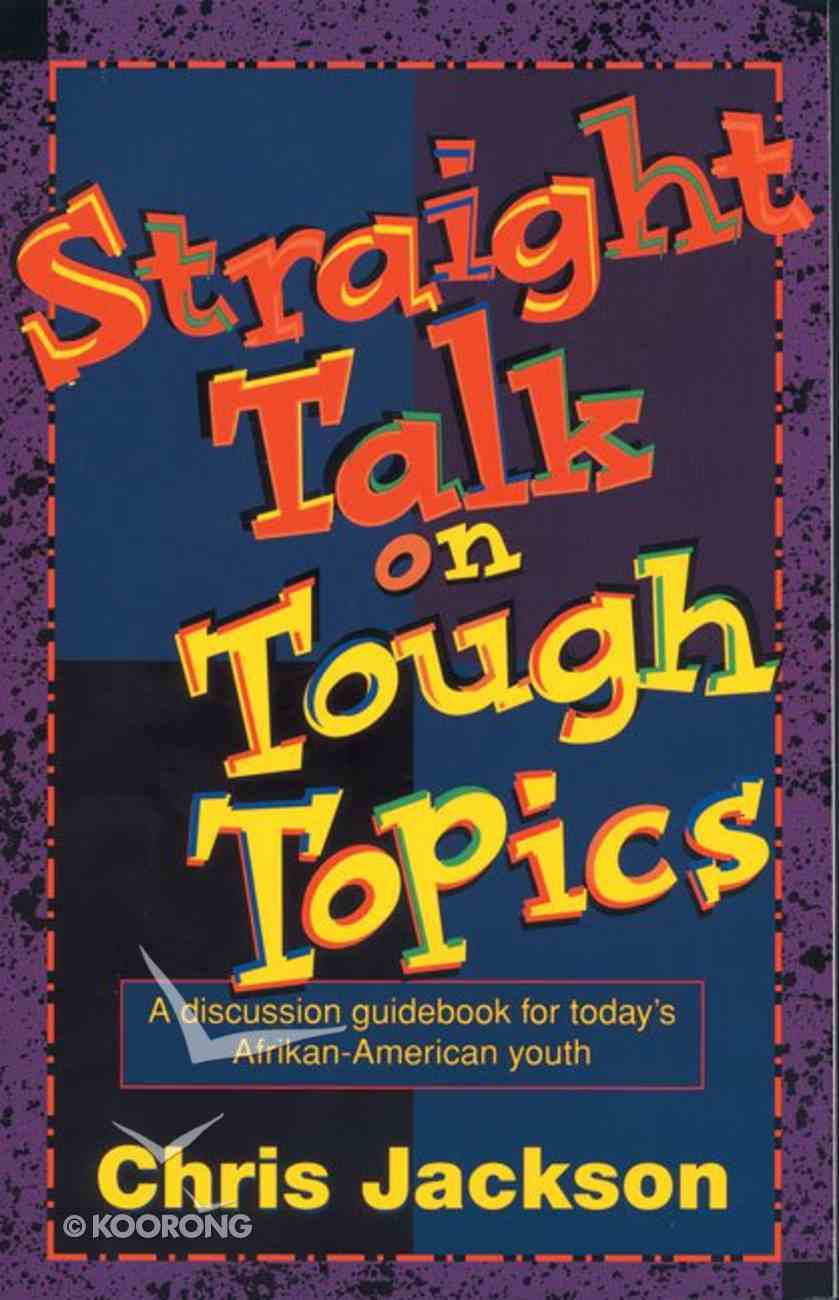 Straight Talk on Tough Topics
Chris Jackson offers straightforward talk on negative and positive issues faced by young people today, particularly young African-Americans.
---
Free Shipping
for orders over $99.
Chris Jackson offers straightforward talk on negative and positive issues faced by young people today, particularly young African-Americans.
-Publisher
Tough topics. They stare young adults in the face every day. Racism. Crack cocaine. Babies having babies. Gansta rappers glorifying mindless violence and loveless sex. These are just a few of the pieces of a shattered society--pieces sharp enough to cut the young people you work with. Reverend Chris Jackson knows about the touch topics youth face. For over a decade, he's helped young African-American adults work through the temptations, decisions, heartbreaks, and obstacles posed by today's culture. In Straight Talk on Tough Topics, he gives frank answer that can make the difference in young lives. Packed with pointed information, questions to get your young people thinking and talking, and Scripture references that will help them build a solid foundation on God's Word, this is a handbook for wise, fruitful, and satisfying living. Turn to it when the topic your kids are dealing with is tough--for wisdom you can count on to steer them in the right directions.
-Publisher
PRODUCT DETAIL
Catalogue Code 

105976

Product Code 

031020819X

EAN 

9780310208198

UPC 

025986208196

Pages 

124

Department Ministry
Category Youth Ministry
Sub-Category Youth Leaders
Publisher Zondervan
Publication Date 

Jul 1996

Dimensions 

228 x 152 x 10

mm

Weight 

0.179

kg
Originally from Tamworth, Wales, author and illustrator Chris Jackson makes his home in Nepean, Ontario. Chris is a member of Multicultural Artists in Schools and Communities, and a world-class performer who loves to take his books (and his hat collection) into classrooms and libraries - he has hosted almost 1,800 readings and workshops!
Acknowledgments
Introduction
Killers
1. Peer Pressure Used
2. Drugs And Alcohol Abused
3. Money Confused
4. Homicide Infused
5. Racism Accused
6. Sex Misused
Healers
7. Functional Families
8. Solid Spirituality
9. Educational Excellence
10. Essential Esteem
11. Economic Empowerment
12. Positive Purpose
Notes
Chapter 1 Peer Pressure used Your companions are like the buttons on an elevator. They will either take you up or they will take you down. God's Little Instruction Book Come on! Why not? Everybody will be there! What's wrong with you? Are you scared? Try it just once! You don't know what you're missin'! Please baby, please! Peer pressure. We've all felt it at some point in our lives. Peer pressure can be verbal, as is illustrated above, or it can be applied by our associates' actions alone. Sometimes peer pressure is intentional, and those around us purposely seek to have us conform to their idea of what should be done. However, other times we are drawn into activities simply due to our own deep desire to fit in and to belong. Often this desire for acceptance causes us more problems than when other people deliberately influence us. We all want to be liked by the people who are important to us. This is especially true when there has been a lack of love somewhere in our background. Affirmation and validation by our friends then become substitutes for the love that we truly desire. As we examine some of the killers of black youth, we will see that peer pressure is a common component that influences many of these killers. This is why it is so important to carefully choose our friends and associates. Question: If you spend 20 percent of your time around positive or spiritual people and 80 percent of your time around negative or non-spiritual people, which of the two groups do you think will influence you most? The influence exerted by peer pressure appears in many different ways. Consider and discuss the following areas and ways in which our peers influence the way we do things: 1) clothing; 2) hairstyle; 3) speech pattern; 4) amusements; 5) thinking/values; and 6) other areas. Clothing and hairstyle have always been big issues within the black community. The high value we place on how we look stems partially from our rich Afrikan ancestry. If you went to Afrika today, in each town, large or small, you would inevitably encounter at least two things: a church and a hair-care shop. (Black people all over the world want their 'do to be right!) Peer pressure's most significant effect, however, is upon our minds. If someone can influence what we think, then they can also influence how we speak and what we do. This has to do with our ultimate values in life and is much deeper than a passing trend. We must be able to differentiate between whether we are simply keeping up with a style, or if peer pressure has taken us to the point of negatively reshaping our values. Question: Will you think, choose, and decide for yourself, or will you allow someone else to do these for you? All of the great people of history have been creative thinkers and innovators. We can never become great by always blending in with our surroundings. Consider the proverbial analogy between the thermometer and the thermostat. A thermometer reflects the surrounding temperature. If it is hot, the mercury expands and reflects the appropriate temperature. When things get colder, the opposite occurs. But instead of just reflecting its surroundings, a thermostat actually controls its surroundings! Now, which kind of person are you? A thermometer or thermostat? Your answer to this question will largely determine your success in life and whether you will be a conformist or an innovator. Usually when discussing peer pressure, we think of others causing us to get into trouble. Question: Is there such a thing as POSITIVE PEER PRESSURE? If so, can you describe it, or have you ever experienced it? Positive peer pressure also influences others to do things they would not ordinarily do. The difference between negative and positive peer pressure lies in the result of the pressure. If the pressure leads to helping the person to become worse, it's negative. If the pressure leads to helping the person to become better, it is positive peer pressure. Of course, one must contend with differing value judgments as to what constitutes better and what constitutes worse. This confusion can be cleared when we apply God's standard rather than a human standard to the situation in question. Realistically speaking, how should we respond when we are faced with a potentially compromising situation in which negative peer pressure is being used? Here are some suggestions: 1) know in advance what you will and will not do; 2) don't compromise or rationalize; 3) be willing to stand alone if necessary; and 4) love God more than you love your friends. One popular response to negative peer pressure has been 'Just Say No.' But how can one just say no to something without having something better to say 'yes' to? Christian youth and Christian youth advisors have a responsibility to provide an attractive alternative to the unproductive offering of negative peer pressure. That unsaved young person you are seeking to get involved with your Christian group has every right to ask this question: 'If it's wrong for me to go here or to do that, what kind of alternatives are you offering?' In John 10:10, Jesus said 'I came that you might have boredom,' right? Wrong! He said, 'I came that you might have life and life more abundantly.' The Christian life lived as God designed is the most vibrant, challenging, and exciting life possible! This fact should give us incentive to encourage others toward a godly direction. This is where positive peer pressure is useful in allowing others to see the joy of a Spirit-filled lifestyle. They will want the Christ in you to be the Christ in them. So what are you waiting for? Pump up the power of the positive peer pressure!
Bestsellers in Youth Ministry