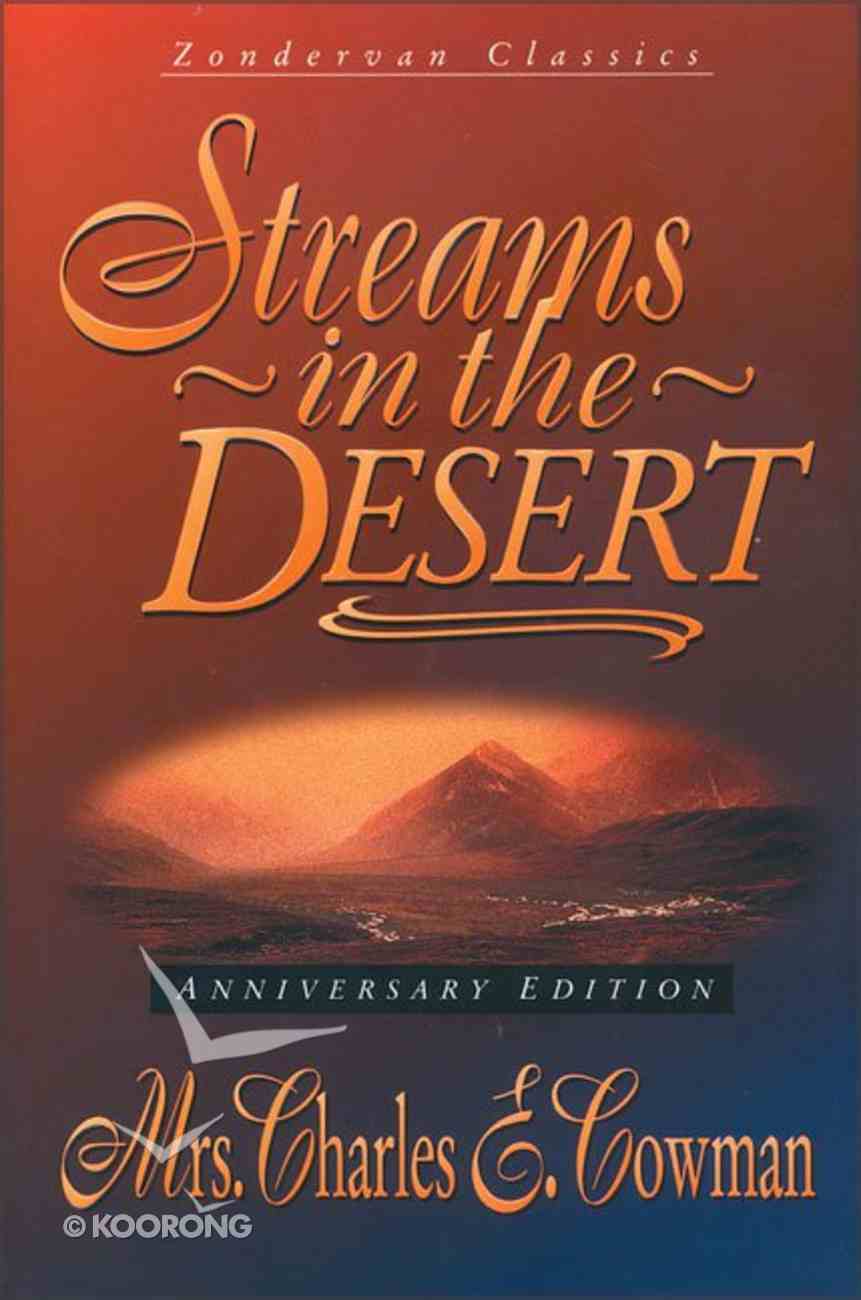 Streams in the Desert (Anniversary Ed.)
Mrs. Cowman's classic devotional will inspire fresh hope, confidence, and a deep awareness of God's presence in your life are presented in one volume for morning or evening devotional reading.
---
Available in other Formats
---
Free Shipping
for orders over $99.
Mrs. Cowman's classic devotional will inspire fresh hope, confidence, and a deep awareness of God's presence in your life are presented in one volume for morning or evening devotional reading.
-Publisher
Few books ever attain such a widespread recognition and perennial appeal as Streams in the Desert. Now over seventy years since its first publication, this marvelous devotional by Mrs. Charles E. Cowman has established itself firmly in the ranks of the Christian classics. Written from Mrs. Cowman's rich experiences with life, from its dry wastelands to its well-watered gardens, Streams in the Desert is a legacy of faith and wisdom that is time-tested faithfully to the One who alone can slake their spiritual thirst. In the midst of today's fast-paced world, the wisdom of Streams in the Desert remains refreshing, relevant and trustworthy. Turn to it daily, tune out the clamor of living, and let these prayerful writings inspire fresh hope, confidence, and a deep awareness of God's presence in your life.
-Publisher
PRODUCT DETAIL
Catalogue Code 

104799

Product Code 

0310484006

EAN 

9780310484004

UPC 

025986484002

Pages 

384

Department General Books
Category Devotions
Sub-Category General
Publisher Zondervan
Publication Date 

Sep 1996

Sales Rank 

30201

Dimensions 

209 x 146 x 31

mm

Weight 

0.430

kg
Also know as Mrs. Charles Cowman and Lettie B. Cowman. She worked as a pioneer missionary with her husband in Japan and China from 1901 to 1917.
January 1 The land whither ye go to possess it is a land of hills and valleys and drinketh water of the rain of heaven: a land which the Lord thy God careth for: the eyes of the Lord thy God are always upon it, from the beginning of the year even unto the end of the year (Deut. 11:11--12). Today, dear friends, we stand upon the verge of the unknown. There lies before us the new year and we are going forth to possess it. Who can tell what we shall find? What new experiences, what changes shall come, what new needs shall arise? But here is the cheering, comforting, gladdening message from our heavenly Father, 'The Lord thy God careth for it.' 'His eyes are upon it away to the ending of the year.' All our supply is to come from the Lord. Here are springs that shall never dry; here are fountains and streams that shall never be cut off. Here, anxious one, is the gracious pledge of the heavenly Father. If He be the source of our mercies they can never fail us. No heat, no drought can parch that river, 'the streams whereof make glad the city of God.' The land is a land of hills and valleys. It is not all smooth nor all downhill. If life were all one dead level of dull sameness it would oppress us; we want the hills and the valleys. The hills collect the rain for a hundred fruitful valleys. Ah, so it is with us! It is the hill difficulty that drives us to the throne of grace and brings down the shower of blessing; the hills, the bleak hills of life that we wonder at and perhaps grumble at, bring down the showers. How many have perished in the wilderness, buried under its golden sands, who would have lived and thriven in the hill country; how many would have been killed by the frost, blighted with winds, swept desolate of tree and fruit but for the hill---stern, hard, rugged, so steep to climb. God's hills are a gracious protection for His people against their foes! We cannot tell what loss and sorrow and trial are doing. Trust only. The Father comes near to take our hand and lead us on our way today. It shall be a good, a blessed new year! He leads us on by paths we did not know; Upward He leads us, though our steps be slow, Though oft we faint and falter on the way, Though storms and darkness oft obscure the day; Yet when the clouds are gone, We know He leads us on. He leads us on through all the unquiet years; Past all our dreamland hopes, and doubts and fears, He guides our steps, through all the tangled maze Of losses, sorrows, and o'er clouded days; We know His will is done; And still He leads us on. N. L. ZINZENDORF January 2 And there was an enlarging, and a winding about still upward to the side chambers: for the winding about of the house went still upward round about the house: therefore the breadth of the house was still upward and so increased from the lowest chamber to the highest by the midst (Ezek. 41:7). Still upward be thine onward course: For this I pray today; Still upward as the years go by, And seasons pass away. Still upward in this coming year, Thy path is all untried; Still upward may'st thou journey on, Close by thy Savior's side. Still upward e'en though sorrow come, And trials crush thine heart; Still upward may they draw thy soul, With Christ to walk apart. Still upward till the day shall break, And shadows all have flown; Still upward till in Heaven you wake, And stand before the throne. We ought not to rest content in the mists of the valley when the summit of Tabor awaits us. How pure are the dews of the hills, how fresh is the mountain air, how rich the fare of the dwellers aloft, whose windows look into the New Jerusalem! Many saints are content to live like men in coal mines, who see not the sun. Tears mar their faces when they might anoint them with celestial oil. Satisfied I am that many a believer pines in a dungeon when he might walk on the palace roof, and view the goodly land and Lebanon. Rouse thee, O believer, from thy low condition! Cast away thy sloth, thy lethargy, thy coldness, or whatever interferes with thy chaste and pure love to Christ. Make Him the source, the center, and the circumference of all thy soul's range of delight. Rest no longer satisfied with thy dwarfish attainments. Aspire to a higher, a nobler, a fuller life. Upward to heaven! Nearer to God! H. SPURGEON I want to scale the utmost height, And catch a gleam of glory bright; But still I'll pray, till heaven I've found, Lord, lead me on to higher ground! Not many of us are living at our best. We linger in the lowlands because we are afraid to climb the mountains. The steepness and ruggedness dismay us, and so we stay in the misty valleys and do not learn the mystery of the hills. We do not know what we lose in our self-indulgence, what glory awaits us if only we had courage for the mountain climb, what blessing we should find if only we would move to the uplands of God. Too low they build who build beneath the stars.