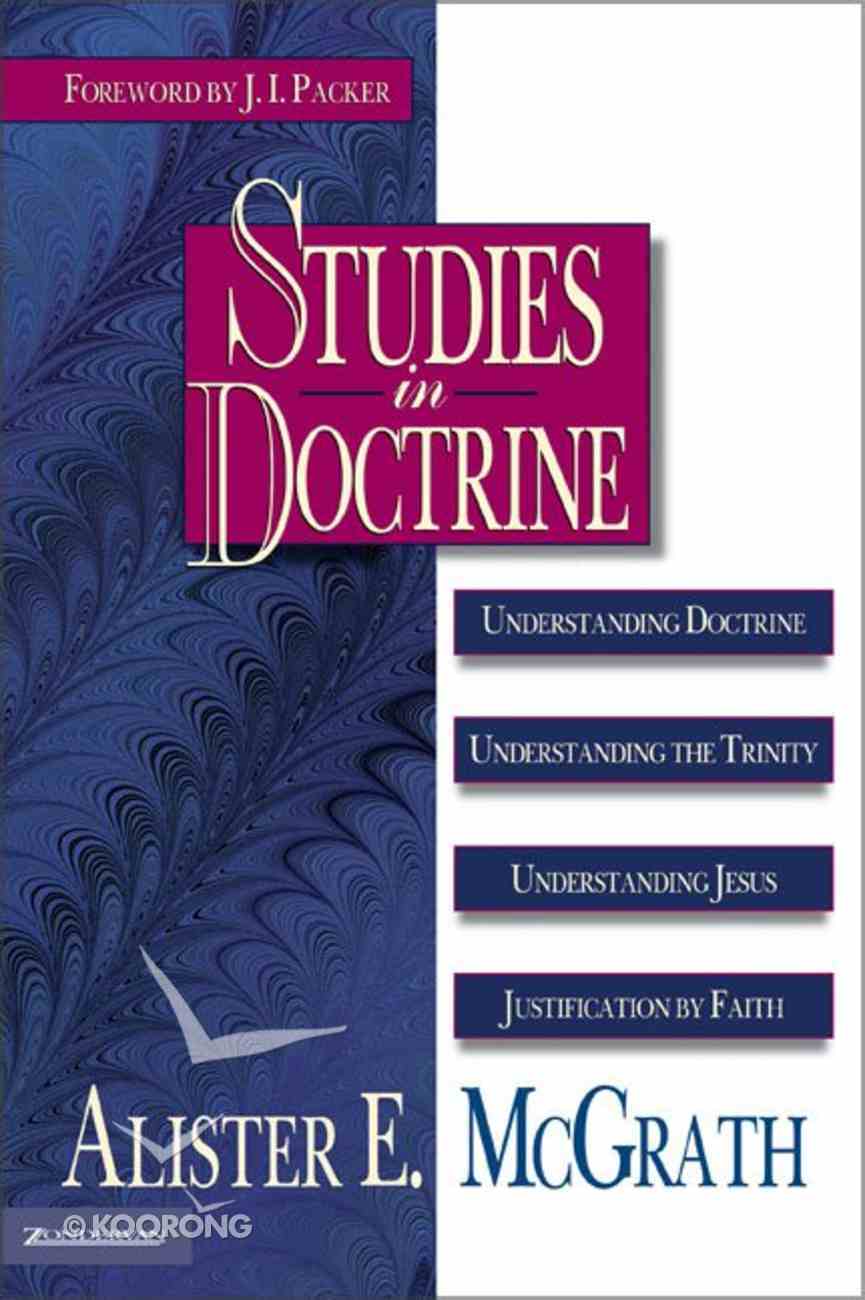 Alister McGrath.A highly readable collection of four popular introductions toChristianitysbasic doctrines: UNDERSTANDING DOCTRINE, UNDERSTANDING THE TRINITY,UNDERSTANDING JESUS, and JUSTIFICATION BY FAITH. 480 pages, fromZondervan.
Out of Stock
Available to Order
---
Expected to ship in 6 to 7 weeks from Australia.
---
Free Shipping
for orders over $99.
Alister McGrath.A highly readable collection of four popular introductions toChristianitysbasic doctrines: UNDERSTANDING DOCTRINE, UNDERSTANDING THE TRINITY,UNDERSTANDING JESUS, and JUSTIFICATION BY FAITH. 480 pages, fromZondervan.
In recent years, Alister McGrath has gained prominence as one of evangelicalism's preeminent theologians. A brilliant scholar and communicator, he combines the clarity of thought of a scientist (he holds a Ph.D. in molecular biology) with the deep convictions of a committed Christian and theologian. Studies in Doctrine contains four of McGrath's more popular theological works: Understanding Doctrine explains what doctrine is, why it is important, and what its limitations are. Understanding the Trinity moves from a superb apologetic for God's existence, to developing a concept of God, to a probing and balanced examination of the Trinity proper. Understanding Jesus is a basic, eminently readable, and surprisingly personal introduction to the person and work of Christ. Justification by Faith demonstrates how the vitality and relevance of the doctrine of justification by faith can be recovered and presented to contemporary culture. This volume gives the student and non-specialist a clear,
-Publisher
PRODUCT DETAIL
Catalogue Code 

108389

Product Code 

0310213266

EAN 

9780310213260

UPC 

025986213268

Pages 

480

Department Academic
Category Theology
Sub-Category Systematic Theology
Publisher Zondervan
Publication Date 

Jun 1997

Sales Rank 

34236

Dimensions 

234 x 158 x 31

mm

Weight 

0.612

kg
Scientist, and former atheist, turned internationally-regarded theologian and prolific author, Revd Professor Alister McGrath, (D.Phil (Oxon), earned D.D. (Oxon) has been appointed to the newly created Chair in Theology, Ministry and Education at King's College, London. Formerly he was Professor of Historical Theology, and Senior Research Fellow at Harris Manchester College, Oxford.
He is a world-renowned theologian, and is the author of numerous bestselling titles including The Christian Theology Reader; Theology; Christianity: An Introduction; A Brief History of Heaven, and Dawkins' God .


McGrath is an Evangelical on the cutting edge of the interface between Theology and Science, and Theology within post-modern culture as indicated by his most recent publications A Fine-Tuned Universe? Anthropic Phenomena and Natural Theology(2009),The Dawkins Delusion? Atheist Fundamentalism and the Denial of the Divine and The Open Secret: A New Vision for Natural Theology.
Koorong -Editorial Review.


Contents
Foreword
Understanding Jesus
Foreword
Introduction
Part I -- Getting Started
1. Jesus And Christianity
2. Why Have Doctrines About Jesus?
3. The Sources Of Our Knowledge About Jesus
Part Ii -- The Person Of Jesus Christ
4. The Resurrection Event
5. The New Testament Witness To The Person Of Jesus
6. The Incarnation: The Doctrine
7. The Incarnation: Its Significance
Part Iii -- The Work Of Jesus Christ
8. The New Testament Witness To The Work Of Jesus
9. The Loving God
10. The Victorious God
11. The Forgiving God
Part Iv -- Conclusion
12. The Identity And Significance Of Jesus Christ
Understanding The Trinity
Preface
1. God And His Critics
2. Encountering God
3. Thinking About God
4. Biblical Models Of God
5. A Personal God
6. The Incarnate God -- Jesus Christ
7. The Road To The Trinity
8. God As Three And God As One
9. God And The Trinity
10. The Strong Name Of The Trinity
Bibliography
Understanding Doctrine
Introduction
1. Getting Started
Part I -- Doctrine: What It Is
2. The Way Things Are: Doctrine And Description
3. Responding To God: Doctrine And Revelation
4. Intellect And Feelings: Doctrine And Experience
5. Believing And Belonging: Doctrine And Christian Identity
Part Ii -- Doctrine: Why It Matters
6. Doctrine And Faith
7. Doctrine And The Christian Life
8. Is Christianity Possible Without Doctrine?
9. The Coherence Of Doctrine And The Challenge Of Heresy
10. Wrestling With Doctrine: Discovering The Creeds
Part Iii -- Some Key Doctrines Examined
11. The Person Of Jesus Christ
12. The Work Of Jesus Christ
13. The Trinity
Conclusion
Bibliography
Justification By Faith
Preface
1. Introduction
Part I -- The Background Of The Doctrine
2. The Biblical Foundation
3. Augustine And The Pelagian Controversy
4. The Reformation
5. Denominational Differences
Part Ii -- The Contemporary Significance Of The Doctrine
6. The Existential Dimension
7. The Personal Dimension
8. The Ethical Dimension
9. Conclusion
Appendix: The Dogmatic Significance Of The Doctrine
Notes
Bibliography
Jesus and Christianity One of the greatest mysteries of life is why some lectures are unspeakably tedious, and others spellbinding. Late in 1899, a series of lectures was given at the University of Berlin by an elderly professor of church history. His subject---the nature of Christianity. His audience---students drawn from every faculty in the university. The lectures were a sensation. Perhaps it was on account of his subject; perhaps it was the fact that the lectures were delivered completely without notes, so that they would have been lost forever were it not for one thoughtful member of his audience who jotted them down in shorthand as they were delivered. The opening sentences of those lectures are memorable: The great English philosopher, John Stuart Mill, somewhere observed that mankind cannot be reminded too often that there was once a man whose name was Socrates. That is true---but it is still more important to remind mankind again and again that a man whose name was Jesus Christ once stood in their midst. At the heart of the Christian faith lies not so much a set of abstract ideas or beliefs but a person. We must resist the temptation to speak about Christianity as if it were some form of 'ism,' like Marxism, Darwinism, or Hegelianism. These are essentially abstract systems which have become detached from the person of their founder, and reduced simply to sets of doctrines. Although the ideas which we call 'Marxism' were originally developed by Marx, the ideas are now quite independent of him. All that Marx did was to introduce them. The relationship between Jesus and Christianity is, however, quite different. Christians have always insisted that there was something special, something qualitatively different, about Jesus which sets him apart from religious teachers or thinkers, and demands careful consideration. There is a close connection between the person and the message of Jesus---and if anything, it is Jesus' person---what he did, and the impact he made on those who encountered him---which makes his message important. From the outset, Christians appear to have realized that Jesus just could not be treated as an ordinary mortal. As we shall see later, from the earliest of times Christians worshiped and adored Jesus as if he were God. While recognizing the difficulties--- and even the dangers---of speaking in this way, the Christian will insist that, in a very real sense, Jesus is the whole of the Gospel message; and that when he speaks of God, he actually means God as he has been revealed to us in the face of Jesus Christ. In Jesus, the message and the messenger are one and the same. Jesus' message is given weight and status because of who we recognize Jesus to be. As we shall see later, the resurrection of Jesus appears to have been the decisive factor in forcing the first Christians to begin to take the astonishing--- but to them necessary and appropriate---step of thinking of Jesus as God, in some sense of the word. We could put this more formally by saying that Jesus Christ is the object of faith, rather than just an example of faith. The challenge posed to every succeeding generation by the New Testament witness to Jesus is not so much, 'What did he teach?' but 'Who is he? And what is his relevance for us?' Christianity doesn't necessarily claim to possess all truth---but if it loses sight of its central conviction that in Christ it has found access to the deepest truths about God and man, it has lost itself. The Gospels tell us that as Jesus was walking with his disciples in the region of Caesarea Philippi, he suddenly asked them a question: 'Who do men say that I am?' The disciples replied with a variety of answers---they told him that some people thought that he was John the Baptist, others Elijah, Jeremiah, or some other prophet. Jesus then asks his disciples the crucial question, which demands that they speak for themselves, instead of merely reporting the opinions of others. 'Who do you say that I am?' And Peter replied for them all when he answered: 'You are the Christ, the Son of the living God' (Matt. 16:13--16). The central challenge posed to the reader of the New Testament, especially the four Gospels, concerns the identity and relevance of Jesus Christ. 'Who do you say that I am?' As we read the Gospels, it is impossible to avoid the impression that we have met a real person. There are many historical characters whom we may know much about---for example, Alexander the Great, Julius Caesar, or Admiral Nelson---yet who fail to make a personal impression upon us. They remain figures from the past whom we do not feel we know by personal acquaintance. Equally, there are many fictional characters who never existed in reality, and yet we feel we 'know' them as real people---obvious examples might be Shakespeare's Falstaff, Mr. Pickwick, or Sherlock Holmes. There are surprisingly few actual historical figures who come over as personalities---people whom we can know personally. An obvious example is Dr. Samuel Johnson, as recorded for us by Boswell, who comes across as a rather grave and melancholy figure who still has a love of fun and nonsense ('The Irish are a fair people---they never speak well of one another'). Another is Socrates, as we find him in Plato's dialogues. But the most important of all is the Jesus we encounter in the Gospel narratives. Although an historical figure who lived and died in an obscure and uninteresting part of the world two thousand years ago, he comes across as someone we feel we know in the same sense as we know a real and living person--- someone whom we can know, rather than just know about. One of his more reluctant and skeptical admirers once wrote: 'We know no one as well as we know Jesus.' For precisely this reason, the figure of Jesus Christ exercises a remarkable influence over many who would not dream of regarding themselves as Christians. But what is it about Jesus that causes him to exercise such a remarkable and pervasive influence over men and women some two thousand years after his birth? And how can we make sense of his identity and significance? It is with the unfolding and answering of these questions that this book is concerned. Who is Jesus Christ? Our first attempt to answer this question might go something like this: Jesus was a first-century Jew who lived in Palestine in the reign of Tiberius Caesar and was executed by crucifixion under Pontius Pilate. The Roman historian Tacitus refers to Christians deriving their name from 'Christ, who was executed at the hands of the procurator Pontius Pilate in the reign of Tiberius' (Annals, xv, 44, 3). The historical evidence for his existence is sufficient to satisfy all but those who are determined to believe that he didn't exist, whatever the evidence may be. Indeed, if the existence of Jesus is denied, despite all the evidence we possess which points to the opposite conclusion, consistency would demand that we deny the existence of an alarming number of historical figures, the evidence for whose existence is considerably more slender than that of Jesus. The historical evidence we possess concerning the origins of Christianity and the character of its early beliefs is most easily explained on the basis of the existence of Jesus as a real historical figure. It involves the most tortuous explanation if he did not exist. Indeed, if Jesus did not exist as an historical figure it would probably be necessary to suppose that someone remarkably like him did in order to explain the evidence in our possession. Thus Paul takes Jesus' existence as a fact which does not require demonstration, and concentrates upon establishing and defending the significance of his life, death, and resurrection.