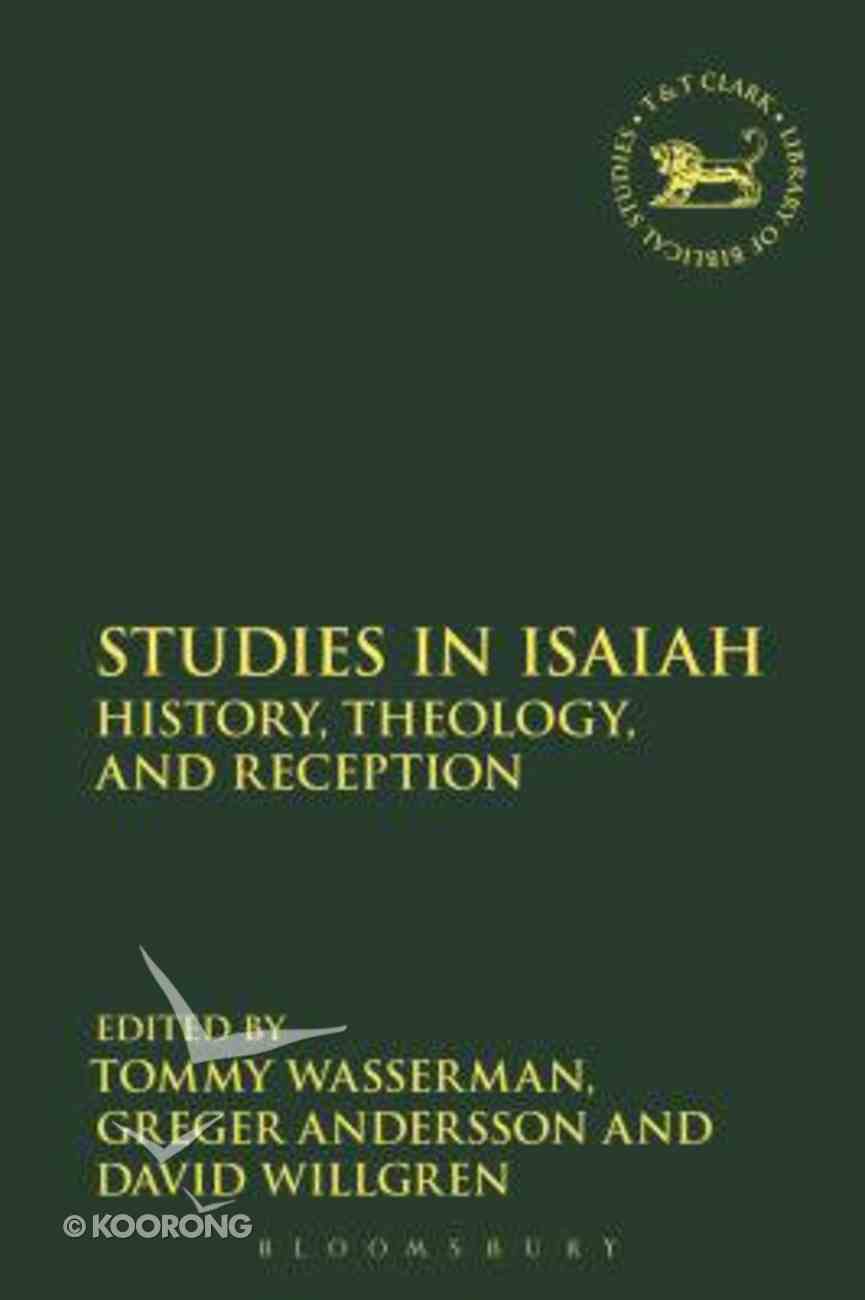 Studies in Isaiah: History, Theology, and Reception (Library Of Hebrew Bible/old Testament Studies Series)
:The Book of Isaiah is considered one of the greatest prophetic works in the Hebrew Bible/Old Testament. The complex history of the book's composition, over several time periods, can often perplex and enthrall. The editors to this volume encourage readers...
Special Order Item
0 Available.
---
Free Shipping
for orders over $99.
:The Book of Isaiah is considered one of the greatest prophetic works in the Hebrew Bible/Old Testament. The complex history of the book's composition, over several time periods, can often perplex and enthrall. The editors to this volume encourage readers to engage deeply with the text in order to get a grasp of the traces and signs within it that can be seen to point to the book's process of composition and ongoing reinterpretation over time. The contributions discuss suggested segments of composition and levels of interpretation, both within the book of Isaiah and its history of reception. The book is divided into two sections: in the first part certain motifs that have come to Isaiah from a distant past are traced through to their origins. Arguments for a suggested 'Josianic edition' are carefully evaluated, and the relationship between the second part of Isaiah and the Book of Psalms is discussed, as are the motifs of election and the themes of Zion theology and the temple. The second part of the book focuses on the history of reception and looks at Paul's use of the book of Isaiah, and how the book is used, and perhaps misused in a contemporary setting in the growing churches in Africa. With a range of international specialists, including Hugh Williamson, Tommy Wasserman, and Knut Holter, this is an excellent resource for scholars seeking to understand Isaiah in a greater depth.
-Publisher
:preface<i>greger Andersson, ??rebro School Of Theology, Sweden, Tommy Wasserman, ??rebro School Of Theology, Sweden And David Willgren, Lund University, Sweden</i> 1. The Theory Of A Josianic Edition Of The First Part Of The Book Of Isaiah: A Critical Examination <i>hugh Williamson, Oxford University, Uk</i> 2. Understanding Zion Theology In The Book Of Isaiah<i>antti Laato, ??bo Academy, Finland</i> 3. The Temple Of God And Crises In Isaiah 56-66 And 1 Enoch<i>stefan Green, ??bo Academy, </i><i>finland</i> 4. Divine Election In The Book Of Isaiah<i>hallvard Hagelia, Ansgar Teologiske H??gskole, Norway</i>5. Antwort Gottes: Isaiah 40-55 And The Transformation Of Psalmody<i>david Willgren, Lund University, Sweden</i>6. From Indo-european Dragon-slaying To Isa 27:1: Exploring The Longue Dur??e<i>ola Wikander, Lund University, Sweden</i> 7. Paul: An Isaianic Prophet? <i>karl Olav Sandnes, Mf Norwegian School Of Theology, Norway</i>8. Vocalization And Interpretation In Isaiah 56-66: <i>weyiktol </i>or <i>wayyiktol </i>in Isaiah 63:1-6 As A Case Of Early Jewish Interpretation <i>lena-sofia Tiemeyer, University Of Aberdeen, Uk</i>9. Some Interpretive Experiences With Isaiah In Africa, <i>knut Holter, Mhs School Of Mission And Theology, Norway</i>bibliographyindex
Bestsellers in Biblical Studies