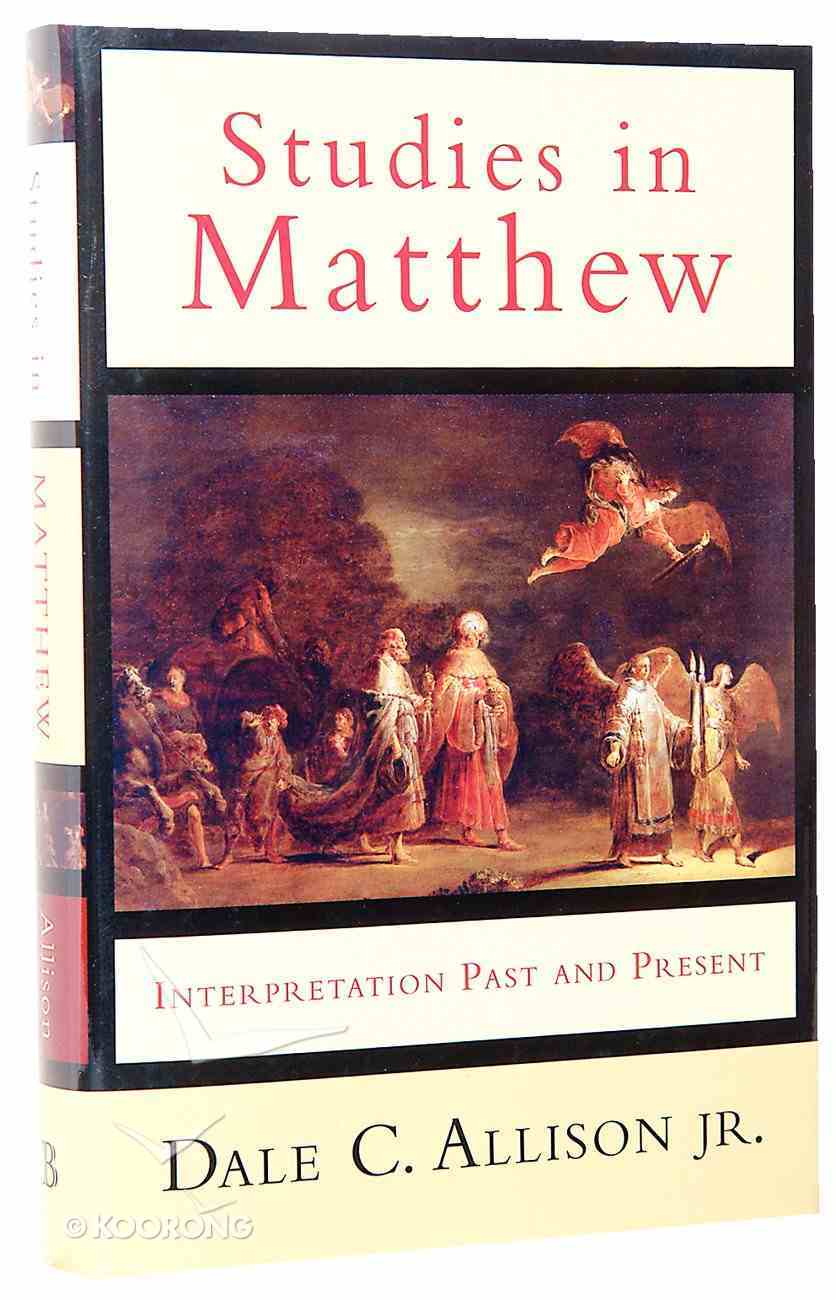 Dale Allison, one of the preeminent New Testament scholars of our day, gathers here thirteen essays on significant features of Matthew. These essays display the historical, literary, and theological acumen that make Allison a leading figure in gospel studies. Nine...
---
Free Shipping
for orders over $99.
Dale Allison, one of the preeminent New Testament scholars of our day, gathers here thirteen essays on significant features of Matthew. These essays display the historical, literary, and theological acumen that make Allison a leading figure in gospel studies. Nine of the essays are previously unpublished; the other four are thoroughly revised.

Part 1 draws upon the exegetical tradition, from church fathers through medieval interpreters to nineteenth-century commentators, to highlight interpretive possibilities missed by their more recent heirs. Allison does not merely assert but demonstrates in studies of several of the Gospel's more puzzling episodes that "the exegetical past," while requiring critical sifting, nevertheless offers genuine insights that we neglect to our loss.

Part 2 brings Allison's own literary sensitivities to bear to illuminate the structure and meaning of the First Gospel as a whole and several of its key narrative elements. Careful attention to Matthew's verbal signals and textual architecture brings his theological themes into sharper focus.

A must for Matthean scholars, this volume shows the way for all who would draw upon exegetical tradition as well as current historical knowledge and critical methodology to enrich contemporary understanding of New Testament texts.
- Publisher.
304 Pages
-Publisher
The author of a leading major critical commentary on Matthew here offers further insights into the Gospel and the history of its interpretation. Writing with theological sensitivity and a deft literary touch, he presents thirteen essays--nine previously unpublished and four thoroughly revised--on key passages, on structural features of the Gospel, and on patristic and modern interpretation. Exegetes, preachers, students, and other lovers of biblical narrative will read Studies in Matthew with profit and delight.
-Publisher
"These erudite essays by one of the foremost Matthean scholars of our day show how illuminating it can be to consult the history of interpretation and, in particular, the patristic commentators when it comes to the exegesis of the Gospel of Matthew. We can find fresh insights and new understandings by looking back to how earlier interpreters dealt with the material. These stimulating essays provide abundant hermeneutical insights into the interpretive process itself--all under the wise and mature judgment of a seasoned exegete. This book is therefore not only for Matthean specialists, but will prove rewarding for all who are interested in biblical interpretation."--Donald A. Hagner, George Eldon Ladd Professor of New Testament, Fuller Theological Seminary "Dale Allison has been widely recognized as a leading interpreter of the Gospel of Matthew since the completion of the International Critical Commentary in 1997, and with the publication of Studies in Matthew he establishes and enhances his eminence. Colleagues and knowledgeable readers will be informed by his erudition and impressed by his selective appropriation of the insights of predecessors from the nineteenth century back through the patristic period. He is also sensitive to the importance and breadth of historical issues, as well as matters of theological relevance. Although Allison is obviously not writing for beginners, his style is clear and accessible, so that one is never left wondering what he is thinking."--D. Moody Smith, George Washington Ivey Professor Emeritus of New Testament, Duke University"Dale Allison, author of the finest English commentary on Matthew, here supplements that monumental work with thirteen studies on the Gospel, marked throughout by the same patient, perceptive scholarship. In part one he shows--in at times surprising ways--why contemporary interpreters cannot afford to neglect the exegetical past. Part two reminds us why his own are among the shoulders on which subsequent interpreters of Matthew must stand. This will make rewarding reading for all students of the Gospel."--Stephen Westerholm, professor of early Christian studies, McMaster University"Dale Allison is the premier Matthew specialist of his generation in the United States. He is endowed with an amazing erudition which embraces not only the professional literature of the last two centuries but also the tradition of interpretation of the ancient and medieval church, East and West. This gift is richly in evidence in this new collection of mostly unpublished essays, including several reflecting a particular interest in the opening and closing chapters of Matthew--infancy, Sermon on the Mount, passion. Allison writes with the head of a scholar but also with the heart of a believer who wrestles with pain and loss, violence and murder. His struggle is illumined by Scripture and aware of the presence of angels."--Benedict T. Viviano, O.P., professor of New Testament, University of Fribourg"I have been telling friends for years that Dale Allison is North America's most complete New Testament scholar. This book proves it. Here Allison navigates not only the deep waters of the historical-critical method but also the refreshing pools suddenly being discovered among the patristics and Eastern Orthodox. Scholars and pastors will find something to ponder on each and every page. Just when I thought Dale had moved on to other topics, here he is again, setting the record straight about Matthew."--Scot McKnight, Karl A. Olsson Professor in Religious Studies, North Park University
-Publisher
Dale C. Allison Jr. (Ph.D., Duke University) is the Errett M. Grable Professor of New Testament Exegesis and Early Christianity at Pittsburgh Theological Seminary. His recent books include Constructing Jesus: Memory, Imagination, and History; Resurrecting Jesus:The Earliest Christian Tradition and Its Interpreters; Studies in Matthew: Interpretation Past and Present; and The Historical Christ and the Theological Jesus. He is ;lso the author (with W. D. Davies) of the three-volume work on Matthew in the International Critical Commentary series, as well as the volume on James
Koorong - Editorial Review.
Bestsellers in New Testament Commentaries