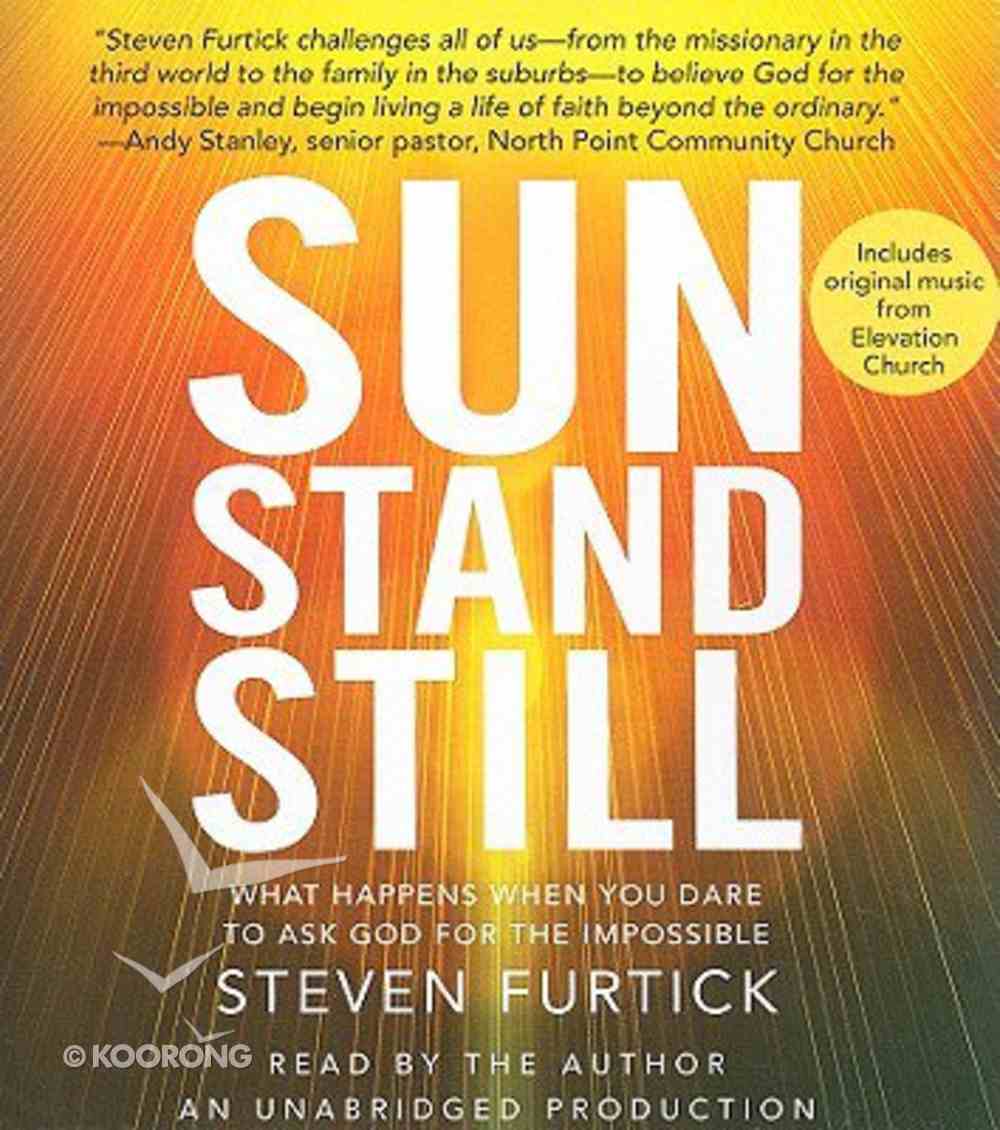 Sun Stand Still (Unabridged 5cds)
If you're not daring to believe God for the impossible, you may be sleeping through some of the best parts of your Christian Life. & This book is not a Snuggie. The words on these pages will not go down...
---
Free Shipping
for orders over $99.
If you're not daring to believe God for the impossible, you may be sleeping through some of the best parts of your Christian Life.
&
This book is not a Snuggie. The words on these pages will not go down like Ambien. I&'m not writing to calm or coddle you.&With God&'s help, I intend to incite a riot in your mind. Trip your breakers and turn out the lights in your favorite hiding places of insecurity and fear. Then flip the switch back on so that God&'s truth can illuminate the divine destiny that may have been lying dormant inside you for years. In short, I&'m out to activate your audacious faith. To inspire you to ask God for the impossible. And in the process, to reconnect you with your God-sized purpose and potential.
&-STEVEN FURTICK, from Sun Stand Still

&"Steven Furtick challenges all of us&-from the missionary in the third world to the family in the suburbs&-to believe God for the impossible and begin living a life of faith beyond the ordinary.&"
&-ANDY STANLEY, senior pastor, North Point Community Church

&"I don&'t know anyone better positioned
-Publisher
2. Sample
Sun Stand Still (Unabridged 5cds) - DISC 1
Pastor Steven grew up in Moncks Corner, South Carolina, where at age 16 he realized God's plan for him to start a life-changing church in a metropolitan city.

This vision became a tangible reality when Elevation was founded on the faith of eight families who risked everything. Selling their houses and quitting their jobs, they moved to Charlotte believing that God would turn this city upside down for His glory through the local church.

After nearly five years, Elevation Church has grown to more than 8,000 in attendance each week at four locations. Since our launch, we've seen more than 10,900 people receive Christ. In 2007, 2008 and 2009, Elevation Church was named one of the "10 fastest growing churches in America" by Outreach Magazine.

The heart of Pastor Steven's message is audacious faith and how to approach every experience from a visionary perspective. As a young voice in the Church with wisdom beyond his years, his passion for seeing God's purposes fulfilled is igniting a fire here in our city and beyond.

Pastor Steven attended North Greenville University, received a B.A. in communications and went on to complete a Master of Divinity from Southern Baptist Theological Seminary.

He resides in the Charlotte area with his wife, Holly, and two sons, Elijah and Graham.

www.elevationchurch.org/pastor

Welcome to Audacious Faith


Pastor Michael proudly showed me the place where his church was putting in new toilets. I was still adjusting to the smell, trying to pass it off like it didn&'t faze me. Like I walked down urine soaked dirt roads every day.
&&&&"These toilets would not be very nice by the standards of your country,&" Michael explained. &"I know that. But here in the slums of Kampala, Uganda, so many children are sick because the food they eat is cooked right next to the hole in the ground where they go to the bathroom. So our church is building the nicest toilets we can here&...for the children.&"
&&&I had a hard time concentrating as he went on laying out his plans. Because as soon as he said the word &"children,&" my gaze drifted to a cluster of kids playing some variation of Capture the Flag on the trash heap behind the church. The church was really just a shed. And instead of a flag, the kids appeared to be competing for an orange peel. It was weird how content these kids seemed playing with just a peel&-more content, it appeared to me, than a lot of kids back home seem playing with a Wii. And this ga


Bestsellers in Audio Book