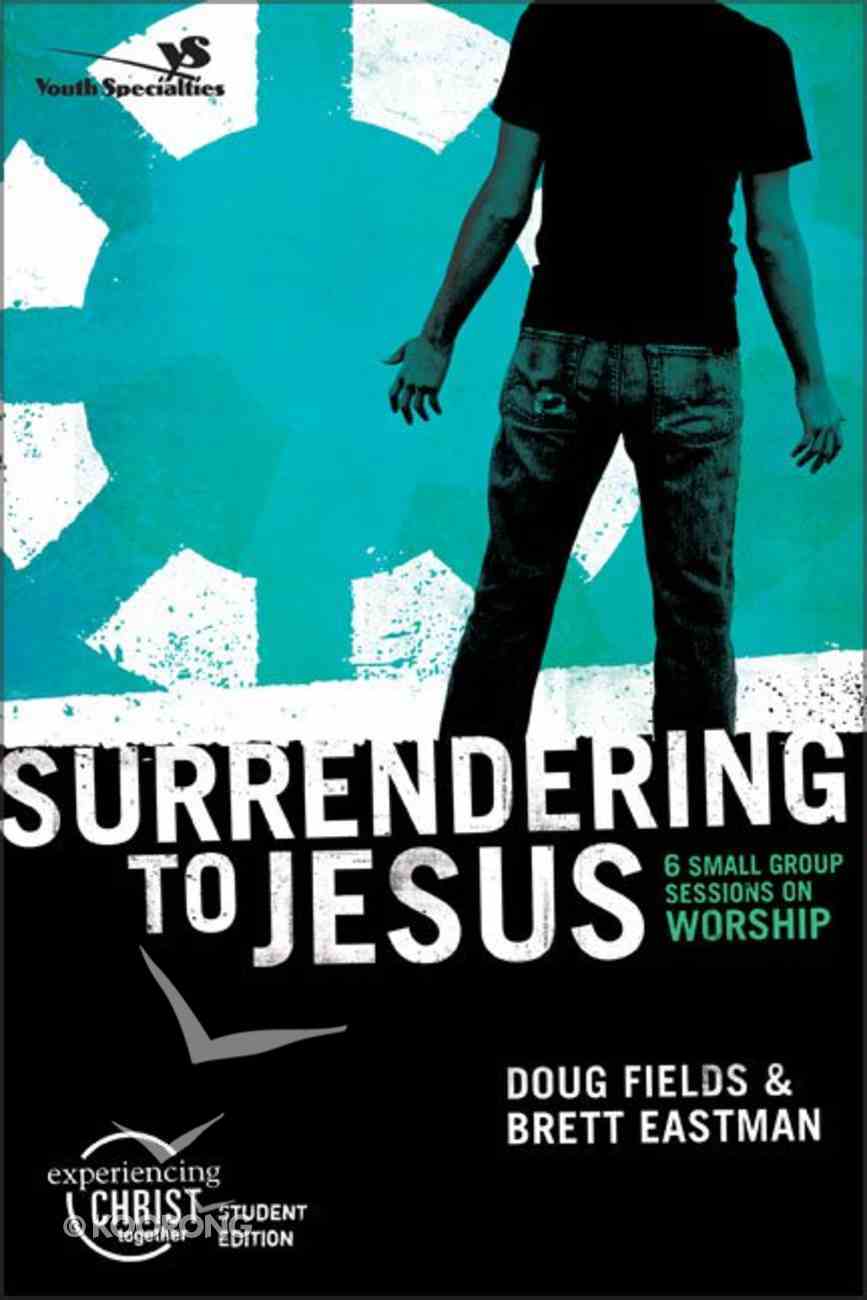 Surrendering to Jesus (Experiencing Christ Together Student Series)
This series of six small group study guides bring youth face to face with Jesus, the one who holds the key to living for God. Each study contains six 20 minute lessons focusing on a phase in the Christian journey,...
In Stock (1 left)
1 Available
---
Expected to ship on Monday from Australia.
---
Free Shipping
for orders over $99.
This series of six small group study guides bring youth face to face with Jesus, the one who holds the key to living for God. Each study contains six 20 minute lessons focusing on a phase in the Christian journey, from conversion, through growing spiritual maturity, to committed discipleship. Integrated with the six studies are three separately sold DVDs - one for every two studies - presenting biblical teaching that supports and advances the material in the books. All items are available separately, or can be purchased in a single kit that will save you over $30!
These six new study guides have six sessions each and enable small groups to explore the power and life application of Jesus' teaching on the five biblical purposes of a Christian life by closely examining Christ's model in the Gospels.
-Publisher
Surrendering to Jesus, Student Edition: Six Sessions on Worship Copyright 2006 by Doug Fields and Brett Eastman Youth Specialties products, 300 South Pierce Street, El Cajon, CA 92020, are published by Zondervan, 5300 Patterson Avenue SE, Grand Rapids, MI 49530 Library of Congress Cataloging-in-Publication Data Fields, Doug, 1962- Surrendering to Jesus : 6 small group sessions on worship / Doug Fields and Brett Eastman. p. cm. -- (Experiencing Christ together, student edition) ISBN-10: 0-310-26649-1 (pbk.) ISBN-13: 978-0-310-26649-5 (pbk.) 1. Worship--Biblical teaching. 2. Worship--Study and teaching. I. Eastman, Brett, 1959- II. Title. BV10.3.F54 2006 268'.433--dc22 2005024177 Unless otherwise indicated, all Scripture quotations are taken from the Holy Bible: New International Version (North American Edition). Copyright 1973, 1978, 1984 by International Bible Society. Used by permission of Zondervan. Some of the anecdotal illustrations in this book are true to life and are included with the permission of the persons involved. All other illustrations are composites of real situations, and any resemblance to people living or dead is coincidental. All rights reserved. No part of this publication may be reproduced, stored in a retrieval system, or transmitted in any form or by any means- electronic, mechanical, photocopy, recording, or any other-except for brief quotations in printed reviews, without the prior permission of the publisher. Web site addresses listed in this book were current at the time of publication. Please contact Youth Specialties via e-mail (YS@YouthSpecialties.com) to report URLs that are no longer operational and replacement URLs if available. Creative Team: Dave Urbanski, Holly Sharp, Mark Novelli, Joanne Heim, Janie Wilkerson Cover Design: Mattson Creative Printed in the United States of America Session 1 Andy's parents were getting a divorce. He knew they loved him, and he knew his parents were having a rough time, but Andy didn't understand such a drastic decision. It created so many questions and confusion about God's plan for his life. Andy couldn't imagine that this was what God wanted for his family. He started to doubt God's faithfulness and lose trust in the promises he'd learned as a young Christian. Andy feared he would lose the life he'd always known-and always wanted. It was hard for him to believe that God could work in this situation. Andy asked his small group to pray, and the group dedicated an entire meeting to pray with Andy and talk about his family's circumstances. They discussed the reality of "storms" that come into our lives and talked about what it means to trust God in difficult times. Andy's small group committed to pray with Andy and ask about his family's situation each week. They stayed by his side during the entire divorce process.20 Through this storm, Andy began to see that God was using his small group to keep him afl oat. It didn't happen overnight, but eventually Andy surrendered his fears and uncertainties to God. When he finally let God deal with his pain, he felt secure that God would care for and love him and his family. Andy learned that when you surrender your life to God, you're able to see God in the midst of the storms-and you realize that he was there the entire time. In this session we'll learn about faith in difficult times. Goal: To share about your life and listen attentively to others, caring about what they share If you're new to this series of books, you'll find that every time you get to the fellowship section, the questions are designed to get you talking and knowing each other better. If you're a veteran of the series (which means that you've been through some of t
-Publisher
A Life Together Resource---Living with Purpose in Community Students understand that they were created for a reason---they know God had something in mind when he knit them together. The challenge is helping your students unlock that knowledge and start living the life they were designed for. Experiencing Christ Together Student Edition (modeled after Experiencing Christ Together adult curriculum) brings your students face to face with Jesus, the one who holds the key to living for God. By studying Jesus' words and life, these small group studies will take your students to the heart of what it means to live purposefully for God. Included in the Experiencing Christ Together Student Edition curriculum are these studies: * Beginning in Jesus * Connecting in Jesus * Growing in Jesus * Serving Like Jesus * Sharing Christ Jesus * Surrendering to Jesus Also included are three DVDs, each of which contains biblical teaching that covers twelve individual sessions. Used in conjunction with the Experiencing Christ Together Student Edition books, these teaching lessons support and advance the work your students will be doing in their small groups. Taken together, the Experiencing Christ Together Student Edition curriculum represent thirty-six individual sessions (almost a year's worth of small-group studies) and over twelve hours of teaching all aimed at helping your students learn to follow God's purpose for their lives. each piece is available separately.
-Publisher
PRODUCT DETAIL
Catalogue Code 

231512

Product Code 

0310266491

EAN 

9780310266495

UPC 

025986266493

Pages 

144

Department Ministry
Category Youth Ministry
Sub-Category Courses
Publisher Emergent Ys
Publication Date 

Jan 2006

Dimensions 

228 x 152 x 9

mm

Weight 

0.199

kg
Founder of Simply Youth Ministry, Doug Fields has been in youth ministry since 1979 and is currently on staff at Saddleback Church in Southern California. He's the director of Purpose Driven Youth Ministry, and the author and co-author of more than 50 books, including the bestsellers Speaking to Teenagers and Your First Two Years in Youth Ministry. SPANISH BIO: Doug Fields es el pastor de ensenanza de la Iglesia Saddleback, una iglesia de 25,000 miembros. Como pastor de jovenes por mas de veinticinco anos, Doug realiza su actual funcion desde 1992. Ha sido autor y coauthor de mas de cincuenta
Dee Eastman is the co-director of the women's Bible study at Saddleback Church called 'The Journey.' SPANISH BIO: Dee Eastman es co-directora de una clase biblica para mujeres denominada. El Viaje, en la Iglesia de la Comunidad Saddleback Valley.
Table Of Contents
Introduction: Read Me First! 7
Small Group Covenant 17
Session 1 Faith Through A Storm 19
Session 2 The Key To Significance 31
Session 3 True Greatness 41
Session 4 Attitude Of Gratitude 51
Session 5 Ultimate Trust 61
Session 6 Victory Over Death 71
Appendices 81
Session 1 Andy's parents were getting a divorce. He knew they loved him, and he knew his parents were having a rough time, but Andy didn't understand such a drastic decision. It created so many questions and confusion about God's plan for his life. Andy couldn't imagine that this was what God wanted for his family. He started to doubt God's faithfulness and lose trust in the promises he'd learned as a young Christian. Andy feared he would lose the life he'd always known---and always wanted. It was hard for him to believe that God could work in this situation. Andy asked his small group to pray, and the group dedicated an entire meeting to pray with Andy and talk about his family's circumstances. They discussed the reality of 'storms' that come into our lives and talked about what it means to trust God in difficult times. Andy's small group committed to pray with Andy and ask about his family's situation each week. They stayed by his side during the entire divorce process.20 Through this storm, Andy began to see that God was using his small group to keep him afl oat. It didn't happen overnight, but eventually Andy surrendered his fears and uncertainties to God. When he finally let God deal with his pain, he felt secure that God would care for and love him and his family. Andy learned that when you surrender your life to God, you're able to see God in the midst of the storms---and you realize that he was there the entire time. In this session we'll learn about faith in difficult times. Goal: To share about your life and listen attentively to others, caring about what they share If you're new to this series of books, you'll find that every time you get to the fellowship section, the questions are designed to get you talking and knowing each other better. If you're a veteran of the series (which means that you've been through some of the other books), then you already know what to do. A surrendered life begins with trust---trusting that God is who he says he is even in the midst of life's storms. Different people respond to life's storms in different ways. When you're in a small group, it's helpful to know how each person responds to storms or troubles so you can know how best to help each other. 1. How do you typically respond when trouble hits your life? (Select all that apply.) * I panic. * I worry. * I become emotional. * I try to fix everything. * I handle a quick storm well, but if the painful situation goes on and on, it's really hard for me. * I become hyperactive. Fellowship: CONNECTING Your Heart to Others' * I try to distract myself with food, entertainment, the Internet, work, shopping, or____________ _______. * I talk to friends. * I withdraw. * I get depressed. * I pray...eventually. * I pray right away. * I ask people for help. * Other: 2. Have you ever had a near-deathexperience? If so, describe it. Goal: To explore God's Word, gain biblical knowledge, and make personal applications Throughout history God has pursued us. He wants us to belong to his family, experience his presence, and fulfill his plans for our lives. God has done everything to make a relationship with him possible. God is the one who created us, loves us, and makes forgiveness available. A central Christian belief is that Jesus died on the cross as payment for our sins. Faith (in Jesus' death and resurrection--- which we'll discuss in session 6) is essential for our relationship with God. Many hazards, storms, and distractions will challenge our faith, but God is always faithful in our time of need. For example, just when the disciples thought Jesus was asleep during their troubles, he showed up in a big way. Read Mark 4:35-41. (If you don't have a Bible, the passage is on page 87.)h a Storm Discipleship: GROWING to Be Like Jesus22 1. Describe the scene by answering the following questions: Who was there? What time of day did this take place? What did the disciples do when the waves started to break over the boat? Why did they respond that way? 2. Why do you think the disciples questioned Jesus' compassion for them? 3. Are you facing any storms in your life right now? If so, how are you relying on Jesus? 4. In your opinion, how is fear an enemy of faith? 5. Why were the disciples still terrified after Jesus calmed the storm (verse 41)? 23 6. Describe what you think a faith-filled response from the disciples would have looked like in the midst of the storm. 7. What happens to you when your faithis hassled by fear or distraction? How does this affect your relationships with other people? With God? 8. Is there anything in your life right now that's distracting you from your faith? If so, what is it? 9. How has God helped you in the past with storms you've faced?24 Goal: To recognize and take advantage of opportunities to serve others Storms are everywhere. You can't always predict them; you don't always see them coming; and they hit some people harder than others. The reality is that storms just happen. If you haven't faced a storm that's threatened your spiritual health, be prepared for its arrival sometime down the line. 1. How can you help others who are experiencing storms? 2. What are some common mistakes people make when they're trying to 'help' others? 3. How would your answer differ if the person in the storm did not have faith in Jesus? Goal: To consider how the truths from this session might be applied to your relationships with unbelievers 1. How can your life serve as a testimony to others by the way you handle storms? 2. What do you think non-Christians see when they look at Christians who are experiencing storms? 3. Do you think God can use storms as a way to evangelize? Explain your answer. Ministry: SERVING Others in Love Evangelism: SHARING Your Story and God's Story 25 Goal: To focus on God's presence If you make it a habit to worship God during your times with him, your trust in God will grow because worship helps you focus on what makes God trustworthy. Worship strengthens us for the tough times. 1. How would you describe the current condition of your spiritual life? Are you growing? Coasting? Do you have doubts about something specific? Share your answer with the group. 2. Take a little time by yourself and set a goal to increase your practice of worship while you're going through this book. Your ideas might include a commitment to attend a worship service, 10 minutes a day of private worship, listening to a worship CD, committing to tithe your income, journaling about why you're thankful, reading God's Word, or something else along these lines. (All of the psalms are excellent for worship; a few to start with are Psalm 89, 92, 95-98, 103-104, 111, 136, 138, and 145-150.)
Bestsellers in Youth Ministry