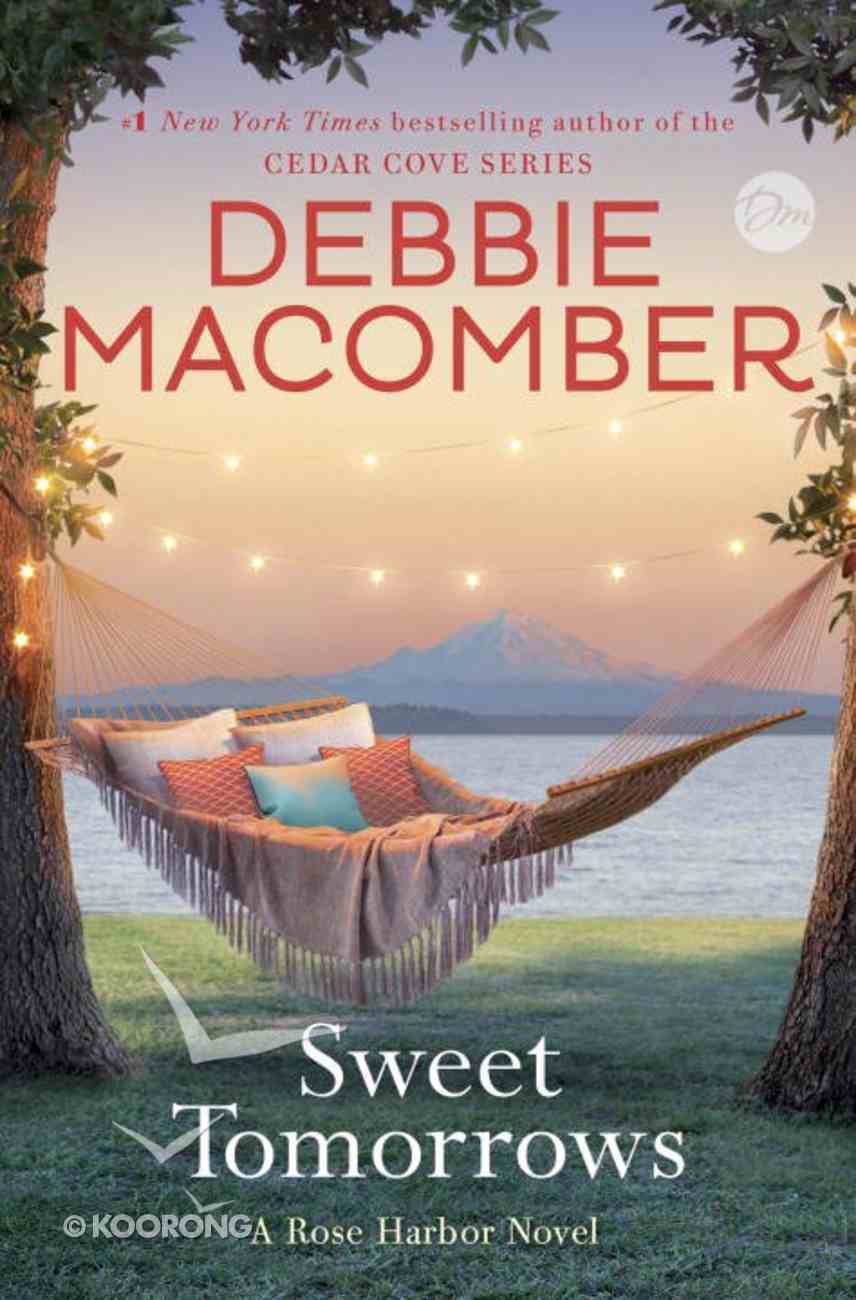 :NEW YORK TIMES BESTSELLER • The much-anticipated conclusion to Debbie Macomber's beloved Rose Harbor series, set in the picturesque town of Cedar Cove, Sweet Tomorrows is a vibrant and poignant novel of letting go of fear, following your heart,...
Order now to secure your copy when our stock arrives.
0 Available. Expected to ship in 5 to 6 weeks from Australia.
---
Expected to ship in 5 to 6 weeks from Australia.
---
Free Shipping
for orders over $99.
:NEW YORK TIMES BESTSELLER • The much-anticipated conclusion to Debbie Macomber's beloved Rose Harbor series, set in the picturesque town of Cedar Cove, Sweet Tomorrows is a vibrant and poignant novel of letting go of fear, following your heart, and embracing the future-come what may.

Nine months ago, Mark Taylor abruptly left Cedar Cove on a perilous mission to right a wrong from his past. Though Mark finally confessed his love for her, innkeeper Jo Marie Rose is unsure if he's ever coming back. The Rose Harbor Inn barely seems the same without Mark, but Jo Marie can't bear to lose herself in grief once more. Determined to move forward, she begins dating again, and finds companionship when she takes on a boarder who is starting a new chapter herself.

Recovering from a twice-broken heart, Emily Gaffney, a young teacher, is staying at the inn while she looks for a home of her own. Having given up on marriage, Emily dreams of adopting children someday. She has her eye on one house in particular-with room for kids. Although Emily's inquiries about the house are rudely rebuffed, her rocky start with the owner eventually blossoms into a friendship. But when the relationship verges on something more, Emily will have to rethink what she truly wants and the chances she's willing to take.

The inn seems to be working its magic again-Emily opening herself up to love, Jo Marie moving on-until Jo Marie receives shocking news.

With Debbie Macomber's trademark charm and wisdom, Sweet Tomorrows brings to a close the journeys of cherished characters who feel like old friends. Macomber has created an enchanting place in the Rose Harbor Inn that readers will never forget.

Praise for Sweet Tomorrows

"Macomber fans will leave the Rose Harbor Inn with warm memories of healing, hope, and enduring love."-Kirkus Reviews

"Overflowing with the poignancy, sweetness, conflicts and romance for which Debbie Macomber is famous, Sweet Tomorrows captivates from beginning to end."-Book Reporter

"Macomber manages to infuse her trademark humor in a more somber story that focuses on love, loss and faith... . This one will appeal to those looking for more mature heroines and a good, clean romance."-RT Book Reviews

"There's a reason why Debbie Macomber is a #1 New York Times bestselling author and with Sweet Tomorrows, we get another dose of women's fiction perfection... . In the nooks and crannies of small-town life, we'll find significance, beauty, and love."-Heroes and Heartbreakers

"Fans will enjoy this final installment of the Rose Harbor series as they see Jo Marie's story finally come to an end."-Library Journal
-Publisher
PRODUCT DETAIL
Catalogue Code 

461159

Product Code 

9780553391831

ISBN 

0553391836

EAN 

9780553391831

Pages 

352

Department General Books
Category Fiction
Sub-Category Romance
Publisher Penguin Random House
Publication Date 

Aug 2016

Dimensions 

243 x 162 x 27

mm

Weight 

0.562

kg
Debbie Macomber has more than 100 million copies of her books in print, and her stories about home and family have a worldwide audience and have been translated into twenty-three languages. In addition to being a #1 "New York Times" bestseller in fiction many times over, she also has an enormous following among knitters as the author of dozens of pattern and craft books. In 2008, she launched a branded line of knitting products through Leisure Arts, the company that publishes her knitting guides. Debbie and her husband, Wayne, have four children and nine grandchildren, and split their time beC
:CHAPTER 1

Jo Marie Rose

Life is filled with the unexpected. I know that sounds rather dramatic—­sort of like: It was the best of times, it was the worst of times. Trust me, I've been through both, but then I suspect everyone who breathes in oxygen has experienced this.

I started my career as a bank teller and eventually worked my way into the corporate office, taking on more and more responsibility. I liked my job and advanced quickly, but that driving ambition to succeed came with a price. I got so wrapped up and focused on my career I didn't have time for relationships. Oh, I had a few close friends, but when it came to dating and true love, I blew it off, thinking there would be time for all of that later.

Then one day I woke up and discovered the majority of my friends were married and raising families. When I did become interested in finding my soulmate, the men I dated, well, suffice it to say, and I'm being as kind as I can be, were a sorry disappointment.

Then I met Paul Rose and I fell head over heels in love. Within the first week I knew he was the one. He was career military and hadn't married, either. It felt like a miracle that I would meet this wonderful man when I'd given up hope of ever finding anyone.

Just like the lyrics of a country western song, we got married in a fever. Paul was an Airborne Ranger and a few months after he placed a diamond ring on my finger he shipped off to Afghanistan, then died in a helicopter crash.

It was as if life had hit me with an atom bomb.

My husband, whom I'd loved so briefly, was forever gone from me. I've read books that talk about the different stages of grief. They were filled with good advice, most of which I ignored. I was in so much emotional pain that I could barely function. It took every ounce of energy I could muster to force myself out of bed. Overnight everything, and I do mean everything, that I'd once considered important—­my career, my home, my lifestyle, my hopes and dreams of one day having a family with Paul—­was gone in the blink of an eye.

Poof, destroyed.

Still reeling from the loss, I did the opposite of what everyone told me: Don't make an important decision the first year after the death of someone close. On a complete whim, I quit my corporate job and purchased a bed-­and-­breakfast and named it after my deceased husband. It became known as the Rose Harbor Inn. Rose, naturally, for Paul. And harbor because I'd gambled that this next unexpected curve in the roadway of my life would become a harbor of healing for me. And, thankfully, it has. As a bonus, it seems the inn has the power to help others heal as well.

I seldom mention this insight to people for fear they'll suggest I consider counseling. Even now, almost four years later, I sometimes wonder if I'd imagined that first night I spent after moving in. I'd been half asleep . . . it might have been a dream. You know the kind where you aren't really asleep but not fully awake, either? Paul came to me in that dreamlike state, so real I was afraid to breathe for fear he would disappear. It felt as if all I had to do was reach out and touch him, but I knew I dared not.

While it was enough that he stood next to me, and I could see him and feel his love for me, as a bonus he spoke. Not that I heard the words out loud; they were spoken inside of me, in my heart.

I know it's hard to believe, but I swear that's what happened. He told me as plain as anything that I would heal here and all those who came to stay would find solace and healing of their own. Authentic or not, I've held on to that promise, clung to it with both hands, desperately wanting it to be true. Desperately needed hope, a reason to continue.

When Paul told me I'd heal, the last thing in my mind and certainly in my heart was the possibility of falling in love again. Finding Paul was miracle enough; I certainly didn't expect I could be so lucky again. But discovering love a second time was even more of a surprise than it was the first time. Certainly my relationship with Mark Taylor didn't start out as a lovefest, but I'm getting ahead of myself.

After my husband was killed, I retreated from life, which in retrospect is perfectly understandable. For two years I lived in a shell. I took up knitting and gardening, adopted a dog named Rover. All of these were things I'd never have considered in my previous life.

The one constant the first two years I owned the inn was Mark Taylor, my handyman. He was grumpy, noncommunicative, and sometimes downright unpleasant. But as time progressed, Mark became a friend. I still found him irritating, but in a comforting sort of way. I suppose that doesn't make much sense, but it's the best way I can think to describe my feelings. In truth, it's hard to explain.

Mark was around the inn a lot, mainly because I hired him to do a variety of projects and odd jobs. After a while, despite our clashes and differences of opinion, we grudgingly became friends. We argued, but our disagreements weren't serious. I enjoyed teasing him. He loved my home-­baked cookies, and I found I could get him to do most anything with the promise of hot-­from-­the-­oven sweets.

The first time I laughed after learning about Paul was with Mark. He'd been painting, and when climbing down the ladder he stuck his foot into a five-­gallon paint bucket. I thought it was hilarious and laughed until tears rained down my cheeks. Mark, however, wasn't amused.

Over the years he took on a number of projects I wanted done around the inn, which included building a rose garden and gazebo. I saw him nearly every day, and often more than once. Spending time with Mark became part of my daily routine. Even when he worked elsewhere he would invariably stop by the inn for coffee. We routinely sat on the porch and chatted about our day. There were times when we said nothing at all. We didn't seem to need words to communicate. Certainly there was no hint of romance; he was a friend and that was what I preferred. I was completely oblivious to the fact he might have come to care for me as more than that.

Just as I was coming out of my self-­enclosed shell, Mark let me know that he'd fallen in love with me. His words shook me as powerfully as the 2001 Seattle earthquake. And then it hit me . . . and when I say that, I mean the shock of it turned me upside down. I discovered Mark had become more than a friend to me, too. Bottom line: I'd fallen in love with him. It'd been gradual—­so gradual, in fact, that I wasn't even aware of the subtle shift of my feelings for him. This was so utterly different from falling in love with Paul that I remained oblivious to what had happened until Mark revealed his love for me.

No sooner did I come to accept that my heart was open and ready for Mark's love when he hit me with another shock. This one even bigger than the first. He announced he was leaving Cedar Cove, with no intention of returning.

What?

I didn't have a clue what that was about. He made no sense.

"I love you, Jo Marie. Sorry, but I'm leaving and I won't be back."

Who does that? And for the love of heaven, why? And then he was gone. Really gone. Sold-­his-­house gone. Gave-­his-­belongings-­away gone. Simply gone.