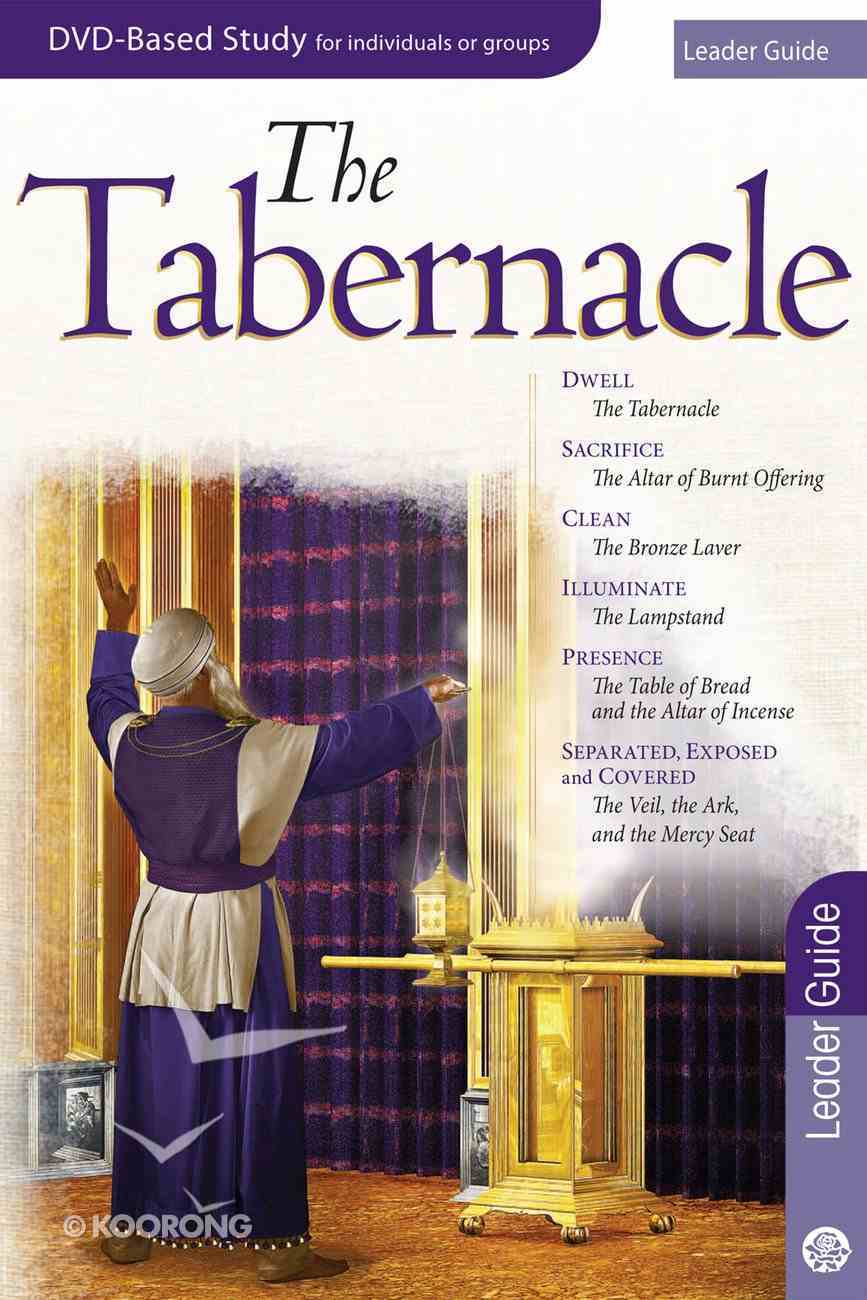 This is the leader guide to The Tabernacle , the ONLY DVD study from The Tabernacle Experience® on the market! This guide has everything a leader needs! From tips on how start each session to riveting discussion questions, this leader...
Available for immediate download.
---
Read using our free app on your tablet or mobile!
---
Free Shipping
for orders over $99.

This is the leader guide to The Tabernacle, the ONLY DVD study from The Tabernacle Experience® on the market! This guide has everything a leader needs! From tips on how start each session to riveting discussion questions, this leader guide makes leading a Sunday School class, small group, or home study easier than ever. Covers all 6 sessions!


This new The Tabernacle DVD is a fantastic 6-session video-based study on the biblical Tabernacle, and is perfect for your personal study, church small group, or Sunday school class. Learn more about this movable tent of meeting in the wilderness of Sinai where God dwelled with his people.


Using the popular Tabernacle Experience® replica of the Tabernacle of Moses, this easy-to-teach study presents an expert-guided tour and explanation of each part. As you walk through this life-size model of the Old Testament Tabernacle, you will work your way from the Outer Courtyard into the Most Holy Place. Your teacher Shawn Barnard explains the significance and symbolism of each section of the Tabernacle.


"The truths of the Tabernacle are simple yet utterly profound. With great detail and passion Shawn reveals how every article and ritual within the Tabernacle points to Jesus, the Christ. He ushers us from the distant Outer Courts, beyond the Veil and into the very presence of God."
Jeanne Whittaker, Founder, The Tabernacle Experience®
?

New! This ready-to-use Tabernacle DVD will explain-

Why and how the Tabernacle was built How the sacrifices pointed toward Jesus Christ: Sin Offering, Guilt Offering, Grain/Gift Offering, Burn Offering, and Peace Offering Why the Tabernacle is often called the "Tabernacle of God" because the design of the tent revealed God's holiness and humanity's need for God The symbolism behind the Golden Lampstand/Candlestick, the Table of the Bread of Presence, the Altar of Incense and more Why the Ark of the Covenant and Mercy Seat were at the center of worship How the Tabernacle relates to biblical holidays, such as Passover The parallels between the Tabernacle, Christ's ministry, and the church ?
Anyone who enjoys the Bible can lead this study. You don?t have to be an expert. Everything is self-guided.

?Tabernacle DVD-based Study-Contents DVD of all 6 sessions Leader Guide Participant Guide Tabernacle pamphlet-a fold-out, full-color diagram of the Tabernacle-with each part identified. PowerPoint® Presentation-an optional ready-to-use presentation to expand the teaching. Includes dozens of illustrations. PDFs of promotional fliers, banners, door hanger, and posters, PLUS email header (jpg) and PowerPoint® save-the-date slide (jpg). ?
Each video is about 25-35-minutes long which gives you time to go through the Participant Guide and to have a discussion. Perfect for a one-hour session. And if you have more than one hour, there are optional discussion questions and even a ready-to-use PowerPoint® that you can use to extend the teaching.

? Session 1 Dwell: The Tabernacle Session 2 Sacrifice: The Altar of Burnt Offering Session 3 Clean: The Bronze Laver Session 4 Illuminate: The Lampstand Session 5 Presence: The Table of Bread and the Altar of Incense Session 6 Separated, Exposed, and Covered: The Veil, the Ark, and the Mercy Seat
About the Tabernacle Experience®'s life-size replica:
"The truths of The Tabernacle are life-changing?and participating in the life-size replica is an opportunity not to be missed by anyone?"
Kay Warren, Saddleback Church

Don't miss your chance to understand the pattern of worship God created so that mere people could come and relate to the Almighty God. The Tabernacle DVD makes it easier than ever to understand the significance of the Tabernacle.


Every utensil, sacrifice, and even the design of the various coverings of the Tabernacle were a foreshadowing for what was to come: the building of the temple by Solomon, the incarnation of Christ, the indwelling presence of God in the lives of all true followers of Jesus Christ, and our future home with him in heaven. With Pastor Shawn Barnard as your guide you won't overlook the significance of any part of this grand design.


You won't find a better DVD study on the Tabernacle. This is the best study using a life-size Tabernacle on the market!

Expert Commentary by Shawn Barnard, M.Div. Shawn Barnard has not only been introducing the Tabernacle to church groups for nearly 20 years, he also is the Senior Pastor of Crossgate Church. With a Masters of Divinity from Southwestern Baptist Theological Seminary, Shawn Barnard is the perfect guide for equipping you with the information you need to fully understand the significance, symbolism, and purpose behind the Tabernacle.
More flexibility and options for use. Implementing a study or enhancing a current study of the Tabernacle has never been easier! Although some Tabernacle DVDs provide optional participant guides, The Tabernacle Experience's DVD provides not only participant guides but an optional leaders guide as well-which means you do not have to be an expert to lead this study. With these supplemental materials you have the options to dive even deeper into this topic of study. Here's an Overview of Each Session: Session 1 Dwell: The Tabernacle
In this session you will learn-

How the Tabernacle tells the story of God. God's desire is to dwell with us, and for us to be with him. Every article in the Tabernacle points to and finds its fulfillment in Jesus. Session 2 Sacrifice: The Altar of Burnt Offering
In this session you will learn-

The altar of burnt offering is to the Old Testament what the cross is in the New Testament. The altar of burnt offering is God's provision for reconciliation. Session 3 Clean: The Bronze Laver
In this session you will learn-

Through the bronze laver we see the picture and importance of being cleansed before God. God's purity and presence demand continual cleansing. We are cleansed by God's Word. Session 4 Illuminate: The Lampstand
In this session you will learn-

Jesus is the light of the world. Light shatters darkness and exposes what is hidden. God desires to display his light in us that he will be revealed through us. Session 5 Presence: The Table of Bread and the Altar of Incense
In this session you will learn-

God is our sustenance for life. Jesus is the "bread from heaven." We are in covenant with God. Prayer that pleases God is pure and reflective of his will. Session 6 Separated, Exposed, and Covered: The Veil, the Ark, and the Mercy Seat
In this session you will learn-

The veil is a symbol of what would be gained because of Jesus Christ. To experience the presence of God both now and forever, we must come through his Son, Jesus. There is no other way, no other person. Here's what others have been saying about The Tabernacle DVD :
"In the Tabernacle DVD, Pastor Shawn presents the parallel between the Tabernacle and Jesus Christ so clearly and beautifully. He does such a great job at explaining God's purpose for the Tabernacle and Jesus Christ as the ultimate sacrifice once and for all to allow us to have a personal relationship with God.
I love how Pastor Shawn summarizes Session Two with saying that the unblemished sacrifice, God's merciful provision, is through Jesus Christ, and He is our sacrifice once and for all so we can enter into a relationship with God that is eternal. God is not only with us; He is also in us! God gave His only Son that whoever believes will have eternal life with Him! Shawn is dynamic and presents the purpose and fulfillment of the Tabernacle through Jesus Christ so beautifully! Pastor Shawn communicates the things of God in an easy and practical way to help viewers understand God's plan and purpose for man, and to know God's desire to have a relationship with man?all made possible through His redemptive plan.
As a Bible study leader, I have been praying about the next study God is leading me to, and what type of study to do. I have had a yearning to grow closer and more intimate with God. This study seems to be the perfect answer to that prayer."
Sue Leisenring, Women's Bible Study Leader, Capo Beach Church

"Shawn is not only a diligent student of scripture, but he has a passion to portray it plainly. In Nehemiah 8.7-8 (NIV), Israel's leaders "read from the Book of the Law of God, making it clear and giving the meaning so that the people understood what was being read." In this same spirit, Shawn brings his creative and compelling teaching style to help us understand the power and relevance of the Old Testament Tabernacle to our New Testament lives. Your church and small group will have their eyes opened and be deeply impacted by the beautiful reality of God desiring to be present with His people."
Jeff Noble, Lead Pastor of Northstar Church in Blacksburg, VA and Author of Super Center Savior

"With special attention to detail and with the care of a committed servant of God, my friend, Jeanne Whittaker, created a modern day touring-exhibit of the Tabernacle--The Tabernacle Experience. Her heart's desire was to usher each person into a deeper connection with God, by bringing to life this intimate journey through the inner courts of the Tabernacle.
Although this popular exhibit travels throughout the United States, I'm so pleased that this DVD study will now provide everyone the opportunity to experience the richness of a journey through the Tabernacle. I'm confident that viewers of this study will find their hearts transformed, just as if they had actually walked through the Tabernacle into the Most Holy Place."
Jen Hubbard, Friend of The Tabernacle Experience

"No one could have predicted the incredible impact Jeanne Whittaker's life-size rendering of the Tabernacle would have on Christians and sympathetic Jews. Visitors consistently leave the Tabernacle Experience's replica moved beyond words after experiencing the power of these ancient symbols of God's loving sacrifice for His people. Now that experience is rendered even more credible by the sound biblical teaching of Pastor Shawn Barnard, a student of the Tabernacle for over 20 years. On The Tabernacle DVD, Pastor Shawn's teaching is paired with an incredible journey through the Tabernacle Experience's replica, creating a powerful combination of truth, passion, and visual synergy. I highly recommend this series for believers and seekers alike."
John Fischer, Author, singer/songwriter and President of The Catch Ministry, Inc., an online community of Christians and the curious

"Shawn Barnard is a gifted communicator and speaker of the truth of God's Word. I highly recommend that you let Shawn take you into the Tabernacle and show you many things that have the potential to change your life radically and permanently!"
Dr. Alex Himaya, Founding and Senior Pastor, Tulsa, OK

About the Author: Shawn Barnard


MDiv Pastor Shawn Barnard has been introducing the tabernacle to church groups for many years. He graduated from Ouachita Baptist University with a degree in Religion and Communications and received his Master of Divinity from Southwestern Baptist Theological Seminary in Fort Worth, Texas. Pastor Barnard has been in ministry for over twenty years and has been a senior pastor for more than twelve years. He has traveled extensively throughout eleven countries equipping pastors,preaching crusades, and sharing the gospel.






Get a Sneak Peek into The Tabernacle DVD Study The Tabernacle DVD Study Promo Video Incredible 5-minute Clip from Session Two: Sacrifice (The Altar of Burnt Offering)
Watch the COMPLETE Session 2: Sacrifice (The Altar of Burnt Offering) at:


-Publisher
Bestsellers in Ministry Resources