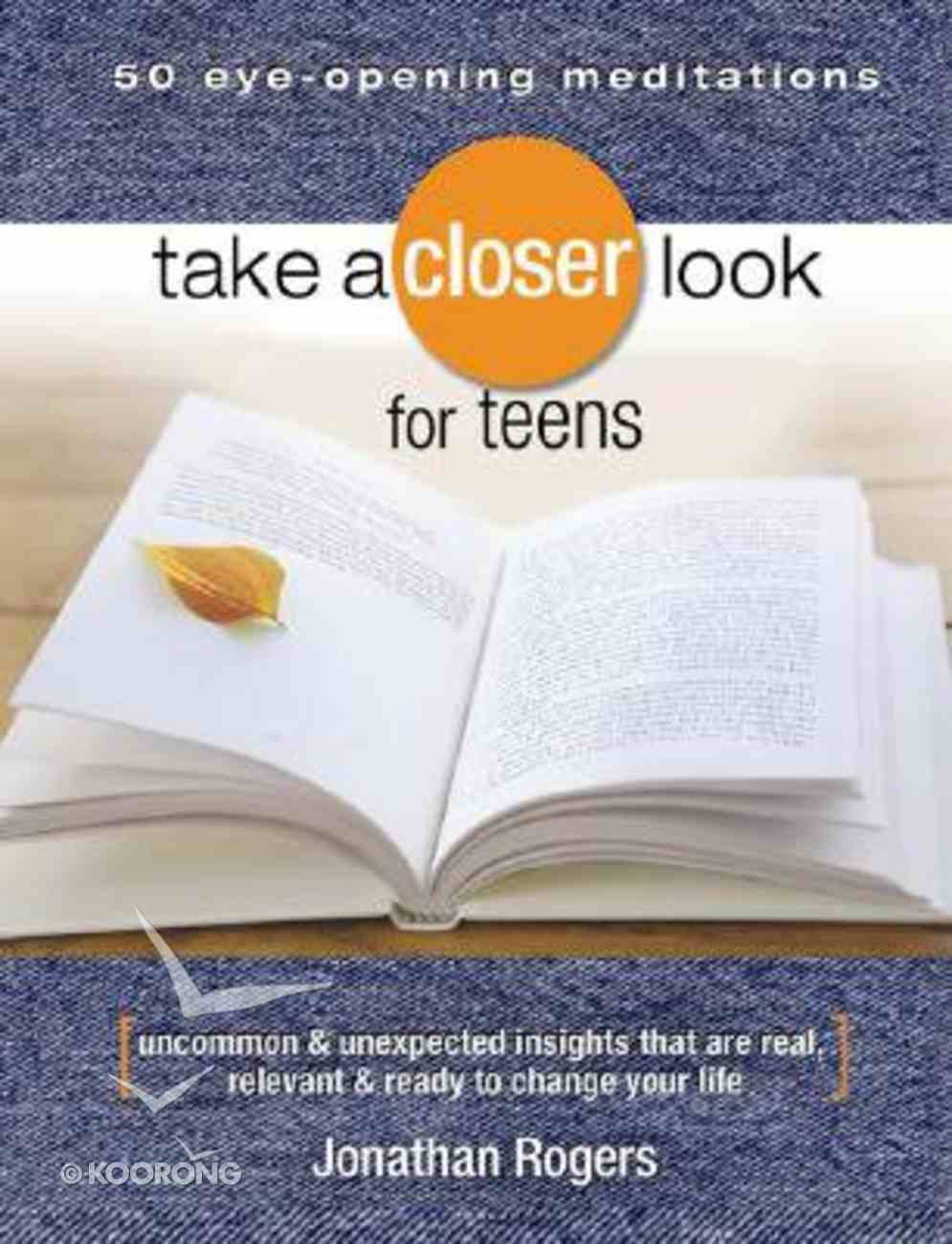 Take a Closer Look For Teens
What does the Bible have to say to you today? Take a closer look. Once upon a time - in the twenty-first century, to be exact - a daring group of teenagers like you became serious about seeking the Truth...
Unavailable. We are unsure when this item will be available to ship. eBook is Available.
0 Available.
---
Free Shipping
for orders over $99.
What does the Bible have to say to you today? Take a closer look. Once upon a time - in the twenty-first century, to be exact - a daring group of teenagers like you became serious about seeking the Truth and living it. Some had been taught the Bible since they were young, and others had never before opened the Word of God. What they had in common was a desire to draw nearer to the Lord of heaven and earth. Take a Closer Look for Teens was created for young people who see faith as more than a fairy tale. They see it as a reality that can change their hearts and their world. So open your eyes See all God has in store for you
-Publisher
No Double Standards When morning came, there was Leah! So Jacob said to Laban, "What is this you have done to me? I served you for Rachel, didn't I? Why have you deceived me?" Laban replied, "It is not our custom here to give the younger daughter in marriage before the older one." - Genesis 29:25-26 NIV Jacob was used to getting his own way. He was used to doing whatever it took to get it. Before he was even born, when his mother was told she was carrying twins, God said the older son would serve the younger. In those days, in that part of the world, age meant rank and rank meant everything, so this was a weird prophecy. But it came true. Jacob's name in Hebrew even means "deceiver." Jacob once cheated his older brother Esau out of the majority of his inheritance by bribing him with a bowl of soup. He once dressed in Esau's clothes and wrapped himself in animal skins in order to trick his old, blind father into giving him the blessing that belonged to his older brother. Jacob seemed to be winning, but by that time Esau was murderously angry and fed up with his brother's tricks. Jacob had to run for his life. Jacob ran to Haran, where his mother had family. He ended up living with his uncle Laban and working for him. And he fell in love with Laban's younger daughter, Rachel. Laban agreed to let Jacob marry his daughter, but for a price: Jacob had to work for Laban for seven years without pay. At the end of the seven years, Jacob would have his bride. Jacob agreed and put in his seven years of labor. The Bible says the time passed quickly for Jacob because he loved Rachel so much. Then, at the end of seven years, there was a wedding and a big party. Wedding parties in those days lasted for days and went late into the night. As Jacob was finally ready to spend his first night with his new bride, Laban brought to him a woman beautifully dressed, probably wearing a veil. Little did Jacob know that his bride was not Rachel! Laban pulled the old switcheroo on Jacob. In the morning, Jacob realized that he had married Rachel's older sister Leah! Of course he was surprised and angry, and he confronted Laban. Laban had his answer ready: "It is not our customhere to give the younger daughter in marriage before the older one." What could Jacob say? Laban offered to let Jacob marry Rachel for another seven years' work, and Jacob agreed, but their relationship was forever strained. After a lifetime of tricking people by breaking the rules, Jacob became easy prey for a man who tricked him by simply sticking to the rules. You can just imagine the look of innocence and mock surprise on Laban's face when he said those words to his disappointed nephew: "It is not our custom here to give the younger daughter in marriage before the older one." Jacob knew it to be true. It wasn't the custom among his people to bless the younger before the older either. The irony is that it was Jacob's trickery, his tendency to go around the rules that made him susceptible to Laban's trickery. It never occurred to Jacob to wonder why his uncle seemed willing to give him the younger daughter in marriage. Jacob was used to working things so that the younger had an unfair advantage over the older. So why shouldn't his bride marry before her older sister? He played right into the hands of his craftier uncle. Perhaps Jacob had gotten an inflated view of his own cleverness. Perhaps he thought he was helping God fulfill his own prophecies. In any case, the cheater got cheated. The trickster got tricked. You probably know people who get their way by deceiving and breaking all the rules. They tell their parents they're one place when they're really someplace else. They find a way to cheat, then their grades are just as good as the people who actually studied. They use their friends. But people who live that way are more vulnerable than they know. Of course, there's always th
-Publisher