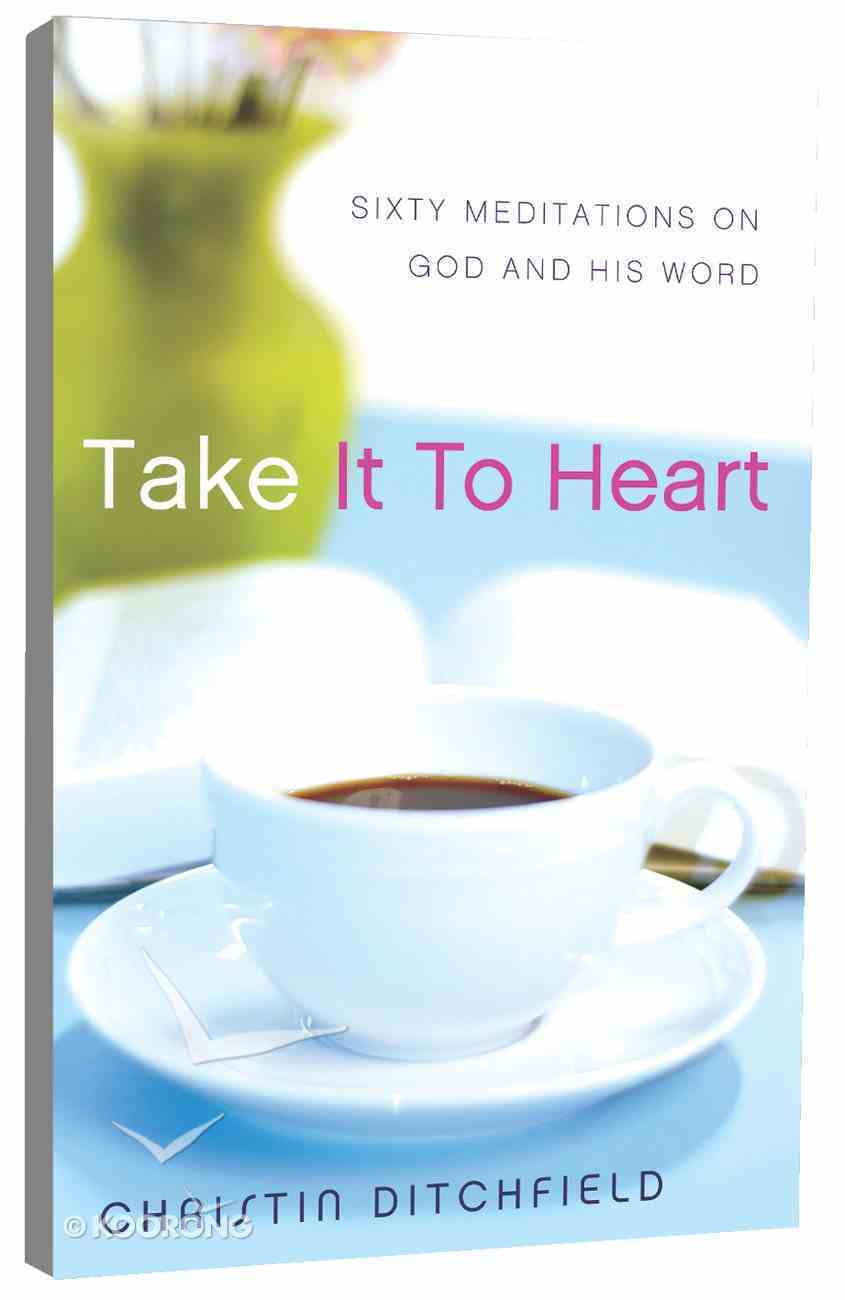 Read it, pray about it, and take it to heart . If you're like many believers, your daily quiet time with God's Word is missing something. After spending some time reading and praying, you close your Bible, dash off...
Unavailable. Out of Print. Only available while stock lasts.
Out of Print
---
Free Shipping
for orders over $99.
Read it, pray about it, and take it to heart .

If you're like many believers, your daily quiet time with God's Word is missing something. After spending some time reading and praying, you close your Bible, dash off to attend to your one million daily responsibilities--and the impact of God's truth is forced to take a backseat in your mind and heart.

To enrich your quiet time, spend your next sixty days with this collection of devotions. With each chapter you'll encounter stories that make you laugh, struggles you can relate to, and questions that make you think. These devotions can be read in a few minutes but will inspire thought and reflection that will stay with you throughout the day.

Christin Ditchfield's anecdotal style and depth of biblical knowledge make this an inviting, enriching collection for any believer. These daily messages steer you back into God's Word, urging you to read it, pray about it, and take it to heart.


-Publisher
What will heaven be like?Heaven is a place more wonderful than we can ever begin to imagine. It is a place of joy and beauty, of peace and happiness that will never end.Why? Because heaven is also a place where there will be no sin or suffering, no sorrow or pain. It's a place where there will be no quarrels or disagreements, no disappointments or weeping--because there will be nothing there to make us sad. And in heaven we will never do anything to displease God.We will then know perfect joy. Psalm 16:11 says, "In Thy presence is fullness of joy; in Thy right hand there are pleasures forever." Everything that now makes us groan will finally be done away with, and we will find ourselves in the very presence of God, where the purest and truest kind of joy is possible.In heaven we will also have perfect knowledge. The Bible says, "Then shall I know even as also I am known" (1 Corinthians 13:12). We will have no more unanswered questions, no confusion, no ignorance, and no more need to walk by faith rather than by sight.We will live in perfect comfort. We will love God perfectly and will be loved perfectly by Him. His love will engulf us forever.Stated simply, heaven is a place of perfect joy forever.Think of it! We will be perfectly free from evil forever. We will be set free from captivity to sin, and finally able to do that which is absolutely righteous, holy, and perfect before God. With sin and its effects erased forever, the promise of heaven is an everlasting life of unimaginable blessing! How good do I have to be to go to heaven?Most people understand that doing evil can keep us out of heaven. But few realize the Bible also teaches that doing good cannot get us in.None of us could ever gain enough merit to deserve heaven. We are sinful, and God's standard is utter perfection. Jesus said, "Unless your righteousness surpasses that of the scribes and Pharisees, you shall not enter the kingdom of heaven" (Matthew 5:20). He added, "You are to be perfect, as your heavenly Father is perfect" (v. 48). Who then can go to heaven? Who can be saved?Jesus' disciples asked Him this same question (Matthew 19:25). His answer? "With men this is impossible, but with God all things are possible" (v. 26). In other words, being saved so that we can go to heaven is not something we can accomplish. It is something God must do for us. What if I stopped sinning now and never sinned again?No matter how hard we try, we could never stop sinning because we are hopelessly in bondage to sin. The Bible tells us even our hearts are deceitful and desperately wicked (Jeremiah 17:9). In other words, we are sinful to the core. Furthermore, even a single sin would be enough to destroy us forever: "Whoever keeps the whole law and yet stumbles in one point, he has become guilty of all" (James 2:10). But even if we never sinned from now on, we would still be guilty of our past sins. And as the Bible says, "The wages of sin is death" (Romans 6:23).But the good news is that God has provided a way to free us from the guilt of sin! What has God done for me to take away my sin so I can go to heaven?When God forgives, He cannot merely overlook sin. Full payment (atonement) must be made for our sin. Christ's death made full atonement for those who trust Him. If we believe in Him, His dying counts in our stead, paying for our sins in full. The Bible says, "The blood of Jesus... cleanses us from all sin" (1 John 1:7). It is only through the blood of Christ that we can ever be cleansed from the terrible guilt of sin.But that only erases the guilt of our sin; we still need perfect righteousness in order to enter the kingdom of heaven (Matthew 5:20). Where do we get that perfect righteousness?If you truly believe in Him, the full merit of Jesus' own righteousness is credited (imputed) to you
-Publisher
PRODUCT DETAIL
Catalogue Code 

223624

Product Code 

1581346379

EAN 

9781581346374

Pages 

128

Department General Books
Category Devotions
Sub-Category General
Publisher Crossway
Publication Date 

Jan 2005

Dimensions 

206 x 140 x 9

mm

Weight 

0.141

kg
Christin is an accomplished educator, author, conference speaker, and host of the syndicated radio program, Take It To Heart! heard daily on hundreds of stations across the United States, Canada, Latin America, Papua New Guinea, and Muizenberg, South Africa.
She is the author of more than 50 books, most recently A Family Guide To The Lion, The Witch and The Wardrobe; Take It To Heart: Sixty Meditations On God and His Word; The Three Wise Women; A Family Guide to Prince Caspian and most recently A Way with Words: What Women Should Know about the Power They Possess