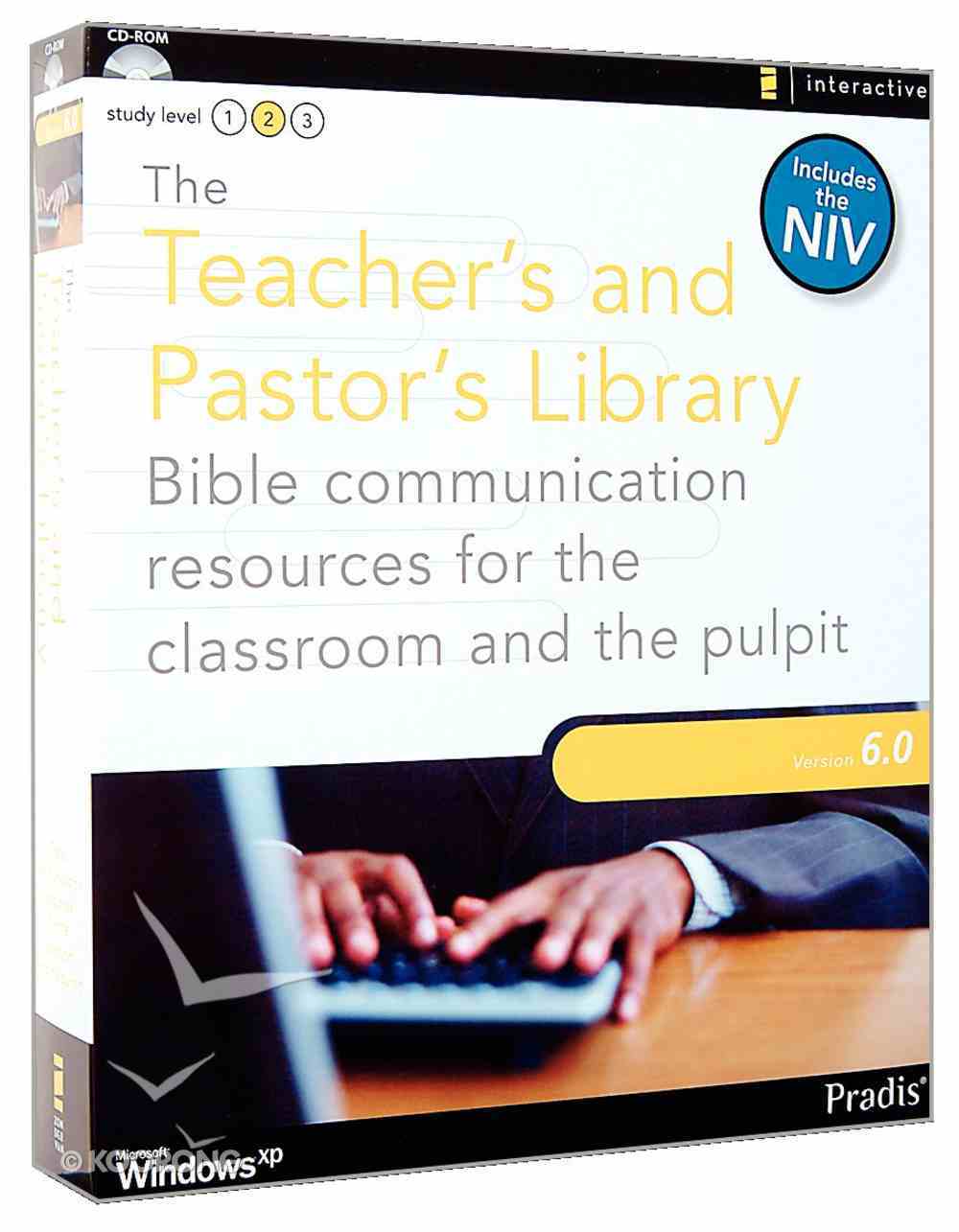 Teachers and Pastors Library 6.0 CDROM Win Includes the NIV
Public speaking aids, sermon and Bible study tools. . . all the study and communication resources you need are here in this dream library for teachers and pastors. The Teacher's and Pastor's Library 6.0 is the leadership-level resource for you....
---
Free Shipping
for orders over $99.
Public speaking aids, sermon and Bible study tools. . . all the study and communication resources you need are here in this dream library for teachers and pastors. The Teacher's and Pastor's Library 6.0 is the leadership-level resource for you. Doctrines, creeds, commentaries, biblical languages. . . everything you need is here at your fingertips.

Powered by Pradis - the most powerful software available for Bible study - the Teacher's and Pastor's Library 6.0 lets you conduct the most penetrating studies with ease. It includes eight Bible translations (New International Version, The Message, American Standard Version, Amplified Bible, English Standard Version, New American Standard Bible, New Living Translation, New Revised Standard Version, Today's New International Version); 1001 Humorous Illustrations for Public Speaking; 1001 More Humorous Illustrations for Public Speaking; 1002 Humorous Illustrations for Public Speaking, Greek New Testament UBS4, A Harmony of the Words and Works of Jesus Christ; Hebrew Old Testament BHS; New International Bible Dictionary; New International Dictionary of Biblical Archaeology; New International Dictionary of New Testament Theology, Abridge; New International Dictionary of the Christian Church; NIV Study Bible (revised edition); Thematic Reference Bible; topical index; Expositor's Bible Commentary, Abridged; Zondervan NIV Exhaustive Concordance; Zondervan NIV Nave's Topical Bible; and Zondervan Pictorial Encyclopaedia.

- Publisher
From Sunday sermons to group Bible studies, small groups to children's church, your job as a church leader requires a lot of you. The Teacher's and Pastor's Library 6.0 lets you conduct penetrating studies with ease. The NIV, The Message, and eight other translations; original Hebrew and Greek texts; doctrines, creeds, commentaries ... everything you need is here.
-Publisher