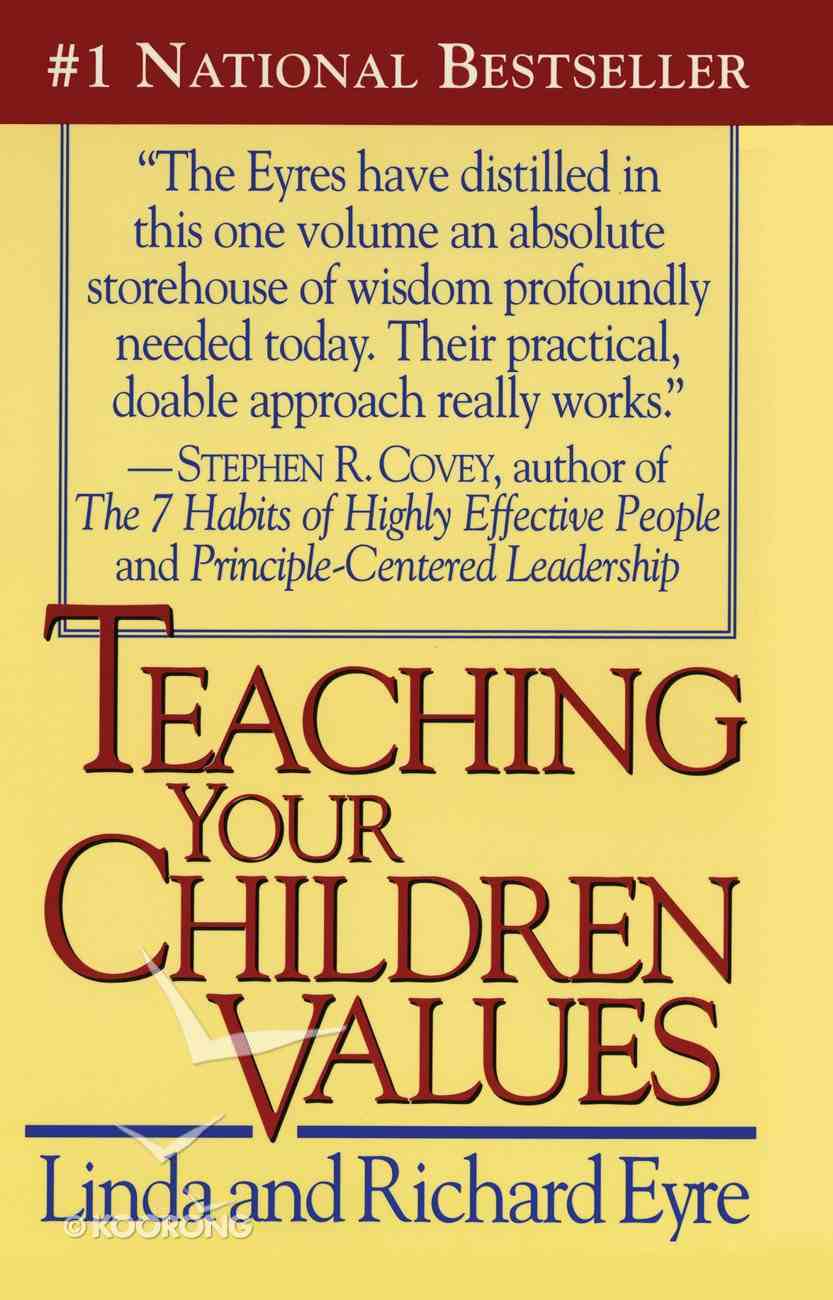 Teaching Your Children Values
One of the greatest gifts you can give your children is a strong sense of personal values. Helping your children develop values such as honesty, self-reliance, and dependability is as important a part of their education as teaching them to...
Order now to secure your copy when our stock arrives. eBook is Available.
0 Available.
---
Free Shipping
for orders over $99.
One of the greatest gifts you can give your children is a strong sense of personal values. Helping your children develop values such as honesty, self-reliance, and dependability is as important a part of their education as teaching them to read or how to cross the street safely. The values you teach your children are their best protection from the influences of peer pressure and the temptations of consumer culture. With their own values clearly defined, your children can make their own decisions -- rather than imitate their friends or the latest fashions. In "Teaching Your Children Values" Linda and Richard Eyre present a practical, proven, month-by-month program of games, family ctivities, and value-building ecercises for kids of all ages.
-Publisher
Contents Preface Introduction: Why? When? Where? Who? What? and How? Why? Living by certain tried-and-proven standards is the best route to personal happiness as well as to a stable and productive society. When? Values should be taught to children of all ages -- with differing agendas and changing emphasis as children mature. Where? Values are best taught in the home. Who? Parents are the crucial exemplars and instructors. What? Each parent must decide which values to teach. This book is a menu from which to choose and a teaching system that will help with whatever values parents select. How? There are some methods especially well suited to teaching values to preschoolers. Other methods work best for elementary ages, and still others are effective for adolescents. VALUES OF BEING Month 1: Honesty ...with other individuals, with institutions, with society, with self...the inner strength and confidence that is bred by exacting truthfulness, trustworthiness, and integrity Month 2: Courage ...daring to attempt difficult things that are good...strength not to follow the crowd, to say no and mean it and influence others by it...being true to convictions and following good impulses, even when they are unpopular or inconvenient...boldness to be outgoing and friendly Month 3: Peaceability ...calmness, peacefulness, serenity...the tendency to try to accommodate rather than argue...the understanding that differences are seldom resolved through conflict and that meanness in others is an indication of their problem or insecurity and thus of their need for your understanding...the ability to understand how others feel rather than simply reacting to them...control of temper Month 4: Self-Reliance and Potential ...individuality...awareness and development of gifts and uniqueness...taking responsibility for own actions...overcoming the tendency to blame others for difficulties...commitment to personal excellence Month 5: Self-Discipline and Moderation ...physical, mental, financial self-discipline...moderation in speaking, in eating, in exercising...the controlling and bridling of one''s own appetites...understanding the limits of body and mind...avoiding the dangers of extreme, unbalanced viewpoints...the ability to balance self-discipline with spontaneity Month 6: Fidelity and Chastity ...the value and security of fidelity within marriage and of restraint and limits before marriage...the commitments that go with marriage and that should go with sex...a grasp of the long-range (and widespread) consequences that can result from sexual amorality and infidelity VALUES OF GIVING Month 7: Loyalty and Dependability ...to family, to employers, to country, church, schools, and other organizations and institutions to which commitments are made...support, service, contribution...reliability and consistency in doing what you say you will do Month 8: Respect ...for life, for property, for parents, for elders, for nature, and for the beliefs and rights of others...courtesy, politeness, and manners...self-respect and the avoidance of self-criticism Month 9: Love ...individual and personal caring that goes both beneath and beyond loyalty and respect...love for friends, neighbors, even adversaries...and a prioritized, lifelong commitment of love for family Month 10: Unselfishness and Sensitivity ...becoming more extra-centered and less self-centered...learning to feel with and for others...empathy, tolerance, brotherhood, sensitivity to needs in people and situations Month 11: Kindness and Friendliness ...awareness that being kind and considerate is more admirable than being tough or strong...the tendency to understand rather than confront...gentleness, particularly toward those who are younger or weaker...the ability to make and keep friends...helpfulness, cheerfulness Month 12: Justice and Mercy ...obedience to law, fairness in work and play...an understanding of natural consequences and the law of the harvest... a grasp of mercy and forgiveness and an understanding of the futility (and bitter poison) of carrying a grudge Postscript HOMEBASE: a national organization of parents who share common concerns, ideas, and objectives as well as values. What the organization is and how to get involved Index
-Publisher
Chapter 1 Month 1: Honesty Honesty with other individuals, with institutions, with society, with self. The inner strength and confidence that is bred by exacting truthfulness, trustworthiness, and integrity. Pulling into the driveway one day, I noticed a broken milk bottle on the pavement. I asked nine-year-old Josh and his friend, Chip, if they knew how it happened. Chip quickly said no. Josh looked over at him, somewhat startled, then walked over and put his hand on Chip's shoulder and said, "It's okay, he'll understand." Then to me, "The basketball hit it, Dad. Sorry. We were going to dean it up, bat we forgot. Come on, Chip, I'll get the dustpan." I listened through the window as they were sweeping up. "One thing I've learned," Josh was counseling Chip, a full six months his junior, "is that you get in a lot less trouble when you just go ahead and tell the truth." --Richard TEACHING YOUR CHILDREN VALUES Teaching children honesty can be a real challenge, given the examples of dishonesty that they will encounter every day in the world around them. Your example, and your constant feedback about your child's behavior, can be a powerful influence on your child. Along with your example, we have discovered some other teaching methods that work. These methods are presented (as they are in each chapter) in four brief sections. First, general guidelines for children of all ages; then methods aimed at preschoolers, elementary-age children, and adolescents. GENERAL GUIDELINES Be completely honest with your children.This will show them how always applicable the principle is and will demonstrate your commitment to it. Answer their questions truthfully and candidly unless it is a question that is off-limits, and then tell them simply and honestly why you won't answer it. Never let them hear you tell little "convenient lies" on the phone and never ask them to tell one for you ("My mommy isn't home"). Don't exaggerate. Don't threaten to do things you don't really intend to do. Give praise and the chance to "start over."This gives children a quick second chance to be truthful. Don't be anxious to "catch" your children in a lie. Instead "catch them telling the truth" and praise them for it. If they do tell (or begin to tell) what you think is an untruth, interrupt and say, "Wait, think for a minute. Remember that it's important to tell the truth." Then let them start over. Point out consequences.Show your children the cause-and-effect dynamics of honesty and dishonesty. Watch for situations (in real life, on TV, etc.) where a dishonest act was performed. Point out the consequences to both the object of the act (the person or institution that was cheated or hurt or deceived) and the doer of the act. Also look for illustrations of honesty and mention the positive consequences, especially the inner peace, confidence, and self-respect gained by the honest individual. Methods for Preschoolers The Demonstration Game This game can help small children grasp the concept and know the terminology. Ask, "Do you know the difference between something that's true and something that's not true? Let's see if you do. I'll say something and you say, 'True' or 'Not true.'" Start with simple physical facts and move toward things relating to behavior, for example: * The sky is green. (Kids say, "Not true.") * (Point at foot) This is my foot. (Kids say, "True.") * Ants are bigger than elephants. * We see with our eyes. * We hear with our nose. * Milk comes from chickens. * Take a cookie out of a jar and eat it. Then say, "I didn't eat the cookie." * Drop a toy on the couch. Then say, "Yes, I left my toy on the couch." Then say, "You reallycantell the difference between true and not true, can't you? Do you know what it's called when someone says something that's not true? It's called alie." Now: "I'll sa
-Publisher
Linda Eyre is a teacher, musician and co-founder of International JoySchools.com, an in-home program for teaching preschoolers the joys of life.
Eyre is the author or coauthor of sixteen books.