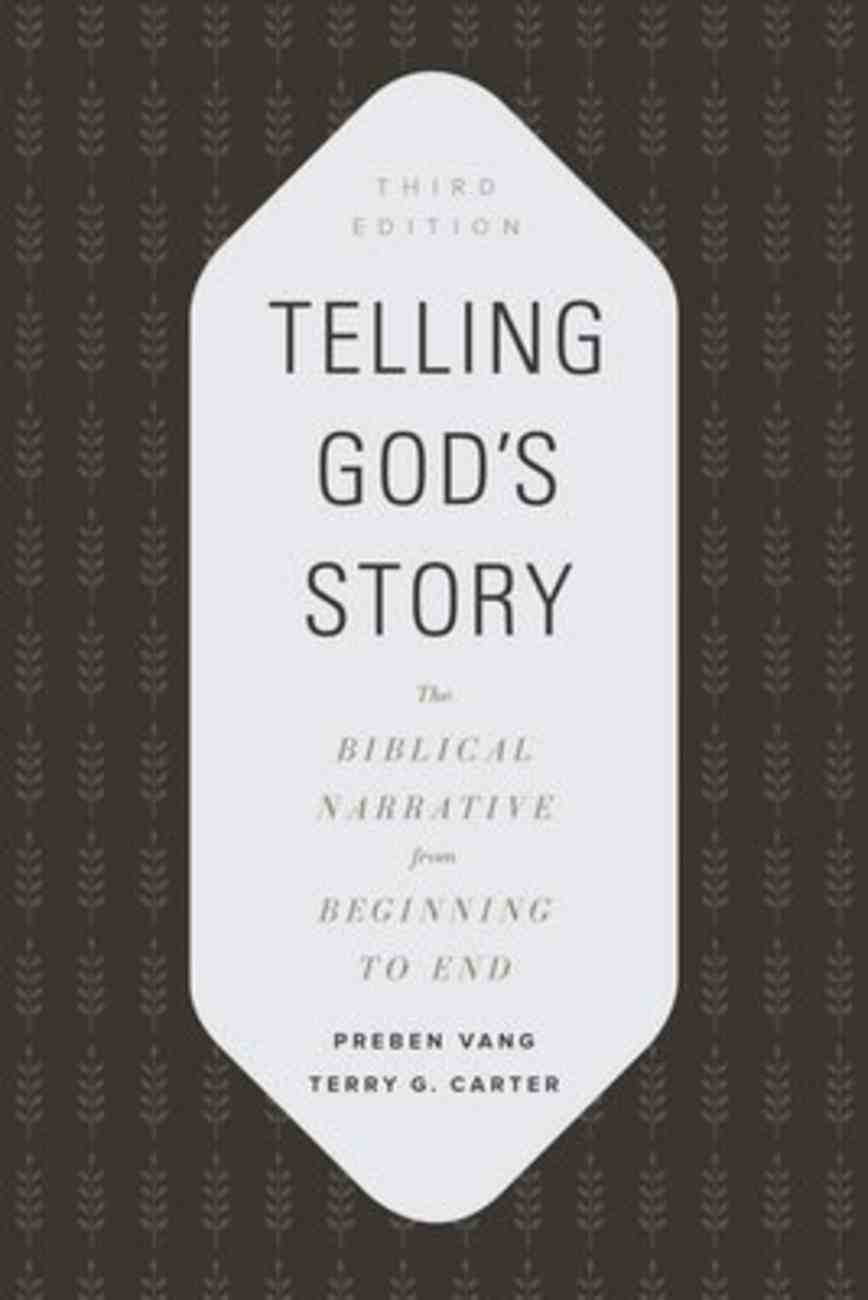 Telling God's Story: The Biblical Narrative From Beginning to End (3rd Edition)
:How well do you know His story? By the time a Christian reaches young adulthood, he is likely to be quite familiar with every major story in the Bible, but not from having studied them in any particular order....
Out of Stock
Available to Order
---
Expected to ship in 5 to 6 weeks from Australia.
---
Free Shipping
for orders over $99.
:How well do you know His story?

By the time a Christian reaches young adulthood, he is likely to be quite familiar with every major story in the Bible, but not from having studied them in any particular order.

Ask an average Bible student to arrange certain characters and events chronologically, and the results are telling.

Telling God's Story looks closely at the Bible from its beginning in Genesis to its conclusion in Revelation. By approaching Scripture as one purposefully flowing narrative, emphasizing the inter-connectedness of the text, veteran college professors Preben Vang and Terry G. Carter reinforce the Bible's greatest teachings and help readers in their own ability to share God's story effectively with others.

Updated to include notes on biblical theology and a new section on the intertestamental period, this third edition of Telling God's Story is ideal for Christians seeking to grow in their understanding of God's word!

-Publisher
Vang is J. C. and Mae Fuller Professor of Christian TheologyVang is J. C. and Mae Fuller Professor of Christian Theology at the Pruett School of Christian Studies. at the Pruett School of Christian Studies. C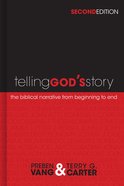 :the Greatest Story Ever Told<br /> The Bible Story: One Story From Genesis To Revelation<br /> Background To The Bible Story<br /> Episode 1: Creation<br /> Act 1: The Story Begins<br /> Act 2: Humans Reject God&amp;rsquo;s Plan<br /> Episode 2: The Plan Of Redemption<br /> Act 1: The Covenant And Promise<br /> Act 2: Isaac, Jacob, And Joseph<br /> Episode 3: The Forming Of A Nation: God&amp;rsquo;s People And The Law<br /> Act 1: Moses And The Deliverance<br /> Act 2: The Sinai Experience<br /> Act 3: The Wilderness Experience<br /> Episode 4: The Promised Land And Sin&amp;rsquo;s Power<br /> Act 1: The Conquest<br /> Act 2: The Period Of The Judges<br /> Episode 5: Israel Gets A King<br /> Act 1: Samuel And Saul<br /> Act 2: David The King<br /> Episode 6: Rebellion, Judgment, And Future Hope<br /> Act 1: Solomon And The Demise Of The Unified Kingdom<br /> The Prophets And Their Message<br /> Act 2: The Demise Of The Northern Kingdom<br /> Act 3: The Southern Kingdom Slides<br /> Episode 7: Captivity And Return<br /> Act 1: The Judgment<br /> Act 2: The Captivity<br /> Act 3: The Return From Exile And The Rebuilding Of The Temple<br /> Act 4: Rebuilding Jerusalem<br /> Act 5: Wisdom: Finding God&amp;rsquo;s Way<br /> Intermission: The Period Between The Two Testaments<br /> Episode 8: Unto Us A Child Is Born<br /> Act 1: God Sends His Promised Messiah<br /> Act 2: Incarnation And The Two Natures Of Jesus<br /> Episode 9: The Ministry Of Jesus<br /> Act 1: Jesus Begins His Ministry<br /> Act 2: Jesus&amp;rsquo;s Message And Methods<br /> Act 3: Jesus&amp;rsquo;s Miracles And Ministry<br /> Episode 10: &amp;ldquo;a Prophet Must Die In Jerusalem&amp;rdquo;<br /> Act 1: Jesus&amp;rsquo;s Entry Into Jerusalem<br /> Act 2: Jesus&amp;rsquo;s Last Supper And His Crucifixion<br /> Episode 11: The Grave Could Not Hold Him<br /> Act 1: Jesus&amp;rsquo;s Burial And Resurrection<br /> Act 2: Jesus&amp;rsquo;s Post-resurrection Appearances And His Ascension<br /> Episode 12: This Gospel Shall Be For All People<br /> Act 1: A Sound As Of A Rushing Wind<br /> Act 2: The Church In Jerusalem And The Early Spread Of The Gospel<br /> Act 3: Paul&amp;rsquo;s First And Second Missionary Journeys<br /> Act 4: Paul&amp;rsquo;s Third Missionary Journey, His Arrest And His Final Days<br /> Episode 13: Church Growth And Church Struggles<br /> Act 1: Church Struggles And The Examples From 1 Corinthians<br /> Act 2: Church Struggles And Christian Thinking<br /> Act 3: Church Struggles And Issues Of Faith<br /> Episode 14: Looking For A City<br /> Act 1: God&amp;rsquo;s Future For His People<br /> Act 2: God Brings His Story To Its Climactic End<br /> The Meaning Of The Story In The Twenty-first Century<br /> &amp;#160;<br /> &amp;#160;
Bestsellers in Biblical Studies