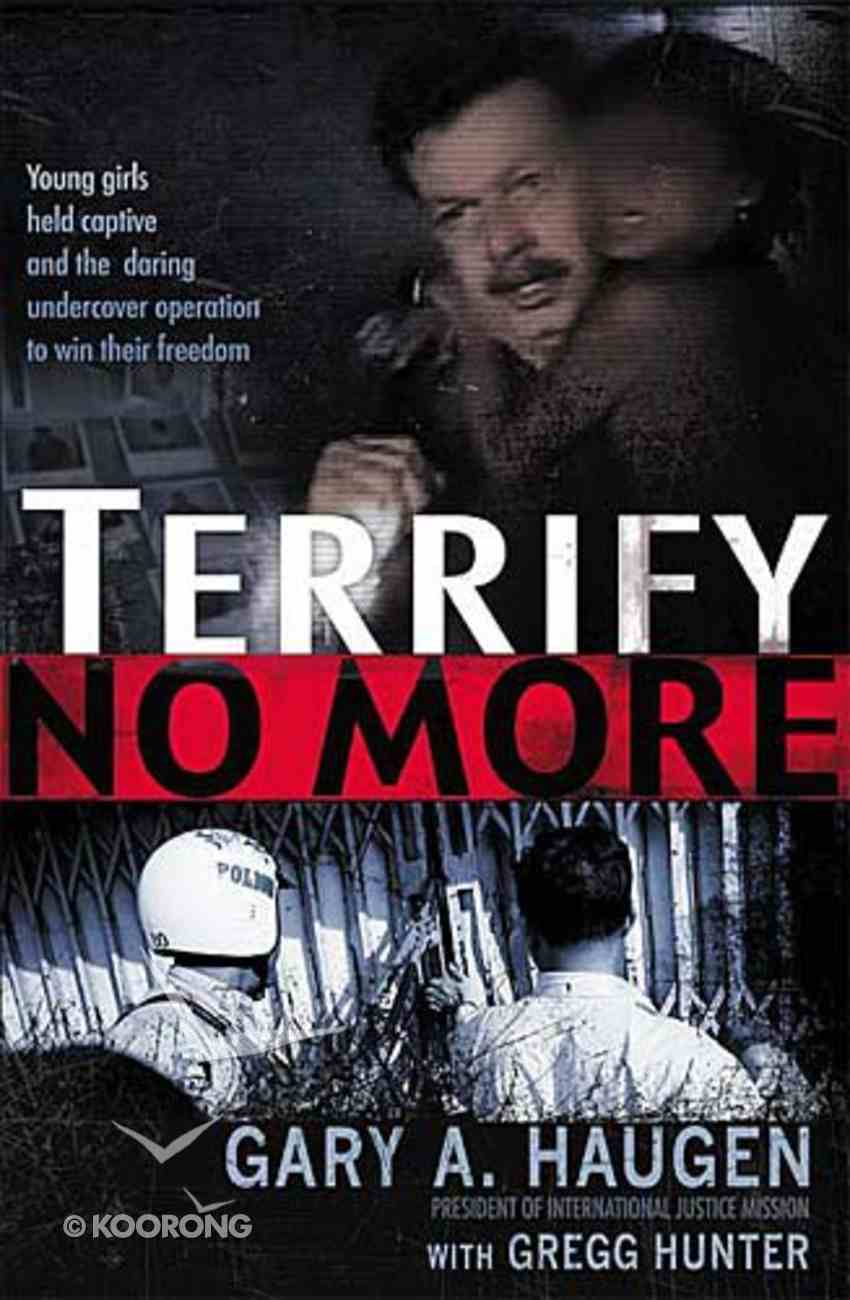 Young Girls Held Captive and the Daring Undercover Operation to Win Their Freedom "You hear, O Lord, the desire of the afflicted; You encourage them, and You listen to their cry, defending the fatherless and the oppressed, in order...
Unavailable. Out of Print. Only available while stock lasts. eBook is Available.
Out of Print
---
Free Shipping
for orders over $99.
Young Girls Held Captive and the Daring Undercover Operation to Win Their Freedom

"You hear, O Lord, the desire of the afflicted; You encourage them, and You listen to their cry, defending the fatherless and the oppressed, in order that man, who is of the earth, may terrify no more." Psalm 10:17-18

In a small village outside of Phnom Pehn, little children as young as five years old were forced to live as sex slaves. Day after day their hope was slipping away. Tireless workers from International Justice Mission (IJM) infiltrated the ring of brothels and gathered evidence to free the children. Headed up by former war-crimes investigator Gary Haugen, IJM faced impossible odds-police corruption, death threats, and mission-thwarting tip-offs. But they used their expert legal finesse and high-tech investigative techniques to save the lives of 37 young girls and secured the arrest and conviction of several perpetrators. TERRIFY NO MORE focuses on this dramatic rescue story, and uses flashbacks to tell those of many other victims who were given a second chance at life by this amazing organization.

Readers of John Grisham and Ted Dekker novels will appreciate the suspense, plot twists, and relentless pursuit of justice found in the true story of TERRIFY NO MORE.

-Publisher
There are places so utterly dark that only God's light may reach them. In a small Cambodian village, helpless children were bought and sold as sex slaves. Learn the riveting true account of how brave investigators risked everything to infiltrate the brothels---bringing freedom to the innocent and justice to the despicable. Eye-opening!
-Publisher
GREGG HUNTER is a communications consultant in Washington, D.C. He formerly served on the President's Cabinet at Young Life heading up all communications efforts internationally. Hunter is also co-founder of Hunter Communications, a marketing and communications firm. He has been married for 20 years and lives innbsp;the Washington D.C. areanbsp;with his wife, Penny and their two sons.
Gary A. Haugen (J.D. University of Chicago, cum laude,) is president and CEO of International Justice Mission (IJM), a human rights organization based in Washington, D.C. Prior to founding IJM, he worked in the civil rights division of the U.S. Department of Justice and was director of the United Nations genocide investigation in Rwanda. He also served as the Visiting Scholar in Politics at the University of Adelaide in Australia. He is the author of Just Courage: God's Great Expedition for the Restless Christian and Good News About Injustice .

What if one of the pimps pulls a gun on the bus full of children? I thought as I stared at the operational diagram on the wall. After all, we can't check the bad guys for weapons before they get on the bus with all the kids. I began to picture the scene in my mind. The pimp on Bus One gets nervous. He pulls out a gun. The kids all start screaming. The pimp yells at the bus driver. The bus driver starts to panic. Chaos. Screaming kids. A gun flailing in the air. A bus careening down the highway.


"What's the plan if something goes wrong on Bus 1 on the way to Bravo?" I asked Bob Mosier, the operation's tactical leader, now giving our team its final briefing.


This was game time, and the last chance to visualize the operation step by step and picture everything that might go horribly wrong. You can't always stop things from turning bad, but you don't want to be thinking about the problem for the first time when dozens of kids are suddenly screaming and someone is waving around a loaded pistol.


And now there wasn't much time left. My colleagues had meticulously planned the operation for seven months and now we were here, early on a Saturday morning in March 2003, huddled in a small hotel meeting room in Phnom Penh, Cambodia, with the pale green blinds pulled shut. We had made the decision to push our barrel over the falls; having set the operation in motion, we were gearing up for our free fall toward the water, or rocks, or oblivion ahead. Within hours our team of professional investigators, lawyers, and other strategic staff members planned to raid a series of nasty and dangerous brothels where scores of very young girls were being sold for sex in an open market. We had been in the country for nearly two weeks dealing with delay after delay, to the point that our lead investigator's life was now in danger and the rescue of the brutalized little girls was gravely at risk.


As International Justice Mission colleagues, we shared a vision for rescuing victims of violence, sexual exploitation, slavery and other forms of oppression and abuse. Headquartered in Washington, D.C., our young human rights organization, best known as IJM, had established offices around the globe. We'd carried out many rescue operations over the last several years. We'd learned some hard lessons. With our impending move into the brothel community of Svay Pak, eleven kilometers outside of Phnom Penh, only hours away, it was my job to ask all the questions I might one day desperately wish I had asked ahead of time.


It was 6 AM as we sipped coffee, shifted in our thin, black-lacquered chairs, and passed around copies of the operational plan, maps, checklists, and extra cell-phone cards. Most of us hadn't slept more than a few hours for days, and some not at all. But in such final moments of preparation, a restrained but fierce adrenaline rush provides intense clarity. My colleagues are extremely good at what they do, and as the briefing proceeded, I noticed their steely confidence and immoveable courage. With anticipation and awe, I sensed I was about to see, by the grace of God, something of extraordinarily rare beauty - an authentic miracle of passionate goodness, pure courage, and the most excellent love.


Bob and the security team walked us through escape routes and contingency plans for each person involved, in case crowds of onlookers became hostile mobs ready to unleash their anger upon anyone who threatened their livelihood. And we hoped to do precisely that - to threaten, disrupt and shut down the business they were conducting at the expense of innocent girls.


Our investigators had set up a ruse to convince the brothel keepers to allow us to transport as many child victims and perpetrators as possible on a bus to an offsite party, where the girls' services would be needed. Once at the safe house, location "Bravo," the girls would be rescued and the perpetrators arrested by a squad of Cambodian National Police.


Bob Mosier, a former SWAT team and criminal investigations division commander, coolly answered my question with characteristic precision. He explained that if a pimp had a gun on the bus, we would move into standard police response and neutralize the threat.


"We will request that the police have checkpoints along route 598, so that officers will be available to follow the bus or stop the bus and assist the victims and staff if something goes wrong," Mosier said.


He then outlined a reasonable scenario in which the local police authorities could be called upon to aid in capturing or eliminating such a threat to the safety of children, IJM staff, and our operatives.


"What if a mob gathers and threatens the safety of IJM staff? Does everyone know the exit strategy?" Mosier quizzed us. Though he was certain everyone did, Mosier started at the beginning: "First, anyone in danger should call or radio Will Henry immediately. Will will have temporary command over two buses of Cambodian National Police waiting here on the main road outside the village," he said pointing to the map. "He will direct the police to your location in the village at any moment you feel you're in imminent danger."


"In a few minutes I will hand out a more detailed emergency evacuation strategy, including what happens if we need to evacuate Bravo. But, the most important thing to remember is this: Don't panic; we will get you out."