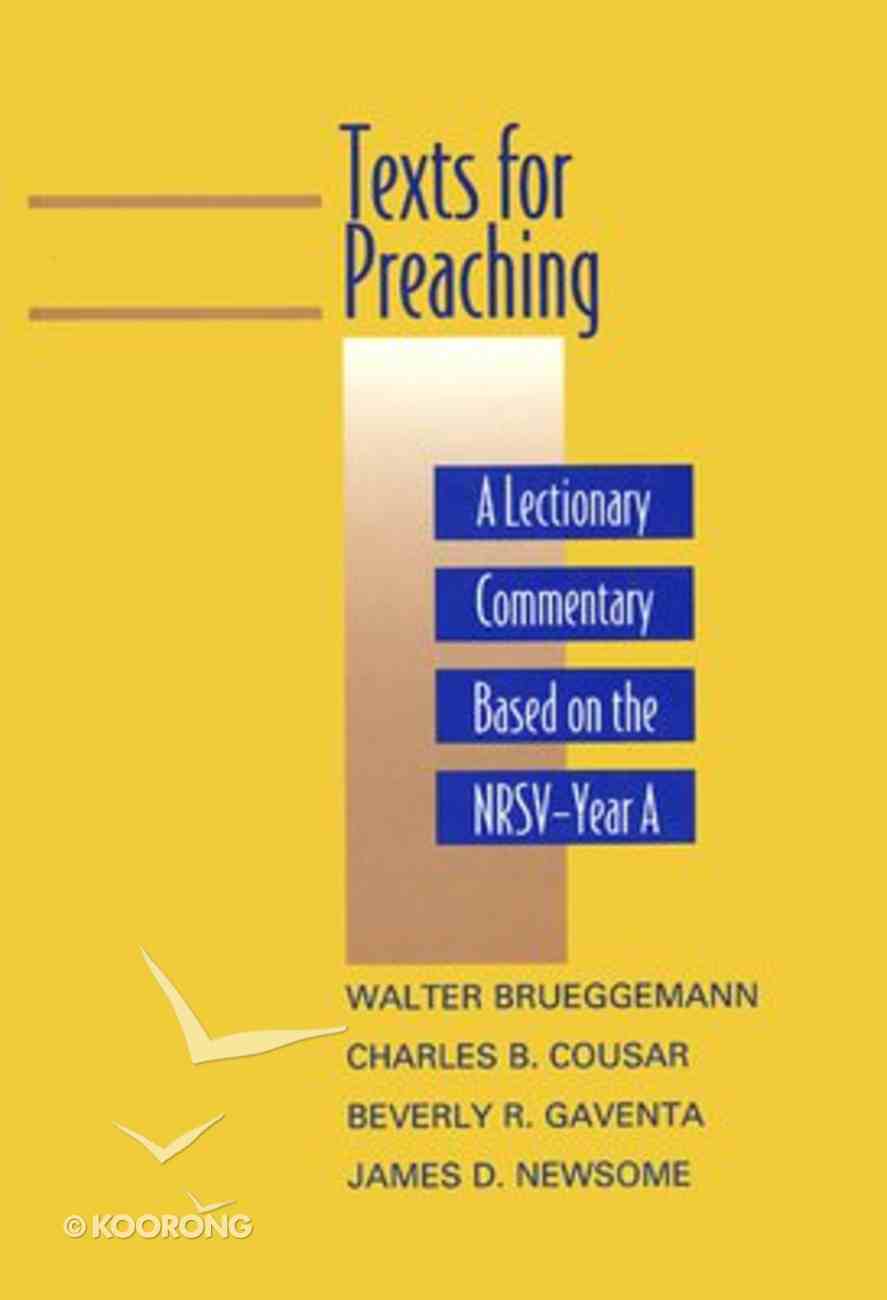 Texts For Preaching (Year A)
---
Free Shipping
for orders over $99.
608 Pages
-Publisher
The authors of this commentary offer it not as some final testimony to what the text may or should mean, but as one witness among many to the vitally of the Word in the life of the church. If our comments also offer insights to the preacher as she or he attempts to lead a congregation form "reading" the text to "performing" it our purposes will have been achieved.
-Publisher

Based on the New Revised Standard Version of the Bible, this third in a series of three volumes provides resources for an entire year of sermons and offers practical help for preachers and others who use the Revised Common Lectionary. Beginning with Advent, this unique and comprehensive resource deals with lectionary texts for Year A. Each of the four texts--the Old Testament, Psalter, Gospel, and Epistle--for each Sunday and important festival day, including Christmas, Ash Wednesday, and Good Friday, is treated. A brief introdution for the day indicates the general thrust of the texts and the relationships among them, emphasizing the interpretation of the texts themselves. Also included are suggestions concerning the implications of the texts for life today.


-Publisher
Charles B. Cousar (Ph.D., University of Aberdeen) is Professor Emeritus of New Testament at Columbia Theological Seminary. He is the author of numerous books, including the Galatians (Interpretation series) and Philippians, Philemon (New Testament Library). He is also a co-author of the three-volume set Texts for Preaching: A Lectionary Commentary Based on the NRSV.
Beverly Roberts Gaventa is Helen H. P. Manson Professor of New Testament Literature and Exegesis at Princeton Theological Seminary in Princeton, New Jersey. She has published a number of books including "Mary: Glimpses of the Mother of Jesus" and "Our Mother Saint Paul".
Dr. Walter Brueggemann (Th.D., Union Theological Seminary, New York:; Ph.D., St. Louis University) is Professor Emeritus of Old Testament Theology and Interpretation at Columbia Theological Seminary, Decatur, GA .
His award-winning Theology of the Old Testament (Fortress Press, 1997) quickly became a foundational work in the field. The Association of Theological Booksellers presented Walter Brueggemann and Fortress Press with a Theologos Award for Best General Interest Book at a dinner in Brueggemann's honor, for the award-winning book, Deep Memory, Exuberant Hope: Contested Truth in a Post-Christian World.


His recent publications include Mandate to Difference: An Invitation to the Contemporary Church, The Theology of the Book of Jeremiah, Like Fire in the Bones: Listening for the Prophetic Word in Jeremiah, and The Word That Redescribes the World: The Bible and Discipleship.