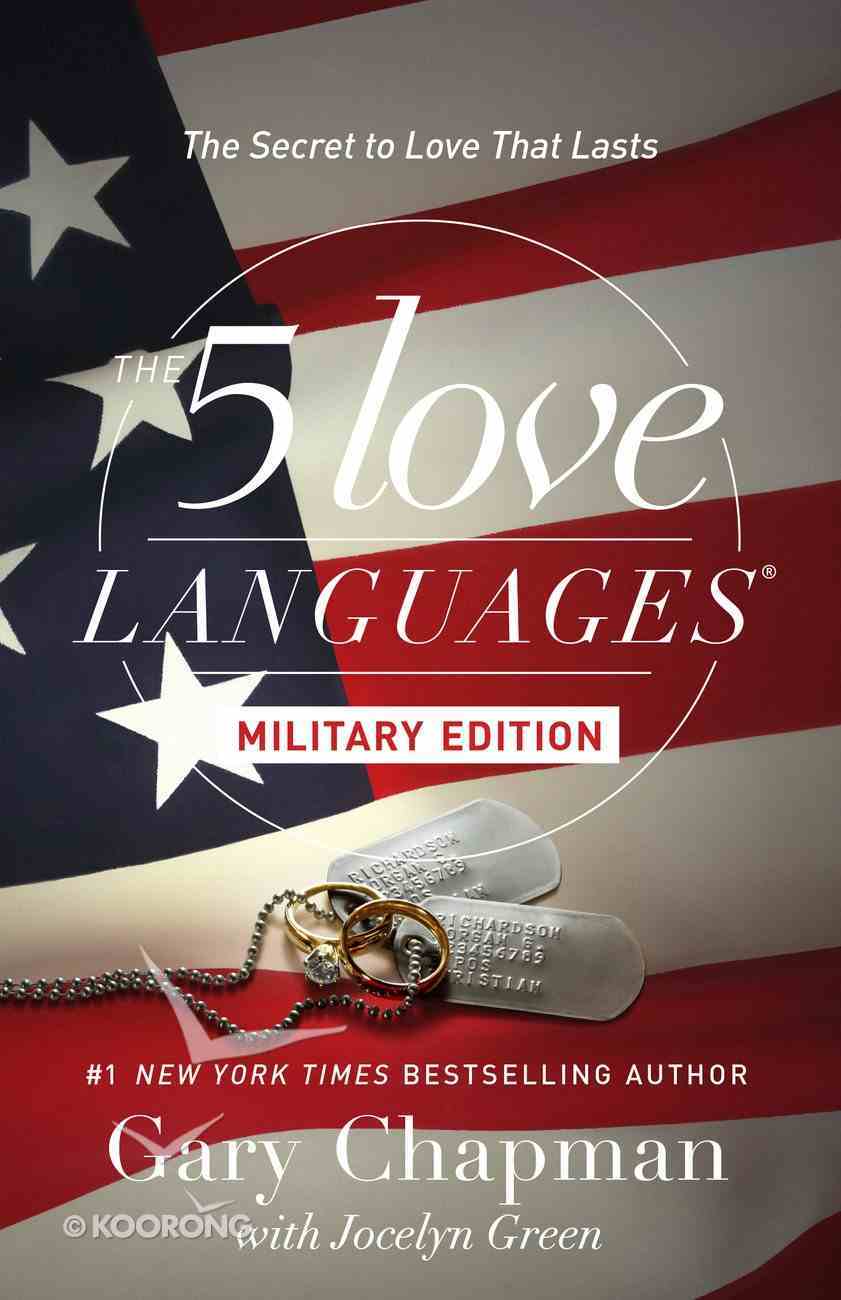 The 5 Love Languages Military Edition
New York Times bestselling author Dr. Gary Chapman guides couples in identifying, understanding, and speaking their spouse's primary love language - quality time, words of affirmation, gifts, acts of service, or physical touch. Chapters are categorised by love language...
Instant download
---
Expected to ship within 1 hour from Australia.
---
Read using our free app on your tablet or mobile!
---
Free Shipping
for orders over $99.
New York Times bestselling author Dr. Gary Chapman guides couples in identifying, understanding, and speaking their spouse's primary love language - quality time, words of affirmation, gifts, acts of service, or physical touch.

Chapters are categorised by love language for easy reference, and each one ends with simple steps to express a specific language to your spouse. You can build a lasting, loving marriage together.

"The Five Love Languages is consistently ranked in the top 5 books in the New York Times' bestseller list. We have not only benefitted personally in our marriage from Gary Chapman's insights, but it has helped us in our relationships with our children, our wider family and our friends. It is an immensely practical book that is easy to give to anyone interested in strengthening their relationships - whether or not they have a Christian faith."
~~ Nicky and Pippa Gumbel - Vicar of HTB and Pioneers of Alpha

"Gary Chapman's insights in The Five Love Languages have been of enormous help to us in our own marriage and family life. Discovering how another person feels loved, often in a very different way to ourselves, is the key to putting love into action. Countless other couples and parents have been similarly impacted by Gary's insights and we have been so grateful to be able to include them in The Marriage Course, The Marriage Preparation Course and The Parenting Courses. We could not recommend the Five Love Languages too highly and actively promote it wherever we can."
~~ Nicky and Sila Lee - Founders of The Marriage Course




Advice for military couples


"As soon as I arrived in Afghanistan, I began reading The 5 Love Languages®. I had never read anything so simple yet so profound." - Anonymous soldier


If you are in a military relationship, you know the strain of long deployments, lonely nights, and difficult transitions. For extraordinary challenges like these, couples need specific advice.


In this updated edition of The 5 Love Languages®:Military Edition, relationship expert Dr. Gary Chapman teams up with Jocelyn Green, a former military wife, to speak directly to military couples. They share the simple secret to loving each other best, including advice for how to:

Build intimacy over long distances Reintegrate after deployment Unlearn harsh military-style communication Rebuild and maintain emotional love Help your spouse heal from trauma
and more
With more than 10 million copies sold, The 5 Love Languages® has been strengthening millions of relationships for over 25 years. This military edition will inspire and equip you to build lasting love in your relationship, starting today.


Includes stories from every branch of service, tips for expressing love when apart, and an updated FAQs section.



-Publisher
New York Times best-selling author, Dr. Gary Chapman seeks to fulfil his call to the ministry as a pastor, speaker, and author. He speaks extensively throughout the U.S. and internationally on marriage, family, and relationships. The government of Singapore invited him to present his marriage seminar there and the Chaplainfds Office of NATO issued a special invitation for Dr. Chapman to speak to the NATO forces in Germany. Other engagements have taken him to England, Africa, Saudi Arabia, Turkey, Mexico and Hong Kong.

Sales exceeding 5 million copies earned him the Platinum Book Award from the Evangelical Publishers Association for The Five Love Languages, which has been translated into over 36 languages. Almost 30 other books including: The whole Love Languages series; The Five Languages of Apology; Desperate Marriages: Moving Toward Hope and Healing in Your Relationship; Now What? Marriage After Children; Profit Sharing: Making Money An Asset in Your Marriage and Anger: Handling a Powerful Emotion in a Healthy Way, Love is a Verb; God Speaks Your Love Language; The Family You've Always Wanted, plus five DVD series are also among his publications. He also hosts a weekly radio program Building Relationships with Dr. Gary Chapman, which airs on more than 170 stations.

On the home front, Dr. Chapman is Senior Associate Pastor of Calvary Baptist Church in Winston-Salem, North Carolina with over 35 years of pastoring and marriage counselling experience. He and his wife, Karolyn, have two adult children and two grandchildren.

Dr Gary Chapman holds the following educational qualifications:

Southwestern Baptist Theological Seminary
Ph.D., Adult Education
M.R.E., Education Administration

Wake Forest University
M.A., Anthropology

Wheaton College
B.A., Anthropology; Minor: Bible

Moody Bible Institute
Diploma, Pastor's Course

Duke University
Graduate work: History of Education; Educational Psychology

University of North Carolina
Graduate work: Philosophy of Education; Comparative Education
- Publisher.
JOCELYN GREENis an award-winning author, freelance writer and editor. A former military wife, she authored, along with contributing writers, Faith Deployed: Daily Encouragement for Military Wives (Moody 2008) and Faith Deployed . . . Again: More Daily Encouragement for Military Wives (Moody 2011). Jocelyn is also co-author for Battlefields & Blessings: Stories of Faith and Courage from the War in Iraq & Afghanistan (AMG Publishers 2009), which won the Gold Medal from Military Writers Society of America in 2010. She is the editor of www.WivesinBloom.com , the online magazine of Christian Military Wives, and maintains her own award-winning Web site for military wives at www.faithdeployed.com . She holds a B.A. in English from Taylor University, and is an active member of the Evangelical Press Association, the Advanced Writers and Speakers Association and the Christian Authors Network. She and her husband have two children and reside in Cedar Falls, Iowa.
<div> <p><b>advice For Military Couples</b></p> <p><i>"as Soon As I Arrived In Afghanistan, I Began Reading</i> The 5 Love Languages<i>&reg;. I Had Never Read Anything So Simple Yet So Profound." - Anonymous Soldier</i></p> <p>if You Are In A Military Relationship, You Know The Strain Of Long Deployments, Lonely Nights, And Difficult Transitions. For Extraordinary Challenges Like These, Couples Need Specific Advice.</p> <p>in This Updated Edition Of <i>the 5 Love Languages&reg;:</i><i>military Edition</i>, Relationship Expert Dr. Gary Chapman Teams Up With Jocelyn Green, A Former Military Wife, To Speak Directly To Military Couples. They Share The Simple Secret To Loving Each Other Best, Including Advice For How To:</p> <ul> <li>build Intimacy Over Long Distances</li> <li>reintegrate After Deployment</li> <li>unlearn Harsh Military-style Communication</li> <li>rebuild And Maintain Emotional Love</li> <li>help Your Spouse Heal From Trauma<br> <i>and More</i></li> </ul> <p>with More Than 10 Million Copies Sold, <i>the 5 Love Languages&reg;</i> Has Been Strengthening Millions Of Relationships For Over 25 Years. This Military Edition Will Inspire And Equip You To Build Lasting Love In Your Relationship, Starting Today. </p> <p><b>includes Stories From Every Branch Of Service, Tips For Expressing Love When Apart, And An Updated Faqs Section.</b></p> </div>
Bestsellers in Relationships