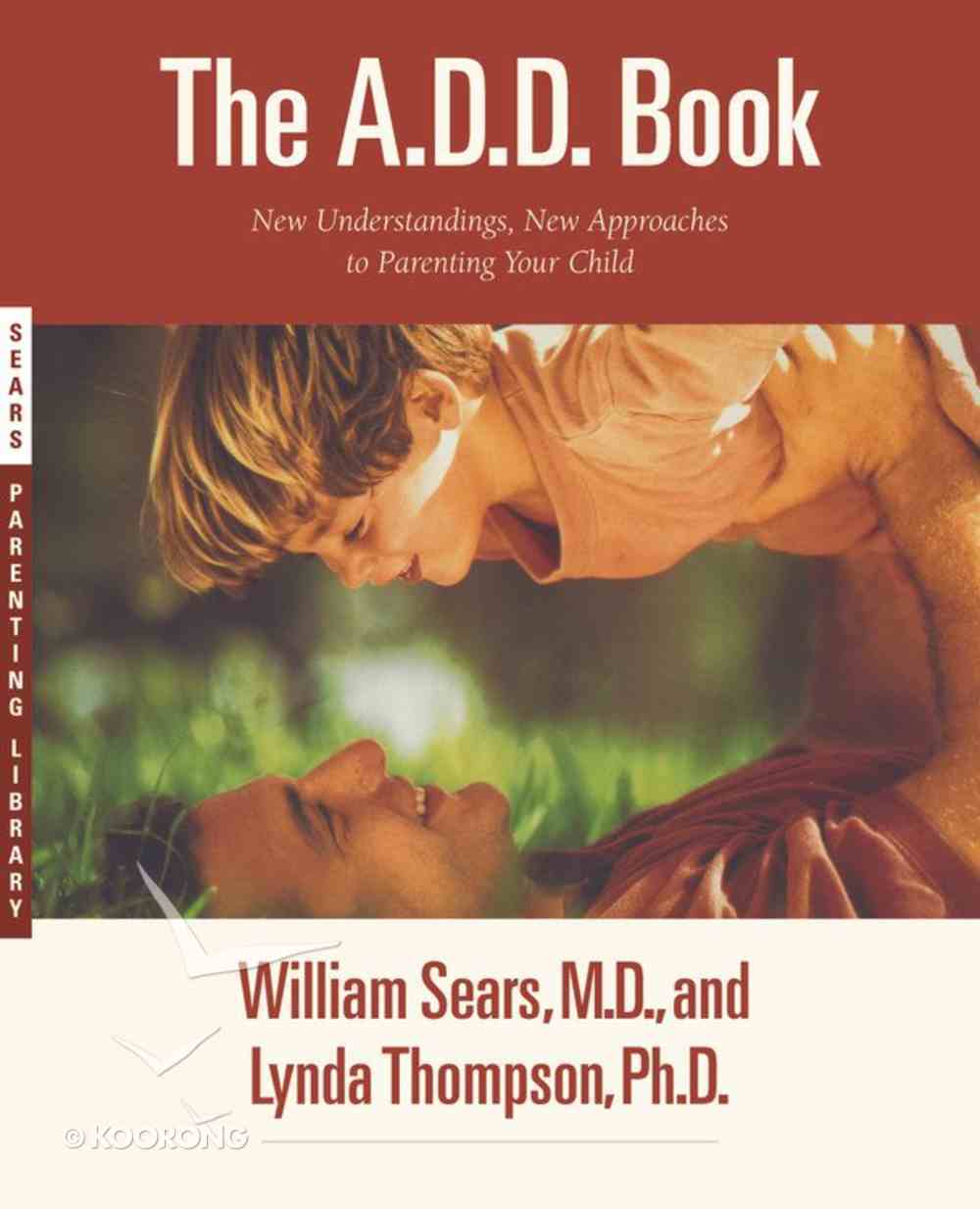 The A.D.D Book (Sears Parenting Library Series)
An estimated 20 percent of boys and up to 8 percent of girls have attention deficit disorder -- a condition marked by distractibility, short attention span, impulsiveness, and hyperactivity. Many physicians routinely prescribe Ritalin, an amphetamine-like drug, to modify the...
Out of Stock
Available to Order
---
Expected to ship in 4 to 5 weeks from Australia.
---
Free Shipping
for orders over $99.
An estimated 20 percent of boys and up to 8 percent of girls have attention deficit disorder -- a condition marked by distractibility, short attention span, impulsiveness, and hyperactivity. Many physicians routinely prescribe Ritalin, an amphetamine-like drug, to modify the behavior of A.D.D. children. But as Dr. William Sears and child psychologist Lynda Thompson explain, drug therapy is not the only way to approach A.D.D.Drawing on the latest research findings and their own experiences with A.D.D. children, Sears and Thompson show that these kids actually possess certain read advantages: tenacity, energy, creativity, spontaneity, and the ability to hyperfocus. They offer a state-of William the-art self-help approach to A.D.D. that will help parents reduce or eliminate the need for Lynda drugs -- including cutting-edge neurofeedback techniques and learning strategies that empower A.D.D. children and teach them how to cope.Full of real-life case histories, this landmark guide is an indispensable resource for every parent with an A.D.D. child -- and the only book available that focuses on the positive side of A.D.D.
-Publisher
William Sears, M.D., is a former assistant professor at the University of Southern California School of Medicine. He is the host of America Online's "Parent Soup" forum and is the pediatric and parenting expert for the "Parentime" on-line service. He and his wife, Martha Sears, R.N., the parents of eight children, appear frequently on national television and are the authors of sixteen books. Lynda Thompson, Ph.D., is a child psychologist and director of the ADD Centre in Toronto, Canada.
-Publisher
One of America's most trusted pediatricians outlines an effective, drug-free approach to treating children with Attention Deficit Disorder. Your child with A.D.D. can flourish-without drug therapy. That's the revolutionary and reassuring message that Dr. William Sears delivers in The A.D.D. Book. Dr. Sears, whose bestselling books, including The Baby Book and The Discipline Book, have established him as one of the country's most reliable authorities on parenting, joins forces with child psychologist Lynda Thompson, Ph.D., to provide all the information that you as a parent need to help your child with A.D.D. thrive. In The A.D.D. Book you'll learn what A.D.D. is and what it is not, how to tell whether your child has A.D.D., and how to increase your child's learning ability both at home and at school. Dr. Sears and Dr. Thompson outline effective behavior modification strategies that reach beyond the widely prescribed drug therapy to improve your child's cognitive abilities while reducing hyperactivity. Using real-life case studies and the results of the most recent scientific research, they offer guidelines for living with and helping your child with A.D.D., including: * Ways to improve your child's attention and motivation in the classroom * Tips for helping your child learn to handle frustration * Ways to increase parent-child communication and develop time-management techniques for the entire family * Advice on selecting the right professional help * How neurofeedback (using computers to increase attention skills) can help your child learn * How to know if your child needs medication and how to make the right decisions about using it Dr. Sears and Dr. Thompson take a positive approach to A.D.D. They believe that A.D.D. is a difference rather than a disorder, and they explain how you can make some of the behavioral and personality traits that are characteristic of A.D.D. work to your child's advantage. Their book is a clear, comforting, and uniquely comprehensive parents' guide to A.D.D.
-Publisher
William Sears received his pediatric training at Harvard Medical School's Children's Hospital and Toronto's Hospital for Sick Children. He has practiced pediatrics for nearly thirty years and is associate clinical professor of pediatrics at the University of California School of Medicine, Irvine. ýMartha Sears is a registered nurse and a parenting and breastfeeding consultant. Together the Searses have authored eleven books on parenting, childcare, and nutrition. ýChristie Watts Kelly has a degree in elementary education from the University of Memphis. Now a freelance writer and editor,


William Sears, M.D., is the author of more than 30 books, including "Dr. Sears' L.E.A.N. Kids", which he wrote with Sean Foy.ý