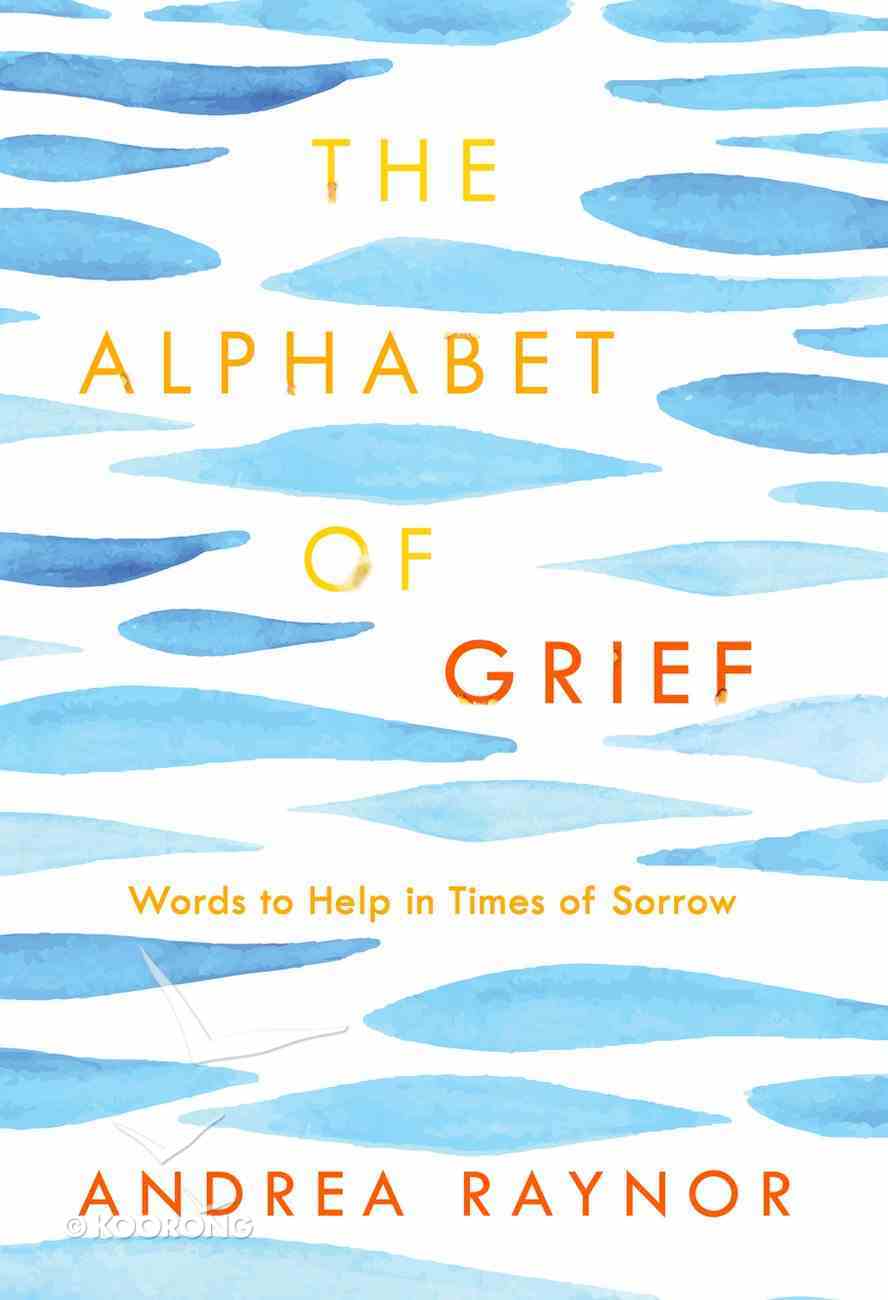 : "I chose each word in this book based on the countless hours I have spent with grieving people. Not only have they have shared with me the pain of loss but they have taught me about the daunting and...
Out of Stock
Available to Order
---
Expected to ship in 4 to 5 weeks from Australia.
---
Free Shipping
for orders over $99.
:"I chose each word in this book based on the countless hours I have spent with grieving people. Not only have they have shared with me the pain of loss but they have taught me about the daunting and sometimes mysterious journey of living."
-Andrea Raynor, The Alphabet of Grief

Chaplain and spiritual counselor Andrea Raynor knows that when the funeral service is over, the friends leave, and the house grows quiet, grief can be overwhelming. In The Alphabet of Grief, she uses the letters of the alphabet as starting points for simple reflections on loss and hope. Each chapter concludes with a meditation and an affirmation-something to do and something to believe.

You are not alone. Find spiritual companionship in these brief but powerful thoughts on the sacred journey of grief.


-Publisher
Andrea Raynor received her Master of Divinity from Harvard Divinity School and served as a chaplain at Ground Zero after the September 11, 2001 terrorist attacks. A cancer survivor herself, she now continues helping others through her hospice work. She lives in Rye, New York.
:
Preface


We all yearn for comfort when someone we love dies. In the immediate aftermath of death, we may find it in the company of friends and family or in the rituals of faith. But when the funeral services are over, when friends leave and the house grows quiet, many are left floundering. The unchangeable reality of loss looms like a shadow in our every days. We can feel lost and alone, even when surrounded by people who love us. Things we thought might offer some small measure of solace, or at least distraction, often fall miserably short. To what do we turn? It's rarely television—and music is often too potent an emotional trigger—so many reach for a book. When one is grieving, however, reading is quite a different experience than it was before. Those who once considered themselves voracious readers discover they cannot take in more than a few pages before losing focus. Most don't want a treatise on grief. They don't want to be educated, particularly, and they certainly don't want platitudes. They want a few simple thoughts or images to hold on to, a few stepping-stones across the river of sadness.


The Alphabet of Grief was written for this purpose: to offer simple but thoughtful reflections to ease the isolation and loneliness of grief. Using the letters of the alphabet as rungs on the ladder of sorrow, I chose each word based on the countless hours I have spent with grieving people. Not only have they shared with me the pain of loss but they have also taught me about the daunting and sometimes mysterious journey of living. It is for them—for every face around the bereavement table, for everyone who has known loss—and for you that I have written this book.


Absence is to love what wind is to fire; it extinguishes the small, it enkindles the great.


—Roger de Bussy-Rabutin


Absence


Just as silence can be deafening, absence can be full of presence. This is often the case after someone dies, although it may take some time to notice. The absence of one we love can press in on us, swallowing us like Jonah in the belly of the whale. When will we be spit out? When will this suffering, this darkness, cease? We listen for the phone to ring. We wait for the doorknob to turn and a familiar voice to call "I'm home!" And each moment we must take a deep breath and remind ourselves of the one thing we cannot have: the physical presence of our loved ones.


Since my father's death, my mother cannot bring herself to sit on the stool in the kitchen where he sat as they sipped their morning coffee. Nor can she curl up in the chair in the family room where he fell asleep virtually every night watching TV. In some ways, this accentuates his absence—the empty chair, the empty place at the table—but in other ways, the space is filled with his presence. I sit on his stool and gaze out the kitchen window, imagining his eyes taking in the blue of the sky or a bird in flight. I look at my mother reading the paper and can feel how she held my father's gaze, sitting there, elbow to elbow for almost sixty years. The hole left by his death is so profound that we begin to fill it with our longing, with our tears, and with our memories.


And yet, somehow, the heightened awareness of his absence mysteriously invokes the comfort of his presence. Like the reflection of a mountain on a still and pristine lake, he is here and not here. We are learning to live with the reflection of him. I see him reflected in my mother's tender words and in the life they shared together. My mother sees him in the way I think, in my son's athleticism, my daughter's creativity, my sister's flashing brown eyes, and in the specks of him scattered like stardust in our family and in the writings he left behind.


A reflection is no substitute for the real thing, but it can sometimes summon an aspect of the ones we are missing. It can trigger a sensory memory; it can make the distance between them and us feel not so terribly far. Instead of saying, for example, "He is not here. She is not here," we can look for the parts of them that remain. They live in our stories and in the ways our souls are connected in love. Because we can no longer hold their hands, sometimes it helps to hold something that belonged to them in order to cope with their absence. We wrap ourselves in her sweater, we wear his watch, we cuddle her beloved stuffed bear. One woman I know takes her husband's cane with her when she goes on errands. "I know it's silly," she tells me, "but having it there next to me in the car makes me feel less alone. If I'm going out, I say, 'Come on, Vin, we're going to the store.'" Her husband's cane is a touchstone for her. By itself, it is just a cane. Imbued with her memories, it is a talisman that has the power to draw her husband near again.


We cannot change the fact that our loved ones are physically absent from us, no matter how much we hurt, no matter how much we protest or shake our fists at the heavens, but we can look for them in the clues they have left behind. The broken heart is never empty; it has been cracked open. And flowing from the cracks is a love that rises like an eternal spring within us. Nothing will replace the warmth of my father's hand resting on my mother's—but his presence fills the silence as she remembers.


Meditation: Today I will try to feel the presence of my loved one as strongly as I feel the absence. I will visualize a happy, perhaps even insignificant moment, remembering every detail, until warmth begins to fill my heart center.


Affirmation: Although my loved one is absent, I will open my heart to happy memories.


Bestsellers in Grief, Comfort & Consolation