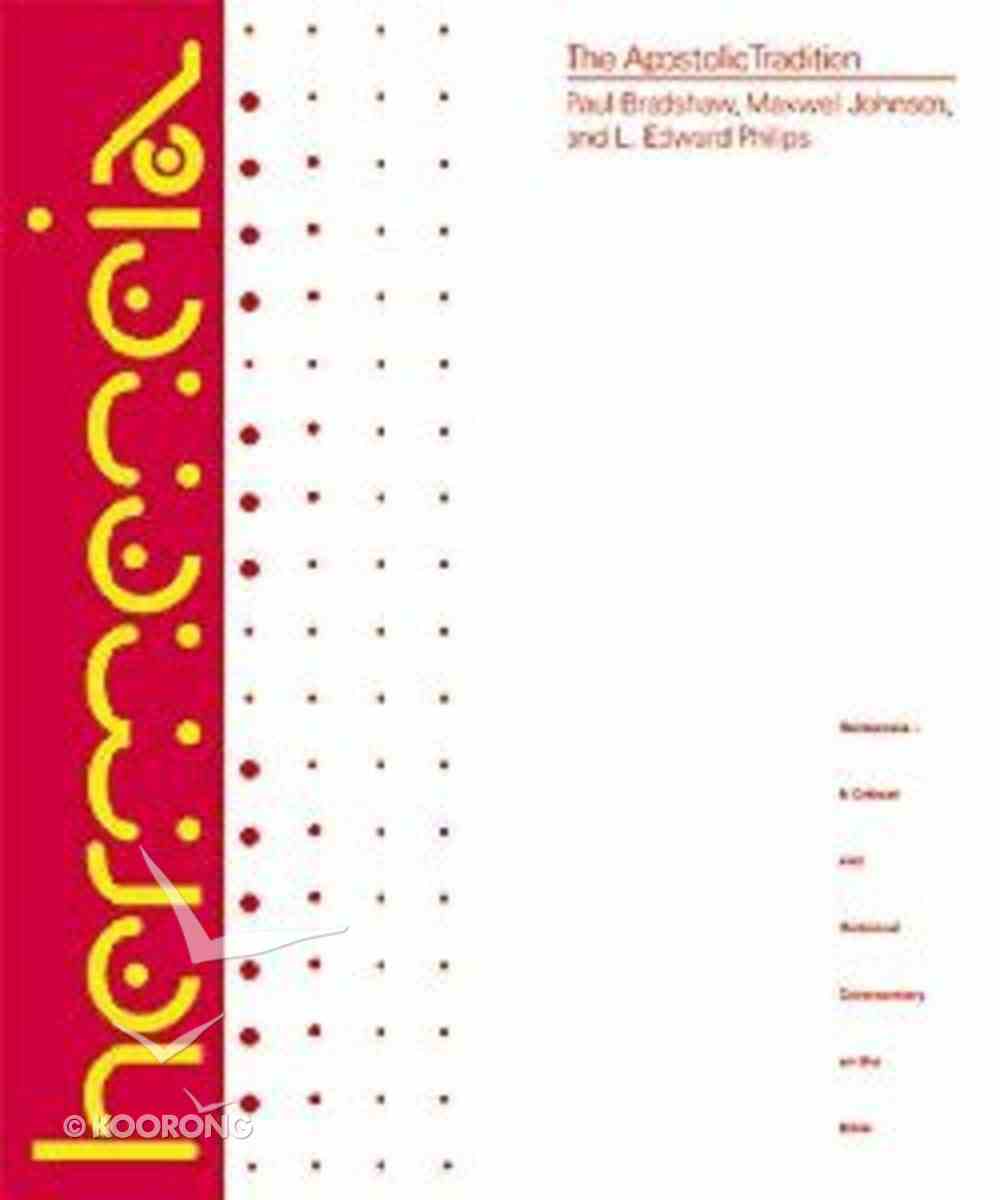 The Apostolic Tradition (Hermeneia Series)
Special Order
0 Available.
---
Free Shipping
for orders over $99.
288 Pages
-Publisher
"The anonymous early church order that became known as the Apostolic Tradition and conventionally attributed to Hippolytus of Rome has generated enormous scholarly discussion since its discovery in the nineteenth century. Surprisingly, however, there has never before been a comprehensive commentary on it such as there is for other patristic works. We have here attempted to remedy this defect, and at the same time we have offered the first full synoptic presentation in English of the various witnesses to its text. We have also taken the opportunity to develop our argument that it is neither the work of Hippolytus nor of any other individual. Instead, we believe that it is a composite document made up of a number of layers and strands of diverse provenance and compiled over a period of time, and therefore not representing the practice of any one Christian community."? from the PrefaceThis Hermeneia volume provides an important contribution to New Testament research as well as the study of the patristic era.
-Publisher
Paul F. Bradshaw (Ph.D., Cambridge University; D.D.,London University; D.D. honoris causa, Oxford University) is Professor of Liturgy and Director of the London Undergraduate Program. He has written or edited over twenty books and has contributed more than eighty articles or essays. His book, The Search for the Origins of Christian Liturgy, has become a standard textbook.
Other recent publications include: The Apostolic Tradition: A Commentary (with Maxwell E. Johnson and L. Edward Phillip; Hermeneia Commentary Series; Minneapolis: Fortress Press); The New Westminster Dictionary of Liturgy and Worship (Louisville: Westminster Press); and Eucharistic Origins (New York: Oxford University Press).


Paul F. Bradshaw is Professor of Liturgy at the University of Notre Dame and Director of Undergraduate Studies at the University's London Centre. He is the author of The Search for the Origins of Christian Worship: Sources and Methods for the Study of Early Liturgy, now in its second edition (OUP, ý2002).ý

Maxwell E. Johnson, PhD, is professor of liturgy at the University of Notre Dame and an ordained minister of the Evangelical Lutheran Church in America. He is author of The Rites of Christian Initiation: Their Evolution and Interpretation (Liturgical Press, 2007, revised and expanded edition) and several other Liturgical Press books as well as being a frequent contributor to Worship.
Bestsellers in Biblical Studies