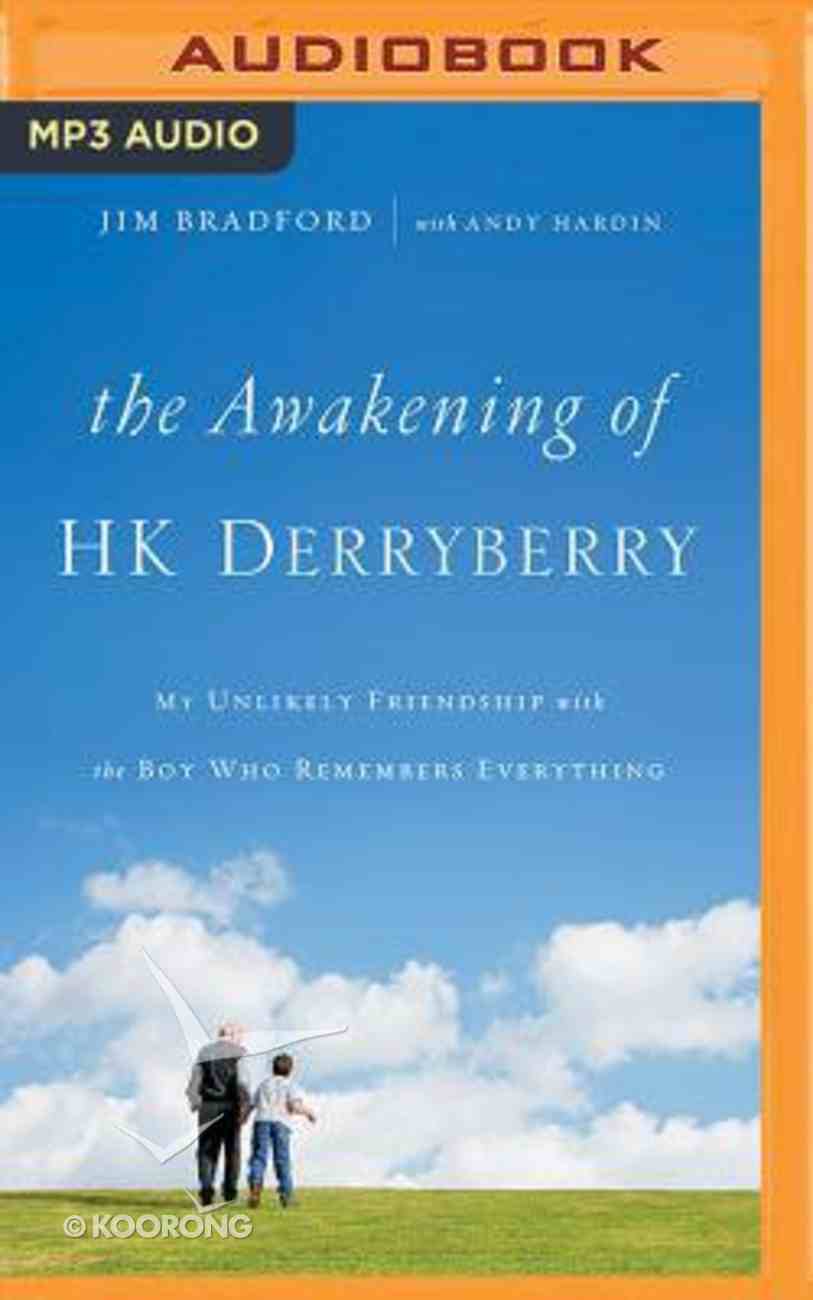 The Awakening of H.K. Derryberry (Unabridged, Mp3)
The Awakening of H. K. Derryberryis the inspiring story of how one man was willing to step out of his upper middle-class world into the life of a young, disabled boy with a dismal future. Little did Jim Bradford know...
Available Now.
1 Available
---
Expected to ship within 7 hours from Australia.
---
Free Shipping
for orders over $99.

The Awakening of H. K. Derryberryis the inspiring story of how one man was willing to step out of his upper middle-class world into the life of a young, disabled boy with a dismal future. Little did Jim Bradford know the transformational potential of that friendship for HK and himself.


H. K. Derryberry came into the world with the odds stacked heavily against him. He was taken from his unmarried mother s womb three months prematurely when she was killed in a car wreck. After ninety-six days of seesawing between life and death, HK s grandmother took him home.


One Saturday morning Jim Bradford, a successful businessman in his mid-fifties, happens into Mrs. Winner s Chicken and Biscuits and sees a nine-year-old s head pressed down against a black plastic boom box with a crooked antenna and three strips of silver duct tape stretched across the battery cover. He can t help but notice the long, white plastic braces on each of the child s legs. Mr. Bradford learns that HK s grandmother is forced to bring him to the fast-food restaurant where she works, leaving him to sit alone all day at a small table, with only his boom box for company. On subsequent Saturdays Jim feels drawn back to the restaurant to meet with HK and begins spending every weekend with him.


Eventually it becomes apparent that buried beneath HK s severe disabilities is one spectacular ability. He is diagnosed with Highly Superior Autobiographical Memory (HSAM), which involves superlative powers of recollection that enable him to remember everything that has happened to him since the age of three. Less than one hundred people have been diagnosed with HSAM, but none of them have the physical disabilities of H. K. Derryberry.


"


-Publisher
Jim Bradford began a successful sales career with the Xerox Corporation in 1968. He entered the apparel industry in 1983 as the Division President of Sales for a traditional men's clothing manufacturer. In 1985, at the invitation of the British Trade Council, Jim had the honor of presenting a new line of English tailored clothing to HRH Prince Charles and Princess Diana as part of their royal visit to Washington, DC. He now works in the industrial uniform industry as a Senior National Account Executive for UniFirst Corporation. Jim has a BS degree from the University of North Alabama, and lives in Brentwood, Tennessee with his wife, Brenda. They have two grown daughters and two grandchildren.nbsp;
Bestsellers in Audio Book