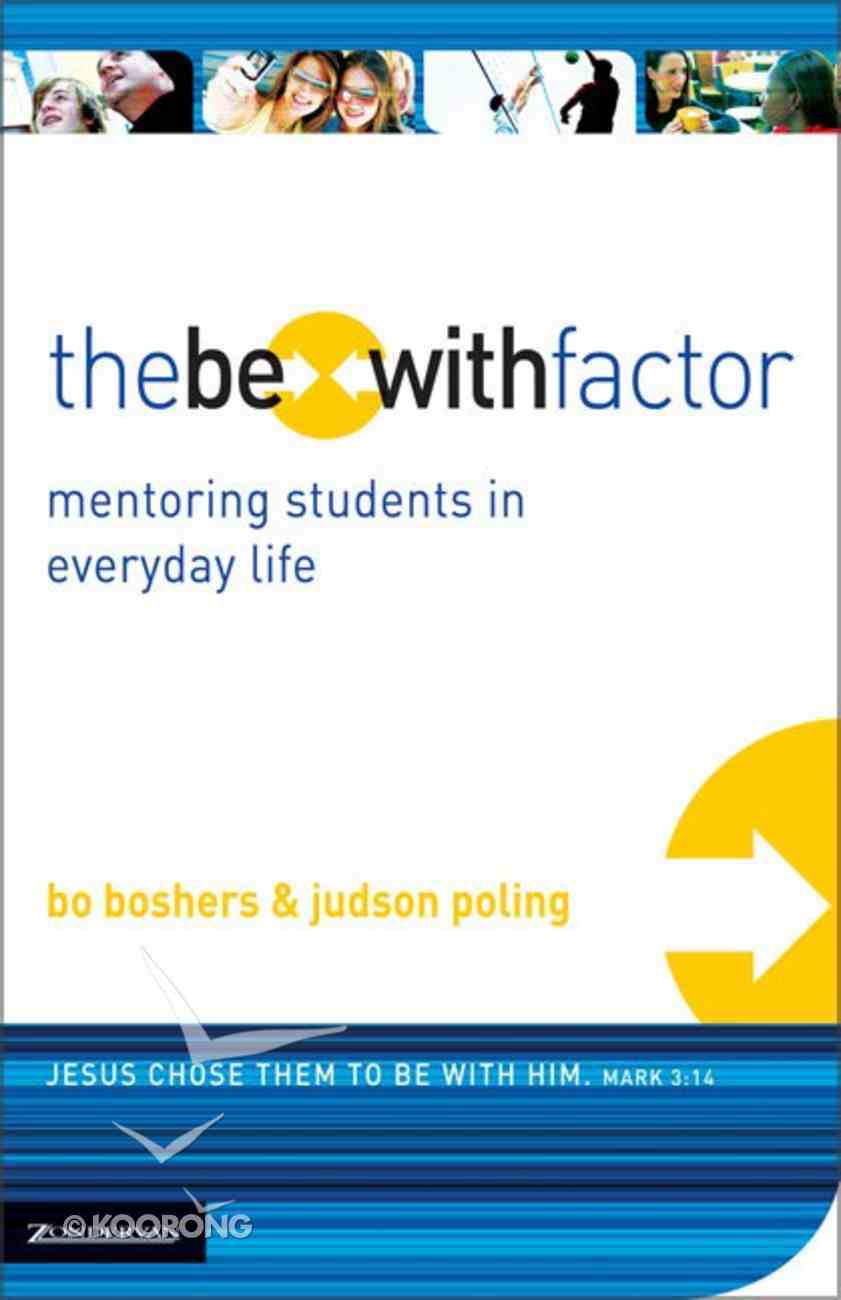 You want to make a huge, lasting difference in the lives of students, right? The Be-With Factoris a powerful, practical, and sustainable mentoring approach that does just that. It's patterned after Jesus' example of being with his disciples in a...
Out of Stock
Available to Order
---
Expected to ship in 5 to 6 weeks from Australia.
---
Free Shipping
for orders over $99.
You want to make a huge, lasting difference in the lives of students, right? The Be-With Factoris a powerful, practical, and sustainable mentoring approach that does just that. It's patterned after Jesus' example of being with his disciples in a variety of real-life settings. It's not another program, but it's about reaching a generation by focusing on a few and doing life with them. Amazing things happen when you spend time with a student purposefully and intentionally--running an errand together, going to the store, grabbing lunch, letting ministry happen naturally. The impact of your faith, shown in everyday life, will transform students' lives--and the impact on one student has the potential to reach a whole generation.Being with not only works, it's Jesus' way. Set forth in careful detail by two veteran leaders who live it, the Be-With factor isn't an add-on--it's the very heart of youth ministry. This book will help train and equip you, and once you adopt the Be-With lifestyle,
-Publisher
Genuine, lasting life-change is the heartbeat of youth ministry ... but too few students experience it. Through a simple but revolutionary process of 'mentoring a few,' dramatic transformation can happen in the lives of students---with benefits that spread throughout the ministry.
-Publisher
PRODUCT DETAIL
Catalogue Code 

244554

Product Code 

0310271606

EAN 

9780310271604

UPC 

025986271602

Pages 

176

Department Ministry
Category Youth Ministry
Sub-Category Youth Leaders
Publisher Zondervan
Publication Date 

Mar 2006

Sales Rank 

16508

Dimensions 

215 x 139 x 12

mm

Weight 

0.226

kg
Poling is co-author of the bestselling series, Walking With Poling is co-author of the bestselling series, Walking With God. God.
Bo Boshers is vice president of student ministries at the Willow Creek Association and author of several books, including Student Ministry for the Twenty-first Century, Walking with God, and numerous other books in the Student Impact series. Previously, he served for ten years as executive director of Student Impact, the senior-high ministry of Willow Creek Community Church in South Barrington, Illinois. SPANISH BIO: Bo Boshers es director ejecutivo del ministerio de estudiantes de Willow Creek Association y autor de varios libros, incluyendo La Fuerza G, Momentos de Vision, Ministerio de Estu
Table Of Contents
Introduction
What Does It Take To Be A Mentor?.....11
Chapter 1
A Frame Of Mind.....15
Chapter 2
A Guiding Strategy.....29
Chapter 3
A Plan Of Action.....45
Chapter 4
A Ready Student.....59
Chapter 5
A Safe Environment.....71
Chapter 6
A Clear Invitation.....85
Chapter 7
A Plan For Meetings.....97
Chapter 8
A Commitment To Be-with.....107
Appendix
A Guide For Launching A Mentoring Relationship.....121
If it matters, it's measured. In business, it's profit. In politics, it's votes. In sports, it's points. If you're reading this book, you're among those of us from all walks of life who care about the spiritual development of students. You might be a volunteer, a parent, a professional youth worker, or a pastor. How do you measure effectiveness in what you do with students? Is it attendance at weekly meetings? Is it the number of students in small groups? Is it how many kids go to camp? How many kids get baptized? How few students you lost over the course of the year compared to last year's attrition? Do you count letters of appreciation from students, their parents, or your senior pastor? By those kinds of measures you might feel pretty good at the end of a ministry season. You might not. But what do you really know about your ministry if you only pay attention to easily measured externals? When you check in with your own heart at the end of the ministry season, how do you feel deep down inside about what you've accomplished --- and what it took out of you to accomplish it? There may have been a huge cost to your family, or outside friendships may have suffered. Was it worth it? chapter 1 A Frame of Mind the payoff I (Bo) have been working with students in full-time ministry for over twenty years. I've taught other leaders about vision and building prevailing youth ministries, strategic planning, developing teams, organizing large events --- and at one time led one of the largest student ministries in the country. Despite all the rewards that came from this, I return again and again in my mind to two questions: What really matters? Am I successful in God's sight? Let me take you back to my early ministry years. When I first started out in youth ministry, I was twenty-seven, a new Christian, and knew very little about what I was doing. I'd been a football coach, but then God called me into full-time ministry. In my first few years of leading students, I learned so much. I learned one of the most important lessons about what really matters while sitting on a brick wall in a Burbank, California church parking lot. Every Tuesday night we held a high school outreach event at our church. We worked hard to provide a quality program where Christian students could invite their non-Christian friends to hear the message of Christ. Several hundred high school students came for an evening of sports activities and a program that featured drama, a live band, and a message. We never knew what to expect or what God might do. After the program was over, the leadership team --- about twelve high school and college students --- gathered in a certain spot in the parking lot. It wasn't a planned meeting, but we always seemed to spontaneously show up there --- sitting on a low brick wall. At first there'd be a lot of people --- students who came for the first time, or regulars who stopped by to say hi or to introduce a friend. At some point, all the students said good-night and I'd be standing there with just the guys I was mentoring: Coleman, Dave, Troy, Trevor, and Alex. The six of us were always the last to leave. And that's when the storytelling would begin. There were all sorts of stories --- both funny and touching. We laughed about what went wrong that night, how bad the music was, mistakes in the drama, something I said in the message that didn't make sense, or something that happened during the sports competition. Then the mood changed and the stories shifted from the activities of the evening to the people whose lives were being changed. One of my guys had been praying for months that a friend would come, and he shared how the friend finally showed up for the first time --- and loved it. Some had conversations with friends about God, and right then and there God had begun to change their lives. Others had friends who showed signs of wanting to know more about God. And then there were those fantastic celebrations when we found out one of the students had prayed to receive Christ. I remember looking at these guys, listening to their stories, and thinking, This is what I want to give my life to. This is what really matters to me. I had an incredible sense of fulfillment when I looked into the eyes of these students and saw their compassion, their commitment, and their love for God. Right there in that empty parking lot, sitting on that brick wall, God showed me what ministry was all about. That is why I worked so hard and what allowed me to get through all the other 'stuff' that has to be done in youth ministry --- those times were the payoff. When we finally said good-bye and climbed into our cars to head home, I always left with an overwhelming sense of gratitude in my spirit. Although I was tired from the evening, I also had new energy and passion for ministry because I knew these guys and I believed in them. And, twenty-some years later, I still love 'sitting on the brick wall,' looking into the eyes of a few high school students I know and love well, seeing their passion, their desire, and their ambition to change the world. was Jesus a success? Imagine for a minute how we might measure the effectiveness of Jesus' ministry while he was here on earth. Granted, he drew some large crowds at the height of his popularity. But only 120 were gathered in the upper room a few weeks after his death --- not the several hundreds who'd cheered his triumphal entry into Jerusalem or the thousands who'd flocked to hear him on the hillsides. Where did they all go? And what about the senior spiritual leaders of his day who almost universally opposed him, his message, and his methods? A snapshot taken just before Pentecost looks like a ministry in decline, if not dead in the water --- not a movement that would shake up the world. Despite all this apparent 'failure,' Jesus unblinkingly proclaimed that he'd completed what the Father sent him to do (John 17:4). So by Jesus' measure of success (whatever it was), he'd made it. He said he'd accomplished all his goals.
Bestsellers in Youth Ministry