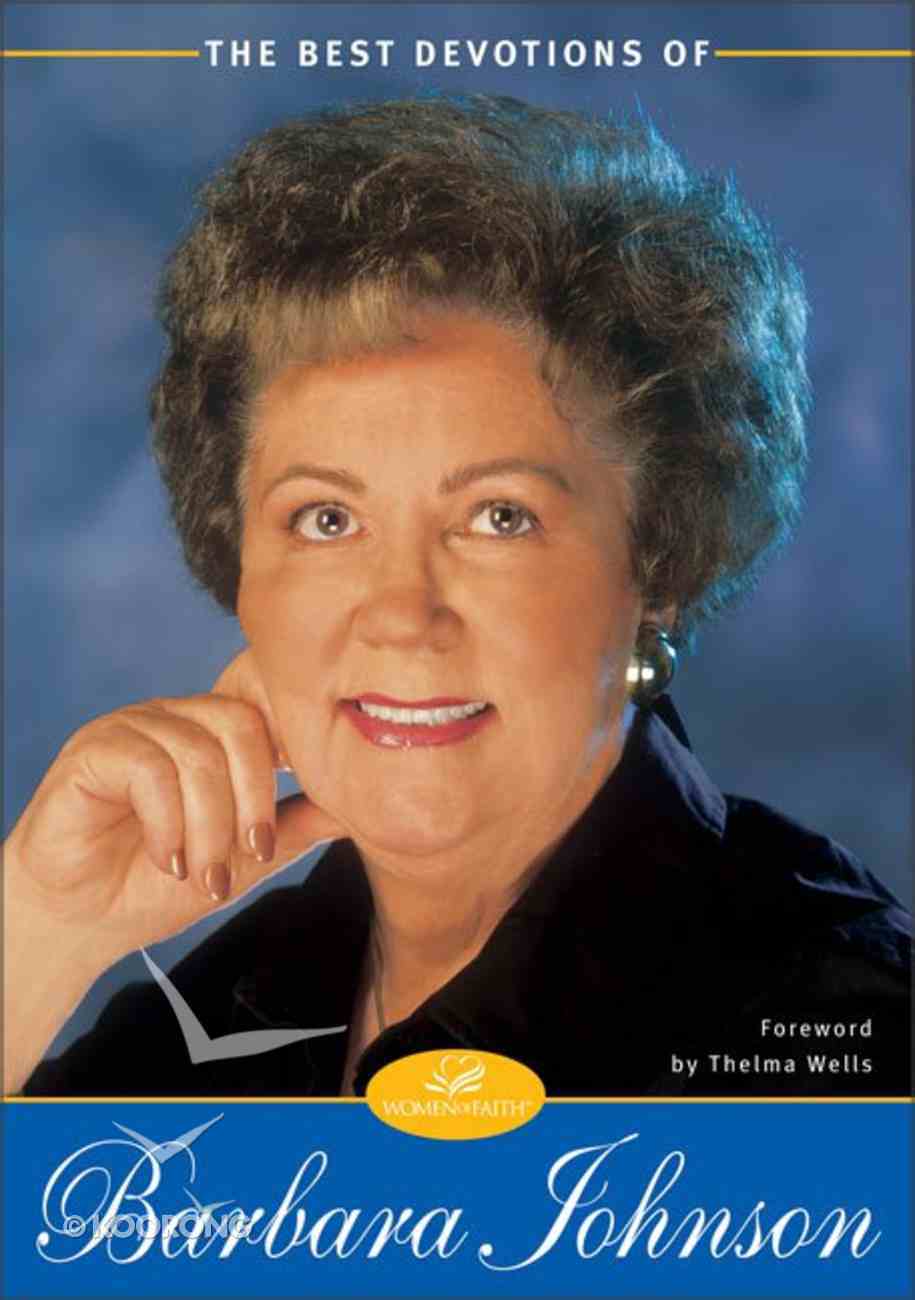 The Best Devotions of Barbara Johnson
Culled from their best-selling devotionals, these "best of" devotions from Patsy Clairmont, Barbara Johnson, Marilyn Meberg, Luci Swindoll, Sheila Walsh, and Thelma Wells are now available as individual books by your favorite WOF author to add to your collection or...
Out of Stock
Available to Order
---
Expected to ship in 5 to 6 weeks from Australia.
---
Free Shipping
for orders over $99.
Culled from their best-selling devotionals, these "best of" devotions from Patsy Clairmont, Barbara Johnson, Marilyn Meberg, Luci Swindoll, Sheila Walsh, and Thelma Wells are now available as individual books by your favorite WOF author to add to your collection or to give as a gift to your sister, mother, aunt, grandmother, or friend.
-Publisher
If Barbara Johnson has brought comfort to thousands of women, it's not because her life has been comfortable. Barbara has known more heartbreak than most of us ever will. But that is why her encouragement truly inspires, why her humor makes us smile, and why her insightfulness can move us to tears. Through thick and thin, Barbara has held onto God--and so she is uniquely qualified to help us see how God holds onto us and won't let go, no matter what life dishes out.The sixty selections in this book represent the cream of Barbara's devotional crop. Kick your shoes off, settle back, and unwind. Or give this book to someone you know who would enjoy a chuckle, a reflective pause, an 'Aha!' moment, maybe even a tear. Insights and encouragement lie within--and more than a few grins!
-Publisher
PRODUCT DETAIL
Catalogue Code 

168178

Product Code 

0310241758

EAN 

9780310241751

UPC 

025986241759

Pages 

208

Department General Books
Category Devotions
Sub-Category Women's Devotions
Publisher Zondervan
Publication Date 

Oct 2001

Sales Rank 

16658

Dimensions 

185 x 163 x 15

mm

Weight 

0.145

kg
Barbara Johnson, known as "the Geranium Lady" sold more than five million books, including Splashes of Joy in the Cesspools of Life, Living Somewhere Between Estrogen and Death, and Stick a Geranium in Your Hat and Be Happy and her latest book Humour Me, I'm Over the Hill, part of her more recent, Humour Me series. In 2005 she was awarded the prestigious Lifetime Achievement Award by the Evangelical Christian Publishers Association. Barbara and her husband served hurting families through their non-profit "Spatula Ministries" and as a popular "Woman of Faith" conference speaker she delivered comforting, humour-filled messages across America. Barbara died in 2007 and is survived by her sons David and Dean, former daughter-in-law Shannon, and two grandchildren, Kandee and Tiffany.- Publisher.
Foreword By Thelma Wells 9
Have You Checked Your Wardrobe Lately? 13
Golden Moments 16
Twenty-five Ways To Make Your Day 19
Forgiveness Means Get Over It 22
No Strings Attached 25
Be A Joy Germ 27
Enjoy The Ride! 30
The God Who Sees 33
A Gift From The Scrap Pile 36
Dot-to-dot Living 39
Bountiful Blessings 41
The Most Powerful Perfume 44
Encouraging Words 47
Drunk Without Drinking 50
Little Reminders 53
Delightfully Deceived 56
The Whole World In His Hands 59
Never Cage Joy 62
God's E-mail 65
We're All Toads 68
Grace-full In His Sight 71
Singing In The Rain 74
'show Me The Love!' 77
Love Everflowing 81
Diamond Dust 84
The Road To Hana 88
Keep Sending Out Love 91
Hooray For Gardening! 94
God's Kingdom Fireworks 98
Nestle, Don't Wrestle 101
The Genius Of Kids 105
Unquenchable Grins 111
Never Outgrow Motherhood 115
Whatever, Lord! 119
Love More And Regret Less 122
The Boomerang Principle 124
All My Marbles 128
Birthday Countdown 133
Making Life Bearable 137
The Big Joy Room---in The Sky 139
Crazy Quilt 144
Spread Your Joy 147
God's Spiritual Stove 150
Waterproofing Life 153
The Messages Of Hands 157
Anticipate The Best! 160
Those Struggle Muscles 164
Humble Joy 167
God's Tear Bottle 170
Gotcha! 173
Prayer As Ointment 176
Heir-conditioning 179
Season Of Joy 182
Hug-a-day Club 185
Scrapbooks Of The Soul 188
Living At Geriatric Junction 190
Just A Little Hope 194
Dream Big 197
Merrymaking 201
Blessed By Stress 205
Have You Checked Your Wardrobe Lately? Therefore, as the elect of God, holy and beloved, put on tender mercies, kindness, humility, meekness, long-suffering; bearing with one another, and forgiving one another . . . but above all these things put on love. COLOSSIANS 3:12--14 NKJV Like everybody else, I have to get up and get dressed every day. Too often I go to my closet and throw my hands in the air: 'I don't have anything to wear!' My husband, Bill, shakes his head and laughs. 'No really,' I whine, peering into my closet and surveying the rod of hangers drooping with weight. 'This jacket is too worn,' I say to myself. 'It's got little fuzz balls all over it. This dress has gotten too small. That blouse hangs wrong at the shoulders; why did I let my sister talk me into buying it? This little number is totally outdated; I can't wear that. The blue sweater is the wrong color for my skin, and the pink one has a stain. Here's a good blouse, but I always feel frumpy in it. This one's uncomfortable; it chafes. This skirt is too long. This one's too short . . .' I sit on the edge of my bed and pout: 'Nothing to wear!' Bill is already back in the kitchen, oblivious to my dismay. Seasons come and go. Clothing styles change. Differ-ent regions of my anatomy fluctuate in size. Fabrics wear thin, fade, and lose their appeal. Good thing I have another closet with unlimited choices. I have a wardrobe that will never fade, wear out, or go out of style. Best of all, these clothes fit perfectly each time I pull them out and put them on. Have you checked your spiritual wardrobe lately? Recently a friend sent me a reminder about the apostle Paul's list describing the garments of the Holy Spirit in his letter to Colossian believers. First on his list is tender mercies. Also known as compassion, tender mercies are acts of empathy for weak or hurting people. They are usually motivated by feeling the same kind of pain as oth-ers or being able to imagine it. I call tender mercies the underwear of God's wardrobe---personal and next-to-the-skin. They are the foundation for everything that goes on the outside. Next on Paul's list is kindness. Everyone can use a warmhearted deed as simple as a smile. But kindness is more than that. It is an attitude that becomes part of your lifestyle. It involves treating others with honor and significance. The attitude of kindness is everyday stuff like a great pair of sneakers. Not frilly. Not fancy. Just simple and comfortable. Humility is next. No matter how much we win or lose in life, God wraps us in a beautiful cloak of grace. When we're humiliated, he loves us exactly as we are. When we're in the limelight, we understand the big part he played in our success. Meekness is one of my favorite things to wear. Some people think it's nondescript, but I disagree. Meekness makes it possible to endure difficult circumstances and poor treatment at the hands of others. It is a durable garment with interesting textures. And meekness looks different on everyone! How about long-suffering? Sometimes I wish that old rag would just wear out so I could get something more glamorous and colorful. But I know God has fashioned even this to enhance my life. There are times when long-suffering is the only appropriate thing to wear for a particular occasion---and then I'm glad it's in the closet. Bearing with others and forgiveness are the outerwear of God's designs. They are the last things we pull on over everything else before we go out into the world. It would get awfully cold without them. They protect us from the elements and keep the wind from blowing down our necks. As we go in and out of various experiences, we button them up often and keep trudging. Above all else, Paul says, put on love. Without this, we are never fully dressed. You might think of love as your best hat or the jeweled pin on the lapel of life. It is that one essential accessory you should never leave behind. Dust it off, shine it up. Never go out without it! Put away the shabby clothing of the past and enjoy all the garments in your spiritual wardrobe. Dress like the woman God made you to be. He replaces sackcloth and ashes for garments of praise! *** Dear God, thank you for the garments of grace you've prepared for me. I like your style. When I'm feeling poor and ragged, I'll remember you keep your children well dressed. Amen.