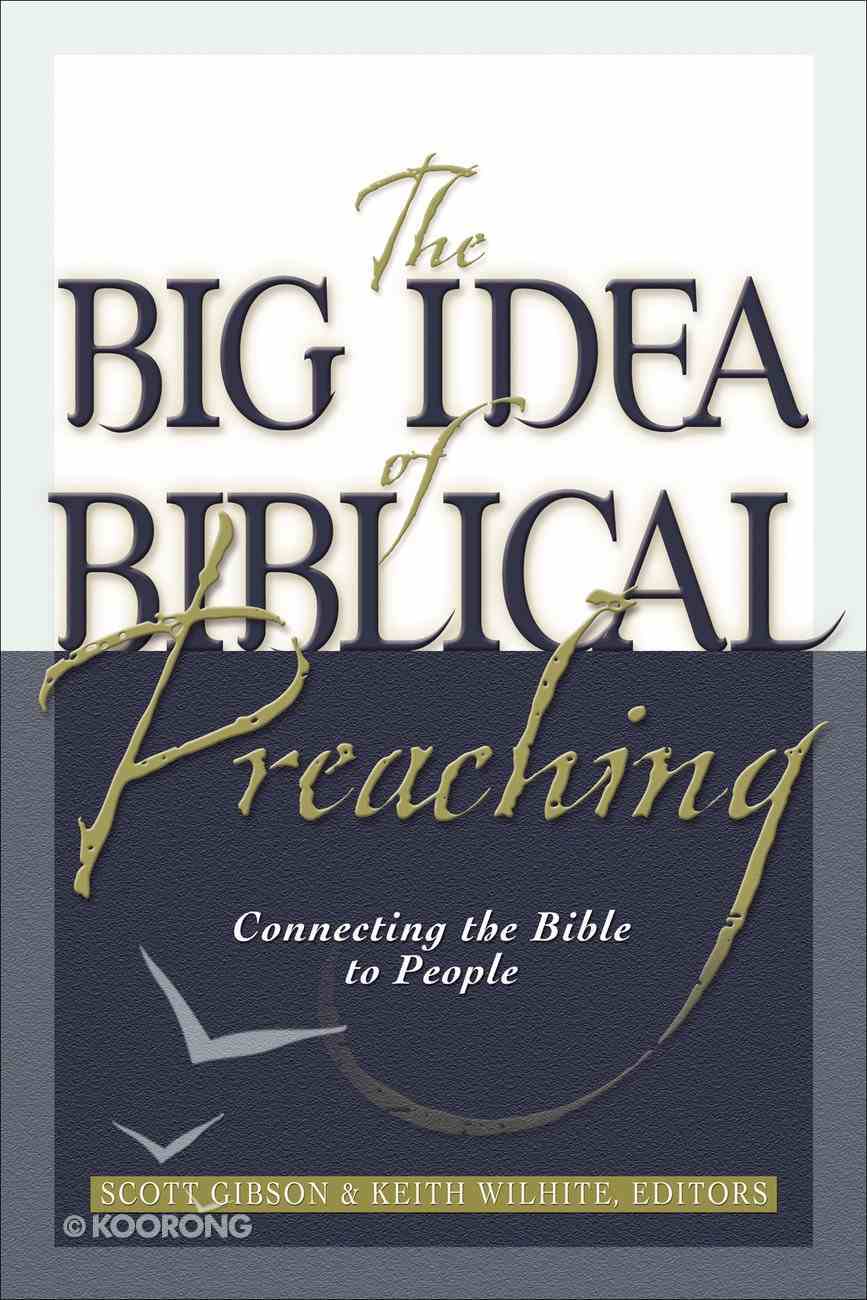 The Big Idea of Biblical Preaching
---
Free Shipping
for orders over $99.
11 Chapters
-Publisher
Building on the Baker best-seller Biblical Preaching by Haddon Robinson, which has sold over 150,000 copies, editors Keith Willhite and Scott M. Gibson offer The Big Idea of Biblical Preaching to new or seasoned preachers, seminarians, and lay speakers. Robinson's approach to preaching through developing a single idea into an expository sermon continues to hold true, even in today's diverse culture and changing congregations. Connecting individuals to biblical truths in a cogent, coherent manner is the main goal of preaching. Preachers grow sharper in their homiletic abilities as they become better equipped with the tools and methods that teach them how to deliver biblical messages that connect with people. The Big Idea of Biblical Preaching includes contributions from authors representing several major seminaries. Contributors include Duane Litfin, John Reed, Bruce Shelley, Joseph M. Stowell III, Bruce K. Waltke, Paul Borden, Terry Mattingly, Donald Sunukjian, and Scott Wenig. The authors provide an update to Robinson's methodology and defend its continued practice. End-of-chapter questions, suggested readings, and a tribute to Haddon Robinson are included.
-Publisher
Building on Haddon Robinson's paradigm for biblical preaching, this volume presents a contemporary defense for this approach to biblical preaching even in diverse cultures.
-Publisher
Scott M. Gibson (D.Phil, University of Oxford) is the Haddon Robinson Professor of Preaching and Director of the ThM. Program in Preaching at Gordon-Conwell Theological Seminary. He is past president and cofounder of the Evangelical Homiletics Society. He has served as a pastor and is one of the founders of Cornerstone Church Network. He is a graduate of Pennsylvania State University, Gordon-Conwell Theological Seminary, Princeton Theological Seminary, Knox College University of Toronto, and the University of Oxford . Among his many books are Preaching to a Shifting Culture, Preaching for Special Services, Planning Your Preaching, Should We Use Someone Else's Sermon? and Biblical Preaching Workbook.
-Editorial Review.
Keith Willhite(Ph.d, Universidad de Purde; Th.M., Seminario Teologico de Dallas) enseno sobre la predicacion y presto sus servicios presidente y profesor de ministerios pastorales en el Seminario Teologico de Dallas. ý Keith Willhite is an ordinary guy who "stands up in front of people and tells them where to go." At least that's the way his daughter described him . . . when she was three. Keith is the Chairman and Professor of Pastoral Ministries at Dallas Theological Seminary. But anyone who knows him well will tell you that his primary occupation is cheering for Kentucky basketball. Keith