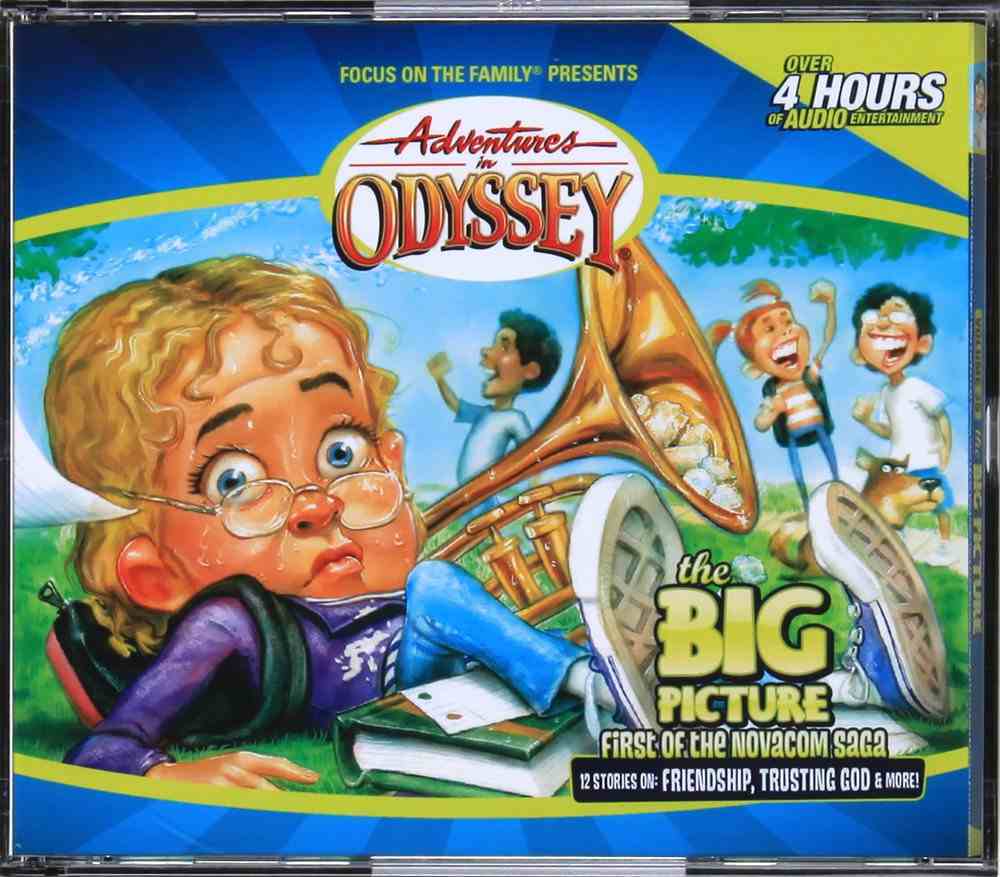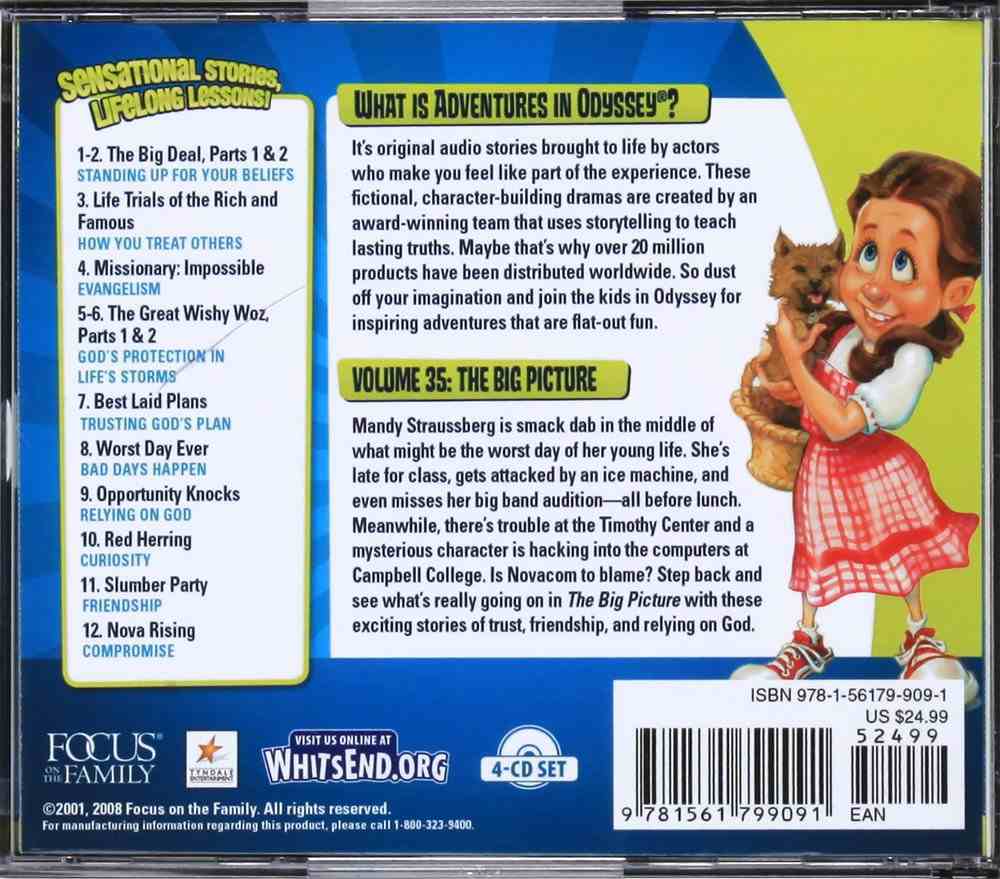 The Big Picture (#35 in Adventures In Odyssey Audio Series)
What's a day in Odyssey... without a sting operation to trace a computer hacker? Or time in prison with a marked man? Or an airborne journey without the plane? As you can see, things are rarely ordinary around Odyssey. But...
---
Expected to ship within 3 hours from Australia.
---
Free Shipping
for orders over $99.
What's a day in Odyssey... without a sting operation to trace a computer hacker? Or time in prison with a marked man? Or an airborne journey without the plane? As you can see, things are rarely ordinary around Odyssey. But strange as things sometimes get, the truth--and the big picture--always emerge after your radio friends embark on a life-changing adventure. Join them for the fun-filled discoveries as they catch sight of life's larger canvas. Hit play, then step back and admire God's greater design.
"The Big Deal I" standing up for what you believe
"The Big Deal II" standing up for what you believe
"Life Trials of the Rich and Famous" how you treat others
"Missionary: Impossible" mission work at home and around the world
"The Great Wishy Woz I" the folly of humanism
"The Great Wishy Woz II" the folly of humanism
"Best Laid Plans" God's plans sometimes differ from ours
"The Worst Day Ever" bad days happen
* "Opportunity Knocks" relying on God even when we don't know the next step
* "Red Herring" curiosity
"Slumber Party" friendship
* "Nova Rising" not compromising your beliefs
* These episodes are part of the Novacom story arc
Considered by fans the best years of Odyssey, volumes 17-35 are back in new collectible CD sets--perfect for new listeners to the show and families completing their Odyssey libraries ^#35: "The Big Picture" What's a day in Odyssey without a sting operation to trace a computer hacker? Or time in prison with a marked man? Or an airborne journey without a plane? As you can see, things are rarely ordinary around Odyssey. But strange as things sometimes get, the truth--and the big picture--always emerge. Volume 35 contains the following stories (and themes): The Big Deal 1 & 2 (standing up for your faith) Life Trials of the Rich and Famous (showing partiality) Missionary: Impossible (the mission field) The Great Wishy Woz 1 & 2 (God's protection in life's storms) Best Laid Plans (when God's plans supercede ours) The Worst Day Ever (Bad days happen) Opportunity Knocks (discerning God's will) Red Herring (curiousity) Slumber Party (friendship) Nova Rising (compromise)
-Publisher
1. The Big Deal^2. Life Trials Of The Rich And Famous^3. Missionary: Impossible^4. The Great Wishy Woz^5. Best Laid Plans^6. The Worst Day Ever^7. Opportunity Knocks^8. Red Herring^9. Slumber Party^10. Nova Rising^4 CDs
-Publisher
Bestsellers in Childrens Audio