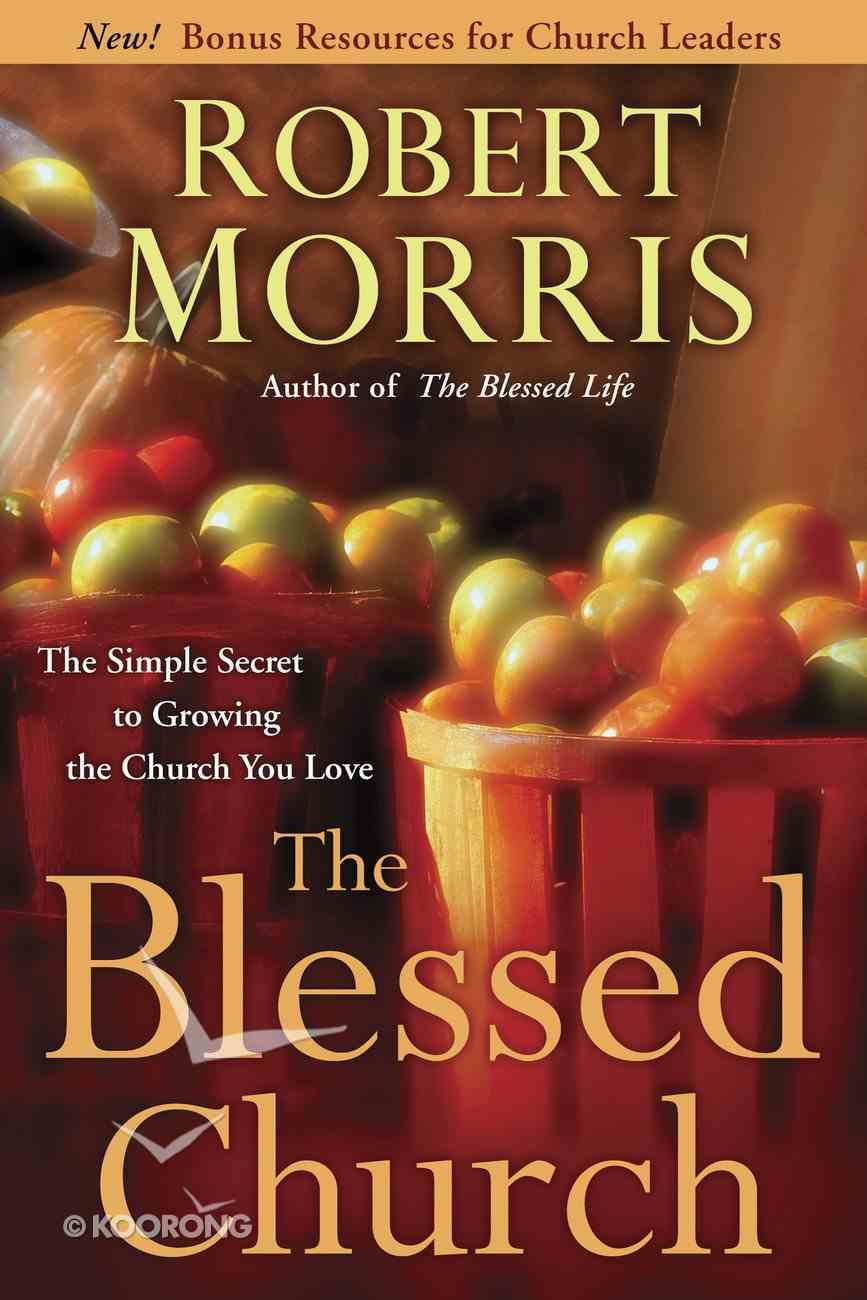 How can I help my church stay focused on its purpose? What would a culture of generosity look like for my church? What part does rest play in a healthy church? Whether you are a pastor, a volunteer, or...
---
Expected to ship on Monday from Australia.
---
Free Shipping
for orders over $99.
How can I help my church stay focused on its purpose?
What would a culture of generosity look like for my church?
What part does rest play in a healthy church?

Whether you are a pastor, a volunteer, or a church member, you want your church to grow well. After all, there's no better place to experience God than in the loving, healthy community of a church. But what does an effective church look like? Is it possible to grow and be healthy at the same time?
 
Pastor Robert Morris has experienced firsthand the spiritual and relational excitement of a growing, dynamic church. In The Blessed Church, Pastor Morris brings you practical wisdom for cultivating real growth by nurturing true and Biblical health in your spiritual community.

"In The Blessed Church Robert Morris reveals why Gateway Church in Dallas-Fort Worth has become not just one of the largest churches in America but also one of the most influential. Robert's devoted, attentive shepherding of this great fl ock is one reason why Gateway is so'blessed.' In The Blessed Church the biblical principles that lead to true success in the body of Christ are carefully explained. If you love the local church, as both Robert and I do, you won't want to miss the insights found in this helpful and practical book."
--Dr. Tony Evans, senior pastor, Oak Cliff Bible Fellowship; and president, The Urban Alternative
 
"Our world desperately needs healthy, vibrant churches, so I'm so thankful Robert Morris has written The Blessed Church--a book that draws on the Gateway 'back story' to describe the qualities of a healthy local church. More than anything, a heart for God and a love of people define the ministry of Pastor Morris and Gateway Church. If you want a growing vitality in your church, you will profit from every page of The Blessed Church."
--Chris Hodges, senior pastor, Church of the Highlands
 
"How has your church remained so healthy while growing so quickly?"

Robert Morris gets this question a lot. In other words, people want to know: "What's your secret?"
 
In The Blessed Church: The Simple Secret to Growing the Church You Love, Pastor Robert Morris unfolds why Gateway Church in suburban Dallas-Fort Worth is one of America's fastest-growing, spiritually enriching local churches--and still one of its healthiest. Written for both church leaders and lay people, The Blessed Church looks at the qualities that make church "work" in the twenty-first century and how that can enrich your church--whatever its size or vision.
 
With the humor and powerful stories he's known for, Morris shows how every component of your church--including mission, church government, teaching, worship, small groups, giving, and outreach--can receive God's richest blessings. Rather than bemoaning the problems of the contemporary evangelical church, The Blessed Church celebrates the expanding role of the body of Christ in the lives of individuals--starting right where you and your church are today.
-Publisher
PRODUCT DETAIL
Catalogue Code 

389712

Product Code 

9780307729750

ISBN 

0307729753

EAN 

9780307729750

Pages 

240

Department Academic
Category Church
Sub-Category Church Growth
Publisher Waterbrook Press
Publication Date 

Aug 2014

Sales Rank 

19746

Dimensions 

228 x 152 x 16

mm

Weight 

0.266

kg
ROBERT MORRIS is the senior pastor of Gateway Church in Southlake, Texas. He is a gifted communicator with over 20 years of experience imparting biblical principles on prosperity and personal growth. His passionate, practical and often humorous presentation touches believers and impacts even the unchurched. Pastor Robert resides in Texas with his wife and three children.ý
:God's Story, Not Ours

Short of being a passenger on a rocket ship to Mars, I was about as far away from my North Texas home as a man could be. I had just finished speaking at a pastor's conference in Australia when a young minister from New Zealand
approached me with a question. It was a familiar one: "What's the key?" He didn't have to elaborate. I was pretty sure I knew what he meant. But I encouraged him anyway.

"The key to what?" I responded.

"Gateway's growth. I mean…what in heaven's name is going on up there? What are you guys doing?"

He was referring to Gateway Church, the fellowship that it's my privilege to pastor. The "what's going on" at the heart of his question has been an ongoing story of astonishing growth and rising influence.

How astonishing? Well, Gateway began with a handful of friends and me in a living room Bible study back in 2000. As I write today, the church sees more than twenty thousand people participate in live worship and teaching each weekend. The growth has been steady, dramatic, and shows no sign of slowing down. On the pages that follow, I hope to reveal why I think we've experienced the blessings we have.

Nevertheless, I confess that I've had to work through some feelings of reluctance and awkwardness about writing this book.

That's because the last thing we—myself or any of our team—would ever want to do is appear to be bragging or patting ourselves on the back. The very thought of anyone saying "Who does that guy think he is?" makes me want to shrink back and count my blessings in grateful silence. But the Lord won't allow it.

The fact is, I don't think I'm anything special. And of all God's people, I'm the most aware that what we have experienced over the last twelve years has absolutely nothing to do with any smarts, special talents, or abilities I might possess.

On the contrary, I might be the most unlikely candidate you'll ever meet. But that's God's MO, isn't it? He chooses the rustic, barely educated fisherman Peter to carry the gospel to the cream of Jewish society. And He sends Paul, with
his elite education and sterling religious pedigree, to pagan Gentiles who couldn't care less about his Jewish credentials.

Thus, I'm not a walking advertisement for the church-growing power of natural talent, clever strategy, and brilliant marketing. I'm a living, breathing testament to the power of God's unfathomable grace.

Nevertheless, it's impossible to deny that God has done something remarkable at Gateway Church. Wherever we go, I and members of our team are asked about it. Those questions take a variety of forms:

• "What's your secret?"
• "To what do you attribute your church's amazing rate of growth?"
• "How did you become one of the largest and fastest growing churches in America in just a few short years?"
• "How have you been able to remain balanced, healthy, and focused while riding a virtual rocket sled of increase?"
• "How do you identify, develop, and/or attract leaders to your cause?"

It is to bring clear answers to these questions in a spirit of transparency, humility, and gratitude that I have finally undertaken this book. Frankly, God will not let me off the hook.

In the end, the Lord has made it clear that He wants the Gateway story told because it's His story—not because we've done everything right, but rather because He has accomplished something special in spite of our weaknesses and
mistakes. He wants these principles shared because they're His principles. And the church bodies scattered across planet Earth by the tens of thousands are His too. He wants to see them healthy, growing, influencing, and overcoming.

So on the pages that follow, I'll share what we've learned and what I've seen in the Word. Not because I have all the answers, but because I have some answers. A few of them may surprise you. Thus, throughout this book you'll find
little nuggets of truth and insight labeled "Keys to a Blessed Church."

To begin, I will share a brief overview of how I came to found Gateway Church and the amazing journey of grace and favor we have been on over the last dozen years. I'll follow that by sharing the spiritual principles, biblical precepts,
school-of-hard-knocks lessons, and surprising insights that have made that journey so extraordinary.