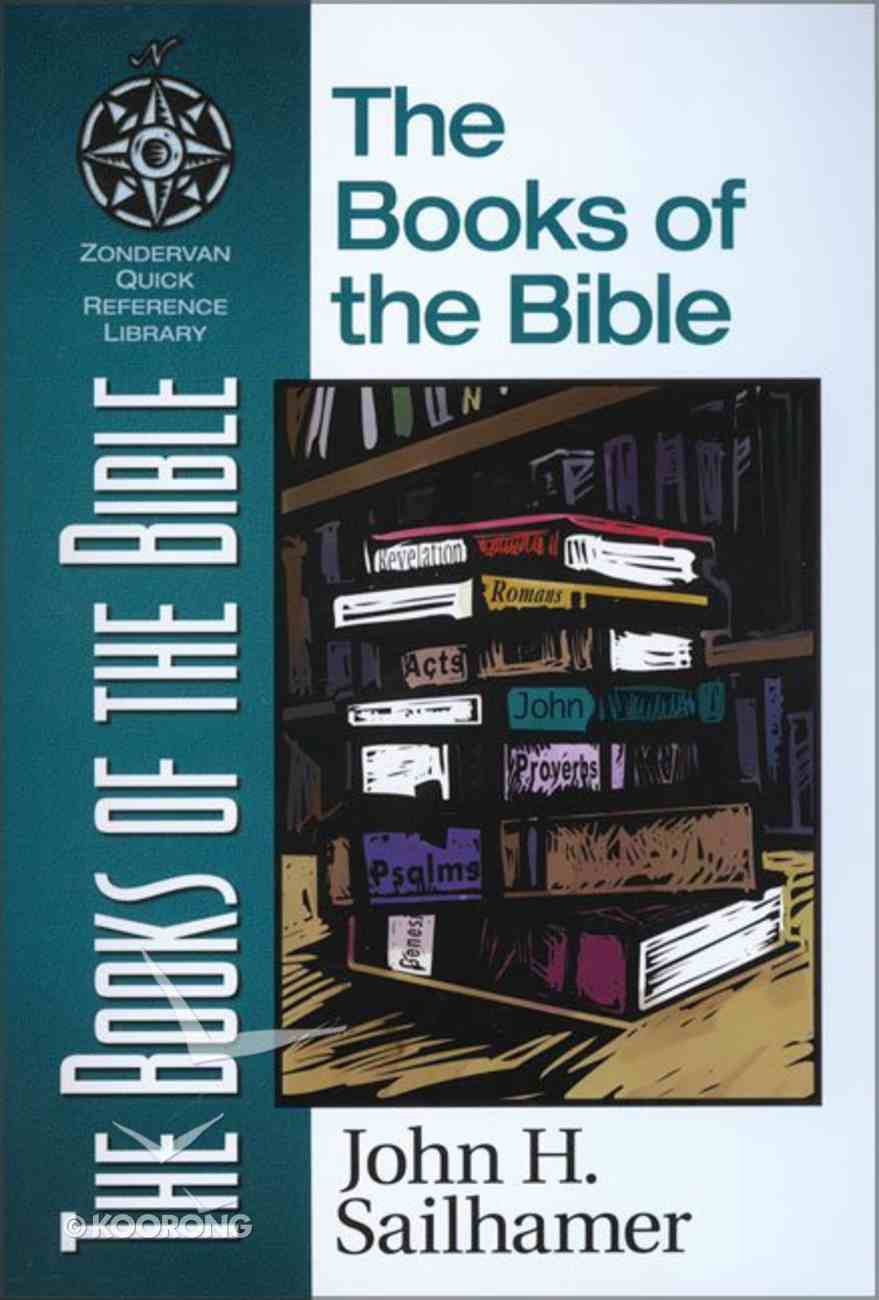 The Books of the Bible (Zondervan Quick Reference Library Series)
The Books of the Bible gives you an introduction to the Bible and essential grasp of - The 39 Old Testament Books - The 27 New Testament Books -- Turn here for exactly the kind of informative, easy-to-read overviews you're...
Out of Stock
Available to Order
---
Expected to ship in 6 to 7 weeks from Australia.
---
Free Shipping
for orders over $99.
The Books of the Bible gives you an introduction to the Bible and essential grasp of - The 39 Old Testament Books - The 27 New Testament Books -- Turn here for exactly the kind of informative, easy-to-read overviews you're looking for. From theology, to biblical archaeology, to the life of Christ and more, each volume covers a topic of vital interest to Christians in handy, one-page bits of information. The Zondervan Quick-Reference Library is knowledgeable, fascinating, and helpful. It cuts time and hassle by taking you straight to the heart of the things you most want to know about Christianity -- one minute at a time.
-Publisher
Here is one volume in a series of brief reference books for laypeople designed to be read in units of one or two pages
-Publisher
John H. Sailhamer (Ph.D., University of California at Los Angeles) is professor of Old Testament at Golden Gate Baptist Theological Seminary in Brea, California and was formerly senior professor of Old Testament and Hebrew at Southeastern Baptist Theological Seminary. He was President of The Evangelical Theological Society in 2000 and has published a number of books, including An Introduction to Old Testament Theology; The Pentateuch as Narrative: A Biblical-Theological Commentary; The Meaning of the PentateuchRevelation, Composition and Interpretation and Genesis (The Revised Expositor's Bible Commentary).
Koorong - Editorial Review.
Contents
Introduction
How To Use This Book
Acknowledgments
Christian Life Issues
Authenticity
Being Salt And Light
The Bible
Christian Character
Compassion
Contentment
Courage
Honesty
Purity
Self-control
Christian Life, General
The Church
Evangelism
Gossip/slander
Hypocrisy
Joy Of The Christian Life
Servanthood
Serving God
Tithing
Holidays/special Services
Baptism
Christmas
Communion
Easter
Father's Day
Good Friday
Mother's Day
Thanksgiving
Identity Of God
God As A Refuge
God As Creator/creation
God As Father
God's Character, General
God's Faithfulness
God's Forgiveness Of Us
God's Goodness
God's Holiness
God's Love
God's Majesty
God's Mercy
God's Power
God's Presence
God's Tenderness
God's Wisdom
Jesus
Life Issues
Death
Decision Making
Emotional Issues
Anger
Bondage To The Past
Disappointment
Disillusionment
Failure
Fear
Grief
Guilt
Hardship
Healing
Loneliness
Self-esteem
Worry
Endurance
Heroes
Leadership
Materialism/greed
Men's Issues
Money Management
Moral Issues
Pace Of Life/balance
Power
Regret
Risk Taking
Selfishness/pride
Values
Women's Issues
Work Issues
Marketplace Pressures
Success
Work/marketplace Issues
Workaholism
Relationship With God
Anger Toward God
Changed Life
Commitment To Christ
Confession
Discipleship
Doubting
Faith
Freedom In Christ
Glorifying God
God's Acceptance Of Us
God's Laws
Heaven
Lordship Of Christ
Obeying God
Praise And Worship
Prayer
Relationship With God, General
Sanctification/growing In Christ
Sin
Relationships
Comforting Others
Communication
Community
Control Issues
Draining Relationships
Family Relationships
Decay Of The Family
Destructive Parenting
Family Conflict
Family Relationships, General
Generation Gap
Parent--child Relationships
Parenting
Friendship
Love
Marriage And Dating
Adultery
Dating
Divorce
Intimacy
Male--female Differences
Marriage, General
Romance
Sex
Personality Differences
Relational Conflict
Small Groups
Truth Telling
Seeker Issues
Apologetics
Basics Of Christianity
Grace
Grace Vs. Works/legalism
Our Need For Christ
Our Value To God
Salvation
Fulfillment
Life Foundation
Misconceptions Of Christianity
New Christians
Other Religions
Spiritual Seeking
Social Issues
Abortion
Caring For The Poor
Homosexuality
The Power Of The Media
Racism
The State Of The World
Song Index
Drama Index
Genesis The book of Genesis is the introduction to the Torah and the rest of the Bible. It introduces and develops the central characters and themes of the Bible story. The main characters are God, humankind, and the chosen people, Israel; the main themes are human failure, divine grace, and hope. The narrative begins with God's creation of the world, including his special creation of human beings and his preparation of the land that he wished to give to his people, Israel (Gen. 1). This was a good land, and those whom he created to dwell in and enjoy this land were put there to worship and obey him (ch. 2). Foolishly, the first man and his wife turned away from God, their Creator, and sought to find another way to life and prosperity (ch. 3). That way ended in divine judgment and death: the first couple was expelled from the garden God had made for them (ch. 3); their first child was a murderer (ch. 4); the first civilization was destroyed by a flood (chs. 6--9); and the first great city, Babylon, humankind's only hope apart from God, was abandoned in ruins (ch. 11). In the midst of that divine judgment, however, came the promise of grace and redemption. God's promise of a redeemer who would crush the head of the serpent (Gen. 3:15) strikes an early note of hope. This hope reverberates throughout the subsequent chapters of Genesis and finds its full exposition in the last words of Jacob: a mighty conqueror would arise from the house of Judah and establish God's rule over all the nations (49:8--12). The lineage of that promised redeemer is traced from Eve to the family of Noah (ch. 5), to Shem (ch. 10), to Abraham (chs. 11--25), to Isaac (ch. 26), and to Jacob (chs. 27-- 50), finding its ultimate fulfillment in that mighty king from the house of Judah. When the nations were dispersed from the city of Babylon (Gen. 11), God chose Abraham and brought him back to the land prepared in creation and gave it to him and his descendants. From among those descendants, God promised to provide blessing for all humanity. Abraham would become a great nation, God would bless that nation, and through it all the nations of the earth would be blessed (12:2--3). The Genesis narratives go to great lengths to show that God alone would ultimately fulfill his promise. God's people continually fell short of his call. Looking to their own strength, like Adam and Eve they often sought to find a way apart from God. However, God was patient. He continually watched over their weaknesses and provided the right help at just the right time. Isaac was born in his mother's old age when there was no longer hope for a son. Jacob obtained his older brother's birthright and blessing by God's grace--- even before his birth and in spite of his many later attempts to rob and steal them from his brother. Through God's providential care, during a time of severe famine, Judah and his brothers were brought safely to Egypt---in spite of their attempts to kill their brother and savior, Joseph. Exodus The book of Exodus opens four hundred years after the close of Gene-sis (cf. Gen. 15:13), with the people of Israel, heirs of God's promise of redemption, suffering under cruel oppression in Egypt (Ex. 1). Their anguished cries, however, did not go unheeded. The Lord remembered his promise to their ancestors and raised up a deliverer, Moses, to bring them back to the land he had prepared for them (chs. 2--4). In keeping with God's plan, Israel's deliverance became an occasion to make himself known to the nations. God thus displayed his power before the Egyptians through ten 'signs' performed through his servant Moses (chs. 5--11). Their rivers were turned to blood, their land was infested with swarms and pestilence---not to afflict divine wrath on this nation, but to reveal God's glory (7:5). This was the same God who desired the salvation and blessing of all the nations (Gen. 12:3). The sacrifice of the Passover lamb, with its blood applied to the doorpost (Ex. 12-- 13), and the Israelites' baptism in the Red Sea (chs. 14--15; cf. 1 Cor. 10:2) pointed to how God would one day accomplish that salvation in Christ. God had further plans for his people. He wanted to restore to them the fellowship he desired with all human beings, created in his image. He thus entered into a covenant with Israel at Mount Sinai (Ex. 16--19). That covenant called for obedience to God's will and personal holiness. God desired that his people come to him as persons, willing to have personal fellowship with him. Thus all forms of idolatry were strictly forbidden. Instructions, sometimes extending to minute detail, were given so that there be no misunderstanding what God's will was (chs. 20--24). Most of all, the covenant entailed the worship of the one and only true God. Though the Israelites agreed to follow God's will and obey the covenant, they quickly forsook the Lord and made for themselves an idol, a golden calf (Ex. 32). This meant a total departure from the kind of relationship God had intended for them. The covenant thus came to an abrupt halt. Moses shattered the stone tablets of the covenant, and the people were severely punished. Only the grace of God (34:6--7) ensured a renewed covenant and continued fellowship between God and his people. Because of Israel's disobedience, God gave them even more laws and became more specific in the kinds of obedience he required. But God continued to live among his people, even instructing them in detail on the kind of 'house' he was to have among them. That house, or tent, was called the tabernacle. This structure they built in the desert, following the plan God laid out (chs. 25--40). Since the plan was a copy of God's dwelling in heaven, the tabernacle served to bring heaven to earth. Such a condescension on God's part to live among an unholy people necessitated stringent measures to protect his holiness (see Leviticus).